I think we can all agree when I say that Instant Pot is the kitchen gods' gift to moms. And speaking of slow cookers, I present to you one of my best slow cooker recipes, Pulled Pork Chili. I guarantee you; this is not your ordinary pulled pork chili recipe! Today, I'm sharing my secret hack to an extra flavorful chili. 
PS: Sorry to my brunch friends who's been asking me for the secret ingredient to my chili, this is exclusive to my tiny kitchen divas! So anyway, brunch on Sunday? 😉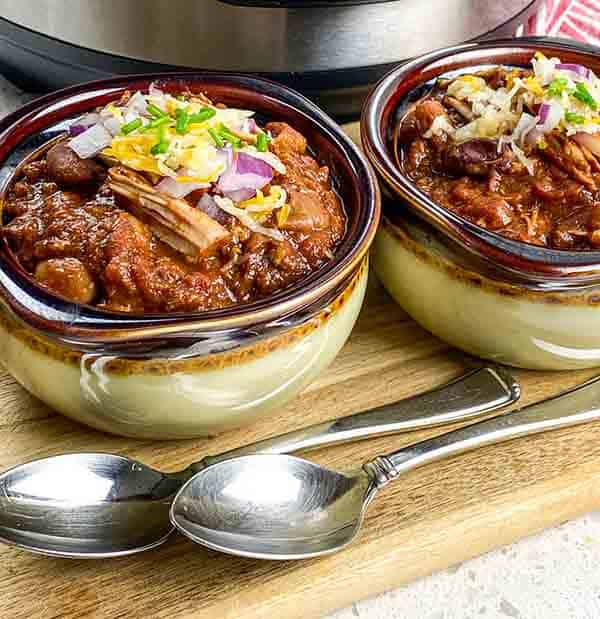 The hubby and I love Mexican food that we went from Taco Tuesdays to Mexican Mondays. On most Mondays, we enjoy our favorite Mexican food, and of course, that includes Pulled Pork Chili. But if you've been a loyal Diva, you'll know I like to add my own twist in recipes. And this is how I came up with this dish. Are you ready to know the secret ingredients? Okay, brace yourself… They are cocoa and coffee. 
I know, you're probably judging me right now. But it's one of those "don't ditch it until you try it" moments! I promise you it's good and they bring out the flavor of the pulled pork and the chili. It's one of those chilly days, and I figured why not? It's not like we're adding cups of cocoa and coffee. No, it's just a tad bit and they help add a deeper, richer flavor to the chili. Just trust me. 😉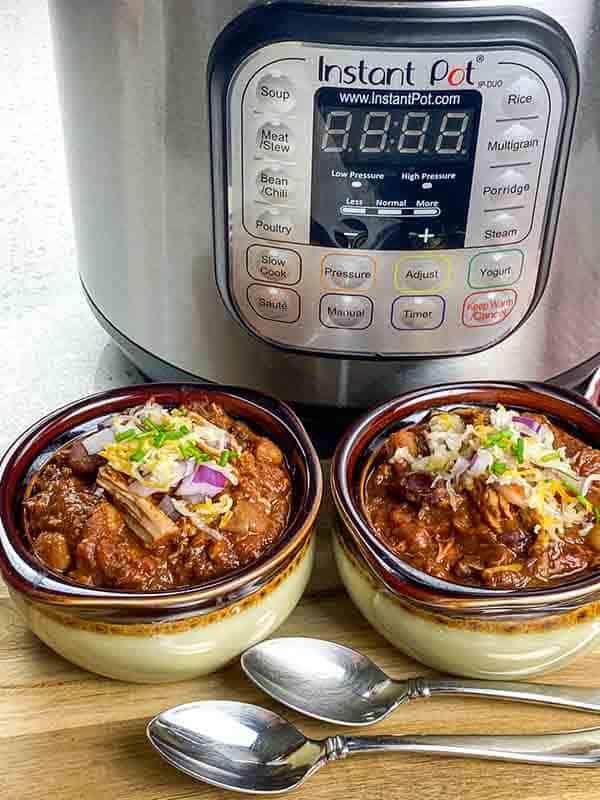 This is the perfect comfort food just pair it with some fresh tortilla chips, quesadilla, or serve on top of dirty rice. You can also go with a freshly baked cornbread or thick-cut fries. This chili recipe takes about an hour in the Instant Pot which will give you enough time to prep an equally satisfying side dish to serve it with!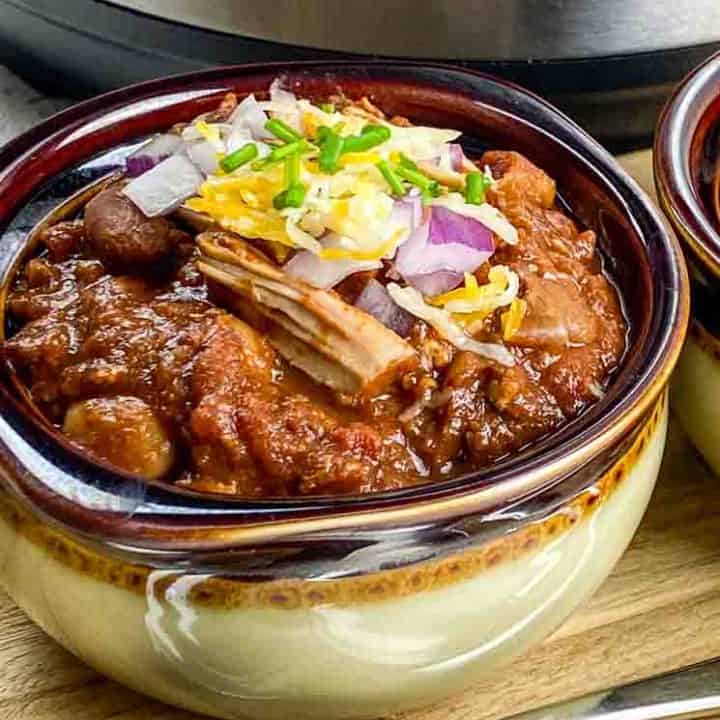 Secret Instant Pot Pulled Pork Chili Recipe
Additional Time:
15 minutes
Total Time:
1 hour
25 minutes
A satisfying clash of creamy cheese, smoky pulled pork, and heat-licked chili makes this an amazing comfort food recipe. Can you peep the secret ingredients on the list?
Ingredients
For the Chili:
3 lbs. boneless pork loin roast
1 teaspoon of sea salt
1 teaspoon ground black pepper
1 tablespoon extra-virgin olive oil
½ large red onion, peeled and diced 
1 tablespoon chili powder
2 teaspoon ground cumin
1 teaspoon garlic powder
2 teaspoons dried oregano
1 teaspoon smoked paprika
1 tablespoon unsweetened dark cocoa powder
1 cup strong black coffee
3 ½ cups diced tomatoes with green chilis
1 cup tomato sauce, strained
4 cups dark kidney beans, drained and rinsed
2 cups Great Northern beans, drained and rinsed
For Garnishing:
Red onions, peeled and diced
Mexican cheese blend, finely shredded
Sour cream (optional)
Instructions
Take the pork roast out of the fridge 30 minutes before cooking. Do not keep at room temperature for more than 2 hours. Trim off the excess fat and divide it into four equal parts. Rub with salt and pepper then set aside.



Set the Instant Pot to "Sauté" then pour in the olive oil.



Then add the onions, chili powder, cumin, garlic powder, oregano, paprika, and cocoa powder.



Add a pinch of salt and pepper to taste. Stir continuously for about 4 minutes or until the onions become fragrant and translucent.



Gradually pour the black coffee to deglaze the pot. Scrape the bottom to get all the yummy brown bits using a rubber spatula. Press the "Keep Warm/Cancel" button.



Then add the diced tomatoes, dark kidney beans, white beans, tomato sauce, and seasoned pork roast. Stir until well combined then lock the lid on.



Set the vent to "Sealing" position then set the Instant Pot to Manual mode. Press the "+" button until you see the light on High Pressure. Lastly, adjust the cooking time to 55 minutes.



Once it's done cooking and you hear the beeping sound, let the pressure to naturally release. This takes about 15 minutes then manually release any remaining pressure. When it drops, unlock the lid and use two forks to shred the now tender pork roast.



Stir the chili again and let the shredded pork sit in the sauce for at least 10 minutes to allow it to absorb the flavors. Transfer to individual bowls and top with Mexican cheese and fresh red onions. You can also add a dollop of cream cheese on top. Serve while still warm and enjoy


Nutrition Information:
Yield:

6
Serving Size:

1
Amount Per Serving:
Calories:

760
Total Fat:

27g
Saturated Fat:

8g
Trans Fat:

0g
Unsaturated Fat:

14g
Cholesterol:

198mg
Sodium:

1716mg
Carbohydrates:

48g
Fiber:

12g
Sugar:

7g
Protein:

81g
So, what do you think? Do you see it winning a chili cook-off too? I told you, you can trust me on this one. I hope you enjoy making and sharing this recipe with your whole family, just as much as I did in sharing it with you. Let me know what you feel about this fun, flavor-filled recipe in the comments below. ♥