This Cuban Inspired Black Beans and Rice is so good and healthy it will make you want to dance the bachata in the dining room!  This low-fat, high-fiber, gluten-free, and vegetarian dish is economical and easy to make. It's zesty and refreshing, it makes you want to come back for more. Good thing it's made with wholesome ingredients!
A recent trip to Ybor City reminded me of my love for Latin culture. Everywhere you look, it's filled with vibrant wall arts and beautiful shops. And don't even get me started on the aroma of spices, mixed with freshly brewed coffee and cigar. I also hear Latin music in the air and had to remind myself I can't dance to save my life. LOL.
So of course, we wouldn't miss the chance to treat ourselves to the food! We snacked on some freshly made croquetas and pastelitos then chased it with a cup of Café con Leche. We walked and hang out and listened to music. Then by lunch, I had an amazing plate of Congrí or Cuban Black Beans & Rice. That was the first time I tried it and it was love at first bite!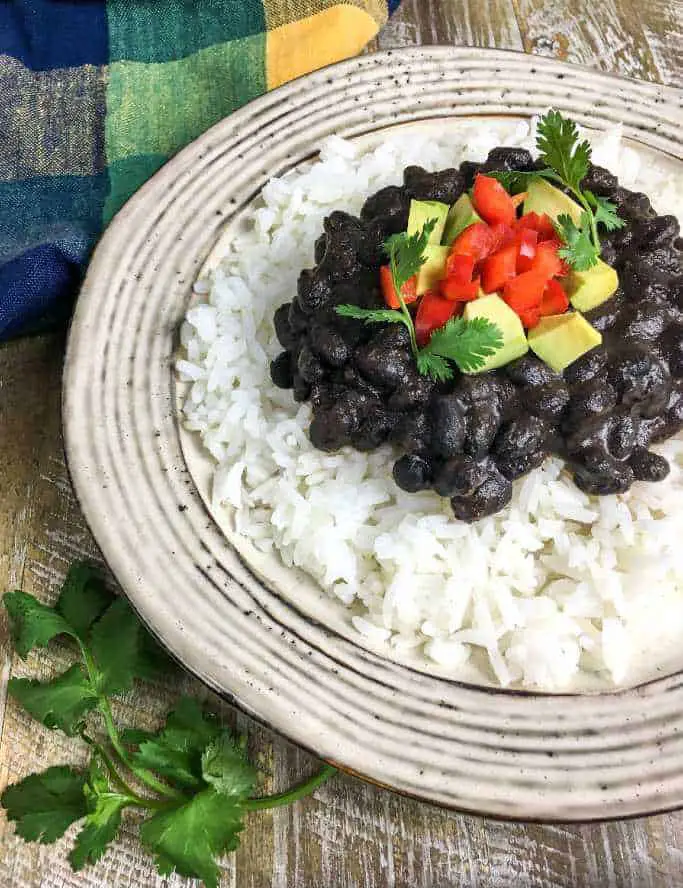 You already know I researched the recipe as soon as we got back home and gave it a try. It took a couple of failed attempts, and I finally got the best one! This recipe is the closest to what I had in Ybor City and I can't stop making it since. I even made it for a game day potluck, and it was a win! 
How I Make Cuban Inspired Black Beans And Rice:
Turn on your Instant Pot and toss in the beans, aromatics, herbs, and spices. Gradually pour the vegetable broth and cover it. Then you set it to start the sealing process and put it on High for 32 minutes. Once it's done, let the pressure release. Take the onion and red pepper out with half a cup of the broth and transfer it to a blender. You can also use a food processor and blend it until it's smooth.
Pour the pureed mixture back to the pot and stir in the red wine vinegar. Readjust your seasonings and continue stirring. I like to serve it on top of rice, then I garnish it with red pepper, avocados, and freshly chopped cilantro for that authentic Cuban flavor. You can also put lime wedges to the side. See? It's that easy.  You can make this in just under an hour. 😉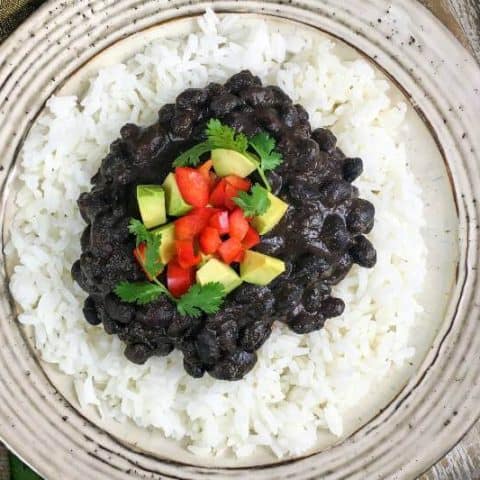 Instant Pot Cuban Inspired Black Beans and Rice
Additional Time:
20 minutes
Total Time:
1 hour
7 minutes
This Instant Pot® Black Beans and Rice is made from black beans, aromatics, herbs, and spices that are inspired by authentic Cuban flavors. It's easy to make and highly economical too!
Ingredients
1 cup dried black beans, rinsed and picked over
½ medium yellow onion, chopped
1 medium red pepper, seeded and chopped
1 teaspoon garlic powder
½ tablespoon dried cumin
½ tablespoon dried oregano
2 whole bay leaves
½ teaspoon of sea salt
½ teaspoon black pepper
1½ cup vegetable broth
1 tablespoon red wine vinegar
For serving:
2 tablespoon red pepper, diced
3 tablespoon avocado, diced
2 tablespoon fresh cilantro leaves, chopped
1 whole lime, cut into wedges
3 cups cooked white or yellow rice
Instructions
Put the beans, onions, red pepper, garlic powder, cumin, oregano, bay leaves, and salt and pepper in the Instant Pot.
Gradually pour the broth then place the lid. Put the valve setting to "Sealing" then set it to "Manual" function on "High" for 32 minutes.
Once it's done, let the pressure naturally release for about 20 minutes. Then manually release the remaining pressure.
Turn the Instant Pot off and take the lid off. Pick out the onion, red pepper, and about half a cup of the broth. Pour it into a food processor or blender. Place the lid on and process until it becomes a puree.
Transfer the pureed mixture into the Instant Pot then pour the red wine vinegar. Readjust the seasoning, as needed. Serve the beans over cooked rice and garnish with chopped avocado, red pepper, and fresh cilantro. Place lime wedges on the side and enjoy!


Nutrition Information:
Yield:

4
Serving Size:

1
Amount Per Serving:
Calories:

401
Total Fat:

7g
Saturated Fat:

1g
Trans Fat:

0g
Unsaturated Fat:

6g
Cholesterol:

0mg
Sodium:

937mg
Carbohydrates:

71g
Fiber:

10g
Sugar:

4g
Protein:

15g
Serve this amazingly delicious Cuban Inspired Black Beans and Rice on your next Salsa Night with friends! I'm sure they will be surprised at all the authentic Cuban flavors in this dish. Do you have any favorite food from your travels? Share them with us in the comments below!