The holidays are fast approaching! What better way to welcome your guests than with a juicy and flavorful Pork Tenderloin with Honey Applesauce Glaze? Discover the potential of this inexpensive cut of meat. With this unique recipe, we'll be incorporating sweet and savory flavors together.
I first made this for my sister's baby shower last year. It was a nice day out and we have bottles upon bottles of our homemade applesauce. And so, I figured I'd try something new with it. I went to the butcher's and found this beautiful pork tenderloin. It's budget-friendly and seeing as she has her friends coming over and about 10 of our cousins, this is perfect. I can get a couple of pieces of tenderloin without breaking the bank!
We tried to make one first since this is an experiment and we know how tenderloin can be dry. We figured if the applesauce doesn't help fix that, then we'll do something else with the rest of it. But to our surprise, it came out juicy and oh so flavorful. The meat, savory with a simple salt and pepper combo, paired with the sweet honey-applesauce glaze, tasted amazing!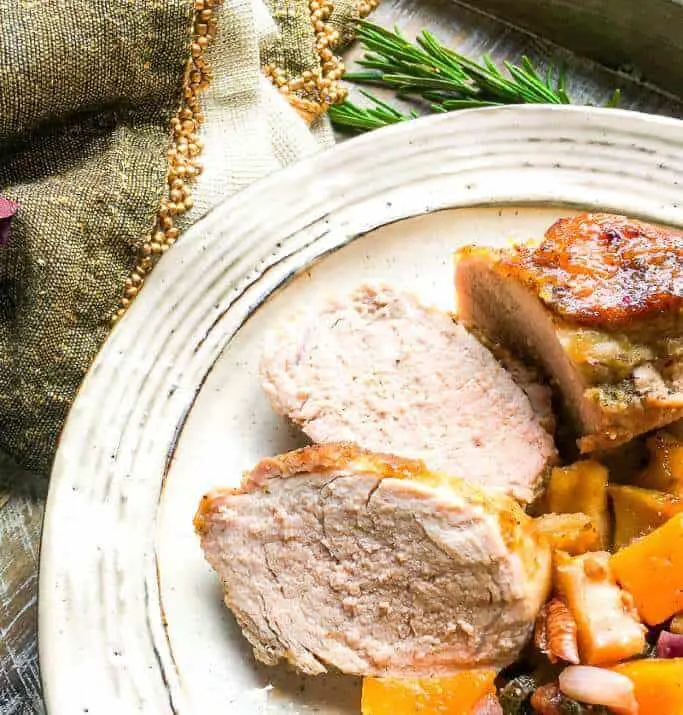 So, we finish making the rest of the tenderloin and it was a hit! Our mom-friends asked for the recipe and were surprised that this is the first time we made the dish. I mean, to be honest, I was just as surprised. I was ready to roast the tenderloins if the test didn't work. But alas!  The dish turned out well and instantly made it to our holiday recipes list. 
Oh, and if you're wondering, she had a beautiful baby girl. 😉
What Can You Serve With Pork Tenderloin With Honey Applesauce Glaze?
Add some flair to your Pork Tenderloin with Honey Applesauce Glaze by serving it with your favorite side dishes. It's important to make sure that you plan your side dish accordingly as well as to keep them quick and easy. Pork Tenderloin is easy to pair with different options from salads, buttered veggies, or even pie! 
Roasted Tri-Color Potatoes– These are my absolute favorite! They're super easy to make and has a great flavor that compliments the Pork Tenderloin Roast. This colorful side dish will surely brighten up the dinner table!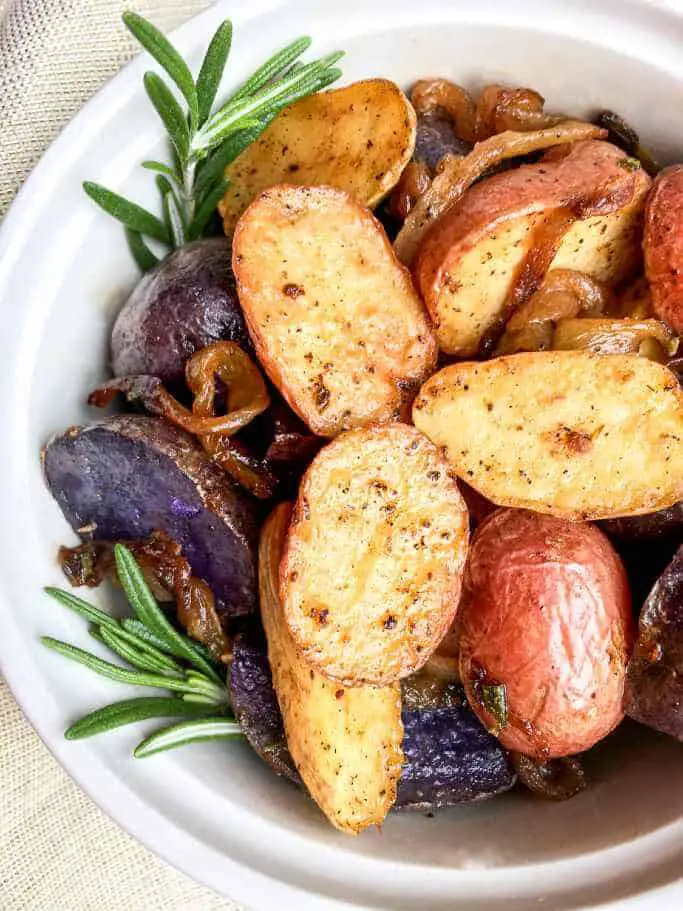 Roasted Broccoli Raisin Salad – Pair your Pork Tenderloin with this Roasted Broccoli Raisin Salad for a refreshing twist. The tender broccoli, crunchy bacon, and sweet raisins will definitely make you want more with every bite.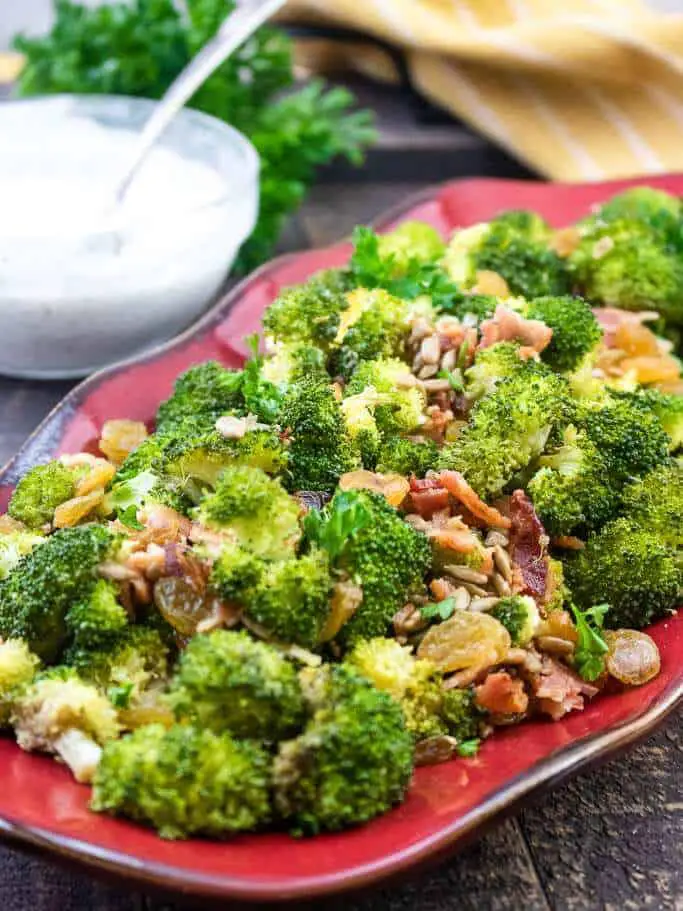 Shrimp Penne Pasta – Now this I pair with the Pork Tenderloin when I'm expecting several guests. This helps make the dish more filling, plus the zesty lemon sauce marries the dish well. This Shrimp Penne Pasta also makes it a whole balanced meal!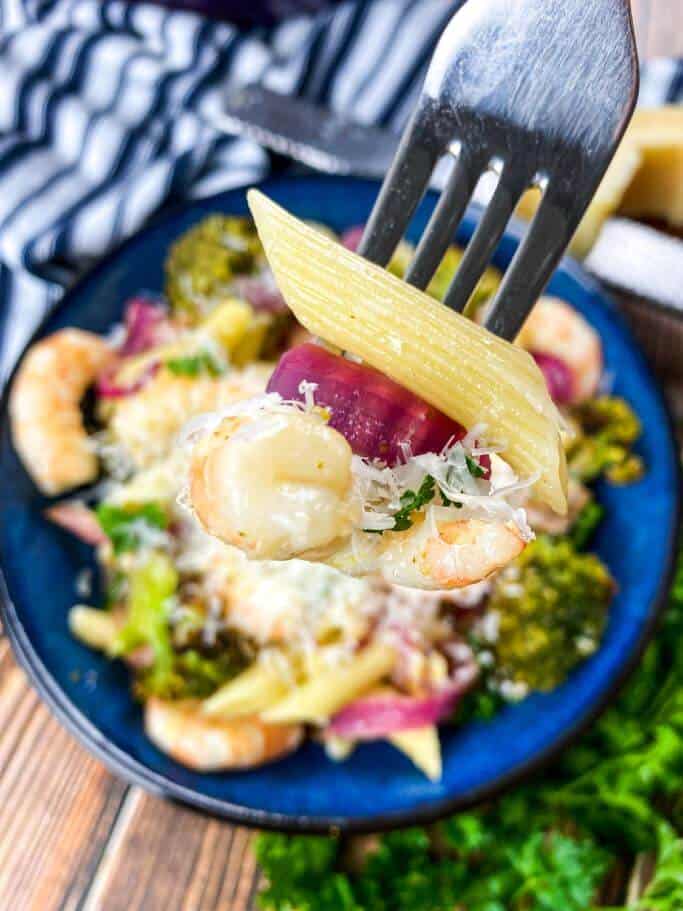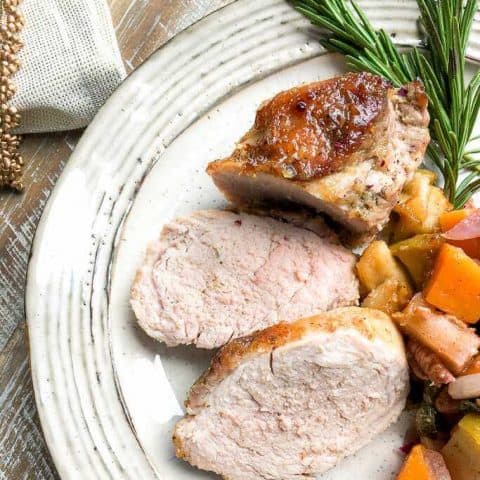 One-Skillet Pork Tenderloin with Honey Applesauce Glaze
Total Time:
1 hour
10 minutes
Surprise your guests with this tender and moist Pork Tenderloin glazed with sweet honey-applesauce.
Ingredients
3 tablespoons honey
1 cup unsweetened applesauce
3 sprigs fresh rosemary leaves, chopped
2 tablespoons Dijon mustard (preferably sugar-free)
½ teaspoon kosher salt
½ teaspoon black pepper
2 tablespoons coconut oil
1½ lbs. pork tenderloin
3 medium firm apples, cored and chopped
Instructions
Move an oven rack to the middle position then preheat to 350° F.
Get a small mixing bowl and mix honey, applesauce, rosemary leaves, and Dijon mustard. Stir well until fully incorporated. Add a dash of salt and pepper, as needed then set aside.
Place a large oven-safe pan on medium heat and pour coconut oil. Lavishly coat the pork tenderloin with salt and pepper. Transfer the tenderloin to the skillet and cook for up to 10 minutes or until all sides have an even, nice brown crust.
Take the pan off the stove and generously coat the tenderloin with your applesauce mixture. Surround the pork with the chopped apples then place it in the preheated oven. 
Let the pork tenderloin roast for about 20 minutes. Take the pan out of the oven and flip the pork over. Pour the remaining applesauce and brush it all over the tenderloin before putting the roast back in the oven for 20 minutes more. 
Once the pork is fully cooked through, take it out of the oven. Loosely cover for at least 5 minutes to allow it to rest. Serve with the apples on the side. 


Nutrition Information:
Yield:

4
Serving Size:

1
Amount Per Serving:
Calories:

461
Total Fat:

14g
Saturated Fat:

8g
Trans Fat:

0g
Unsaturated Fat:

4g
Cholesterol:

124mg
Sodium:

567mg
Carbohydrates:

39g
Fiber:

4g
Sugar:

33g
Protein:

45g
What do you think about this recipe? I hope this Pork Tenderloin with Honey Applesauce Glaze makes it to your dinner table to enjoy with your loved ones. If you have any dinner stories to share, simply leave them in the comments below. 😉