The holidays are in the air! This calls for a showcase of all your special recipes to serve your loved ones, such as this Roasted Broccoli Salad. You can serve it either warm or cold, so it's perfect for any occasion. It can also be an appetizer or a side dish. It's super versatile so you can serve it in different ways and bless these amazing people in your life with this equally amazing recipe!
Now I know, these tasty little trees aren't really for everybody. But have them try out this dish if they're willing to and this might be the nudge they need in the right direction. One of my friends is a convert because of this recipe. She said she didn't know broccoli can taste this good. 
This is why we're roasting them instead of simply blanching them. It lightens up the strong and somewhat bitter taste that raw or half-cooked broccoli has. It's made even better when roasted with garlic powder and olive oil. I can easily snack on a good bowl of this. And if the tender, garlicky and vibrant roasted broccoli can't convince them to try it out, maybe the bacon bits will!
What's In A Roasted Broccoli Salad?
Broccoli
The star of the show is broccoli, a superfood that is jam-packed with various nutrients. It is rich in antioxidants and fiber which helps in controlling blood sugar. It also reduces the risk of cardiovascular diseases. Broccoli is also beneficial in weight loss and improving digestion. 
Raisins
Don't be deceived by these tiny shriveled morsels, they may not look like much, but they are really good and healthy too! You can put raisins in just about anything, oatmeal, granola, cookies, muffins, yogurt, and yes, salads. They are naturally sweet, rich in fiber, iron, calcium, and antioxidants. 
Bacon
I believe there are two types of people in the world, those who like bacon, and those who are missing out. Lol.  Yes, it's not the healthiest but it's also not that bad in moderation. It is high in fat and salt, but it also contains various nutrients. It is rich in protein and has vitamins B1, B2, B12 plus traces of iron, potassium, zinc, and magnesium. *Note that you can skip on the bacon if you want to make this a vegan salad. 😉
Greek Yogurt
The undying love for yogurt in the health fitness industry is because of its many health benefits. It is a great source of protein, even better than regular milk. This helps fuel your body and boost your immune system. Another thing it's known for is that yogurt has probiotics that alleviate digestive issues.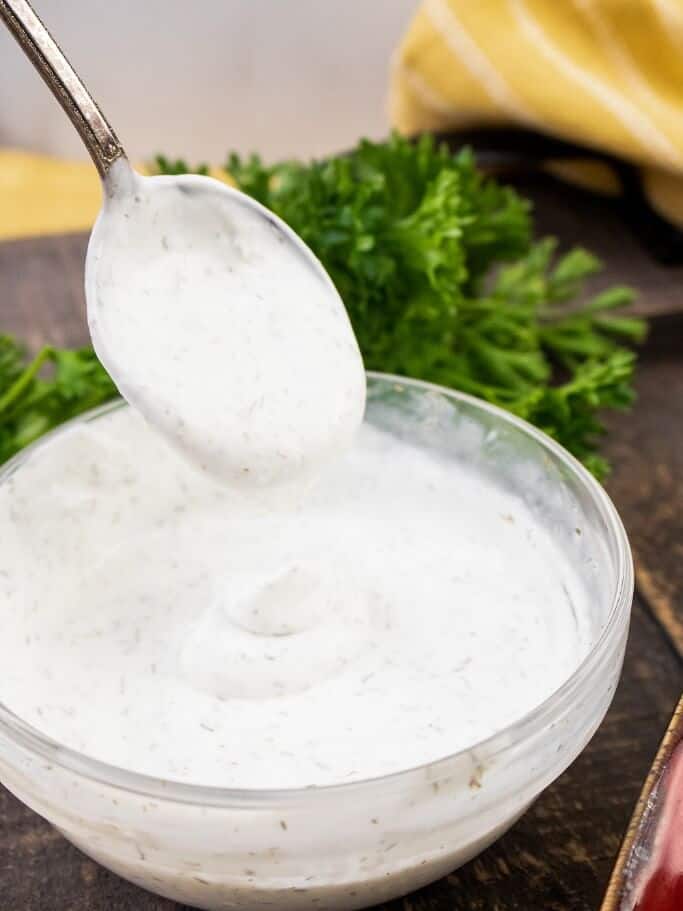 Sunflower Seeds
Yes, this recipe has not only one, but two superfoods. This popular trail mix ingredient is actually extra versatile. You can put it in bread, granola bars and simply snacking it as it is. But do you know you can put it in salads too? It adds an extra crunch to it that I love. It is rich in healthy fat and is high in Vitamin E and selenium.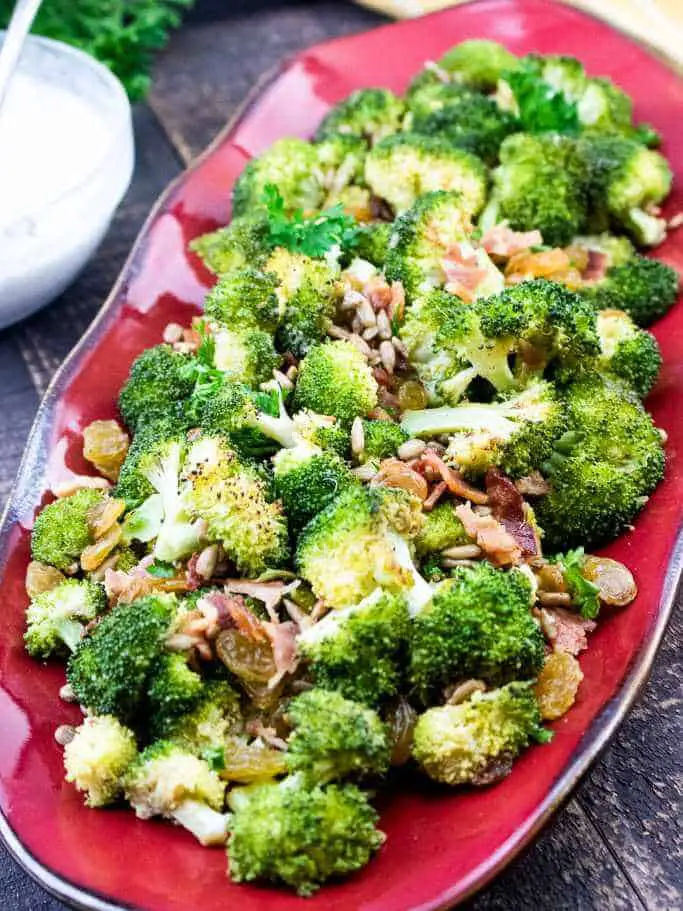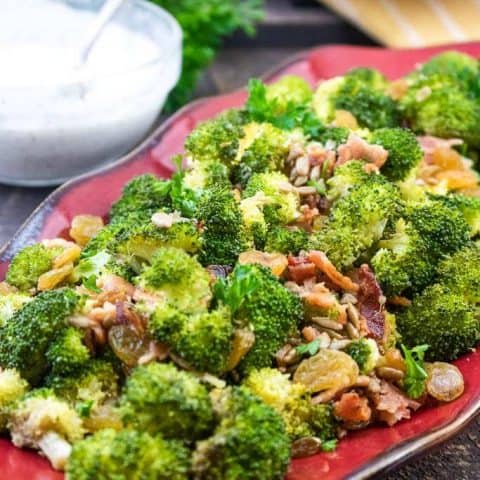 Roasted Broccoli Raisin Salad with Bacon Bits
A vibrant and ultra-healthy salad made with tender broccoli, sweet raisins, and crunchy bacon drizzled with Greek yogurt dressing.
Ingredients
6 cups fresh broccoli florets, rinsed and drained
2 tablespoons extra virgin olive oil
1 teaspoon garlic powder
½ teaspoon coarse sea salt
½ teaspoon black pepper
1 tablespoon apple cider vinegar
1 tablespoon low-fat mayonnaise
½ cup plain Greek yogurt
½ teaspoon dried dill
¼ cup sunflower seeds, toasted
¼ cup yellow raisins
4 strips bacon, cooked crispy and crumbled
¼ cup fresh parsley, roughly chopped
Instructions
While preheating your oven to 375° F, line a rimmed baking sheet with parchment paper. 

In a large mixing bowl, combine broccoli florets, olive oil, garlic powder, and season with salt and pepper.



Toss gently until they're well combined then transfer into the lined baking sheet.



Spread the florets in a single layer and do not overcrowd.



Put the baking sheet in the preheated oven for about 15 to 20 minutes. When the broccoli is tender and has slightly charred edges, they're done.

In a small bowl, apple cider vinegar, low-fat mayonnaise, mix Greek yogurt, and dill. Add a pinch of salt and pepper, as preferred.



Whisk well until fully incorporated and set aside.



Take the broccoli out of the oven and let cool for at least 5 minutes. 



Get your favorite salad bowl and combine roasted broccoli, sunflower seeds, and raisins.



Drizzle with the yogurt dressing and top with crunchy bacon bits!


Nutrition Information:
Yield:

4
Serving Size:

1
Amount Per Serving:
Calories:

300
Total Fat:

17g
Saturated Fat:

3g
Trans Fat:

0g
Unsaturated Fat:

13g
Cholesterol:

13mg
Sodium:

1080mg
Carbohydrates:

28g
Fiber:

9g
Sugar:

10g
Protein:

15g
What are you waiting for? Get your veggies and your best salad mixer, it's time to whip up the salad to impress your guests! Share your Roasted Broccoli Raisin Salad making story with me in the comment box below. 😉