What is the best masticating juicer for wheatgrass? Wheatgrass has been the latest craze in the fitness world because of its countless vitamins and nutrients. With that said, you want to extract every last bit of it as much as you can and thus you need a masticating juicer.
A centrifugal juicer is not capable of juicing wheatgrass at all. You're much better off using a mortar and pestle than a centrifugal juicer. How did I know that? I bought wheatgrass for my mom to try and I forgot that she only has a centrifugal juicer. I got a call from her no more than 20 minutes later telling me that the "grass" I brought her was already dried up.
I got it fresh from the farmer's market, so I know it wasn't. I went and tried juicing my share of what grass on my masticating juicer and I got a good amount of juice from it. I then checked with my bestie, Google, and found out that centrifugal juicers can't do anything to wheatgrass. LOL.
And that's the story of how I spent an entire Saturday morning looking for the best masticating juicer for wheatgrass for my mom. Yes, I'm extra like that. Kidding aside, she's in her senior years and she enjoys green juice, so I went and looked at what will be best for this purpose. Happy to share my learning on the types of masticating juicers to help you choose the right investment for a healthy lifestyle.
What Is Wheat Grass?
Wheatgrass is basically a baby Triticum aestivum or more commonly known as a wheat plant.  It is considered an amazing superfood due to the number of vitamins and minerals that it contains. It's a powerhouse combination of iron, calcium, Vitamins A, C, E, K, and B complex plus various antioxidants.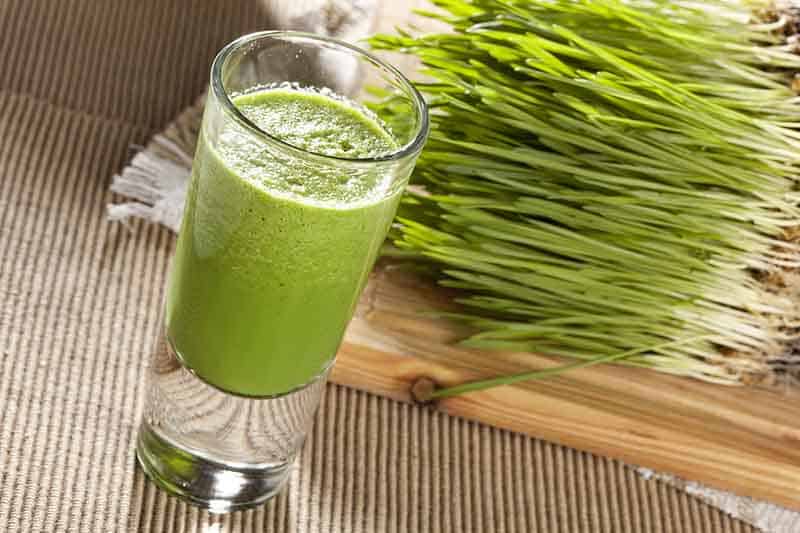 It is rich in anti-inflammatory properties and enzymes that encourage a healthy digestive system. This reduces the occurrence of bloating, constipation, heartburn, and other digestive issues. Are you trying to trim off unwanted belly fat or lose the extra pounds? Wheatgrass boosts your metabolism, and while it is heavy in nutrients, it's very light in calories and has 0% fat. It is also filled with nutrients, keeping you full longer and helps satiate your hunger. 
Research shows that wheatgrass helps reduce bad cholesterol and help lower high blood pressure. It also aids in regulating blood sugar as wheatgrass contains compounds that have insulin-like properties.
What Is A Masticating Juicer?
A masticating juicer is a modern technology upgrade from the regular manual juicer that we used to juice lemons and other citrus fruits when we were kids. This type of juicer grinds fresh produce, imitating the way we chew our food. This maximizes the number of extracts obtained from the fruits and veggies you process in it. 
This is also why this is the best type of juicer for making green juice, especially ones that include hard to process leafy greens like kale or wheatgrass. The masticating juicer slowly separates the juice from the pulp at a speed of 80 to 100 RPM. This effectively extracts all the significant vitamins and nutrients you need from the greens. 
This type of juicer is also called a slow juicer because of the speed it processes the produce. Don't have a lot of time to make green juice every day? Fret not, these masticating juicers produce high-quality green juice that can last up to 72 hours! So, you can still have a fresh glass of wheatgrass juice daily.Struggling to clean your brand-new juicer? I made a thorough guide on how to clean a masticating juicer here. Read more to find out! 😊
What Is The Best Masticating Juicer For Wheat Grass?
Tribest GSE-5000 Greenstar Elite
This premium juicer is named "elite" for a reason. The Tribest GSE-5000 Greenstar Elite is a commercial grade juicer designed for home use. How is this perfect for wheatgrass, you ask? Oh, just that it has TWO stainless-steel jumbo gears that rotate at a slow speed of 100 RPM. This allows it to effortlessly yet efficiently juice even the most stubborn leafy greens.
Last update on 2023-02-23 / Affiliate links / Images from Amazon Product Advertising API
The Tribest Greenstar Elite can extract every drop of vitamins and nutrients from greens like wheatgrass, celery, arugula, and kale. This is proven by the dry pulp that it pushes out once the extraction is completed. Other than green juice, this versatile machine can also make rice cakes, baby food, and even pasta dough among others.
Unsurprisingly, it comes with a hefty price tag. But for everything it offers? It's more than worth it. Always remember that the best investment you can make for yourself is your health. 😉
So, are you ready to start wheatgrass juicing? I hope this detailed review helps you jumpstart your green juice journey. If you have any other questions leave me a comment below and I'll do my best to answer them. You can also check out my other blogs about my clean eating and juicing habits. ♥