If you know me, you'll know that I'm a sucker for Holiday gatherings. And this year I can't wait to share my Cheesy Portobello Mushroom-Stuffed Beef Tenderloin with friends and family. This is a box-office hit with the hubby and even with the little ones too! I honestly feel like a Michelin-starred chef whenever I make this. It looks and tastes so fancy!
The moment I like most about holidays is sharing your favorite dishes with the people you love. Catching up and laughing around the dinner table. But you know what stresses me out – deciding what to bring for a family potluck! And I know I'm not alone in this struggle. So, it will be selfish of me to hide this luscious recipe from my fellow tiny kitchen Divas. I know it looks and sounds intimidating, but this is as easy as making chicken roll ups!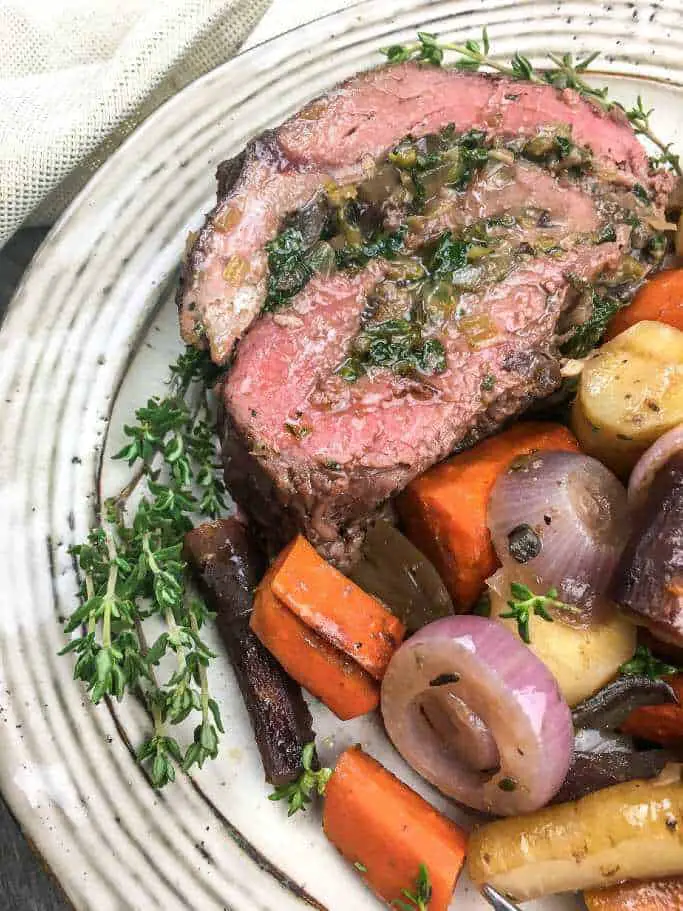 Tips To Nail The Stuffed Beef Tenderloin:
It's best to get your beef from a local butcher shop. The best meat to use is a center-cut tenderloin, this will be perfectly tender and moist! If you're not confident in doing this yourself, ask your butcher to butterfly the meat for you.
To make it dairy-free, replace unsalted butter with vegan butter or coconut oil. Then replace parmesan cheese with vegan cheese. 


If you don't like the taste of Portobello mushrooms or if you can't find any, you can also use cremini mushrooms or white button mushrooms for a milder taste.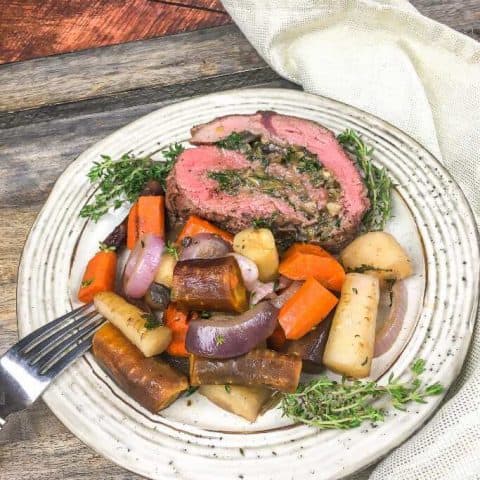 Cheesy Portobello Mushroom-Stuffed Beef Tenderloin
Total Time:
1 hour
20 minutes
Treat your family to this melt-in-your-mouth tender beef tenderloin roll stuffed with a delightful parmesan, mushroom, and spinach mix. This is one recipe that is sure to make your grandma proud!
Ingredients
3 tablespoons extra virgin olive oil, divided
1 large leek, sliced thinly
12-oz. baby Portobello mushrooms, diced
2 garlic cloves, minced
½ teaspoon of sea salt
½ teaspoon black pepper
2 cups baby spinach, destemmed
1½ tablespoons fresh thyme leaves
1½ tablespoons fresh rosemary leaves
1½ tablespoon fresh parsley leaves, chopped
¼ cup Parmesan cheese, freshly grated
1½ lbs. beef tenderloin, butterflied
1 large red onion, thickly sliced
6 medium rainbow carrots, peeled and chopped in uniform sizes
4 shallots, halved
4 sprigs fresh thyme
1 cup low sodium beef broth
2 tablespoons unsalted butter, softened
Instructions
Set an oven rack in the center position then preheat the oven to 400° F. 
Place a large, deep skillet over medium heat and pour 2 tablespoons of olive oil. Toss in the mushrooms, garlic, and leeks.



Add a pinch of salt and pepper, as needed. Stir occasionally until combined.



Continue stirring until the veggies are fragrant and translucent. We want the water from the mushroom to evaporate which takes about 8 to 10 minutes.



Then add the spinach, thyme, rosemary and, parsley.



Let it cook for 2 minutes or until the spinach wilts. Take the pan off the heat and set aside.



On a flat surface place a sheet of plastic wrap and put the butterflied beef tenderloin on it. Place another sheet of plastic wrap on top of the meat. Then pound it gently with a rolling pin or meat mallet until it thins out to about ½ inches.



Pour the remaining olive oil on it and massage the whole surface of the meat with it. Sprinkle with salt and pepper, as needed.



Stir in the parmesan cheese to the mushroom-spinach mix.



Pour the mixture over the tenderloin and spread evenly, leaving about ½ inch around the edges.



Now the tricky part carefully rolls the tenderloin all the way through. Secure with kitchen twine and season with salt and pepper. Line the bottom of a roasting pan with the sliced red onions and place the beef roll on top of it.



Place the carrots and shallots around the tenderloin and snuggly place the thyme sprigs in between.



Pour the beef broth into the roasting pan and place it in the preheated oven. Roast it for 35 to 40 minutes or until you get an internal temperature of about 125°F -130° F for medium-rare.



Once you get your desired internal temperature, transfer the stuffed tenderloin into the serving platter. Loosely cover with foil to keep it warm while it rests. Check if the veggies are already fork-tender, if not put them back in the oven for another 10 to 15 minutes.
Plate the roasted veggies with the tenderloin. Transfer the drippings into a medium saucepan and reduce over medium-high heat for about 5 minutes. Add the butter and stir continuously until you get your desired thickness. 



Slice the stuffed tenderloin and serve with the veggies. Drizzle with the reduced drippings before serving. Bon Appetit! 


Nutrition Information:
Yield:

4
Serving Size:

1
Amount Per Serving:
Calories:

834
Total Fat:

60g
Saturated Fat:

23g
Trans Fat:

0g
Unsaturated Fat:

30g
Cholesterol:

165mg
Sodium:

670mg
Carbohydrates:

25g
Fiber:

7g
Sugar:

10g
Protein:

49g
Are you ready to impress the whole family with this mouthwatering dish? Take your apron out and start making your very own Cheesy Portobello Mushroom-Stuffed Beef Tenderloin! If you have any questions about this recipe, feel free to leave them in the comment box below. 😉