It's another day in our tiny kitchen and today we're making one of my favorite pasta dishes of all time – Lemony Roasted Shrimp Penne Pasta. When you see "shrimp" and "pasta" in the same sentence, you already know it's going to be good. This fresh and zesty recipe is light and refreshing to the taste buds. 
I like serving this as a warm afternoon brunch or snack. Then I pair it with some grilled chicken or salmon on the side. That and a good glass of iced cold lemonade. Oh, so perfect! Just thinking about it makes me feel relaxed already. It's also one of the very few ways I can convince my picky little eaters to have broccoli! #MomWin
What Makes Up A Good Shrimp Penne Pasta?
Pasta
I use penne mostly because I like how you can get a bit of everything in every bite. It's about the same size as the shrimp and the broccoli too. You can also use rotini, fusilli, or bowtie, as you prefer. If you want a gluten-free alternative, I find it best to use Quinoa Pasta or Chickpea Pasta for this recipe.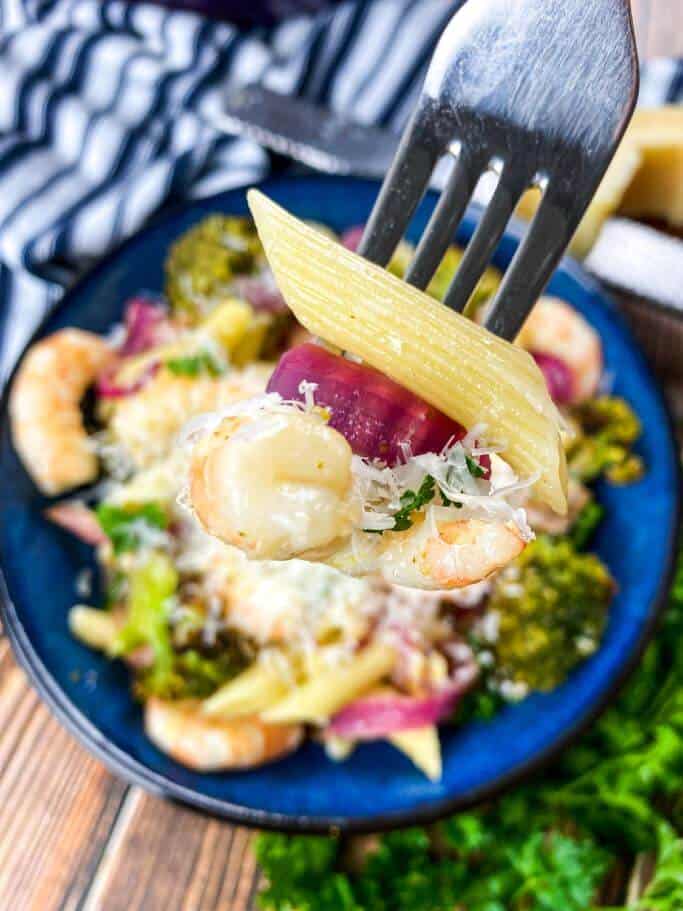 Shrimp
Definitely the star of this recipe, I use regular-sized shrimps. You can get them fresh or frozen/pre-packed. If you're in a rush, you can use the pre-packed ones as they're already peeled and deveined. If you or anyone you're serving the dish to is allergic to shrimp or seafood, you can use chicken, bacon, or veggies instead.
Cheese
The parmesan cheese adds creaminess to this dish and balances out the zesty flavor. However, if you want to make it dairy-free, you can skip the cheese or use vegan cheese instead.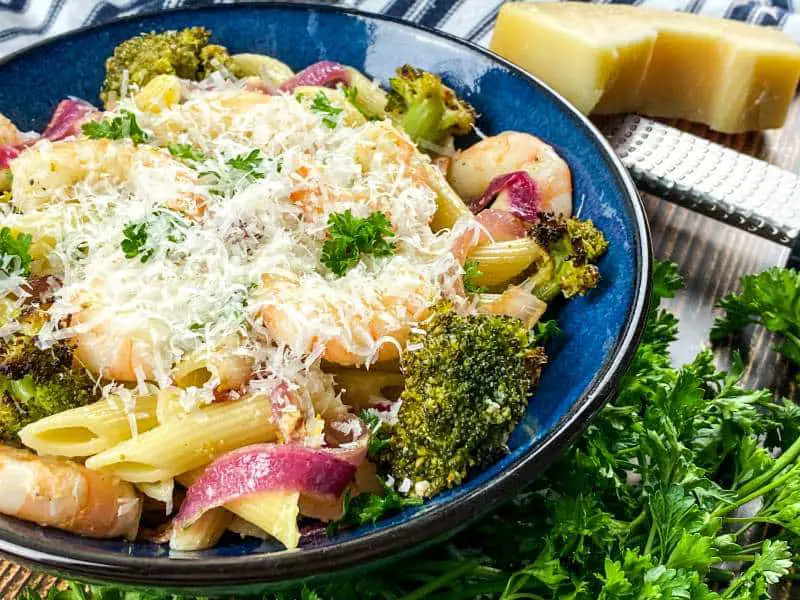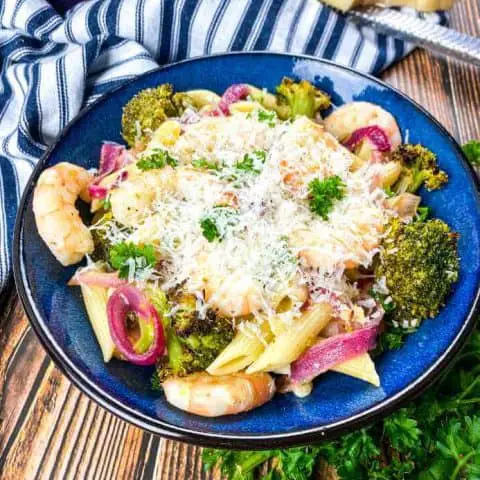 Lemony Roasted Shrimp Penne Pasta
Tender roasted shrimp and veggies mixed with penne and creamy parmesan in every bite. This refreshingly light and colorful Shrimp Penne Pasta will surely brighten up your day!
Ingredients
¼ cup fresh lemon juice
2 tablespoons honey
3 tablespoons extra virgin olive oil
¼ teaspoon crushed red pepper flakes
1 teaspoon garlic powder
1/8 teaspoon sea salt
1/8 teaspoon ground black pepper
½ red onion, sliced
1 12-oz. bag broccoli florets
1 16-oz. box penne pasta
1 lb. shrimp, peeled, deveined, and tail removed
½ cup Parmesan cheese
2 tablespoons fresh parsley leaves, roughly chopped
2 teaspoon fresh lemon zest
Instructions
Move oven rack to center position then preheat your oven to 400° F. Prepare a large half-sheet pan and line it with parchment paper. 



In a medium-sized mixing bowl, combine 2 tablespoons of lemon juice, honey, olive oil, red pepper flakes, garlic powder.



Sprinkle with a pinch of salt and pepper and mix well. 



Get a large bowl and put the broccoli florets and sliced onions.



Pour in 2/3 of the lemon juice mixture and toss until the veggies are completely covered.



Transfer to the lined baking sheet making sure that they are all in a single layer and are not overcrowded. 



Transfer the baking sheet into the preheated oven. Let the veggies roast for at least 20 minutes or until they are tender and have browned edges.



Prepare the pasta according to package instructions. Before draining the pasta, reserve ½ cup pasta water and set it aside for later.



Drain the pasta and return to the pot. Leave it covered while waiting for the veggies to cook.



When you're almost done roasting the veggies, add the shrimps to the lemon mixture and toss until they're evenly coated. Readjust seasoning as needed.  



Take the baking sheet out of the oven after 20 minutes and flip the veggies using a spatula.



Pour in the coated shrimps and spread evenly in a single layer.



Place the sheet back in the oven. Continue to roast for approximately 4 minutes or until the shrimps curl into a loose "C" shape and are uniformly pink in color. 



Remove the shrimp and veggies from the oven and combine it with the penne.



Pour in lemon juice, pasta water, ¼ cup parmesan cheese, parsley, and lemon zest. Toss until well-combined.



Transfer into individual serving plates and top with more parmesan cheese and red pepper flakes, if preferred. Serve while still warm. Bon Appetit!


Nutrition Information:
Yield:

6
Serving Size:

1
Amount Per Serving:
Calories:

354
Total Fat:

11g
Saturated Fat:

3g
Trans Fat:

0g
Unsaturated Fat:

8g
Cholesterol:

167mg
Sodium:

934mg
Carbohydrates:

38g
Fiber:

4g
Sugar:

8g
Protein:

26g
This easy pasta dish is light and flavorful with a little bit of heat! Try out my Lemony Roasted Shrimp Penne Pasta and I guarantee you'll fall in love with it too. Give me a shout in the comments about what you think about this amazing recipe and how you added your own spice to it. ♥