Do you know what I love making for weekend dinners? Boneless chuck roast in cast iron skillet. Just thinking about it makes me start to drool. What's not to love with a moist and tender chuck roast? Now imagine it with a crunchy and flavorful brown crust thanks to a trusty cast-iron skillet. Utter perfection. 
Getting a chuck roast is an inexpensive way to serve a fancy meal to your family without breaking the bank. It all comes down to proper preparation and cooking the meat. Chuck roasts are known to be cheap cuts of beef since they don't have a lot of marbling going on unlike Wagyu or Filet Mignon. But when prepared correctly, it can taste just as good as any expensive cut of steak.
I recently shared an article on how to make a mouthwatering, melt in your mouth bake chuck roast. I would love for you to give it a try too! This lean cut of meat undeniably perfect for braised dishes or stews, it can also be grilled. It will be a long list for sure but I have mentioned only a few ways on how to cook chuck steak, want to know more?
My favorite way to serve a boneless chuck roast is by searing it on a hot cast-iron skillet. Get that magnificent brown crust and create enough fond to use for my gravy. I then finish it in the oven to make it even more tender and flavorful. Throw in some spices and veggies and you have the perfect dinner for the whole family!
What Is A Cast Iron Skillet?
Over the years cast iron skillets have become a must in every home cook and professional chefs' kitchen. And it's easy to see why. It costs a little more than a regular nonstick pan but one thing for sure, this can be a good family heirloom because it can last you for decades to come.  Other than being durable, it is also one of the most versatile kitchen equipment you'll ever have.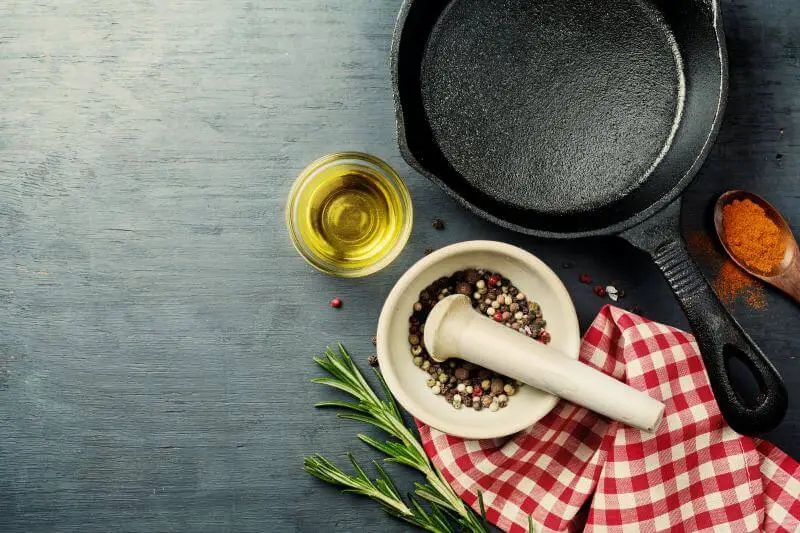 I got mine around a year and a half ago and it's still one of my best purchases to date. I've used it in maybe every way possible. Porkchops, pies, nachos, veggie stir fry, cornbread, pizza, and even mac and cheese! Name it, I've probably done it or at least tried to make it on my cast iron pan. The maintenance can indeed take some time getting used to but keeping a well-seasoned cast iron pan at your disposal is definitely worth it.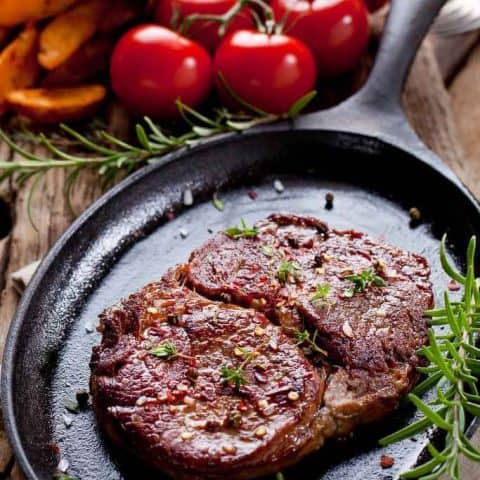 Classic Boneless Chuck Roast in Cast Iron Skillet
Cook Time:
3 hours
15 minutes
Total Time:
3 hours
25 minutes
Our all-time favorite Classic Boneless Chuck Roast recipe made even better by cooking it in Cast Iron Skillet. This adds a deeper and richer flavor and texture to the whole dish!
Ingredients
3 lbs. boneless chuck roast
1 tablespoon garlic powder
1 tablespoon onion powder
¼ teaspoon kosher salt
1 teaspoon ground black pepper
3 tablespoons all-purpose flour
2 tablespoons unsalted butter, softened
1 large yellow onion, sliced
4 cloves of garlic, crushed
2 sprigs rosemary
2 tablespoons Worcestershire sauce
½ cup red wine
2 cups beef broth
2 cups carrots, chopped
4 Yukon Gold potatoes, peeled and chopped
1 cup white button mushrooms
Instructions
Move the oven rack into the center position and preheat the oven to 350° F.
While waiting, prepare the boneless chuck roast. In a shallow bowl, mix the flour, garlic powder, onion powder, salt, and black pepper. Once well-combined, evenly coat the chuck roast in the mixture on both sides. Lightly tap it to get rid of the excess mixture and set aside.
Place your cast iron pan on medium heat and put 2 tablespoons of softened butter. As soon as it melts, carefully place the coated chuck roast. Sear it on all sides for 5 minutes each. Then add the garlic, onion, and rosemary. Baste the meat repeatedly with the seasoned butter for about 2 minutes and take the meat out of the skillet. 
Now pour in the Worcestershire sauce, red wine, and beef broth. Try to scrape as much of the brown bits at the bottom of the pan as possible. This adds more flavor to your roast later. Let it simmer then put the meat back to it.
Transfer the cast iron skillet into your preheated oven and let it cook for 2 to 3 hours. Occasionally baste the beef with the drippings to keep it moist. During the last 45 minutes, add the potatoes, carrots, and mushrooms. 
Transfer the meat and veggies on a serving plate and drizzle with the drippings. Bon Appetit! 
Nutrition Information:
Yield:

6
Serving Size:

1
Amount Per Serving:
Calories:

747
Total Fat:

39g
Saturated Fat:

17g
Trans Fat:

2g
Unsaturated Fat:

20g
Cholesterol:

198mg
Sodium:

662mg
Carbohydrates:

36g
Fiber:

6g
Sugar:

5g
Protein:

61g
You don't need to be a professional chef to perfect a good boneless chuck roast in a cast-iron skillet. I'm looking forward to hearing your stories about your own experience in making it so please leave them in the comments below! What other recipes do you want to see on our page? Feel free to let me know. ♥