One of the things I miss most about home is the heavenly taste and aroma of my Mom's oven-baked chuck roast recipe. We know it's going to be a great Sunday lunch when we wake up and smell the fresh herbs and beef in the air.
Naturally, when I moved out, I asked Mom everything I need to know to make her oven-baked chuck roast on my own. Today, I'm sharing them with you! 
I wouldn't be surprised if one day I find out that this dish is the reason why the phrase "good things are worth the wait" is coined. Because I promise you, this is surely worth the wait! It takes about 3 hours to be done and at the end of it, you get a mouthwatering, perfectly baked chuck roast.
What Is A Chuck Roast?
A chuck roast is cut from the cow's forequarter. This consists of parts like the shoulder blades, upper arm, and neck. They are lean and can be a little tough since these parts get a lot of exercises.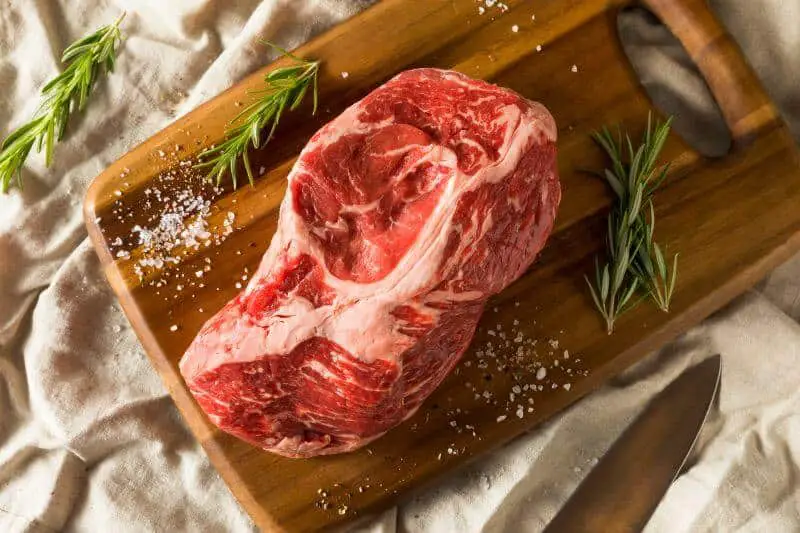 They're commonly used in stews, roasts, and grounded as hamburger meat.
However, they also have a deep and rich beef flavor which makes them perfect for roasting. Chuck roasts have a lot of connective tissues that melts well as it cooks. This makes the roast juicier and more flavorful as it releases the melted fat into the sauce. 
Tip: For more flavorsome beef recipes, visit our post on roast beef in air fryer too! It is so simple and easy to cook.
How Long To Cook Chuck Roast In An Oven At 350 Degrees?
When cooking baked chuck roast, the key is to be gentle with it. Since this is a lean part of the cow, it doesn't have a lot of fat to melt. Therefore, cooking it in extremely high heat will cause you to end up with something short of a piece of plywood. 
So, what I like to do is take my time with it. I start by searing it over medium heat using my cast iron skillet for a more even heat distribution and browning. Sear both sides for about 5 to 7 minutes and you'll get that beautiful brown crust.
Wondering if this method would work even for making boneless chuck roast in an iron skillet, give it a shot.  
Then I braise it with the aromatics and herbs. And don't forget the wine! During this time the oven has been preheated to 350° F and is ready to bake the chuck roast for 2 ½ to 3 hours.
I like to baste the steak with its own drippings at least 2 or 3 times throughout this process to give it additional flavor as well as to keep it from drying out. 
After 2 ½ to 3 hours, I then check the internal temperature of the meat. We want it to be anywhere from 145° F to 155° F as the USDA advised. This gives you medium to medium-well doneness, not to the point where it's falling apart but it melts in your mouth. 
How To Make A Great Gravy For Chuck Roast
A great gravy completes the perfect chuck roast. Or any roast beef in that matter. It's also a good way of using all that extra drippings from the long hours that the beef and veggies are roasting in the oven.
You definitely don't want all that goodness to go to waste. Here's how I make my chuck roast gravy: 
After you take the roast out of the oven, transfer the chuck roast and veggies to your serving plate. I leave the onions and garlic in the pan with the rest of the sauce to add flavor. Then I pour it over a fat separator and let it sit for about 5 to 10 minutes to leave out the excess fat. 
Once it's settled, pour it in a separate bowl and add back the garlic and onions. Use an immersion blender to incorporate the roasted garlic and onions to the drippings. Then set it aside.
I then put the skillet back on the stove over low heat and melt the butter. Once it starts to bubble, add the flour and mix continuously to make a roux. 
Gradually pour in the drippings then the beef broth. Season with salt and pepper to taste. Let it simmer while continuously stirring until you get your desired consistency.
And there you have a flavorful yet not overpowering gravy for your baked chuck roast!
What Are The Best Vegetables To Use With Chuck Roast?
A good roast is not complete without its accompanying vegetables. These usually consist of potatoes and carrots. But you can also switch it up from time to time.
Here are other veggies I like to add to my Chuck Roast. 
Mushrooms
I like adding mushrooms when I'm roasting as they add a great amount of texture and flavor to the dish. Cremini or Portobello mushrooms stay firm when roasted and they have that mild earthy flavor in them, which tastes perfect with beef. 
Broccoli
This is definitely not for everybody as I know a good number of people who are not fans of broccoli. But if you're like me and you love these tasty little trees, they taste a whole lot better with roast. Even my kids enjoy them!
Celery
What I like to do is either cut the stalks into bite-sized pieces or chop them up nicely. Whichever way you prefer to cut them, they introduce another level of flavor into the roast. They tend to have mildly bitter and spicy when raw, but once you add them to the roast it mellows down the taste.
Brussel Sprouts
Another vegetable that I find perfect for roasts is Brussel sprouts. When cooked right, they actually have a nice nutty and savory flavor to them. Not to mention they add crunch and color to the roast.
Choose smaller sprouts and cut them in half before adding them to the rest of your vegetables and you'll find that they do taste good.
Parsnips
This underrated vegetable is another great addition to your chuck roast. I like to mix them with carrots as they add a good contrast to the color. Parsnips also taste a lot better with roast, their flavor is somewhere between carrots and potatoes.
They are sweet and have a hint of nutty and starchy flavor too.
What Do I Serve With Chuck Roast?
Generally speaking, chuck roast is already a meal on its own with the veggies and a good chunk of beef. However, most times I still like to serve with it a good side dish to make it even more filling. 
Roasted Cauliflower Mash With Crispy Brussels Sprouts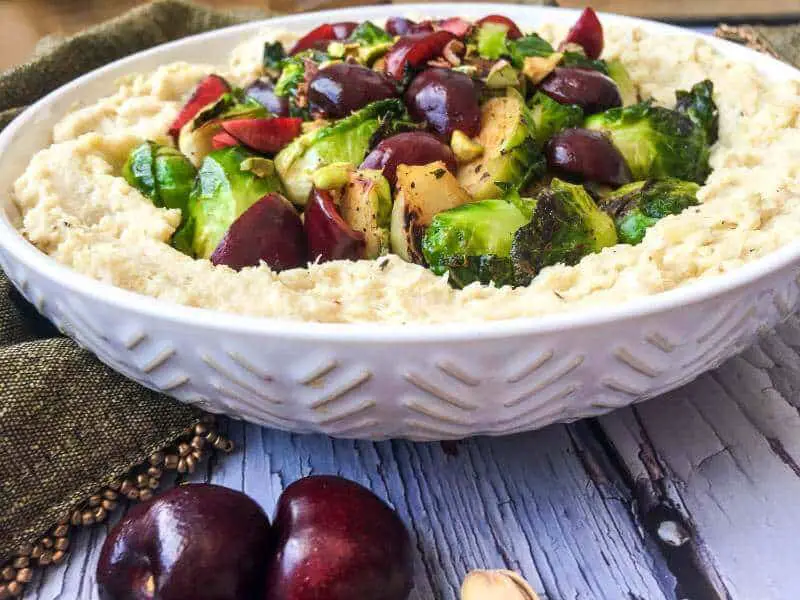 If you want a change from the regular mashed potatoes, try out this Roasted Cauliflower Mash with Crispy Brussels Sprouts. It has way less carb than a mashed potato would, but it tastes just as perfect with roast. You can roast the veggies in the oven while the chuck roast is in, so it saves you time too!
Easy Cream Of Mushroom Soup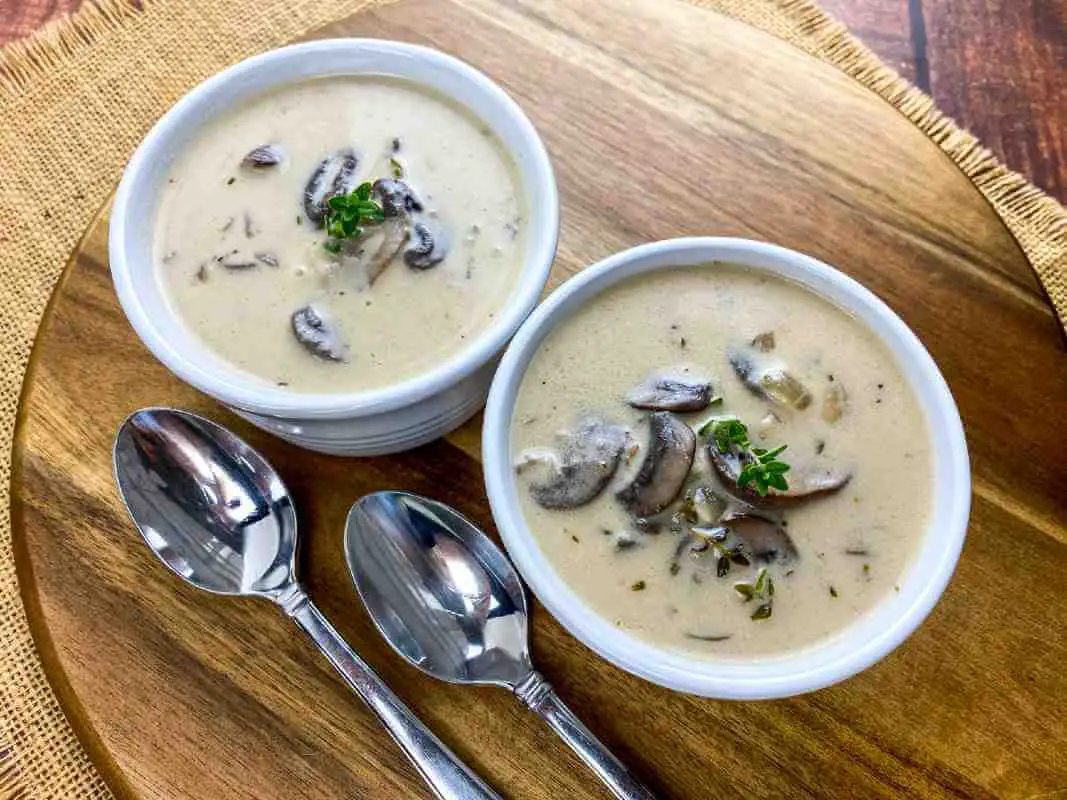 Not into gravy? You can serve this recipe with a hearty and easy cream of mushroom soup instead. It's creamy and mild, perfectly complementing the savory roast.
It's done in less than an hour so you can make it while waiting for the roast too! This is definitely a quicker, easier, and tastier way from the canned mushroom soup. 
Batard Bread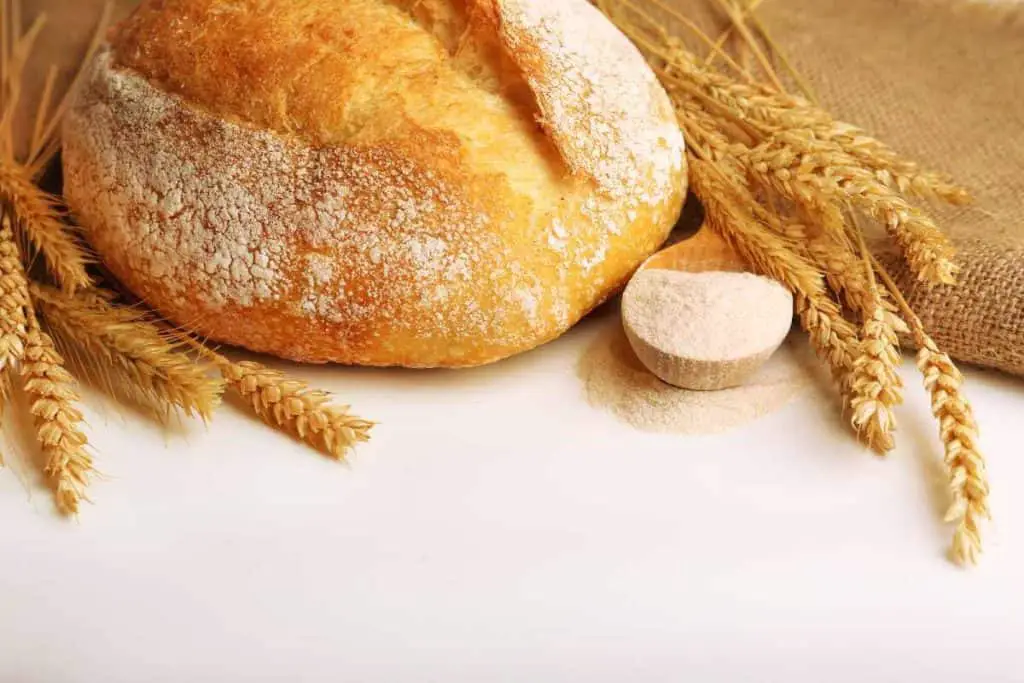 I don't know about you, but I don't like letting all that flavorful roast juices and gravy go to waste. Therefore, when I have extra time on my hands, I like to serve it with a freshly baked Batard bread. You can make it the night before too and you don't need to be a pastry chef to make them. 
Chuck Roast In Oven: Best Cooking Tips
Do not skip searing the meat. This locks in the flavor and juices so your chuck roast doesn't end up dry. This also adds color and flavor to the meat and make it more appetizing.
When searing, the skillet should be hot to sear the meat but not hot enough that it will overcook or burn it as soon as you place it in the skillet. If you're using a cast-iron pan, keep the fire on medium. They sear the meat evenly without the need to put it on high heat.
Do not add the vegetables while braising the meat. To avoid ending up with mushy veggies, add them during the last 30 to 40 minutes of the roasting process. This keeps them tender and still gives them enough time to absorb the flavor from the roast.
Use a beef broth that has less-sodium as much as possible. You don't need to add unnecessary sodium to this dish as it already has a lot of flavor from the meat and spices that you'll be using.
It's okay to use red wine even if you're serving the dish to kids. The alcohol evaporates during the cooking process, after about 2 to 3 hours you're only left with approximately 5% of the original alcohol content. If you're not comfortable with this, you can skip the wine and replace it with equal parts of beef broth or water instead.
What Is The Best Wine To Use For This Recipe?
When cooking savory dishes like stews or roasts, I always go with a dry red wine. White wine tends to add more sweetness that I would like to the dish. I reserve that for making shrimp linguine or creamy garlic chicken.
I find Cabernet Sauvignon to be a fantastic choice when making this chuck roast oven recipe. 
Red wine helps make the beef tender and gives it a deeper flavor. It doesn't have a lot of sugar too, so you don't have to worry about it immediately caramelizing when deglazing your skillet. Then save the rest for you to sip while waiting for the chuck roast to be done in the oven. 😉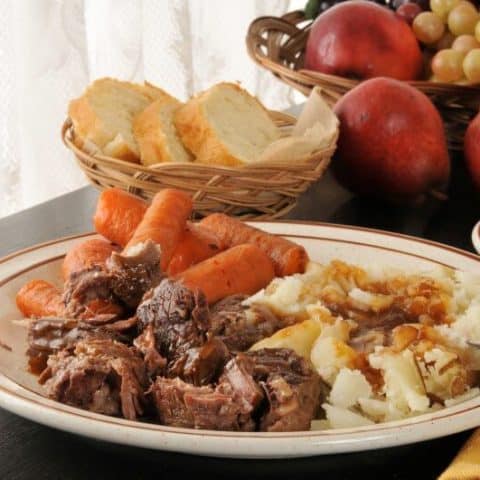 Oven-Baked Chuck Roast Recipe + Gravy
Additional Time:
15 minutes
Total Time:
3 hours
30 minutes
This dreamy recipe will make your Sunday lunch with the family even better! Tender and moist Chuck Roast with perfectly cooked veggies drizzled with amazingly flavorful gravy. 
Ingredients
For the steak:
2 lbs boneless chuck roast
2 teaspoon kosher salt
1 teaspoon ground black pepper
1/4 teaspoon onion powder
1/4 teaspoon garlic powder
1/4 teaspoon paprika
2 tablespoons olive oil
For braising:
1 cup red wine
2 cups low sodium beef broth
1 tablespoon Worcestershire sauce
2 small yellow onions, chopped
4 garlic cloves, crushed
1 sprig fresh rosemary
1 sprig fresh thyme
2 bay leaves
8 oz baby carrots, peeled and halved
1 lb. baby potatoes, halved
For the gravy:
½ cup drippings
½ cup beef broth
4 tablespoons unsalted butter, softened
4 tablespoons all-purpose flour
1/4 teaspoon kosher salt
1/2 teaspoon ground black pepper
Instructions
Preheat the oven to 350° F. While waiting, prepare the chuck roast. Rinse it then pat dry with a paper towel.

In a shallow bowl, combine kosher salt, black pepper, onion powder, garlic powder, and paprika then mix well. Rub the spice mix to both sides of the meat.

Pour olive oil in a large oven-proof cast iron pan and place it over medium heat. Once it's hot, place the seasoned chuck roast in it. Sear both sides for about 5 to 7 minutes each to form a flavorful brown crust.

Transfer to a plate and set aside.

Reduce the heat to low then add onions and garlic to the same skillet. Sauté for about a minute or until they are fragrant. Stir continuously to get as much of the fond from the seared steak as possible. 

Then gradually pour in the Worcestershire sauce, red wine, and beef broth to help deglaze the pan. Add the rosemary, thyme, and bay leaves. Stir occasionally for approximately 5 minutes then add the chuck roast back to the pan.

Cover the pan with aluminum foil and transfer to the preheated oven. Leave the chuck roast to take its time to bake for 2 ½ to 3 hours. Remember to baste the chuck roast with the drippings 2 to 3 times while it bakes.
This keeps the meat juicy and flavorful as it cooks.

Add the baby carrots and potatoes to the roast for the last 45 minutes. This is to make sure they have just enough time to absorb flavor and stay tender. Do not add the veggies at the beginning as they will end up mushy.

Once done, check for doneness. According to the USDA, the cooked meat should have an internal temperature between 145° F to 155° F for a medium – medium-well done roast.
Take it out of the pan and transfer to a serving plate.

Let the meat rest for up to 15 minutes before slicing it. Then add the roasted veggies to the side. 

You can now use the drippings for your gravy. For a quick and simple gravy, put the pan back to the stove on low heat then add a slurry. Stir continuously until you get your desired consistency.

If you want to make it extra special, transfer the drippings into a fat separator. Then leave the fat and mix the aromatics back to the drippings using an immersion blender.

Using the same cast iron pan, make a roux by melting the butter and adding equal parts of all-purpose flour. Then gradually add the drippings and beef broth. Add salt and pepper, to taste.

Stir continuously for 3 to 5 minutes until thick. 
Nutrition Information:
Yield:

4
Serving Size:

1
Amount Per Serving:
Calories:

934
Total Fat:

54g
Saturated Fat:

23g
Trans Fat:

2g
Unsaturated Fat:

28g
Cholesterol:

219mg
Sodium:

1824mg
Carbohydrates:

42g
Fiber:

5g
Sugar:

7g
Protein:

62g
Are you ready to impress your family with this Irresistible Oven-Baked Chuck Roast Recipe? Feel free to customize it however you want, have fun with it! Let me know in the comments below if you and your family enjoyed this recipe as much as mine did.
Much love, ciao! ♥