As a mom, we're constantly looking for ways to make our kids eat veggies. So, imagine my happiness when I stumbled upon this Roasted Cauliflower- Apple Mash with Crispy Brussels Sprouts recipe! I mean, not all kids get excited about Brussel sprouts, but they do love a good mashed potato. 
Sure, it's made of cauliflower but it's so tasty they didn't really mind that it's not actually potatoes #MomWins. If I'm being honest, I might stick to cauliflower mash from now on. It's just as easy to make but it's sure healthier than mashed potato.
You might be curious, why is everything roasted? I roast the veggies for two reasons. First, it brings the natural flavor out in the veggies and generally makes them taste better. Roasting also allows you to add different flavors to the veggies. Especially with cauliflower, since it doesn't really have that much taste to it.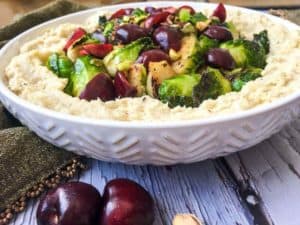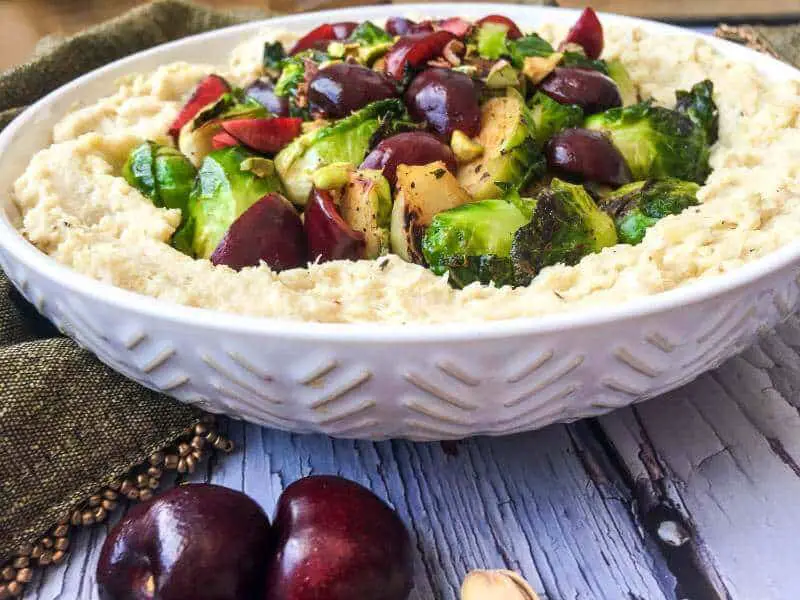 Second, it saves a lot of time. Rather than boiling one, sautéing the other then roasting something else to put them together, just roast them all in one pan. You're spending way less time and using less energy that you can use for something else. Like preparing the Brussel sprouts. 
Did I mention that you can finish making this colorful and healthy side dish in under an hour? Yes, it only takes about 30 to 40 minutes to prep and put everything together. It's also true that it is low carb, vegetarian, and gluten-free friendly. 
To make it keto and dairy-free too, replace half and half with a blend of coconut cream and soy milk. Then substitute butter with coconut oil or olive oil. As for the pistachios, if you are serving this dish to someone with a nut allergy, you can simply skip this step.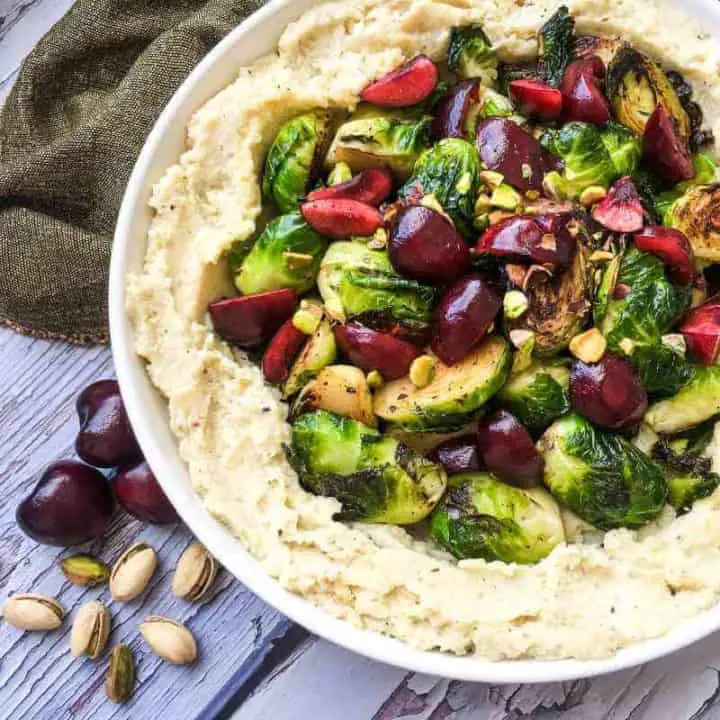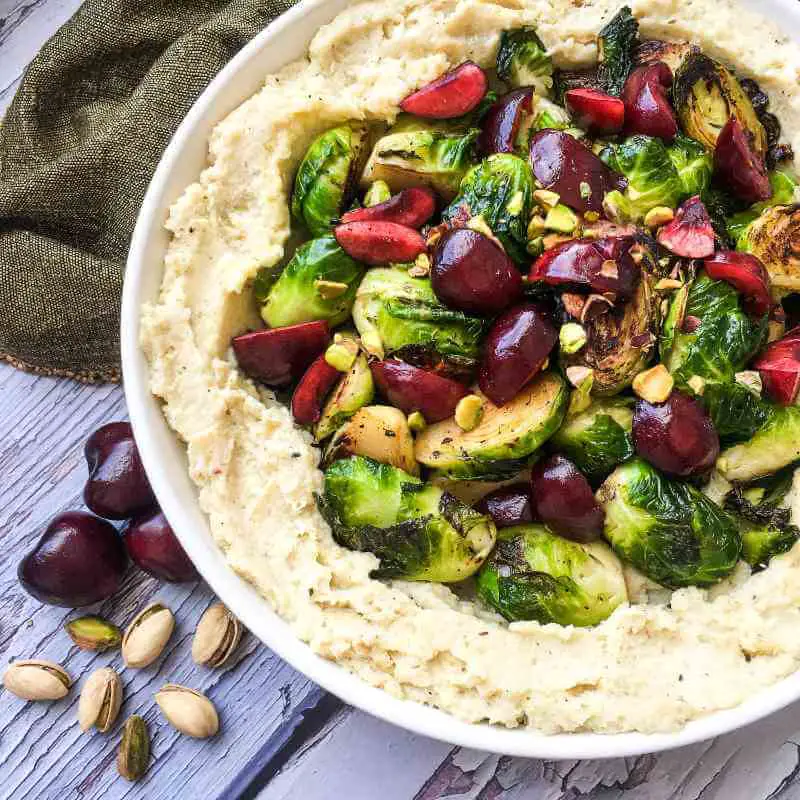 Low-Carb Roasted Cauliflower Mash with Crispy Brussels Sprouts
Cook Time:
30 minutes
25 seconds
Total Time:
40 minutes
25 seconds
A healthy and versatile side dish that you can serve without worrying about different dietary restrictions. You can make Roasted Cauliflower Mash with Crispy Brussels Sprouts in under an hour.
Ingredients
1 medium cauliflower head, chopped roughly
2 Gala apples, chopped roughly
2 large shallots, chopped roughly
1 tablespoon rosemary leaves, minced
2 tablespoons extra virgin olive oil, divided
Sea salt and black pepper, to taste
1 pound of Brussels sprouts, washed, trimmed, and halved
2 garlic cloves, finely minced
1 cup fresh cherries, pitted and chopped roughly
2 tablespoons half & half
2 tablespoons unsalted butter
½ c. pistachios shelled and chopped roughly
Instructions
Preheat oven to 375°F. While waiting, line a baking pan with parchment paper or Silpat® baking mat. Set the pan aside while preparing the veggies.
In a mixing bowl, put the chopped cauliflower, apple, shallots, and rosemary leaves. Add a tablespoon of olive oil then salt and pepper to taste. Now toss carefully the veggies in the bowl until they're evenly combined.
Transfer the cauliflower mixture to your lined baking pan. Spread the mixture until they're all in a single layer. Place in the preheated oven and leave to roast for 25 to 30 minutes or until the cauliflower pieces are fork-tender. 
While waiting for the roasted veggies to get done, you can now prepare the crispy Brussel sprouts. Place a saucepan on medium heat and add the remaining olive oil in it. Toss in the garlic and sauté for about 30 seconds or until it's fragrant, constantly stirring. Add the Brussels sprout halves and continue stirring for 12 to 15 minutes. 
Once the Brussels sprouts are crispy and golden brown, add the fresh cherries. Stir occasionally for approximately two minutes or until they are just heated through.
Check if the roasted veggies are ready, and if they are, transfer them to a large mixing bowl. Pour in the half & half and unsalted butter. Don't forget to season with salt and pepper to taste. Now using a masher or immersion blender, mash the cauliflower mixture until it is smooth and creamy then set aside.
When ready to serve, get a large serving dish or bowl and evenly spread the cauliflower and apple mash at the bottom. Make a shallow concave in the middle and put the crispy Brussels sprouts and warm cherries. Sprinkle chopped pistachios on top and serve. Bon Appetit!  


Nutrition Information:
Yield:

4
Serving Size:

1
Amount Per Serving:
Calories:

372
Total Fat:

22g
Saturated Fat:

6g
Trans Fat:

0g
Unsaturated Fat:

14g
Cholesterol:

18mg
Sodium:

194mg
Carbohydrates:

40g
Fiber:

11g
Sugar:

22g
Protein:

10g
I hope this Roasted Cauliflower- Apple Mash with Crispy Brussels Sprouts recipe makes you as excited as I was when I first made it. This makes a perfect side dish with a complete balance of tasty, healthy, and Instagram worthy! I'd love to know what you think in the comments below. Much love, ciao! ♥