I'm sure I'm not the only one who had those tiny applesauce cups in their lunchboxes as a child. This is what the Cinnamon Pear Apple Sauce reminds me of. It's like an adult version of our dearly beloved childhood applesauce. Yes Mom, if you're reading this, I'm an adult now. 
So, as a "real" adult, we're making this Cinnamon Pear Apple Sauce from scratch! No, we're not getting it from the grocery. We're climbing up apple and pear trees, picking them and making the sauce with our own hands. #Adulting am I right?
Okay, maybe skip the "climbing up the trees" part. Oh, and the "with our own hands" part too. Because in this recipe, we're using the trusty Instapot and a food processor or high-powered blender. Why? Well first because I don't know how to climb trees and second, in our tiny kitchen we want everything quick and easy!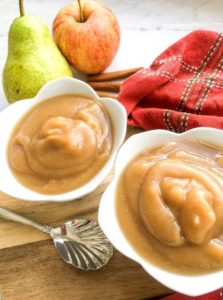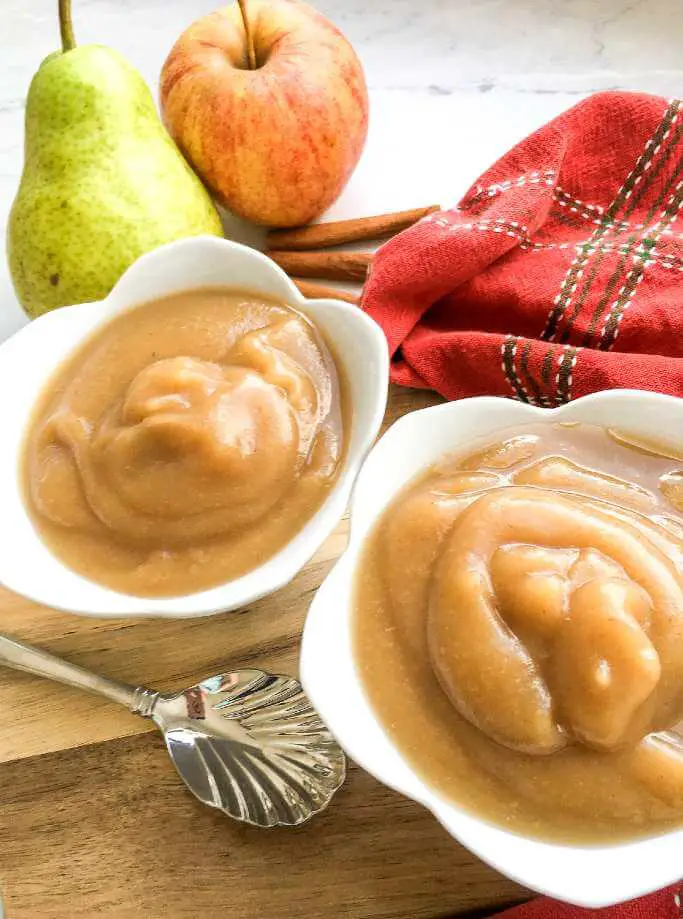 You can put this Cinnamon Pear Apple Sauce together in no more than 30 minutes. From washing and chopping the fruits to cooking them and to finally blending them. Yes, it sounds like a lot of work but in reality, it only takes about 25 minutes to do all that. And you're only physically working for about half of that because the other half, we let technology do the work. 😉
Do you know that both apple, pear, and cinnamon are good for weight loss? Apples and pears are packed with fiber, which makes them filling. While apple, pear, and cinnamon are all rich in antioxidants which help boost metabolism. They were also found to help reduce the risk of cardiovascular diseases and diabetes. 
So needless to say, it has become a part of our diet. I've tried adding it on my overnight oats and it's perfect for it! The hubby likes his Cinnamon Pear Apple Sauce with warm scones or biscuits. While the little ones enjoy it with their waffles. I mean, how could you not? It tastes amazing with everything. I know you'll find your own favorite pairing for this versatile sauce too.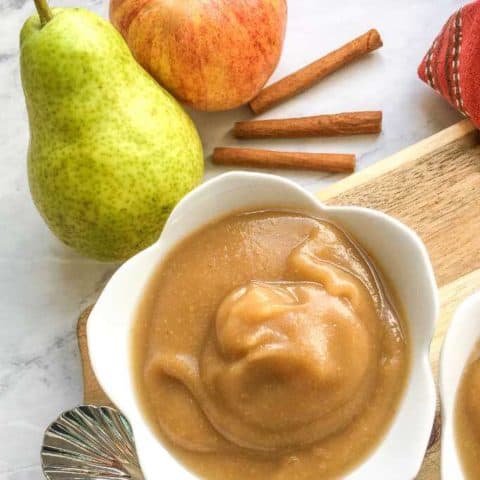 Homemade Cinnamon Pear Apple Sauce
Additional Time:
10 minutes
A perfect blend of tangy and sweet, this Cinnamon Pear Apple Sauce is perfect for any dish. It takes less than 30 minutes to make and can last for a week!
Ingredients
4 large apples, cored and chopped
2 large pears, cored and chopped
¼ cup water or apple juice
2 teaspoon ground cinnamon
1 tablespoon fresh lemon juice
1 to 2 tablespoon maple syrup (optional)
Instructions
Take your Instant Pot and put the apples, pears, fresh lemon juice, apple juice, and ground cinnamon. Mix until combined. Then add the lid and lock it into place. Set the vent to "Sealing" and the Manual mode to 4 minutes. Note that it may also take 10 to 15 minutes for the pressure to build.
When the Instant Pot timer beeps, wait for the pressure to naturally release. This usually takes about 10 to 15 minutes then the valve drops. You can now carefully take the lid off to check on the mixture. 
Let the sauce cool a little for about 5 to 10 minutes then taste it. Add maple syrup if needed. Then gradually transfer it to a blender or food processor. If you want a chunkier texture, you can also use a potato masher.
Serve immediately after blending. If you plan to store it, transfer the sauce into airtight containers and place in the fridge for up to a week. Enjoy!
Notes
cooking time (+ time to come to pressure)
You can also make Cinnamon, Pear, and AppleSauce using a Slow Cooker. Put apples, pears, apple juice, ground cinnamon, and fresh lemon juice in the slow cooker. Then leave to cook on low for 6 to 8 hours. Then proceed to the rest of the steps.
If you prefer to do it the old-fashioned way, put the same ingredients in a large saucepan on medium heat. Let it simmer for 45 to 60 minutes or until the apples and pears are fork-tender. Then proceed to the rest of the steps. 
Making a big batch? Transfer the sauce into resealable freezer bags and they can be frozen for up to 6 months! 
Nutrition Information:
Yield:

4
Serving Size:

1
Amount Per Serving:
Calories:

240
Total Fat:

1g
Saturated Fat:

0g
Trans Fat:

0g
Unsaturated Fat:

0g
Cholesterol:

0mg
Sodium:

8mg
Carbohydrates:

63g
Fiber:

10g
Sugar:

46g
Protein:

1g
How's your experience in making your homemade Cinnamon Pear Apple Sauce? I hope you find it as enjoyable as I did. Share your tiny kitchen story in the comment box below! It inspires me to keep making quick and easy recipes for you. Much love, ciao! ♥