**Disclosure: We recommend the best products we think would help our audience and all opinions expressed here are our own. This post contains affiliate links that at no additional cost to you, and we may earn a small commission. Read our
full privacy policy
here.
Air fryer roast beef is very flavorsome and quite easy to make as well. You might consider roast beef complicated, but in reality, it's very simple to cook.
Air frying is a fast method used for roasting, so it takes a lesser time to get ready, compared to using an oven.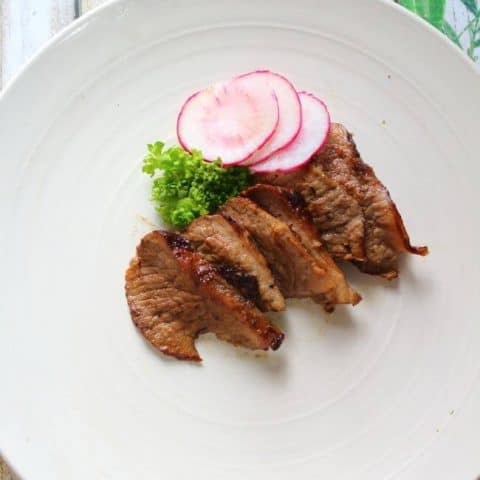 Air Fryer Roast Beef
Total Time:
1 hour
15 minutes
Air fryer roast beef is one of the best things you need to try on your air fryer. It is a tender, juicy, and tasty way of cooking a beef slab with just a few simple ingredients.
Ingredients
1200g top sirloin roast
2 tsp olive oil
2 tsp salt
2 tsp black pepper,
1 tsp dried rosemary
¼ tsp garlic, paste
Instructions
Prepare the top sirloin and let it sit for 10 minutes at room temperature.



In a small bowl, combine all ingredients except for the top sirloin roast.



Rub the mixture all over the roast and set aside.



Preheat the air fryer for 10 minutes at 200 degrees Celsius.



Place the roast in the air fryer basket and roast for 15 minutes at 200 degrees Celsius.



Reduce the temperature to 160 degrees Celsius and continue roasting for 1 hour, turning every 20 minutes for even cooking.



Check the internal temperature on the 3rd turning, and the temperature should fall from 54-60 degrees Celsius on a meat thermometer.



Remove from the fryer and rest for 5-10 minutes before serving.


Nutrition Information:
Yield:

4
Serving Size:

1
Amount Per Serving:
Calories:

659
Total Fat:

36g
Saturated Fat:

0g
Trans Fat:

0g
Unsaturated Fat:

2g
Cholesterol:

249mg
Sodium:

1333mg
Carbohydrates:

1g
Fiber:

0g
Sugar:

0g
Protein:

78g
Air fryer roast beef is one of the best things you need to try on your air fryer. It is a tender, juicy, and tasty way of cooking a beef slab with just a few simple ingredients. It has the perfect combination of herbs, spices, and the air fryer technique, resulting in an ideal weeknight indulgence.
Roast beef might sound fancy and quite a restaurant thing, but it can be done in the comforts of your home using an air fryer.
You can create a delicious roast such as lamb, pork, and beef in the air fryer. You just need the right temperature and the correct cooking time to work.
The air fryer prevents the meat from losing all its moisture, making it still juicy and a bit moist.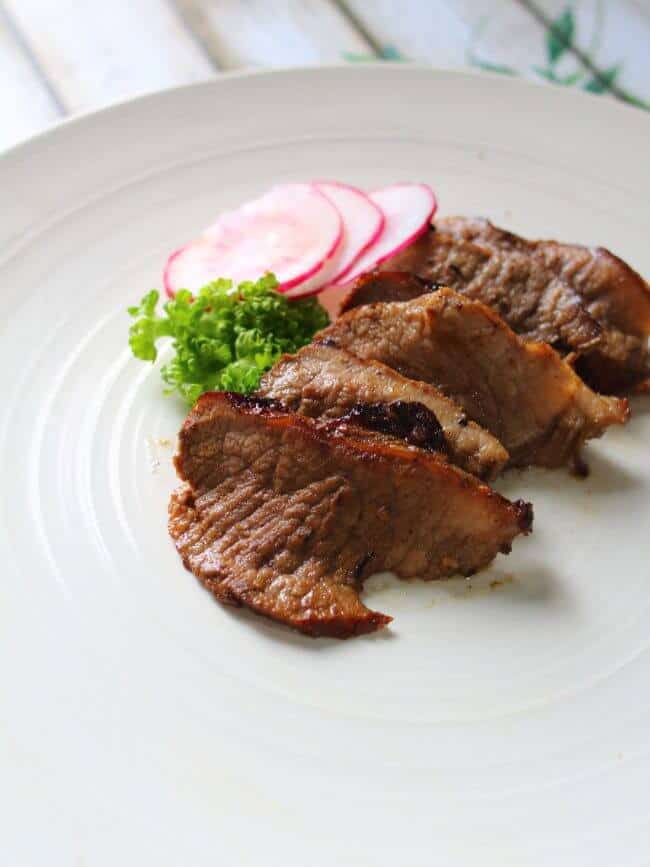 Air frying is a perfect way to roast beef. However because it's a fast method, you need to be selective on the cut you want.
Not all beef cuts can be used in air roasting. Why? Because tougher cuts need a longer roasting time than those tender cuts such as rib roast and sirloin roast. You can use the following parts for your reference in choosing what cut to air roast.
Top round roast
Eye of round roast
Sirloin roast
Tri-tip roast
Rolled rib roast
Whatever beef cuts you choose from the cuts mentioned above, it is always best to check the ingredient's internal temperature during the cooking process. This ensures that you are on the medium-rare side for a tender and juicy roast beef.
The traditional way of doing a roast in the oven needs you to sear the beef into the screaming hot pan; thus, it gives you color on the outside and retaining the moisture on the inside before putting it in the oven. You can use the searing technique to have that great color on the beef, but you can skip this down if you are using an air fryer.
If you want to learn more about the other potential benefits you may be missing about air fryers, our blog on the best air fryers would help you do so.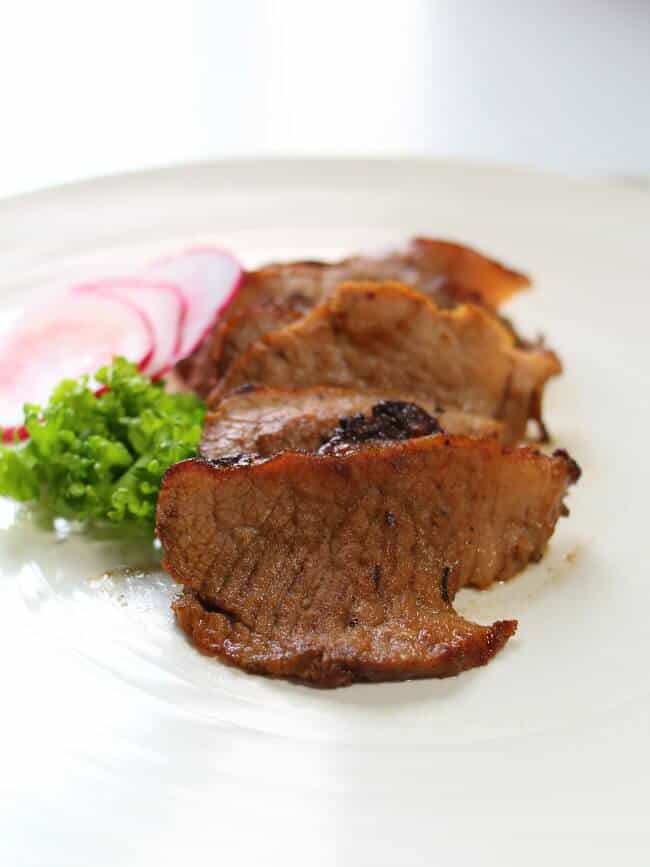 What Is the Roast Setting On Air Fryer?
The beef is cooked at a higher temperature, at 200 degrees Celsius at the first 15 minutes, and lower down the temperature to 180 degrees Celsius for the rest of the cooking time. The temperature changes are to sear the beef for the first 15 minutes, locking all the juices inside and gradually cooking the meat for the rest of the cooking process.
The meat's internal temperature should range from 50-60 degrees Celsius, and it is crucial to measure the internal temperature to prevent the meat from overcooking. Another factor that would lead to a great and juicy roast is the resting time.
The resting time helps distribute back the succulent and keeps all sides moist and tender. You can set the resting time for 5-10 minutes before carving and serving the roast.
Perfect Pairs for Air Fryer Roast Beef
This air fryer roast beef recipe is already good on its own, but it would be a sin if I do not share these favorites that can make your meal sumptuous.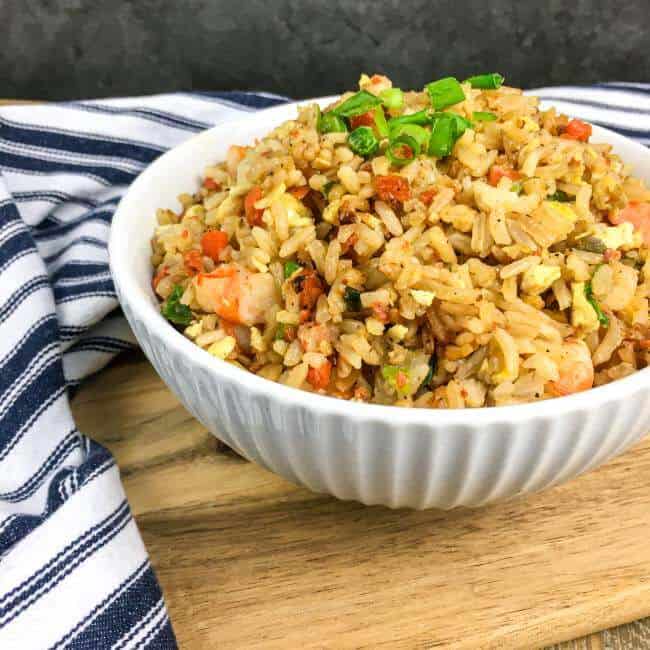 Tri-Color Roasted Rosemary Potatoes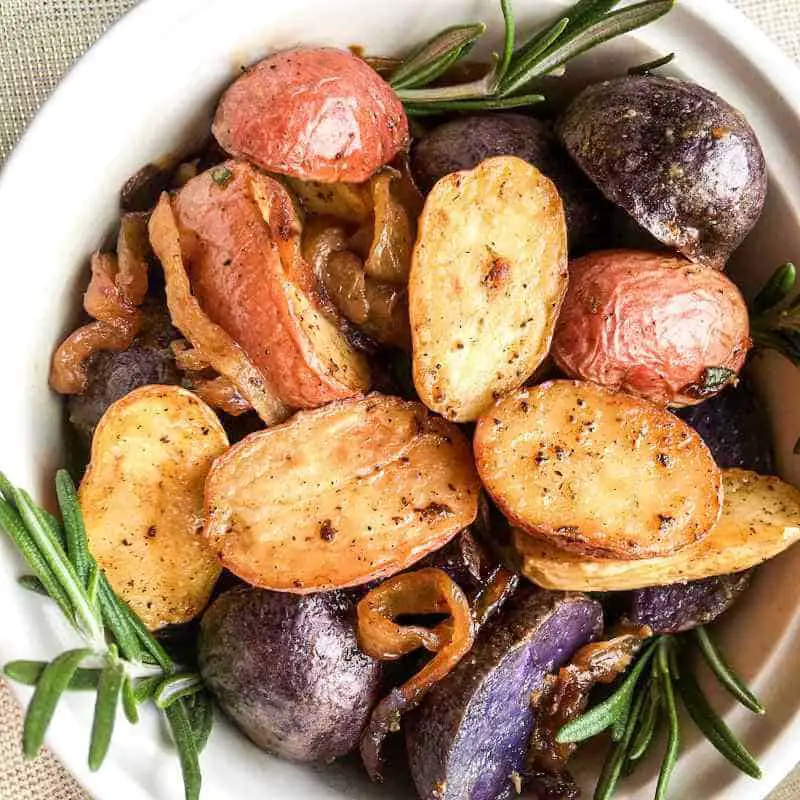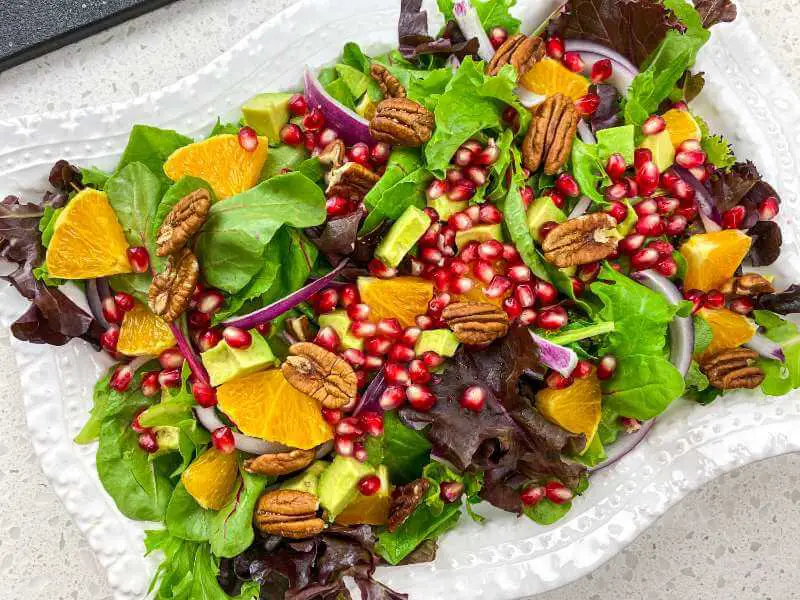 Frequently Asked Questions:
What's The Difference Between An Air Fryer And An Air Roast?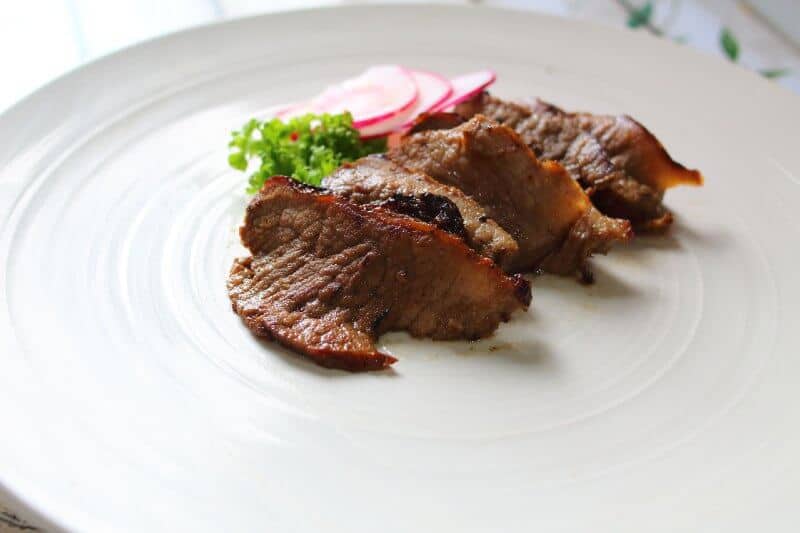 Air frying is a technique that uses heat and disperses by rapid air movement to cook an ingredient much faster and getting it crispy without the need of adding too much oil. Air roasting is no different from air frying. However, the ingredient is being cooked at the highest temperature setting for the first 15 minutes, and the temperature is lower down for the rest of the cooking time.
Conclusion
The secret to getting your roast beef right on the first try is using a "thermometer." Yes, you read that right!
You don't exactly need to use a fancy thermometer; there are many decent and affordable thermometers on the market that can skillfully roast beef.
To get the best taste out of your roast beef, be sure that it is cooked at a high temperature.
Did you find this recipe helpful? Share your thoughts with us!