Growing up in an Asian household, rice has been a part of my life. I don't have it now as often as I used to when I was living with my parents, but I still love it just as much. Most especially if they come in the form of Shrimp Fried Rice! This will always have an extra special place in my heart. I don't care if I'm on a diet this is something I'll never be able to say no to. Yes, that's how much I love it.
This is one of the first reasons (out of maybe a million LOL) why I called my mom after I moved out to live on my own after college. I mean, I tried. I really did, but I couldn't make it as good as she did. So, I called her and asked for the recipe. Yes, I got her permission to share this here. She said every diva in this tiny kitchen is her child now too. 
I remember back in middle school and I was trying to lose weight, like every other girl in school. As soon as I tell my mom "I'm starting my diet tomorrow", BEST BELIEVE this is what I'm having for lunch the next day. Do your moms do the same or are mine just built differently? Anyways, I just want to say from the bottom of my heart, this is worth the cheat day and the extra push-ups you will have to do the next day.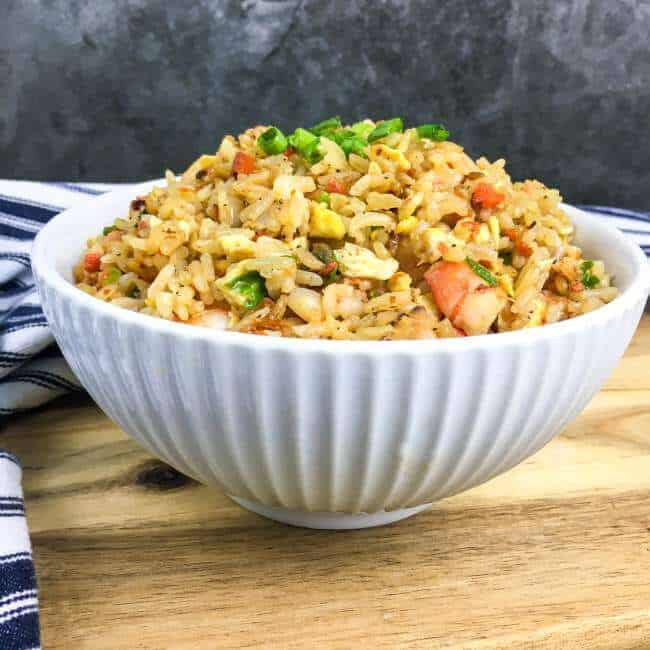 Now my kids are into it too. They love shrimp but don't love the part where they have to peel them, so since they are already peeled here, they get to enjoy it without the hard work. I mean, I think we can all agree that shrimp tastes a lot better when you don't have to peel them one by one and you can just enjoy it in its flavorful, tender glory. 
Tips And Tricks To Make Shrimp Fried Rice:
Since here in the tiny kitchen, we want things quick and easy, I used frozen, peeled, and deveined shrimps. You can find it in the frozen seafood section of your favorite local supermarket. But if you have the time and patience, you can also use fresh shrimps. Make sure to peel and devein them before adding to your fried rice.
Whenever you're making fried rice, always use leftover rice. This is because after sitting in the fridge overnight, the rice has dried, and they separate nicely when fried. Freshly cooked rice tends to stick together and be mushy when fried so they are not as appetizing. What you can do is cook the rice the night before, then let it cool and put it in the fridge overnight.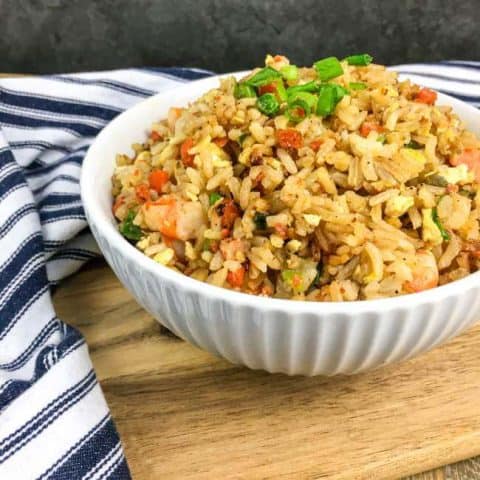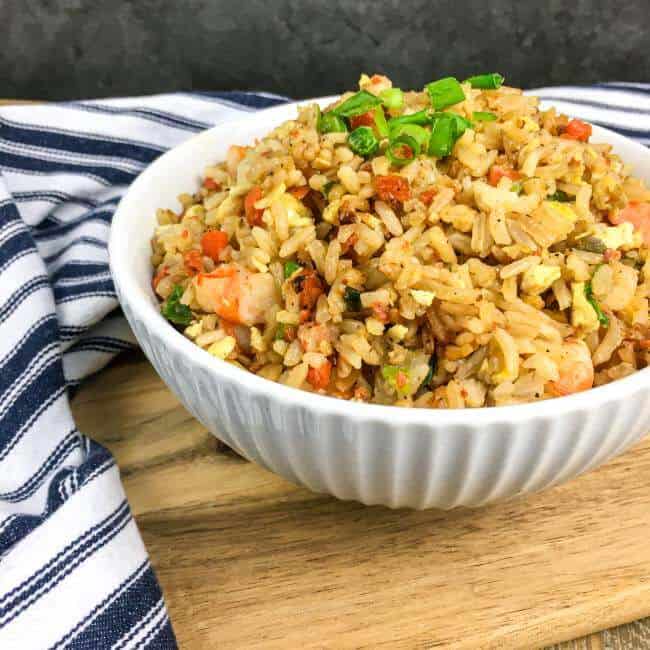 Quick and Easy Shrimp Fried Rice
I like my meals quick and easy – just like this Shrimp Fried Rice. In less than 25 minutes, you have a steaming bowl of fried rice complete with protein-rich shrimp and nutritious mixed veggies!
Ingredients
3 tablespoons unsalted butter
4 large eggs, lightly beaten
¾ lbs. frozen shrimp, thawed and chopped
1 teaspoon coarse sea salt
1 teaspoon black pepper
1/3 cup frozen peas
1/3 cup carrots, finely diced
3 tablespoons white onion, finely diced
2 large green onions, (separate the white parts from the green parts)
2 teaspoons fresh ginger, finely minced
1 teaspoon garlic powder
4 cups cooked rice, chilled
2 tablespoons toasted sesame oil
3 tablespoons tamari or coconut aminos
Optional:
Additional sliced green onion
Instructions
Melt 1 tablespoon of butter in a large work or nonstick pan on medium-high heat. Gently pour the beaten eggs, stirring it continuously to keep them from sticking together. After about 2 minutes, transfer the chopped eggs to a bowl.
Add another tablespoon of unsalted butter to the pan and toss in the shrimps. Cook it for just 1 minute while still constantly stirring then transfer it to the same bowl as the eggs.
Melt the last tablespoon of butter into the pan and add the carrots, peas, onion, ginger, garlic powder, and the sliced white parts of the green onions. Cook the veggies for at least 2 to 3 minutes or until they are tender.
Finally, add the rice and green parts of the green onions then drizzle with sesame oil and tamari. Stir until evenly combined. Put the eggs and shrimps back to the pan and stir continuously. Leave to cook for 2-3 more minutes until the shrimps have cooked through and the rice is heated.
Take the pan off the stove and transfer the shrimp fried rice into individual serving bowls. Itadakemasu! 


Nutrition Information:
Yield:

4
Serving Size:

1
Amount Per Serving:
Calories:

553
Total Fat:

22g
Saturated Fat:

8g
Trans Fat:

0g
Unsaturated Fat:

12g
Cholesterol:

388mg
Sodium:

2205mg
Carbohydrates:

54g
Fiber:

3g
Sugar:

3g
Protein:

33g
This is a quick and filling recipe that's personally close to my heart. I know you will love it too! Oh, and did I mention this is also a trick I use to make the picky little ones eat more veggies. #MomTips. What's your favorite childhood food that you can't resist until now? 😉