If you love creamy mashed potatoes, you'll definitely love Vichyssoise. Pronounced "vi-shē-ˈswäz", this French soup is also called Chilled Potato Leek Soup. This cream-based soup is primarily made up of pureed leeks, potatoes, chicken broth and you guessed it, cream. This is exactly the kind of soup you want to serve on warm days. Vichyssoise is traditionally served cold, but you can also have it hot.
I first had it on an anniversary trip in Quebec some years ago and completely murdered the pronunciation. I'm glad our server was nice enough to not call me out on it. Lol. In my head, I just read it as "vishi-swazz". Yes, this is a call for help, if any of my beloved Divas are French or can speak French, I need a lesson or two.  Just hit me up on the comments below! 😉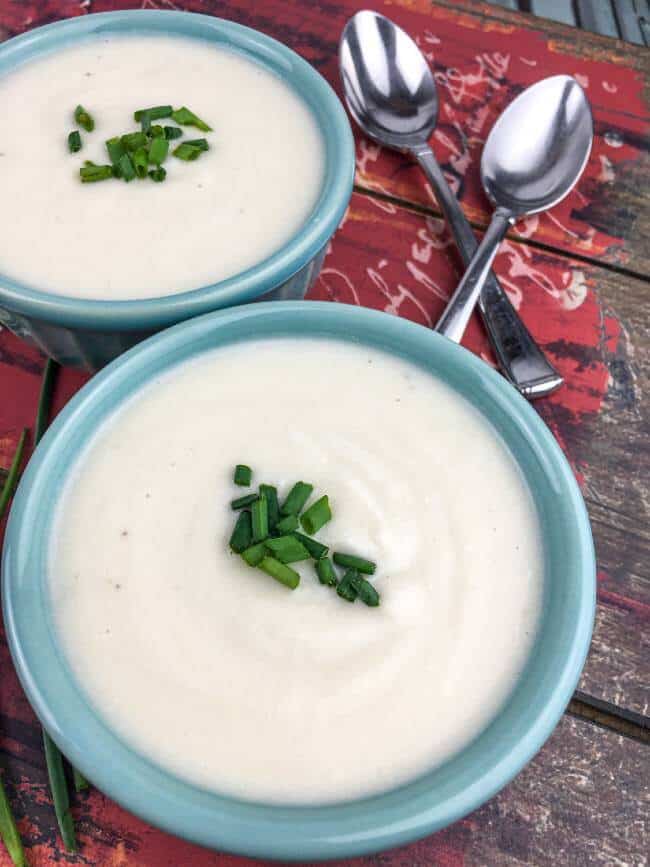 This hearty, creamy, and luxurious soup was  created by Louis Diat a French Chef in 1917, who was then working at the Ritz Carlton Hotel in New York. The name Vichyssoise is coined from the Chef's hometown, Vichy, France. The soup was served cold to help patrons to cool down in the summer heat. Remember that this was before air conditioners are widely used, so sipping on a cold soup is surely appreciated. 
Another trivia? It was originally called Crème Vichyssoise Glacée. It was inspired by Louis' favorite childhood soup of potatoes and leeks that his grandma used to make. Although other sources say it was inspired by another French soup, Potage Parmentier which is quite like a hot version of Vichyssoise. While others say the original inventor of the soup is chef Jules Gouffe in 1859.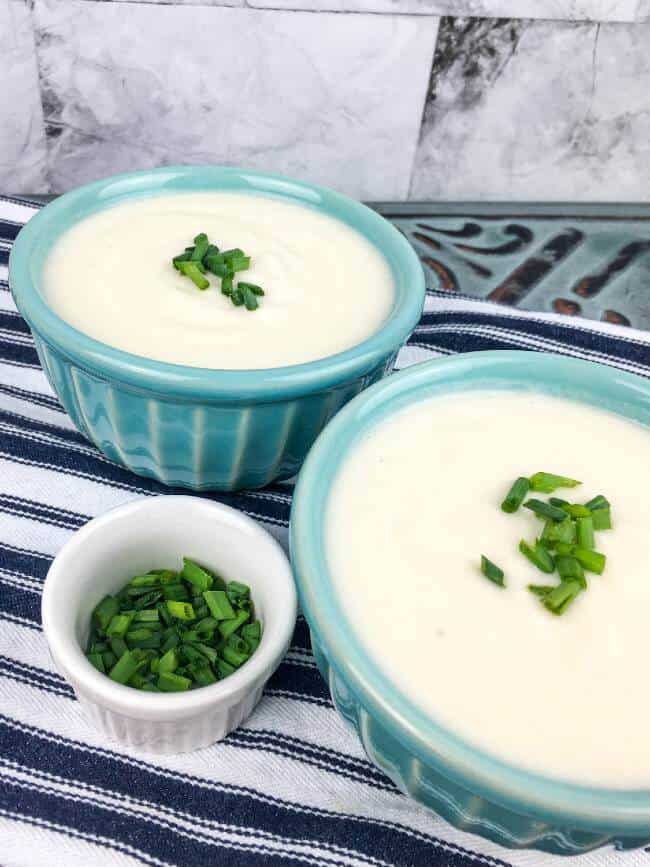 Whoever it was, all thanks to him I found another soup to obsess with. I mean how could you not? I looked up this soup right when we got home from that trip. I was pleasantly surprised by how easy it is to make my own vichyssoise from my own kitchen! You can also serve it any way you want, for any season. Serve it cold, warm, or hot – it will still be just as good.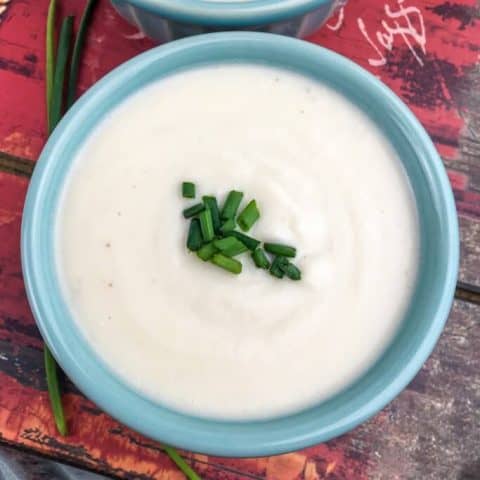 Crème Vichyssoise Glacée
I've put my own modern twist on the classic French Vichyssoise in this recipe. We're using two kinds of cream, Yukon potatoes, and leeks. It's thick, creamy, and flavorful. Perfect for a warm Summer lunch or dinner.
Ingredients
3 tablespoons unsalted butter
3 tablespoons extra virgin olive oil
3 large leeks, cleaned and sliced (white and very light green parts only)
2 large cloves garlic, finely minced
½ teaspoon coarse sea salt
½ teaspoon black pepper
2 cups chicken broth (preferably homemade)
5 medium Yukon Gold potatoes, peeled and diced
1/3 cup heavy cream
2/3 cup sour cream
3 tablespoons fresh chives, finely chopped
Instructions
Place a nonstick saucepan over medium heat. Add butter and olive oil to the pan then sauté garlic and leeks. Stir occasionally for about 5 minutes or until the leeks have softened. 
Gradually pour the chicken broth and potatoes into the pan. Bring it to a rapid boil over high heat then quickly reduce it to medium-low. Loosely put the lid on to allow steam to come out. Leave it to simmer for approximately 30 minutes or until the veggies have become tender.
While waiting for the potatoes to soften, get a medium-sized bowl, and combine the sour cream with the heavy cream. Add a pinch of salt and pepper, as needed. Mix until well incorporated.
Take the pan off the heat and let it rest for about 5 to 10 minutes. Get your high-powered blender and pour the contents in. You may need to work in batches, depending on the capacity of your blender and the amount of soup you are making. Puree the soup on high until it becomes smooth.
Pour the pureed soup into mesh coriander over a large bowl to get a perfectly smooth consistency. Repeat steps 4 and 5 for the rest of the soup.
Stir about 2 tablespoons of the pureed soup into the cream mixture to temper it before completely mixing it into the rest of the soup. Readjust seasoning as needed. Stir until well combined.
Leave the soup to cool down completely. For a faster cooling process, divide the soup into separate airtight containers. Once cooled, cover the soup and refrigerate for at least 3 hours.
For best results, serve chilled soup into individual serving bowls and top with freshly chopped chives. Bien manger!


Nutrition Information:
Yield:

4
Serving Size:

1
Amount Per Serving:
Calories:

550
Total Fat:

34g
Saturated Fat:

15g
Trans Fat:

1g
Unsaturated Fat:

16g
Cholesterol:

70mg
Sodium:

776mg
Carbohydrates:

56g
Fiber:

6g
Sugar:

7g
Protein:

9g
Serve this soup the next time you want to show off your culinary skills and knowledge to your friends and family. The Vichyssoise is not only rich in flavor, but in history too! So, give it a try, and feel free to share your own Vichyssoise story in the comments below! 😉