It's another tasty day here in our tiny kitchen and today let's talk about this underrated dish – Bone-In Pork Chops with White Beans & Escarole. Yes, I know the name's a mouthful. But once you take a bite of the juicy pork chop and the creamy white beans, I'm sure your next one will be a mouthful too! 
Now I know you're thinking, if it sounds fancy, then it must be hard to make, right? Wrong! This dish can be made in just 4 easy steps and about 45 minutes. It does sound, look, and taste fancy. But the dish is actually pretty simple and so are the steps in making it. I'm aware that most of the time we avoid pork chops because they can easily dry out and be overcooked. But I assure you that will not be the case here.
I first had this dish at my aunt's birthday about a year or two ago. Back then, I must admit I haven't had or made pork chops in a while. And this dish just changed my mind. It was juicy, tender, and flavorful! Which can be tricky to achieve when dealing with pork chops. It was also the first time I had white beans with escarole. I thought it was going to be bitter as it looks a lot like kale, but I was surprised by its mild flavor that blended well with the beans.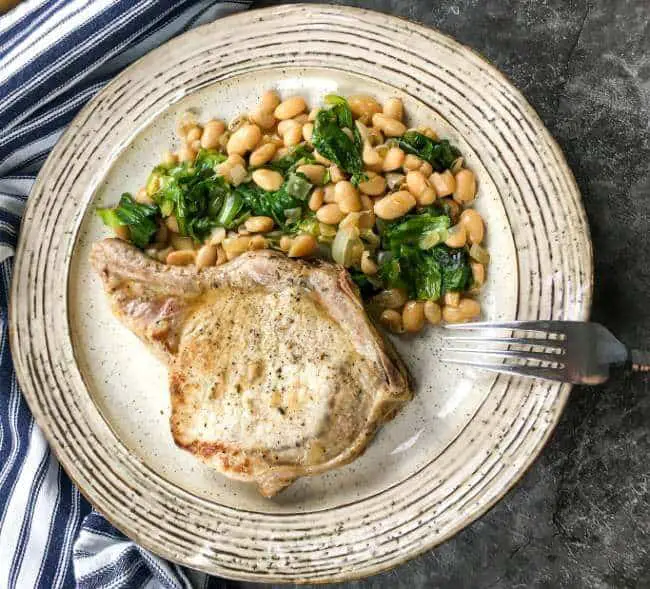 So, me being me, I asked my aunt for the recipe and then tried it at home the following week. Needless to say, we've been having pork chops more frequently now than we used to. The kids loved it! Which was a surprise because they're usually hesitant with beans and greens in general. If that doesn't convince you that this is a must-try dish, I don't know what will. 😉 
What You Need To Make Bone-In Pork Chops With White Beans & Escarole:
Bone-In Pork Chops
You might be wondering, why are we using Bone-In Pork Chops? It's because it adds more flavor and texture to the dish. This is completely up to your preference though. You can use pork medallions to avoid the bone. Or pork rib chops if you want that sinful fatty layer that goes with it.
Escarole
For those not familiar, escarole is a staple in Italian cuisine. Specifically, in making a traditional Italian wedding soup. It looks somewhat between kale, spinach, and lettuce, having those green, crumpled leaves in bunches. It belongs to a greens family known as chicory, which is famous for its bitter taste. However, when cooked, it tastes a lot milder than kale. 
White Beans
I like to use cannellini beans because of its earthy and nutty flavor. They are also tender and don't easily turn mushy. You can also use great northern beans if you want a milder flavor.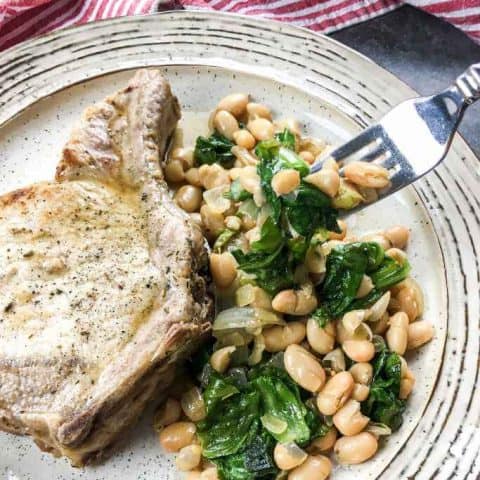 Bone-In Pork Chops with White Beans & Escarole
Tender and juicy pork chops with creamy white beans and escarole on the side. This is perfect for brunch, or even as a weekday dinner since it's so easy to make!
Ingredients
1 tablespoon extra virgin olive oil, divided
3 cloves garlic, chopped
½ medium white onion, diced
½ teaspoon kosher salt
½ teaspoon black pepper
2 12-oz. bone-in pork chops
½ cup chicken broth
2 cups cannellini beans, rinsed and drained
½ teaspoon dried oregano
3 cups escarole, roughly chopped
Instructions
Heat olive oil in a high-sided skillet on medium fire. Add onions and garlic. Sprinkle with a dash of salt and pepper. Sauté for about 4 minutes until they're lightly browned and fragrant, stir occasionally to keep them from burning. 
Lightly rub the pork chops with salt and pepper, then place it on the skillet with the aromatics. Cook for about 5 minutes on each side until they form a nice brown crust. 
Gradually add the cannellini beans, oregano, and chicken broth to the pan. Readjust seasoning as needed. Cover and let it simmer on medium-low heat for the next 8 to 10 minutes. Once the pork chops reach an internal temperature of about 140° F, transfer it to a serving plate. Let it rest for 5 more minutes while covered.
Stir in the chopped escarole to the beans while the pork chops are resting. Sauté the greens until they start to wilt then take the pan off the heat. Serve the sautéed white beans and escarole on the side with the pork chops. Bon Appetit! 


Nutrition Information:
Yield:

2
Serving Size:

1
Amount Per Serving:
Calories:

1085
Total Fat:

46g
Saturated Fat:

13g
Trans Fat:

0g
Unsaturated Fat:

25g
Cholesterol:

287mg
Sodium:

1002mg
Carbohydrates:

57g
Fiber:

18g
Sugar:

3g
Protein:

108g
Are you ready to fall in love with pork chops again? Go and try this Bone-In Pork Chops with White Beans & Escarole recipe and let me know in the comments what you think about it. This is something you would want to serve the next time your friends come over for a mom's day off. 😉