Air fried corn dogs are the real thing in our household. I love that it's too easy to make.
You just need pantry staples and creative imagination to perfect this corn dog recipe. Serve this as a breakfast or an afternoon snack for your kids and kids at heart!
It is a rustic type of corn dog — which some parts are covered, and some features have a thin layer of batter, but the result is still remarkable.
The Power XL Vortex air fryer is such a versatile piece of equipment to have in the kitchen, even if you only have a little space. It can create delightful recipes that the whole family will enjoy.
You can cook fish (air-fried tilapia), crispy pork belly, and air fry pizza rolls without the need for too much oil.
How Do You Cook Corn Dogs In An Airfryer: Tried And Tested Techniques
The best technique in creating delicious corn dogs in an air fryer is to freeze them beforehand. The wet batter doesn't work well in the air fryer, and it might get stuck in the air fryer basket or get burned during the frying process, leaving the inside raw.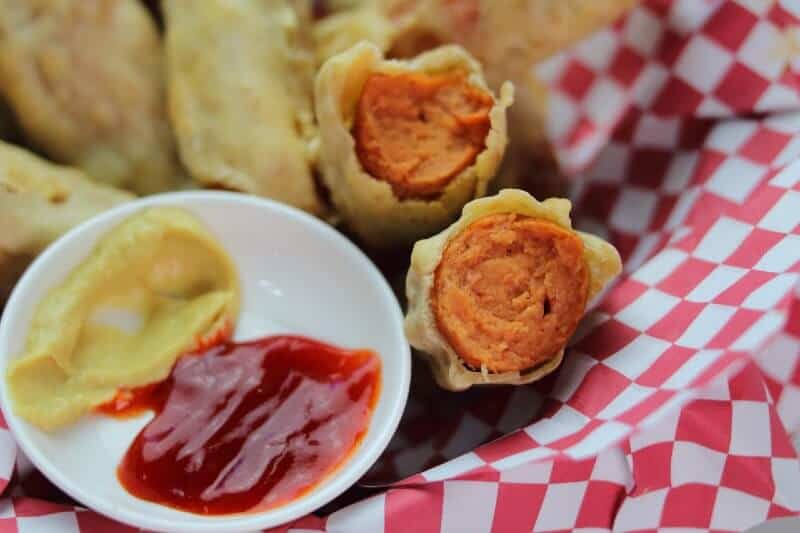 Another thing, if you can get a sturdy Styrofoam, you can pin down the corn dogs to retain their shape after you dredge them in the thick batter before freezing them.
You can use a different sausage variation depending on who will be eating the corn dogs. You can select a kid-friendly sausage such as beef or pork. But, if you are serving this to some adults, you can experiment on spiced sausages found in deli stores or supermarkets.
Whole-wheat flour is being used in this recipe to give a unique texture and flavor to the frozen corn dogs in the air fryer, but you may use yellow cornmeal if you don't have any wheat flour.
You may also use semolina, breadcrumbs, ground oats, or even rice flour in this recipe.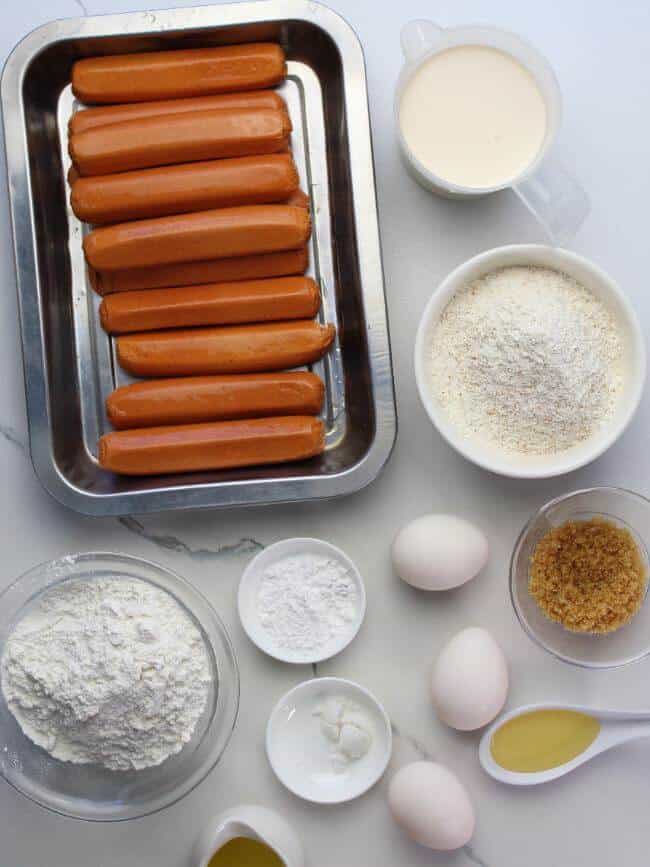 The batter's thick consistency is the key to getting the corn dogs' specific texture and shape. The batter can range from a thick cake mixture to a thick pancake mixture.
Just like any other baking recipe, salt is added to the batter. It creates a binding effect in the flour's gluten content, and it enables holding the water and gas much better.
So, don't be shocked that this recipe has half a teaspoon of salt. After all, this corn dog recipe is considered a baked item.
How Long Do You Cook Frozen Corn Dogs In The Air Fryer?
You can cook frozen corn dogs for at least 20 minutes in the air fryer, given that the temperature is at 180 degrees Celcius. Some recipes go for 200 degrees Celcius; however, there is a chance of getting it burned and still raw on the inside — which we don't want on our favorite food item.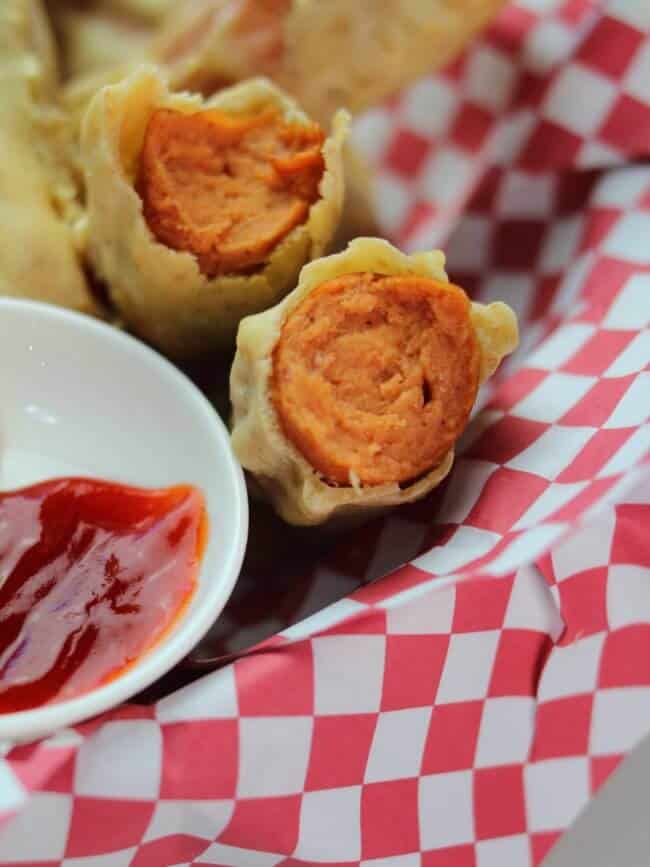 Depending on your air fryer's size, you may want to cut the wooden skewers to fit the basket. If you are using a smaller type of air fryer, you can cut the wooden skewers, leaving a half-inch of skewers from the corn dogs' edge and pulling it out once it is cook.
Another side will be cooking the corn dogs vertically if you have a smaller air fryer.
Read more: If you're asking which is the best air fryer to buy? Then an air fryer from our top picks might be the answer.
Last update on 2023-02-06 / Affiliate links / Images from Amazon Product Advertising API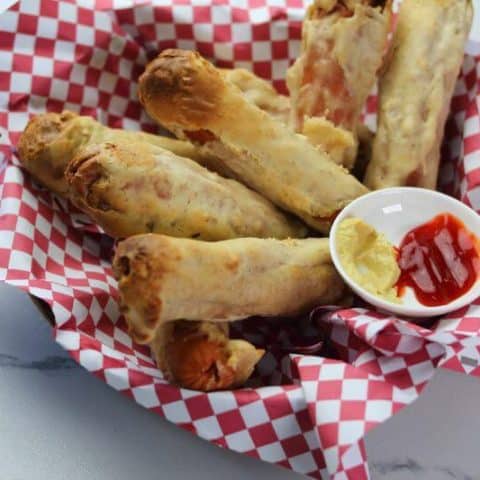 Rustic Air Fry Corn Dogs
Serve this as a breakfast or an afternoon snack for your kids and kids at heart!
Ingredients
12 pcs beef sausage
1 cup of wheat flour
1 tbsp of baking powder
1 cup of all-purpose flour
1 cup whole milk
2 large eggs
2 tbsp brown sugar
2 tbsp honey
3 tbsp vegetable oil
½ tsp fine salt
Instructions
Cook the beef sausage according to package instructions.



Transfer to a cooling rack to cool.



Meanwhile, combine wheat flour, salt, sugar, all-purpose flour, baking powder in a bowl.



In another bowl, whisk together milk, eggs, and honey.



Combine the wet and dry ingredients until it forms a thick batter.



Transfer to a tall glass and set aside.



Insert a bamboo stick into each cooked sausage.



Dip each sausage in a thick batter.



Place on a rack lined with baking paper and let it sit for 5 minutes, or if you have some Styrofoam then, pin down the corn dogs.



Freeze the corn dogs for 15 minutes.

Brush the frozen corn dogs with oil.

Place 3-4 corn dogs into the air fryer basket depending on how large your air fryer is. Air fry the corn dogs for 20 minutes at 180 degrees Celsius, turning halfway through. Repeat the process with the remaining corn dogs.



Serve with your favorite tomato ketchup and mustard.


Nutrition Information:
Yield:

12 corndogs
Serving Size:

1
Amount Per Serving:
Calories:

452
Total Fat:

33g
Saturated Fat:

12g
Trans Fat:

2g
Unsaturated Fat:

17g
Cholesterol:

95mg
Sodium:

857mg
Carbohydrates:

22g
Fiber:

1g
Sugar:

6g
Protein:

15g
I hope you try this recipe at home whenever you feel the need to grab the frozen corn dogs in the supermarket. I promise that this is way more delicious and budget friendly. 😉