As technological advancement arises during the pandemic season, many have discovered using an air fryer like the Emeril Lagasse air fryer to create delicious and healthy fried dishes without breaking a sweat in the kitchen.
An air fryer is a small convection oven that circulates hot air at the highest speed to produce delicious and crisp food without the need for deep frying.
The real question is, can you cook anything in a home air fryer? YES, from pork belly to broccoli stalks and even air fryer corn dogs!
What Is Pork Belly And Is It Bad For Your Health?
Pork belly is a fantastic ingredient to cook with. It is such a versatile ingredient used in different cuisines, especially in Asia, as the main ingredient. Pork belly provides a high quality of protein and minerals beneficial to the body.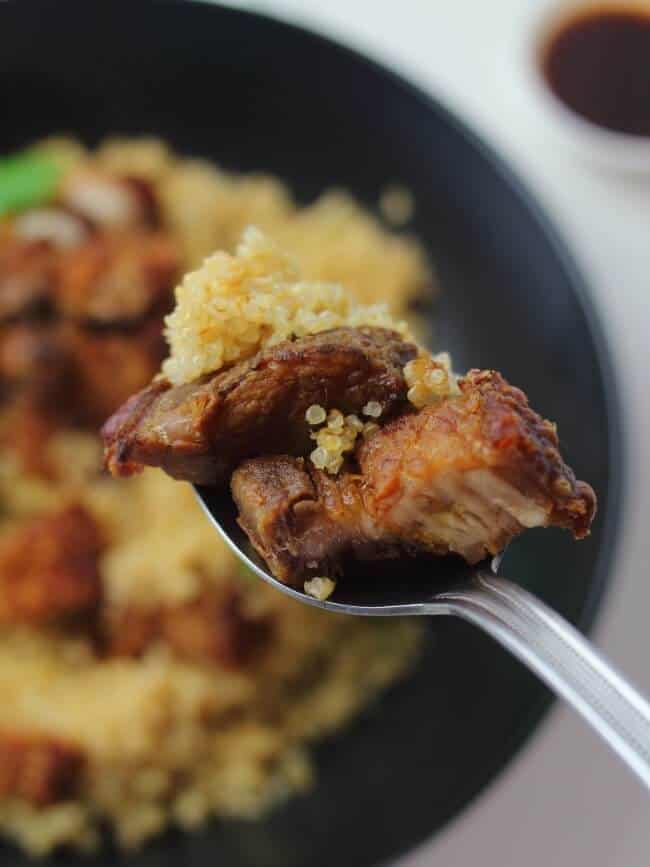 How To Make Crispy Air Fryer Pork Belly?
Airfryer and a slab of pork belly is the perfect combination. The real deal about cooking a slice of meat in the air fryer is it gets so crispy and tender as it cooks.
No products found.
The cooking process of the pork belly has two parts in this recipe. The first part is getting the belly as tender as possible by simmering it in a pot with a combination of spices and aromatics.
The second part is cooking it in the air fryer to achieve the crispiest pork belly ever.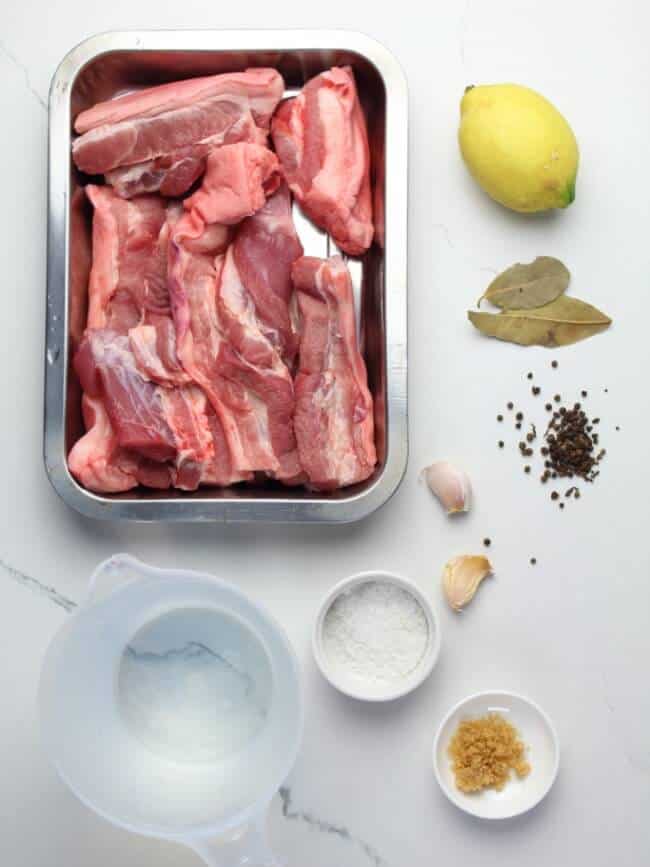 Depending on your flavor choice, you may want to incorporate different routes of herbs and spices. You can integrate aromatic lemongrass, ginger, star anise, and even black vinegar for an Asian-inspired pork belly: dried thyme, parsley, and celery — for a European-inspired flavor combination.
Once you have already selected the flavor you want to incorporate, then start simmering the pork belly for at least an hour or until it is fork-tender. The real trick of a crispy pork belly skin with tender meat is how long you simmer the meat.
The simmering time depends on the pork belly's quantity, but you can simmer it for 1 hour to 1 and ½ hours for a kilo of pork belly.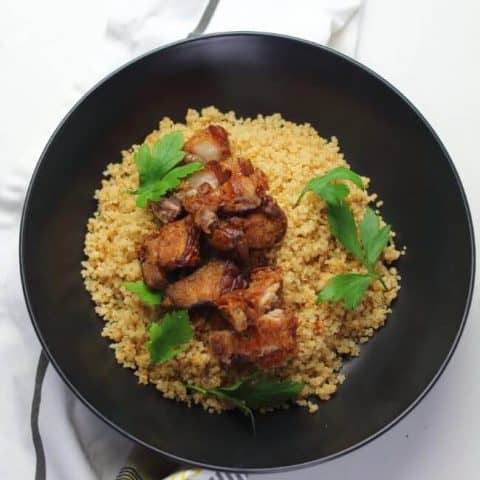 Crispy Air Fryer Pork Belly
Prep Time:
1 hour
15 minutes
Total Time:
2 hours
15 minutes
Airfryer and a slab of pork belly is a perfect combination. The real deal about cooking a slice of meat in the air fryer is it gets so crispy and tender as it cooks.
Ingredients
1 kg pork belly
4 cups water
2 tsp salt
1 tsp sugar
1 lemon
2 tsp peppercorns
2 cloves garlic, crushed
2 bay leaf
Instructions
Cut the pork belly into two equal parts depending on your air fryer's size. 



In a large saucepan, combine water, a teaspoon of salt, sugar, slices of one lemon, peppercorns, and garlic cloves. 



Bring the mixture to a boil. 



Place the pork belly into the boiling mixture. 



Let it simmer for 1 hour. 
Remove the pork belly and transfer it to a cooling rack. 



Let it cool and drain for 15 minutes. 
Pat dry the pork belly using a paper towel. 



Using a fork, pork some holes into pork skin. 



Season the pork skin with the remaining salt. 
Preheat the air fryer at 200 degrees Celsius for 3 minutes. 



Place the pork belly into the air fryer basket and cook for 15 minutes. 



Check the pork belly and continue cooking for another 15 minutes until crisp.



Remove the crispy pork belly and let it sit for 2 minutes. 



Serve with your favorite sauce and enjoy!


Nutrition Information:
Yield:

4
Serving Size:

1
Amount Per Serving:
Calories:

746
Total Fat:

54g
Saturated Fat:

20g
Trans Fat:

0g
Unsaturated Fat:

32g
Cholesterol:

210mg
Sodium:

1408mg
Carbohydrates:

4g
Fiber:

1g
Sugar:

2g
Protein:

58g
Frequently Asked Questions
Can You Use Bone-In Pork Belly?
Yes, bone-in pork belly has a beautiful flavor that gets better when you simmer it for a more extended period.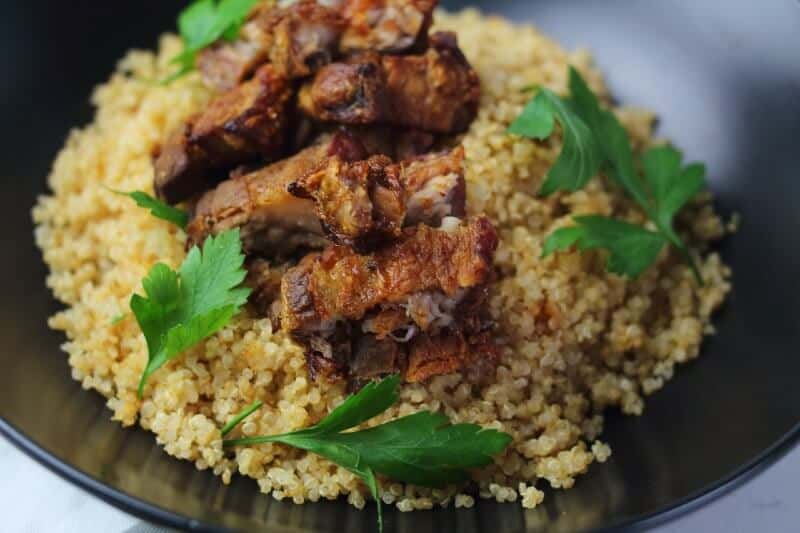 Remove the pork belly and transfer to a cooling rack once it is fork-tender. Let it cool and sit for another 30 minutes until it is not dripping anymore. The reason for that is to let the moisture inside the meat distribute evenly for a moist and tender outcome.
How To Cut Pork Belly Air Fryer Technique?
Cutting the pork belly slab into 2 or 4 slices will depend on how big your air fryer basket is. You may want to cut it in a way that the air will flow evenly for even browning of the sides and on the skin of the belly. You don't want brownish meat that doesn't have crispy skin. Puncturing the skin with a fork or with a paring knife will ensure a crisp texture.
How Long To Cook Pork Belly In The Air Fryer?
The figures will vary depending on the size of your air fryer. Also, you need to turn the meat halfway through the cooking process to ensure even browning of the meat. You also need to check the oil basket from time to time, especially if you are using a high-fat pork belly.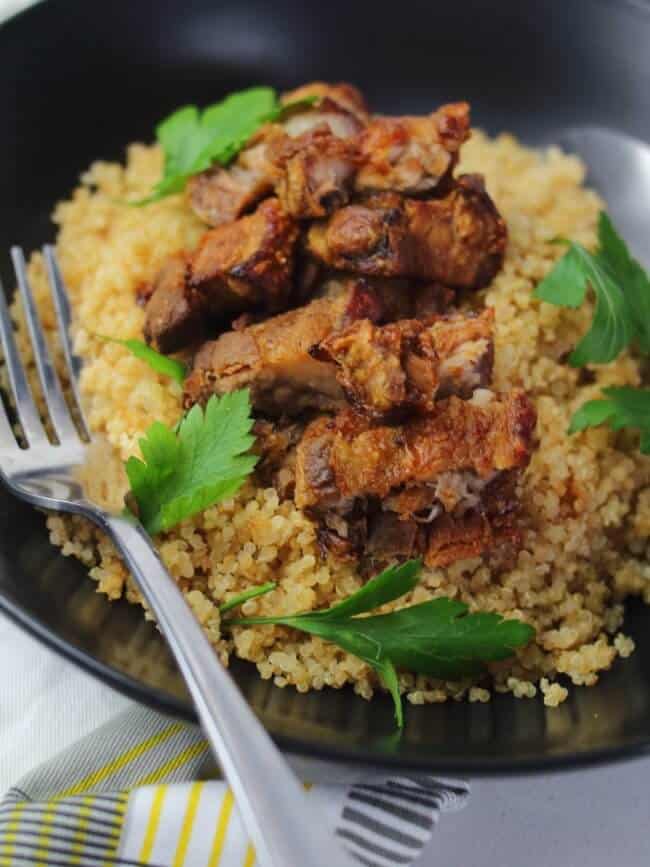 Check the table for the cooking time for the pork belly.
| | | |
| --- | --- | --- |
| Weight | Temperature | Cooking Time |
| 500g | 180°C | 40 minutes |
| 500g | 200°C | 30 minutes |
| 750g | 180°C | 50 minutes |
| 750g | 200°C | 35 minutes |
| 1 kg | 180°C | 1 hour |
| 1 kg | 200°C | 45 minutes |
Can I Cook Roast Pork In An Airfryer?
You can create delicious roast pork in the air fryer. However, you may need to use a bigger one if you have a 3-5L capacity air fryer only.
Suggestion: If you are looking for a larger air fryer, we think the vortex air fryer xl is one of the decent air fryers available online. You can also check our product review, to know if it suits your needs.
If you plan to baste the roast with a sugary glaze, then plan it 5 minutes before the end of the cooking time to avoid dark and burnt sugar.
A quick tip, if you want luscious and flavorful meat, you can simmer the pork belly in a combination of brown stock and other aromatics. In this way, the stock's flavor creates lovely moisture inside the meat and leaves a smoky note when you take a bite.