Chicken and Wild Rice Soup is exactly the type of soup that you crave on a nice rainy day. It's on my long list of instant soups that I consult whenever the weather starts to feel chilly. I love soups and I take every opportunity I have to make one, especially when it's this tasty and easy to make! The kids and the hubby appreciate the warm bowl of hearty soup when they come home from school or work. 
I mean, why wouldn't you? It's packed with wild rice, mushrooms, chicken strips, a load of veggies, spices, and herbs. It is very comforting and satisfying, not to mention the heavenly aroma it will give to your kitchen. I honestly tend to make it at the first sign I get that it will be a chilly day. Fun fact: This is my mom-in-law's recipe! She handed it over to me a week before the wedding since this is one of hubby's favorite comfort food. 😉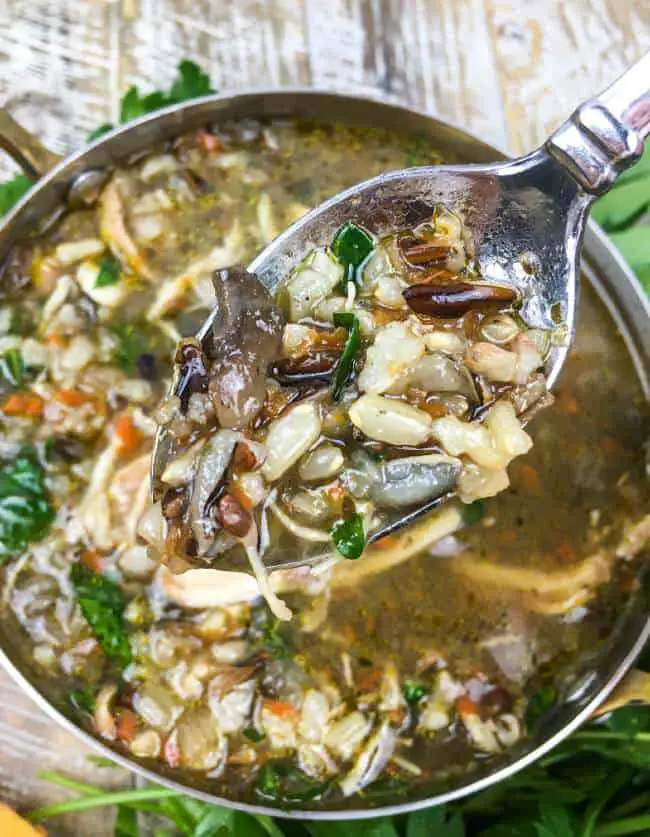 Do you know what makes it even better? This whole balanced meal is made from your Instant Pot. So, you will not have a mountain of pots and pans in the sink after making this recipe. All you have to do is toss everything in the pot, leave it to cook while you finish other chores, or just relax with a book or movie. Then turn it off when it's done and enjoy it with your family!
Tips And FAQs On Making Chicken & Wild Rice Soup:
Wild rice is great for soup because it has a chewy texture and doesn't get too mushy when cooked. If you're having trouble obtaining wild rice or you don't like its flavor, you can use regular white rice, brown rice, or even basmati rice. 
Baby Portobello or Cremini mushrooms are what I use most of the time for recipes that call for mushrooms. I like how it keeps its shape, and it has a rich flavor that's somewhere between earthy and meaty. If you prefer a milder flavor, go with white button mushrooms instead. Shiitake is also a great option as it stands up well to long cooking times, like in this recipe.
Boneless chicken breast is my first choice of meat to use when making Chicken & Wild Rice Soup. It has less fat and lower calories than other parts of the chicken. However, if you prefer dark meat, thigh fillet is a great alternative. It is more flavorful and tender though it is a bit fatter and has more calories than the breast.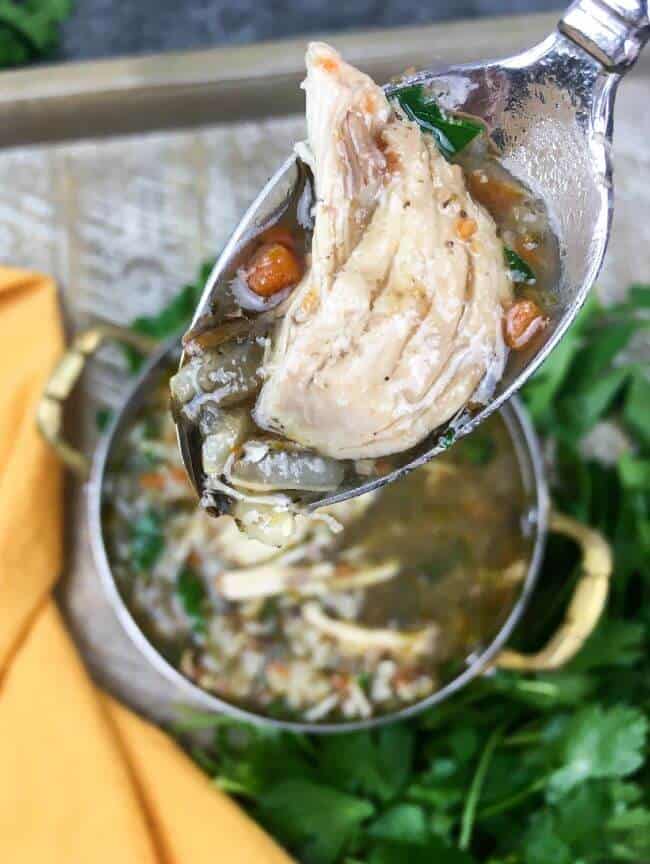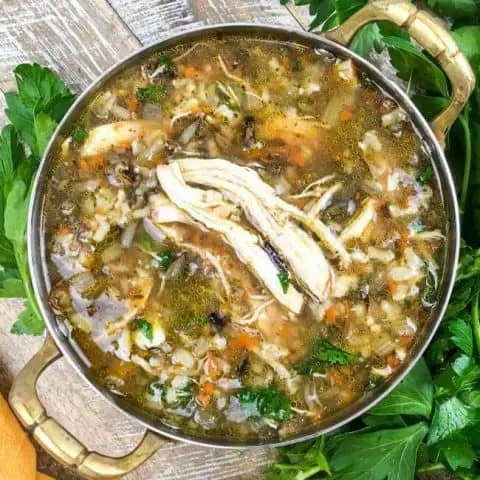 Instant Pot Chicken & Wild Rice Soup with Mushrooms
Additional Time:
10 minutes
This cozy and hearty Chicken & Wild Rice Soup with Mushrooms is guaranteed to make the chills go away. It's less than an hour to make, healthy, delicious, and filled with mushrooms, mixed veggies, tender chicken, and soft wild rice.
Ingredients
1 tablespoon extra virgin olive oil
1 small white onion, diced
1 large carrot, diced
2 large stalks celery, diced
½ teaspoon coarse sea salt
½ teaspoon ground black pepper
1 teaspoon dried thyme
½ cup baby Portobello mushrooms, cleaned and sliced
1 lb. boneless chicken breasts
1 cup wild rice blend, rinsed and drained
2 whole bay leaves
6 cup chicken broth
¼ cup fresh parsley, chopped
Instructions
Place your Instant Pot on Sauté mode and pour the olive oil in. Adjust it to medium then once the oil is hot, toss in the onions, carrots, and celery. Sprinkle with salt and pepper and let it cook for about 3 minutes or until the veggies are tender. Stir continuously.
Put the dried thyme and mushrooms in the pot and continue stirring. Let it cook for about 3 to 4 minutes or until some color develops on the mushrooms. Turn the Instant Pot off.
Stir in the chicken breasts, wild rice, and bay leaves with the veggies. Gradually pour the broth into the pot. Lock the lid and put the valve to "Sealing". Press the "Manual" function and set it to High then adjust the cooking time to 30 minutes.
Once the timer beeps and it's done cooking, let the pot naturally release the pressure for about 10 minutes. Then manually release any pressure left. Turn the pot off and slowly remove the lid.
Take the chicken breast out of the pot and transfer it to a platter. Using two forks, shred the chicken breast then return it to the Instant Pot. Garnish with fresh parsley and readjust seasoning, if needed. Stir one last time and serve in individual bowls.


Nutrition Information:
Yield:

4
Serving Size:

1
Amount Per Serving:
Calories:

317
Total Fat:

9g
Saturated Fat:

2g
Trans Fat:

0g
Unsaturated Fat:

5g
Cholesterol:

104mg
Sodium:

1771mg
Carbohydrates:

18g
Fiber:

2g
Sugar:

4g
Protein:

40g
My family loves Chicken & Wild Rice Soup and I know yours will too! Pinky promise me you'll try this recipe soon, okay? Okay. And when you do, tell me your Chicken & Wild Rice Soup stories in the comments below. Much love, ciao! ♥