Nothing beats a chilly night than a hearty bowl of 15-Bean Soup inspired by my Grandma's traditional recipe. It's the kind of soup that makes you feel like you're in a log cabin by the lake and it's raining outside. The house smells of herbs, spices, and wood burning in the fireplace. You're on the couch by the huge picture window looking out, a bowl of this amazing soup in hand. Everything's right in the world.
This Gluten-Free 15 Bean Soup recipe is wholesome, convenient, economical, and filling at the same time. It's perfect for those lazy days when you're in your comfiest PJs and you just want to wrap yourself in a blanket and binge-watch a true-crime series. You simply sauté the ingredients then leave it to cook for about 1.5 hours. That's enough time to go halfway through Season 1. Right? 😉
Normally, 15 bean soup uses bacon, ham, pancetta, or even sausages. But you know me, I can be extra sometimes. One day I found pork ribs lying in the fridge and I thought, why not add it to the soup? So, I did, and believe me when I tell you it really took it to the next level! The rich flavor profile is super satisfying.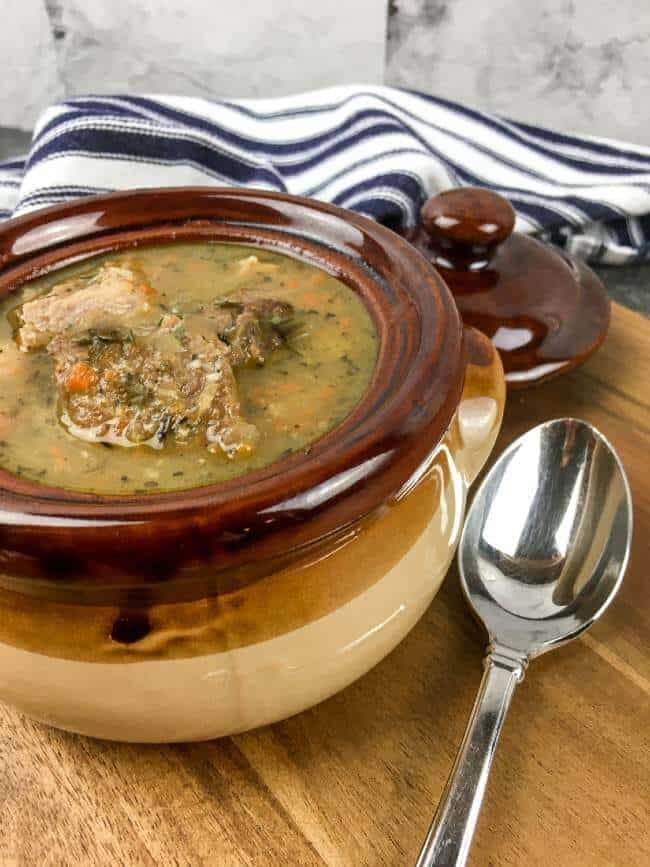 Notes For Making The Best 15 Bean Soup:
To keep the soup gluten-free, make sure that the packaging of the multi-bean soup mix that you are getting says "gluten-free". It's easy to find at the bean section of your local grocery store. PS: It may come with a seasoning packet, discard it – we have our own mix. 😉
Do not forget to soak the beans. It washes off the unnecessary complex sugars found in beans. This is why you get gas when eating them! Soaking the beans also helps it cook easier. To do this, simply pour the beans into a colander and wash under running water. Pick out the debris or tiny rocks that sometimes come with them. Then transfer the rinsed beans into a large bowl filled with water and let it soak overnight.
The 15-bean soup freezes well. Transfer to individual serving-sized freezer bags and place them in the freezer. To reheat it, simply thaw it for about 10-20 minutes then place in a stockpot over low heat while frequently stirring.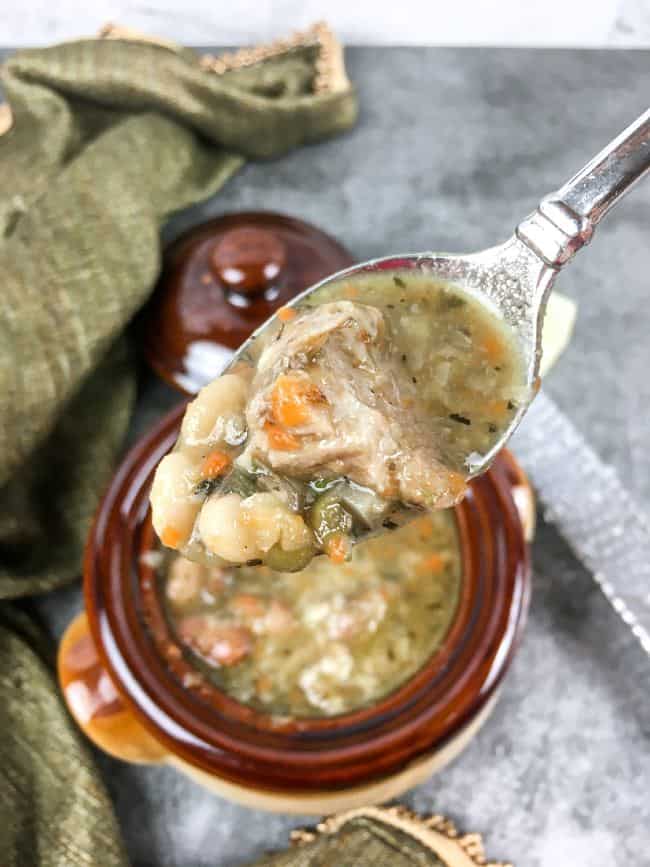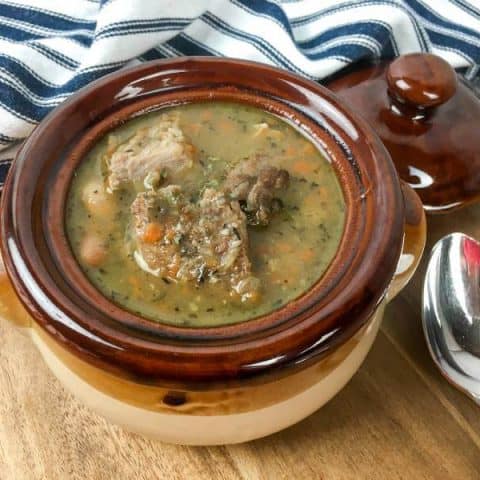 Gluten-Free 15 Bean Soup
Cook Time:
1 hour
30 minutes
Total Time:
1 hour
50 minutes
If you haven't tried this soup before, now is your chance! Whip up this stress-free soup made with a pack of 15 bean soup mix, celery, carrots, onions, and a handful of herbs and spices!
Ingredients
2 tablespoons extra virgin olive oil
2 lbs. pork shoulder country-style ribs
1 medium white onion, diced
4 cloves garlic, minced
2 large stalks celery, diced
1 large carrot, diced
½ teaspoon kosher salt
½ teaspoon black pepper
2 cups dried multi-bean blend, rinsed and soaked
2 whole bay leaves
1½ teaspoon dried parsley
1½ teaspoon dried thyme
1½ teaspoon dried herbs de Provence
1½ teaspoon dried oregano
2" Parmesan rind
6 c. chicken broth or water
3 tablespoons fresh basil leaves, roughly chopped
Instructions
Do a quick or overnight soak of the beans. Follow the packaging instructions for a quick soak or rinse, pick, and let sit in a bowl full of water overnight.
Pour half the olive oil into a large Dutch oven on medium-high heat. Rub the pork ribs with kosher salt and pepper. Place it in the Dutch oven and sear both sides for about 6 to 7 minutes on each side or until it forms a golden-brown crust. Remove from heat and set aside on a plate.
Pour the remaining half of the olive oil and the vegetables into the Dutch oven. Readjust seasoning as needed. Stir continuously to combine for about 5 minutes or until the veggies are fragrant and tender.
Place the ribs back in the Dutch oven. Gradually pour in the drained beans, bay leaves, dried herbs, parmesan rind, and chicken broth. Add salt and pepper as needed. Stir until well combined.
Adjust to medium-high heat until the mixture goes into a rapid boil then quickly lower the heat to medium-low. Leave to cook for an hour and 15 minutes. We want the pork ribs fall-off-the-bone tender and the beans to be soft but not to the point that it's mushy.
Take the Dutch oven off of the heat and pick the bones out of the soup. Using two forks, pull the tender pork meat apart. Readjust seasoning, as needed, before stirring the fresh basil in. Serve while still warm!


Nutrition Information:
Yield:

6
Serving Size:

1
Amount Per Serving:
Calories:

660
Total Fat:

43g
Saturated Fat:

14g
Trans Fat:

0g
Unsaturated Fat:

24g
Cholesterol:

165mg
Sodium:

1275mg
Carbohydrates:

19g
Fiber:

5g
Sugar:

3g
Protein:

49g
The 15 Bean Soup is a comforting dish that you can easily make any time. My dad always says that "A good soup feels like a warm hug to your insides", and this soup sure gives that feeling.  Let me know how you made this dish yours in the comments below! I love reading how you add your own twists to these recipes!