Hello Divas! Today we're making these delectable No-Bake Chocolate Peanut Butter Cookies. This amazing snack passed all the Tiny Kitchen Diva checklist: tasty, healthy, inexpensive. With a bonus: the kids absolutely loved it! I mean, why not? It's made up of the 2 things that are high up on their favorite food list: chocolate and peanut butter. 
I love how simple it is, and how the ingredients are mostly pantry basics. The kids and I usually make these munchies when I have a day off and then we take them to the park. At first, they were not excited about the idea of oats. But after I mixed it with chocolate, maple syrup, and peanut butter they can't stop snacking on them. Good thing I made this recipe with unsweetened cocoa powder and sugar-free peanut butter. We don't need 2 toddlers on a sugar rush at the same time! Lol.
What Do I Use To Make No Bake Chocolate Peanut Butter Cookies?
Peanut Butter
Our main ingredient, you guessed it, peanut butter. I highly suggest using sugar-free peanut butter. It will help bind all the ingredients together. You can use a smooth or crunchy version for more texture. Any nut butter will work, it can be regular peanut butter, hazelnut butter, or almond butter, whichever you prefer.
Cocoa Powder
Dutch-processed cocoa powder is the way to go in this recipe. It is unsweetened, and it has a neutral pH. It has a richer flavor than natural unsweetened cocoa powder. I also love that it gives a deeper, more appetizing color to whatever food you add it into.
Quick Cook Oats
Oats will serve as the base ingredient for these cookies. Now, this recipe is already healthy but if you want to make it gluten-free, there are a lot of gluten-free oats on the market. 
How To Make No-Bake Chocolate Peanut Butter Cookies
I can't emphasize how easy to make these cookies are. You don't need an oven, or a baking degree to whip this up. You just need a few ingredients and start mixing!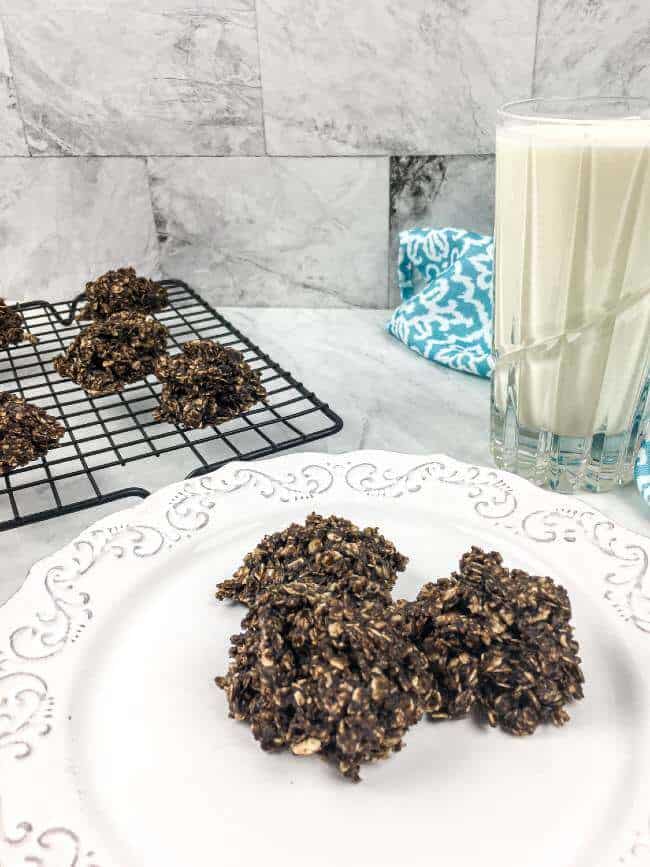 To start, get a cookie sheet and line it with parchment paper. It's way easier to use Silpat™ if you have one. This is so that the cookies don't stick to the tray. Then get a large microwave-safe bowl and pour the peanut butter, maple syrup, butter, and vanilla extract. Put it in the microwave at 50% power for about 1 minute then continuously stir it until it becomes smooth.
Then add the salt and cocoa powder to the bowl and keep mixing until they're well combined. Pour the oats gradually, mixing every after one cup to make sure they are evenly coated by the cocoa-peanut butter mixture. 
Now it's my kids' favorite part! (And mine too, to be honest 😉) Scoop the mixture one tablespoon at a time and transfer it to the lined cookie sheet. You can make them round or whatever shape you like. Repeat this until you finish all the mixture then freeze it for at least 30 minutes.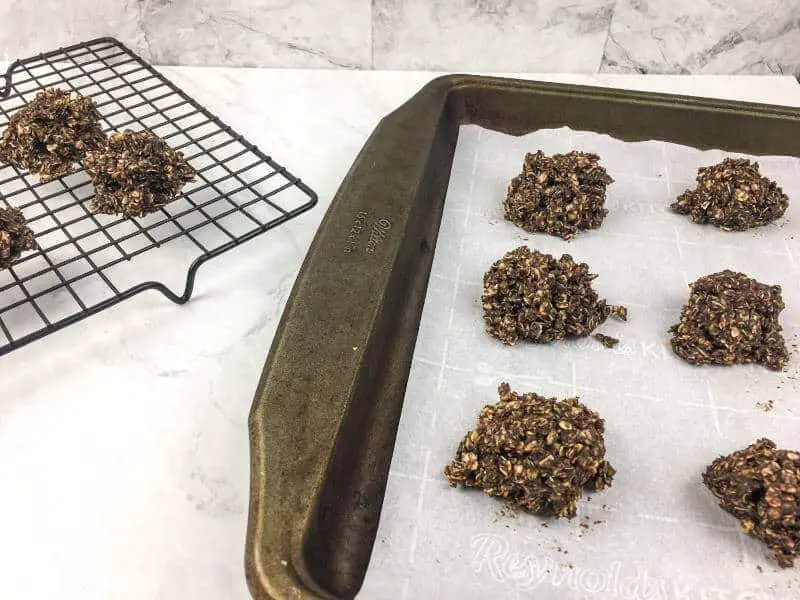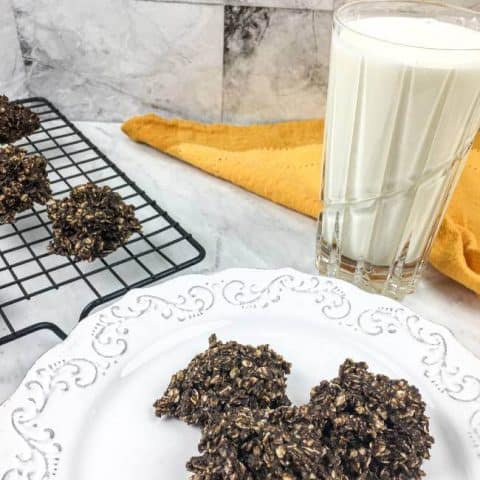 No-Bake Chocolate Peanut Butter Cookies
This low-key healthy cookie is a treat for the taste buds without all the guilt! It's made up of peanut butter, cocoa powder, and oats.
Ingredients
½ cup sugar-free peanut butter
1/3 cup real maple syrup
6 tablespoons unsalted butter, room temperature
1 teaspoon real vanilla extract
1/8 teaspoon salt
2 tablespoon dark unsweetened cocoa powder
1½ cup quick cook oats
Instructions
Place a silicone baking mat or parchment paper on a large cookie sheet.
In a large microwave-safe bowl, combine peanut butter, maple syrup, vanilla extract, and butter. Put the lid on it and place it in the microwave on 50% power for a minute. Then take it out and continuously stir until you get a smooth consistency. 
Pour the salt and cocoa powder into the mix and keep stirring until they are well combined. Now gradually pour the oats in, stirring after every cup until they are all coated by the peanut butter-cocoa mixture.
Scoop the mixture into the baking sheet one tablespoon at a time. Mold it into a circle or any shape you (or the kids) want. Then put it in the freezer for at least 30 minutes.
Once the cookies have set, take them out of the freezer to serve. Keep the cookies in the fridge until you are ready to serve or else they will melt and lose their structure.


Nutrition Information:
Yield:

15
Serving Size:

1
Amount Per Serving:
Calories:

132
Total Fat:

6g
Saturated Fat:

3g
Trans Fat:

0g
Unsaturated Fat:

3g
Cholesterol:

12mg
Sodium:

29mg
Carbohydrates:

18g
Fiber:

1g
Sugar:

11g
Protein:

2g
This is such a fun and easy recipe to make! You can make it as your cheat day snack, or a healthy treat for the little ones. If you have a fun story about making this recipe, share them with us through the comments below. ♥