Nowadays, with still a lot of travel restrictions, we come up with ideas on how to explore the world differently. We travel by watching shows, we visit tourist spots by following vlogs, we walk through virtual museums, and for a taste of any local cuisine: we cook them!
Yes, I am exposed to Asian cuisine for a large part of my life, but I've also learned to explore more global fares throughout the years – by travelling, and now, by having gastronomic adventures within my own kitchen whenever time permits.
One of my favorites is Mexican cuisine. I'm particularly enamored with it because of the flavors and aromas, not to mention most ingredients are quite affordable, too.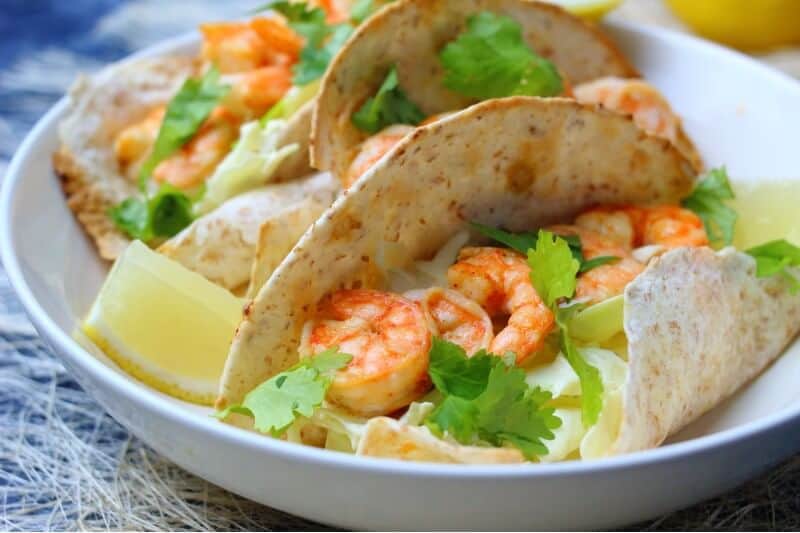 I'm honestly crazy over tacos. They are versatile in shell and filling. Do you prefer hard or soft tacos? Which meat do you usually choose for the filling? Which sauce or cheese do you mix the tacos with? The possibilities are endless. I've prepared tacos using pork, chicken, and even fish. And they all taste great! 
This time, I am sharing with you a recent creation, which are air fryer shrimp tacos. The recipe below is very easy to follow, and prep time would only take you 30 minutes.
Shrimp is a great substitute for pork, chicken, or beef, as it has its own flavor, and gives that juicy texture with every bite. I will also provide some suggestions on how you can add some variation to the textures and flavors of your air fry shrimp tacos. 
I hope you enjoy this recipe!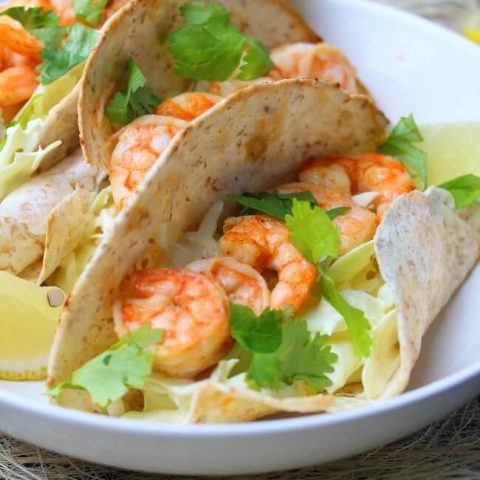 Air Fryer Shrimp Tacos Recipe
Shrimp tacos make for a great afternoon snack with your friends.  
Ingredients
300g small-sized shrimp, heads removed
1 tsp garlic powder
¼ tsp red pepper flakes
½ tsp onion powder
¼ tsp cumin
1 tbsp olive oil
½ tsp salt
150g cabbage, shredded
240ml sour cream
½ tsp lemon zest
Salt and pepper, to taste
50g tomatoes, chopped
1 red chili, chopped
25g red onions, sliced thinly
4 pieces whole wheat tortilla
1 tbsp lemon juice
Lemon wedges, garnish
Chopped cilantro, garnish
Instructions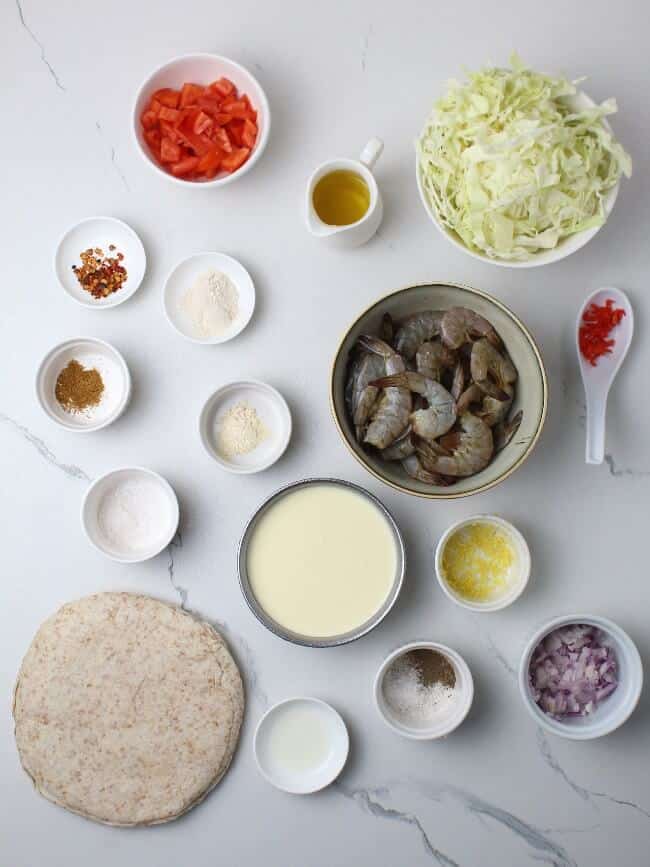 1) In a small bowl, combine Greek yogurt, lemon zest, and season with salt and pepper.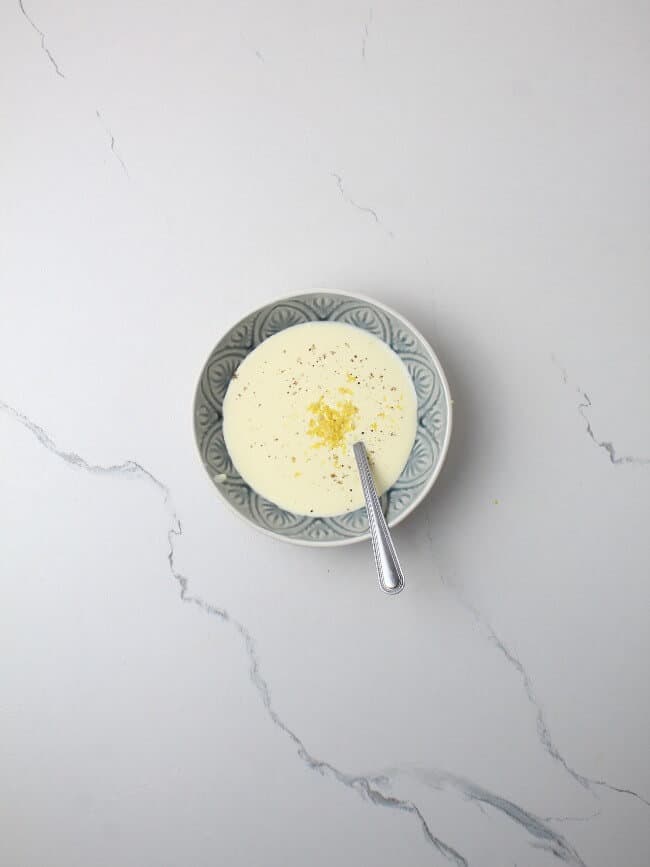 2) Combine the shredded cabbage, tomatoes, chilies, red onions, lemon juice, and sour cream sauce.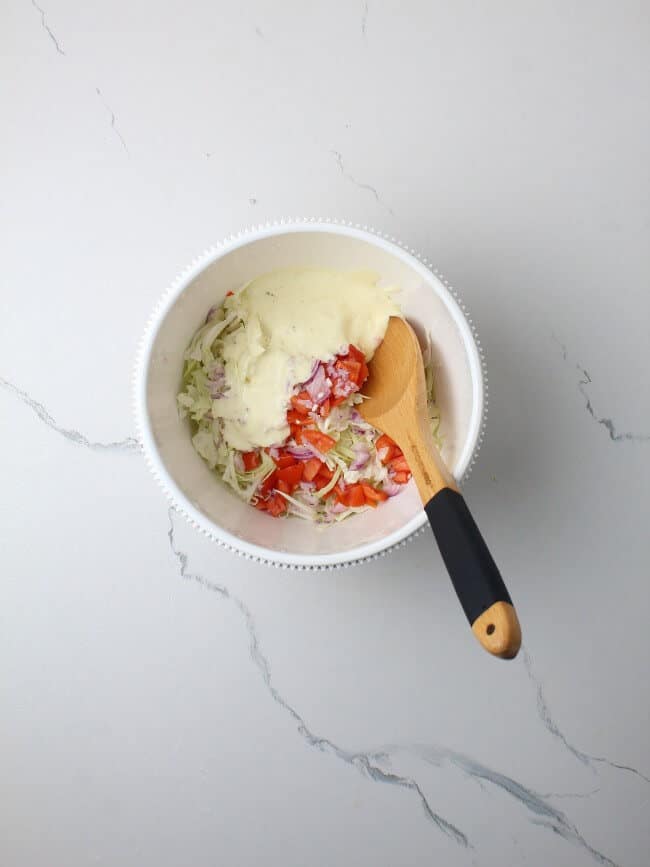 3) In another bowl, place the shrimp and combine with the spices (garlic powder, red pepper  flakes, onion powder, cumin, and olive oil).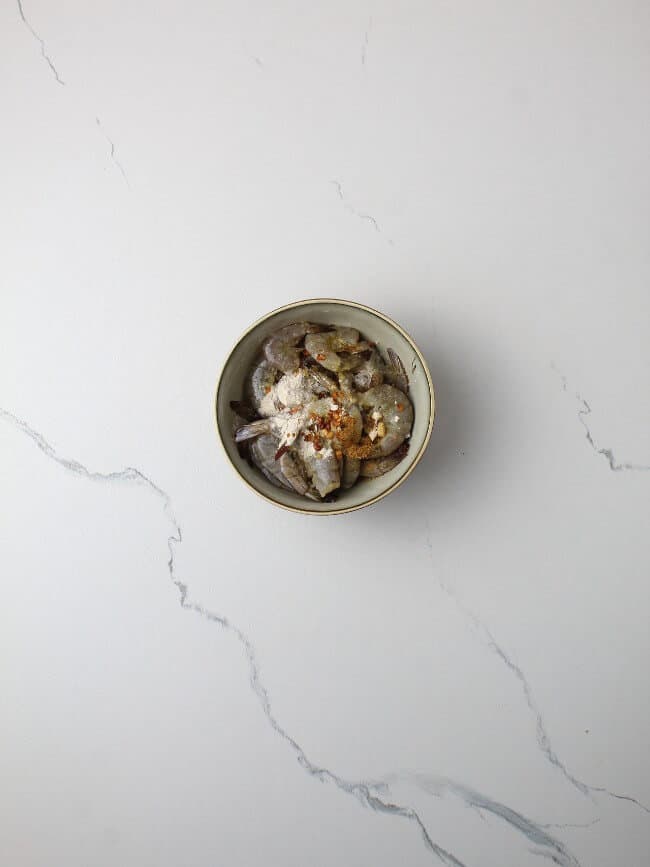 4) Let it marinate for 5 minutes. 
5) Meanwhile, preheat the air fryer for 5 minutes at 200 degrees Celsius.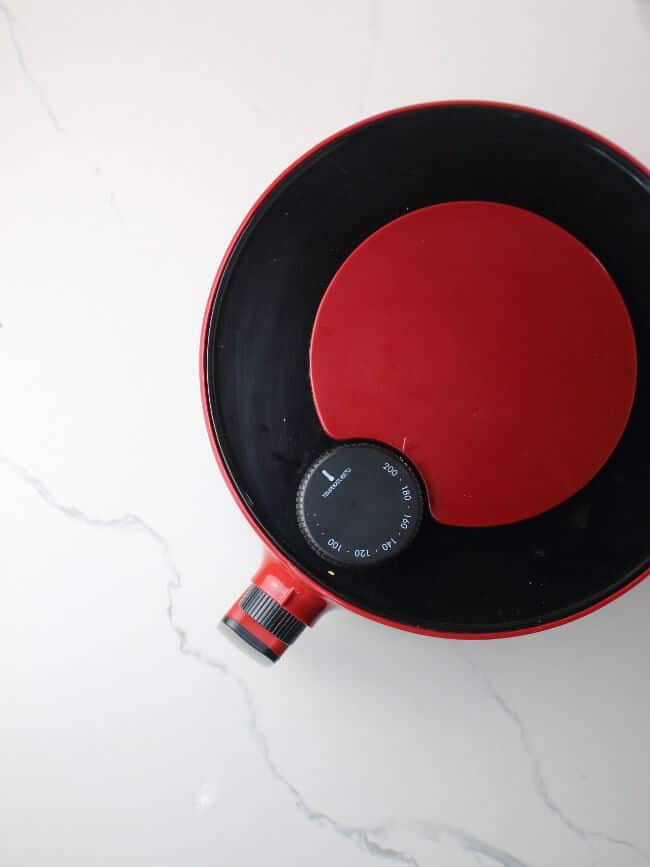 6) Place the marinated shrimp in the air fryer basket.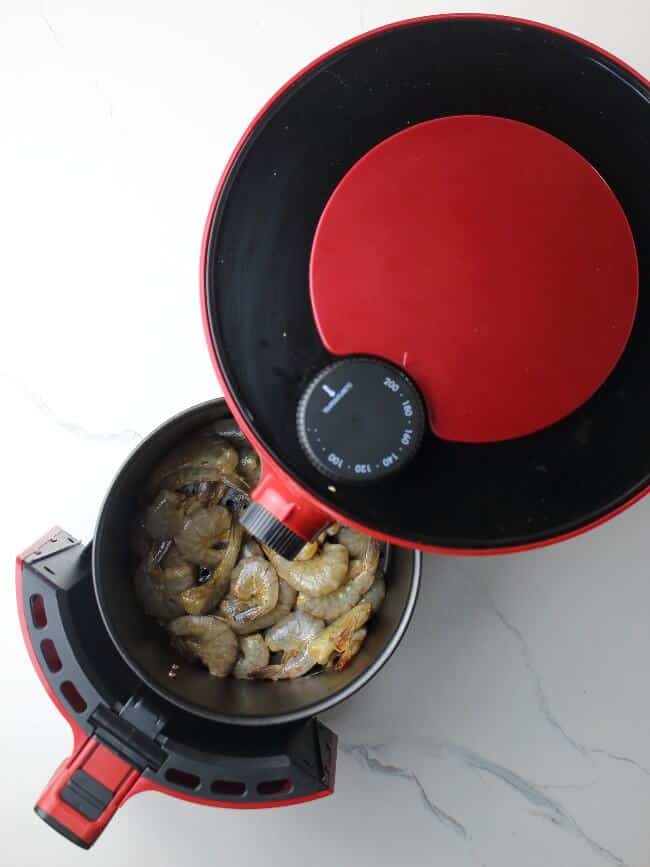 7) Air fry the shrimp for 10 minutes at 180 degrees Celsius, turning halfway through. Use a good pair of tongs to efficiently turn the shrimps over.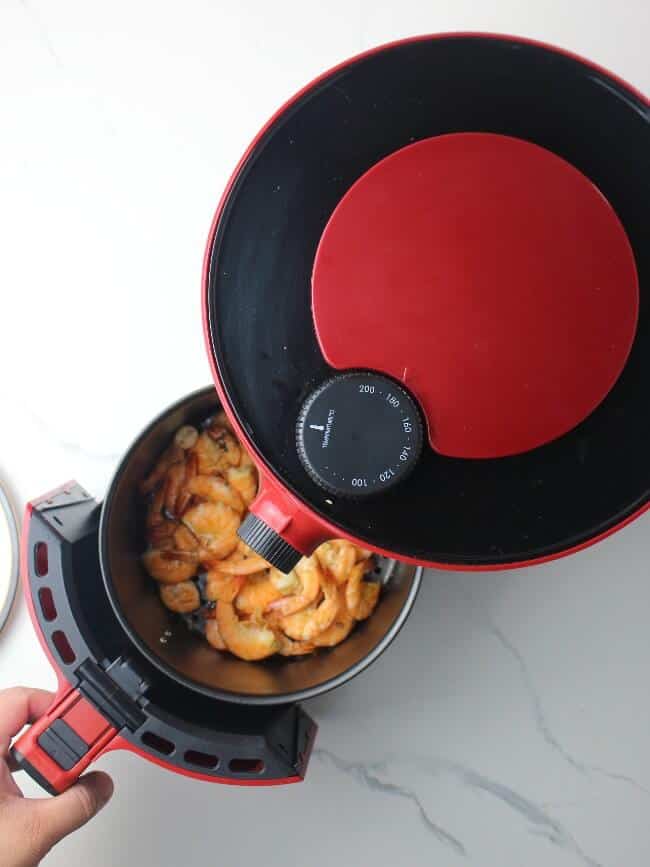 8) Using the air fryer, heat the whole-wheat tortillas at 200 degrees Celsius for 5 minutes.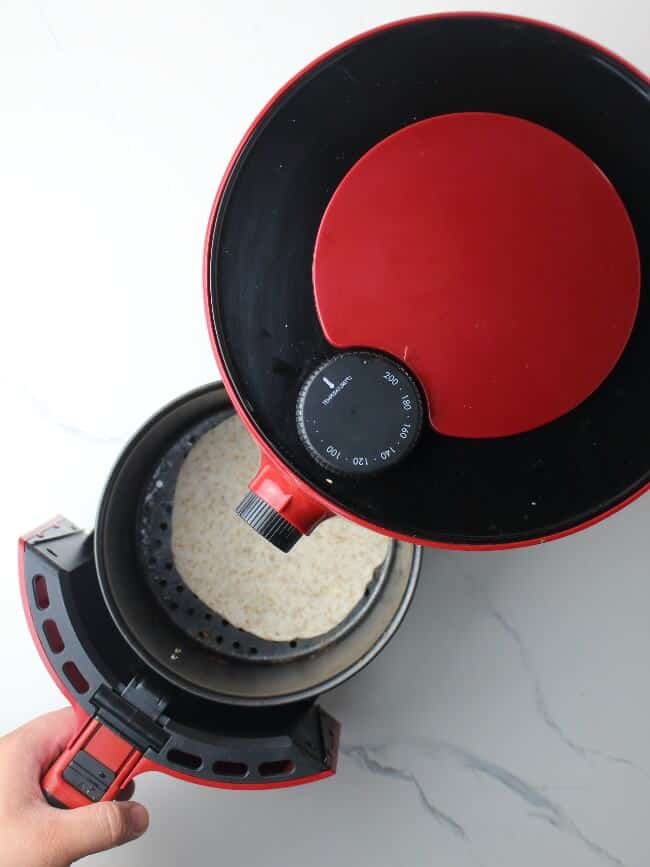 9) To assembly, place the cabbage slaw at the center of the corn tortilla.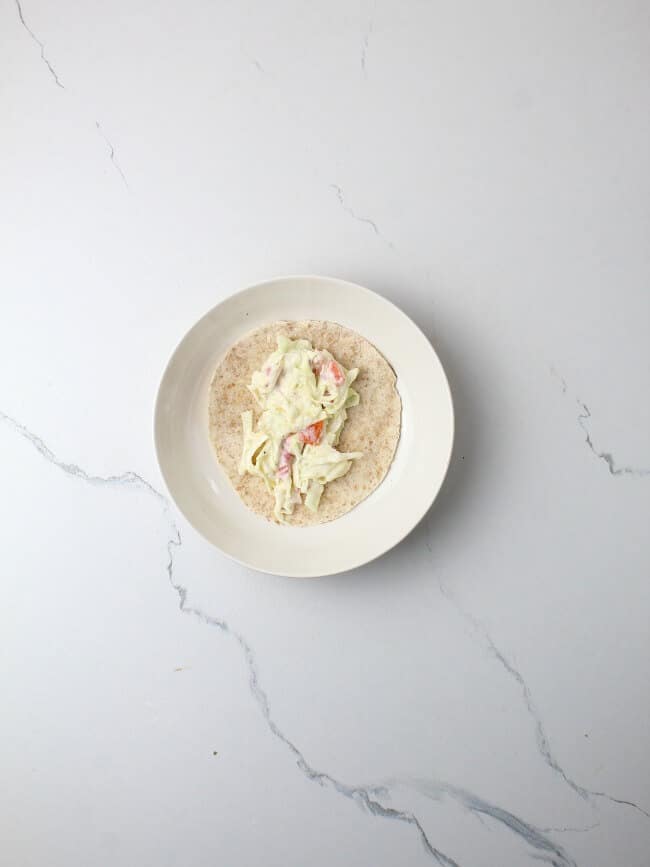 10) Followed by a couple of air-fried shrimp, chopped cilantro, and a squeeze of lemon wedge.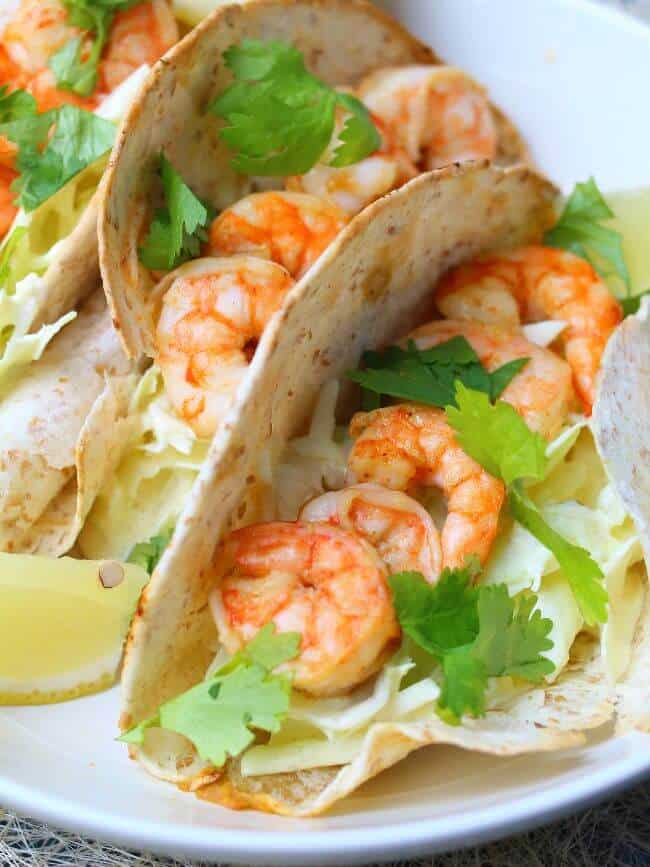 Nutrition Information:
Yield:

4
Serving Size:

1
Amount Per Serving:
Calories:

519
Total Fat:

28g
Saturated Fat:

11g
Trans Fat:

0g
Unsaturated Fat:

12g
Cholesterol:

215mg
Sodium:

1801mg
Carbohydrates:

36g
Fiber:

6g
Sugar:

6g
Protein:

33g
Useful Tips For The Shrimps In Your Air Fryer Tacos
Shrimps come in different sizes. You can use medium to large-sized shrimp in the tacos. If you are using bigger-sized shrimp, then you need to peel and devein it. This removes the gritty texture from the  shrimp, leaving you a great experience when you eat it.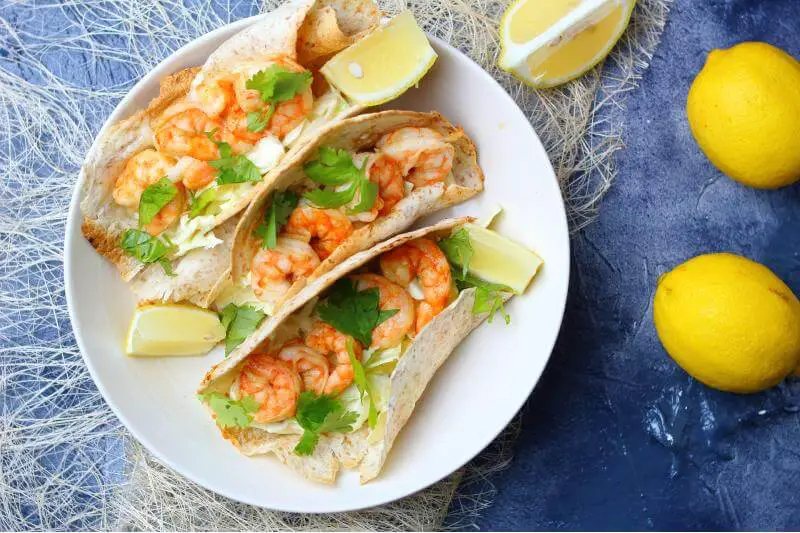 One of the most popular questions around the type of shrimp to use would be its state: are fresh shrimps better to use than frozen shrimps? While fresh is always a preference, there are those of us who do not have access to fresh batches of shrimp, and would need to purchase their frozen counterparts.
The key in preparing a good batch of shrimp, even if it is frozen, is to adjust your cooking time accordingly. Remember to NEVER thaw frozen shrimp at room temperature!
For fresh shrimps, you would often have to do the cleaning and prep yourself. 
Peeling the shrimp is so easy. First thing is to remove and pull the head. Using kitchen scissors, cut along  the outer edge of the shrimp until the last portion of the tail. Remove the shell and cut along the  shrimp's back. Slowly remove and pull out the vein. And repeat with the rest of the shrimp. 
How We Serve These Air Fryer Shrimp Tacos
You can use red cabbage instead of white ones to give color while creating additional dimension to the  shrimp tacos. Sour cream can be substituted with a couple of ingredients. You can use Greek yogurt, crème Fraiche, and buttermilk.
If you have lactose tolerance, you use soy-based sour cream and coconut milk. The substitute gives you more options on what to use on this recipe.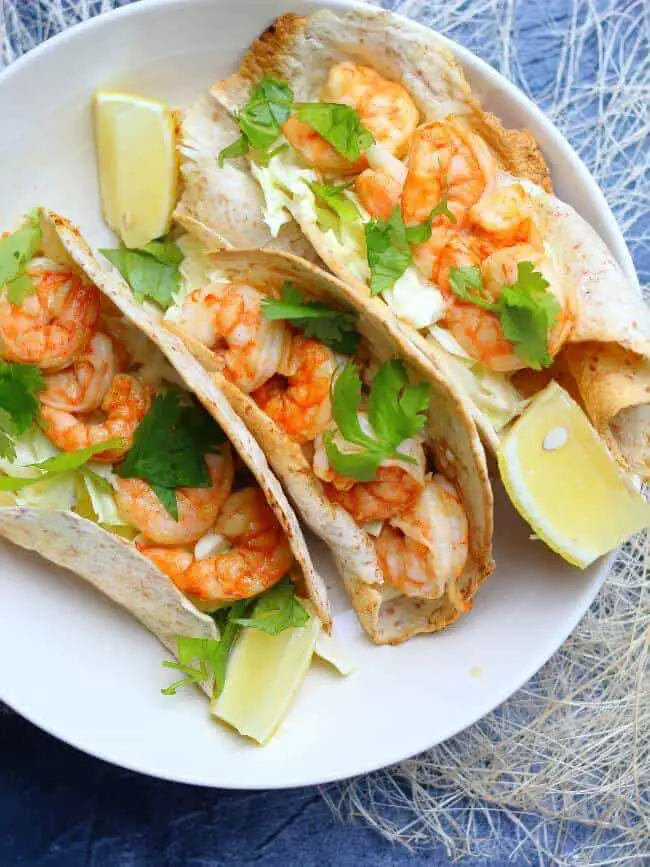 Corn tortilla and whole-wheat tortilla are great for this shrimp taco recipe. There are also hard taco shells that you can buy in the local grocers. Either way, they are great in giving you the best satisfaction for a taco night.
There are also beautiful taco molders that you can buy to have that perfect V-shaped crispy tortilla. You simply place the corn or whole-wheat tortilla in the molder and air-fry for 5 minutes. 
Perfect Pairs From Our Kitchen 
You can take the recipe I've just shared up a notch by making the shrimp into tempura, before stuffing it into the shells, or using frozen shrimp in air fryer and pairing it with a delicious sauce or two. These ideas for crispy shrimp tacos recipes will add that crunchy texture to your tacos.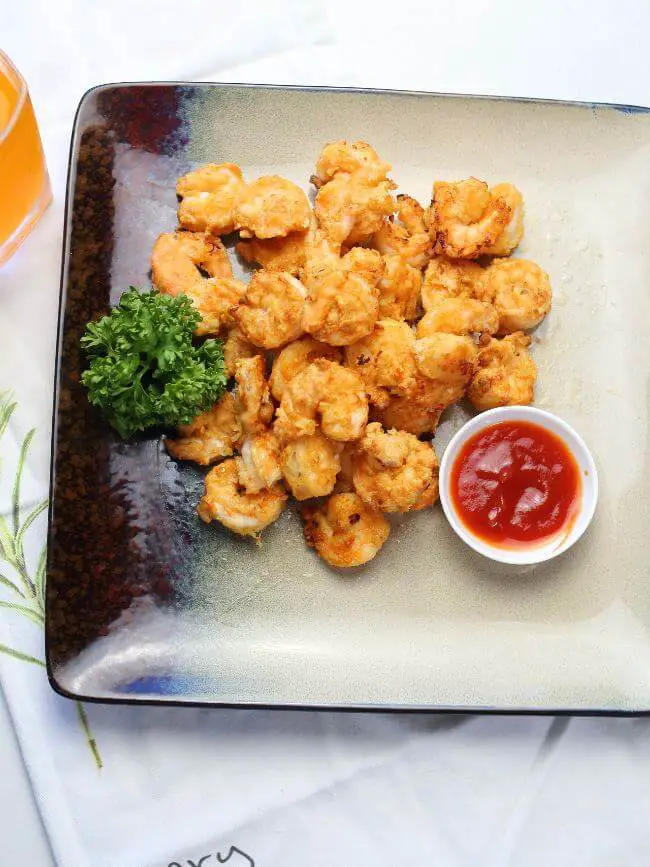 You can further add a variety of sauces to your shrimp tacos. You can experiment with tartar sauce, garlic mayonnaise, or Cajun seasoning.
Since summer is definitely just around the corner (or has it arrived, already?), why not serve these tacos with these refreshing drinks?
At this point, you might be wondering if air fryer tacos are less sinful to your diet. I would proudly say yes! By preparing shrimps (and any food, for that matter) using an air fryer, it means that you are eliminating as much oil as you can from how you used to prepare food.
This translates to so many health benefits, one of which is managing and keeping your cholesterol at healthy levels. 
No products found.
Learn more about the perfect air fryer for your cooking needs in a comprehensive guide we have made.
Frequently Asked Questions
Can You Stack Shrimp In Air Fryer?
Shrimps, chicken nuggets, or mozzarella sticks – space does matter a lot! Since the concept of air fryers promotes hot air as the cooking medium that replaces oil, you would need to provide enough space between the items that you are cooking for air to travel through. This also ensures that your shrimps, for example, receive an even distribution of heat and are cooked thoroughly.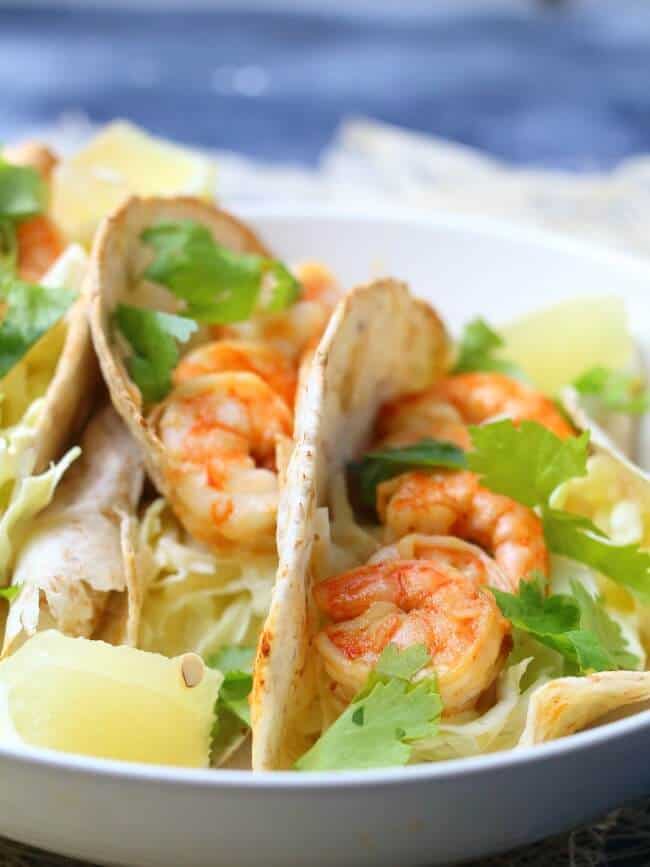 Tip: Learn more about how you can cook other frozen food like frozen chicken nuggets in air fryer and turn it into a wonderful dish with our simple recipe.
Can You Air Fry Frozen Butterfly Shrimps?
For those who are new to the term, "butterflying a shrimp" pertains to a certain cut of shrimp. To quickly teach you this: in order to butterfly a shrimp, position your knife along the center of the shrimp (lengthwise), and just make a cut all the way through, cutting all the way to the spine, but not all the way through to create a butterfly-shaped opening.
This method is also used for beautiful presentations when serving shrimp. Frozen butterfly shrimps are largely available in the market, and I would recommend cooking them a minute less than my recipe above, between 8 to 9 minutes, as they have been already cut through. 
SeaPak Jumbo Butterfly Shrimp with Oven Crispy Breading, Delicious Seafood, Frozen, 9 oz
DELICIOUS FLAVOR Our flavorful shrimps are peeled and deveined before being dipped in our mouth-watering, golden, crispy...
QUICK ANDCONVENIENT SeaPak frozen shrimp is the ideal solution for people who are short on time but still want a seafood...
MULTIPLE COOKING OPTIONS Our scrumptious shrimp can be prepared a number of ways for your convenience. Bake or fry them,...
Last update on 2023-03-28 / Affiliate links / Images from Amazon Product Advertising API
How Do You Heat Taco Shells In Air Fryer?
To heat taco shells, you can use the taco molders that I have previously recommended. These are safe to use in the oven or in your air fryer. When serving, these can also be used to hold the tacos as your guests happily pick them up one after the other.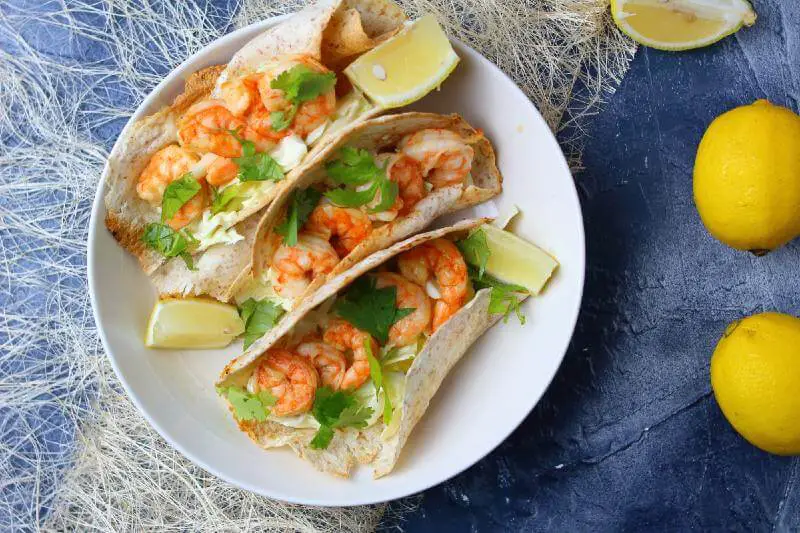 Different types of meat, thousands of dishes, unlimited recipe ideas, and now, tacos. What else can you NOT cook with an air fryer? Like I always say, the possibilities are endless! And it's a healthy path you'll be heading towards, at that.
Tip: We think the Power XL Vortex 7-Qt is one of the decent air fryers available online. Check out our Review!
Power XL Vortex 7-Quart Air Fryer
Presets: french fry, steaks, fish, shrimp, pizza, chicken, baking, dehydrator, roast, reheat
No added oil or lard required.
Rapid, even heating
Last update on 2023-03-28 / Affiliate links / Images from Amazon Product Advertising API
Conclusion
Now the only question remaining would be: WHEN are you going to make those air fryer shrimp tacos? Are you going to add a little twist to your shrimps, or the sauce, the shell type, or all of these?
Please share your ideas and comments below, I would love to hear from you. Maybe I can get more ideas on how to make air fryer shrimp tacos even more delicious.
As we continue to live in this new normal and find our way through, there are still a lot of things to be grateful for, which includes discovering places through cooking.
Why not make it a weekly habit, and prepare a dish that you've never prepared before? You can call it Chili Thursdays or Sorbet Saturdays. Or perhaps, the classic "Taco Tuesdays"? ☺