My amazing Mom came to visit us today. 
I always love seeing her smile, and her scooping up my son into her arms is such a heartwarming sight to see. Her presence automatically lights up any room. 
"What's for lunch?", she asked, while opening the freezer. I wasn't able to do my grocery run yet, and I just maintained my silly grin as my Mom pulled out a bag of frozen chicken nuggets.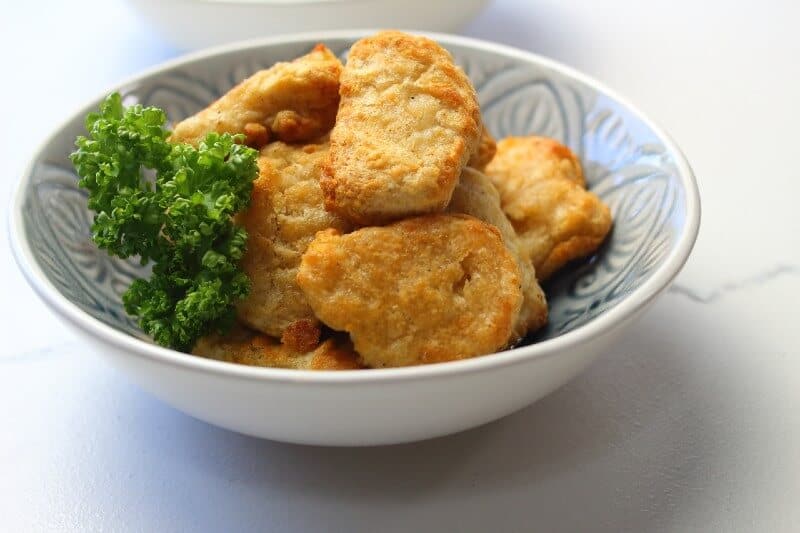 And then another. And then another one. "Well, I guess we'll be having these nuggets just like the olden days, only air-fried, I see!", as we both chuckled.
My Mom used to pack chicken nuggets as part of my lunch box when I was in primary school. She was a very busy woman, but she still finds time to prepare our meals. Our lunch bags could contain something as elaborate as a clubhouse sandwich or stir-fried rice with braised toppings, or as simple as an egg salad or fried nuggets!
I felt very proud whenever I came home with an empty lunch bag in tow. It was my little way of thanking my Mom for preparing my meal.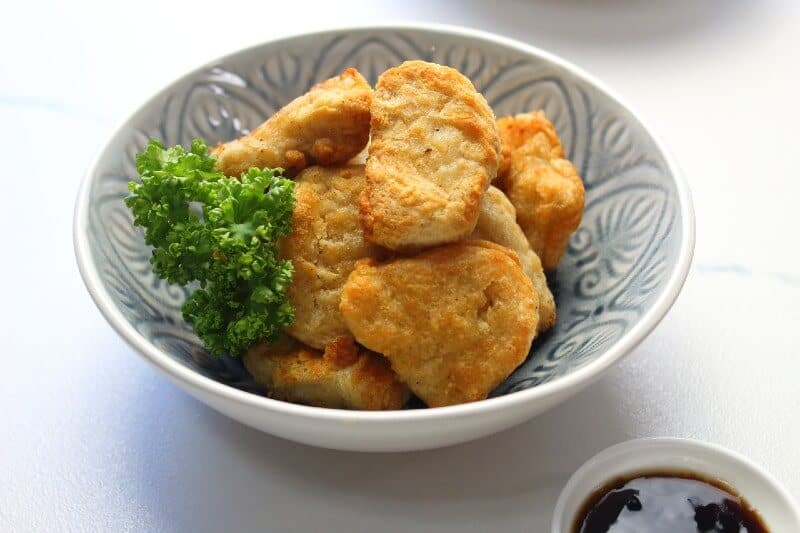 How I wish I could always give her a quick call whenever I needed her, now that I have my own little ones to take care of. No matter how old we get, we will always need our moms! Agree?
No products found.
We brought a pack of nuggets to the kitchen counter, with zero time to thaw as it was almost lunch time. Using the air fryer can be intuitive, but I had to show my Mom how to use ours. She got it in less than a couple of minutes, of course, the smart woman that she is! 
Frozen nuggets can be served on its own, with your favorite ketchup or gravy, but you can use any dip that you fancy, such as tartar sauce, gravy, or cheese. It's very quick and easy to cook nuggets in an air fryer, but I am sharing my recipe here with a few dish ideas. ☺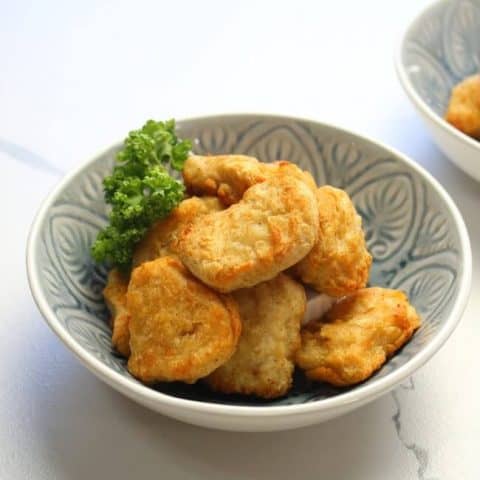 Frozen Chicken Nuggets In An Air Fryer
Frozen nuggets can be served on its own, with your favorite ketchup or gravy, but you can use any dip that you fancy, such as tartar sauce, gravy, or cheese.
Ingredients
500g frozen chicken nuggets
3 tbsp vegetable oil
Instructions
Preheat the air fryer at 200 degrees Celsius.



Place the chicken nuggets into the air fryer basket.



Brush the nuggets with vegetable oil.



Air fry the chicken nuggets for 10 minutes at 200 degrees Celsius.



Turn the nuggets halfway through. Remove and place another batch of chicken nuggets.



Serve the air-fried nuggets with your favorite barbecue sauce or ketchup.


Nutrition Information:
Yield:

3
Serving Size:

1
Amount Per Serving:
Calories:

632
Total Fat:

48g
Saturated Fat:

7g
Trans Fat:

1g
Unsaturated Fat:

36g
Cholesterol:

92mg
Sodium:

990mg
Carbohydrates:

25g
Fiber:

2g
Sugar:

0g
Protein:

27g
How Long Do I Cook Chicken Nuggets In An Air Fryer?
First things first: Don't forget to preheat the air fryer for 10 minutes. 
This prepares your air fryer to cook frozen food better, such as your nuggets. The chicken nuggets can be cooked in the air fryer for 10- 13 minutes, even if they are rock solid. Yes, even without thawing, straight out of the freezer! Just arrange the nuggets in the air fryer basket, and you're all set.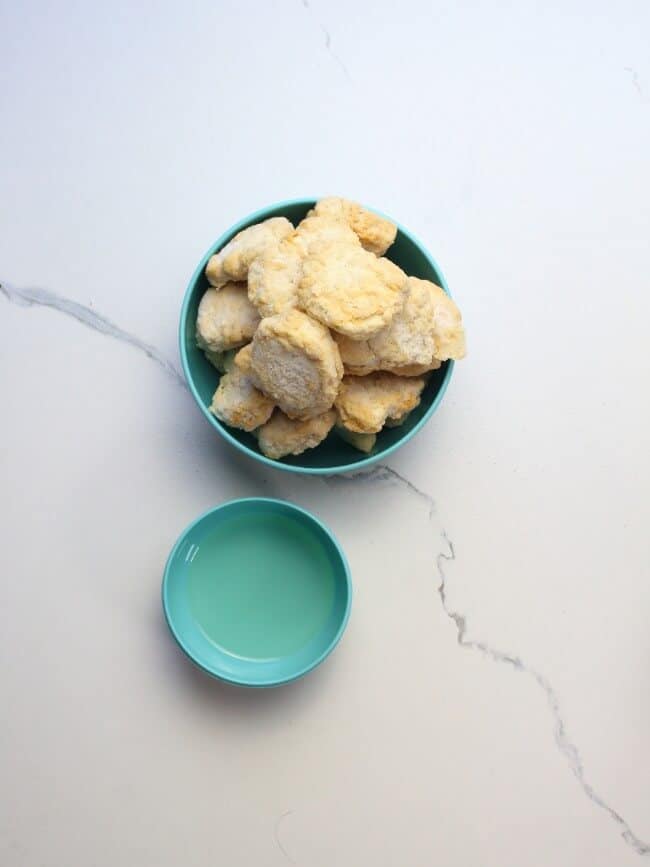 Remember that it needs to be brushed with oil before you close the lid. Keep spaces in between the nuggets to make sure that the air has room to circulate around each nugget for a more even cook. The oil will also help the nuggets retain moisture and create a crunchy texture on the outside. 
Tip: Thinking of cooking other frozen foods? Then try mouth-watering burgers. Our frozen burgers in air fryer recipe is a must-try!
Are There Brands Of Chicken Nuggets That Cook Best In The Air Fryer?
When it comes to brand, you can air-fry almost any brand of frozen chicken nuggets. My favorites are the ones by Tyson, which are the Dinosaur Nuggets (the kids love the shape and taste of these), and the Fully Cooked Chicken nuggets. Their nuggets are just so flavorful, and go well with any sauce of choice.
Tyson Fully Cooked Chicken Nuggets, 70.4 Ounce
One 4.4 lb package of Tyson Fully Cooked Chicken Nuggets
Natural chicken nuggets made with all natural, minimally processed chicken raised with no antibiotics ever and no added...
Boneless chicken has 0 grams of trans fat per serving
Last update on 2023-05-18 / Affiliate links / Images from Amazon Product Advertising API
So for those wondering if there are any brands in particular for air-frying, I highly recommend air-fried Tyson's chicken nuggets, as each batch comes out well-cooked and delicious every time.
Turn Your Chicken Nuggets Into Great Dishes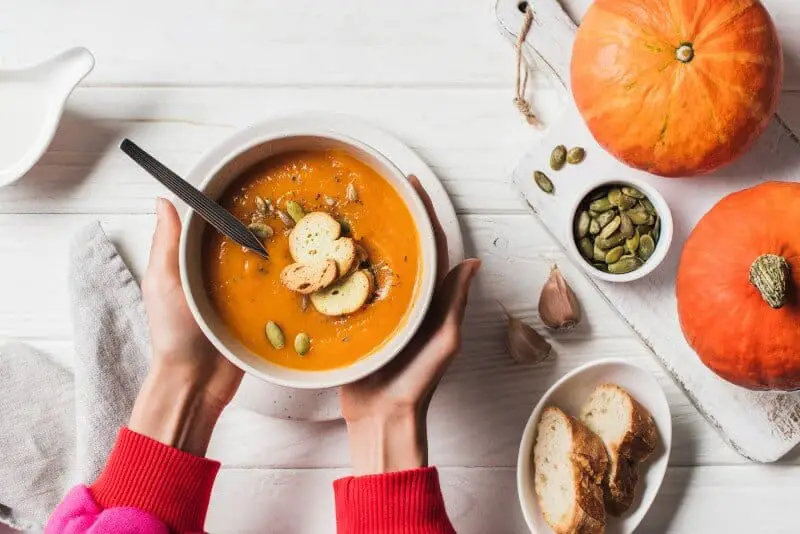 How about a refreshing salad? Toss your chopped air-fried chicken nuggets with your favorite greens, cherry tomatoes, some oranges (they go really well with chicken), slices of swiss cheese or crumbled feta, together your favorite salad dressing.


Make instant "chicken parmigiana". For a dozen nuggets, mix 2 cups of tomato sauce (canned crushed tomatoes can also be used), half a cup of dried basil, a cup of olive oil, a teaspoon of garlic powder, salt and pepper to taste. Heat on the pan until sauce has been reduced (not too watery, as I like to refer to it).

Prepare a baking bowl or dish of cooked pasta, arrange the nuggets on top, pour the sauce, and top with mozzarella. Pop into a pre-heated oven at 450 degrees, and cook for 5 to 7 minutes. Serve with grated parmesan.


Buffalo Chicken…Nuggets! After cooking your chicken nuggets in the air fryer, toss them in buffalo sauce, or you can also mix equal parts melted butter and your choice of hot sauce in case you don't have the sauce mix.

I always have a bottle of Noble Made's Buffalo Sauce on hand. It is Whole30 approved, gluten-free, dairy-free, sugar-free, and soy-free. Pretty much the perfectly healthy buffalo sauce out there! Serve with bleu cheese dip or with ranch dip.

When it comes to ranch, I discovered this really good Sir Kensington's Avocado Oil Ranch dressing. Please, please tell me you'll give it a try? It's really that good! It's also keto and paleo certified, dairy-free, and gluten-free, and non-GMO. You'll be amazed with the flavor it packs, too!



Sir Kensington's Ranch Dressing and Dip, Keto Diet & Paleo Diet Certified, Dairy Free, Non- GMO Project Verified, Shelf-Stable, Avocado Oil Ranch, 9 oz (Pack of 2)

COLD WEATHER WARNING: During the winter, product can separate if they freeze in transit. While safe to eat, it will not look...
Sir Kensington's Avocado Oil Ranch is a clean take on a classic taste. Made with the highest quality, Non GMO ingredients,...
It's ranch so creamy and delicious, you'd never guess it's dairy free.

Last update on 2023-05-18 / Affiliate links / Images from Amazon Product Advertising API



Chicken Tacos or Pitas. Chop up your air-fried chicken nuggets. For tacos, mix chopped chicken nuggets with your favorite slaw, salsa, chopped cilantro, drizzle with vinaigrette, and top with grated cheese.

For pitas, place the chopped chicken nuggets in a pita and top with olives, sliced tomatoes, garlic yoghurt, and feta cheese. Roll it up!

Chicken (Nuggets) and Waffles. Add a little twist on a classic breakfast combo. Serve your nuggets with golden brown, crispy waffles (with extra maple syrup, please!).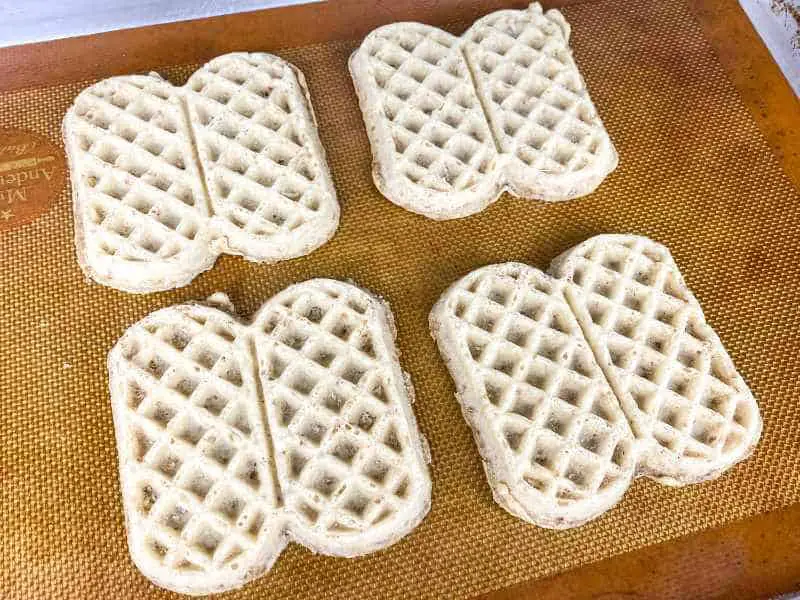 A seemingly simple ingredient can be turned into a wonderful dish! That is one of the most important things my Mom taught me. Show love even in the smallest gesture, even in the simplest of things.
She'll be staying an entire week, and I'm sure it will be over before I know it. For now, I'll make the most out of our time together, and maybe dress up as many chicken nuggets as we can!
Are you planning to try any of the recipe ideas that I have shared above, for your air-fried chicken nuggets? I am excited to hear about it in the comments below!