The past few weeks, I've cooked frozen burgers in our beloved air fryer at least twice, if I remember correctly. I was (so, "used to be") a burger snob. I am a self-proclaimed burger critic.
Okay, I was pulling your leg there. But, yes, I love burgers. I even have my own ratio figured out when making the patties myself.
Sometimes, or whenever available, I also incorporate a good amount of bone marrow into the mix. I even request for a certain cook to my burger whenever we dine out, like, medium rare please.
Let me stop there because my mouth is already watering, and it's past midnight. Now let's air fry some burgers!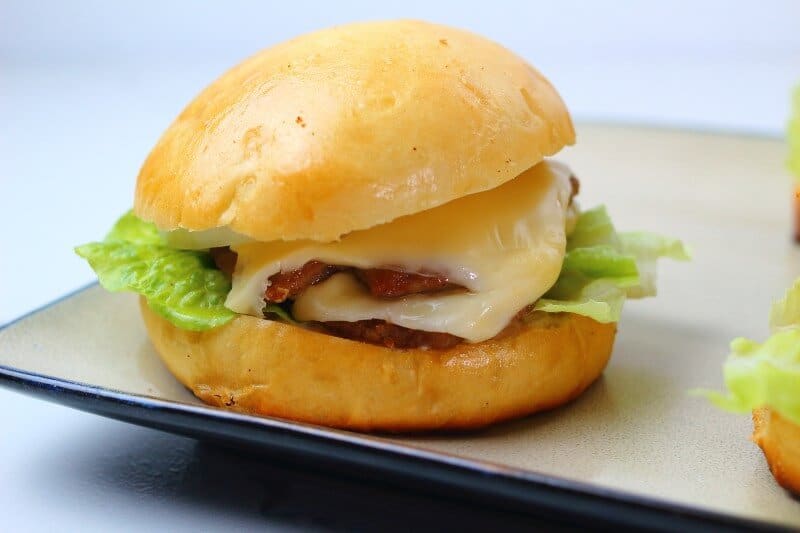 I felt compelled to write this, because I've come across a Facebook post that frozen hamburgers are just plain junk. I beg to disagree. Of course, you need to find the right product.
And second, you would need to know how to cook it. Air fryer hamburgers are not such a bad thing. Produced with the right cooking method and seasonings, air fryer burgers can be really delicious!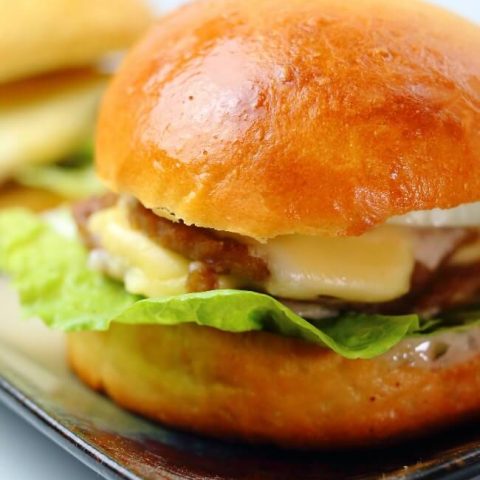 The "Flip" Side Bun: Frozen Burgers in Air Fryer
Turn your store bought frozen burgers into restaurant style. 
Ingredients
4 burger buns
8 burger patties, frozen
8 cheddar slices
4 oz onion, cut into rings
½ cup mayonnaise
1/8 cup tomato ketchup
2 tbsp sweet pickle relish
1 tbsp lemon juice
Salt and pepper to taste
Romaine lettuce
Instructions
Combine mayonnaise, ketchup, sweet pickle relish, and lemon juice in a small bowl.



Season the burger sauce with salt and pepper to taste. 



Cover the sauce with cling film and place it in the fridge for later use. 



Heat the air fryer for 2 minutes at 180 C or 350 F. 



Cook the burger patty in batches. Place 1-2 burger patty in the basket and cook for 7 minutes at  180 C or 350 F. 



Place a cheese slice on top of each patty and continue to cook for 1 minute. Repeat the process  with the other remaining patties. 



Place the burger patties on a plate and set them aside. 



Meanwhile, toast the buns in the air fryer for 2 minutes at 200 degrees Celsius.



To assemble, spread a tablespoon of burger sauce on one side of the burger bun.



Then followed by a  romaine lettuce leaf. 



Add in 2 burger patties with cheese, top it with onion slices, and the remaining sauce.



Place the other half of the burger bun. Serve immediately.



Nutrition Information:
Yield:

4
Serving Size:

1
Amount Per Serving:
Calories:

1656
Total Fat:

94g
Saturated Fat:

35g
Trans Fat:

1g
Unsaturated Fat:

50g
Cholesterol:

311mg
Sodium:

2553mg
Carbohydrates:

114g
Fiber:

2g
Sugar:

9g
Protein:

87g
Tips And Tricks For The Perfectly Cooked Hamburger
Depending on your preference, you may try different burger patties from chicken down to the quarter-pound beef patty.
Adding some heat to the burger sauce would be a fantastic thing to do. You can drop a small amount of hot sauce or half a teaspoon of cayenne pepper into the sauce and mix it well.
If you are too bored with the same lemon juice, you may try to use other citrus fruits such as grapefruit and clementine. It will add a wonderful aftertaste with the burger sauce.
You may try using Monterey jack, mild Gouda, and Swiss cheese in the absence of cheddar cheese. They perfectly fit any burger.
This recipe was tested for a 3L Air fryer machine. If you have a bigger air fryer like the powerxl air fryer vortex, you can put the burger patty in 4 pieces or one go, and it will save you time and energy.
Brushing the burger buns with a bit of butter would make it even more crispier; just don't toast the buns for too long to avoid burning the butter and leaving you a bitter taste.
During the air-frying process of the patty with cheese, make sure to check it every 30 secs to avoid burning. Thin slices of cheese will melt within 25-30 seconds in the air fryer.
Last update on 2023-05-31 / Affiliate links / Images from Amazon Product Advertising API
Are Air Fryer Hamburgers Keto?
For those who are new to the term keto, I would like to share a bit of information. With the ketogenic diet, you're consuming a lot of fat and keeping your carbohydrate intake low. The ketogenic diet requires a massive reduction in carbohydrate intake and the use of fat as a major source of fuel.
Your air fryer hamburgers can be considered keto if you consume it without the buns, or if you replace the buns with keto-friendly hamburger buns! For your garnishing, make sure you avoid anything that has added sugar to it, so that it first your keto diet requirements, such as the relish that you will use.
Smart Baking Company Smartbuns, Gluten Free, Sugar Free and Carb Free Buns (24 Count Sesame)
KETO DIET FRIENDLY: You mean I can have a bun with my burger? With Smartbun you can. For the Keto-Dieter or anyone watching...
REDUCED CALORIE: Not only low-carb, Smartbuns are a reduced calorie alternative to the burger bun. Ditch the lettuce wrap and...
BEYOND LOW-CARB BREAD: Not just a low carb food, but zero carb. Rich protein bread high in fiber and nutrients, Smartbun is...
Last update on 2023-05-31 / Affiliate links / Images from Amazon Product Advertising API
As long as pickles don't include added sugar, they can be a suitable part of a ketogenic diet. The vast majority of dill or sour pickles should be selected, while sweet varieties should be avoided.
Sale
Last update on 2023-05-31 / Affiliate links / Images from Amazon Product Advertising API
Why Does My Air Fryer Smoke When Air Frying Burgers?
It's quite common for white smoke to be emitted while you're frying oily foods in an air fryer, such as hamburger patties. Pour a little (about 2-3 tablespoons) of water into the bottom of the basket.
This will stop the smoke, and also prevents your food from overcooking. To absorb any grease from food that is prone to splattering, such as that from cooking bacon, some people place a slice of bread at the bottom of the air fryer.
Useful Kitchen Tools
No products found.
You might want to purchase a good burger flipper, which would also come in handy in case you have a griddle or an outdoor grill. In your air fryer these flippers will help you lift and remove the patties, but you may also use some durable tongs to place your burger patties in, as well as take them out of the air fryer.
Sale
Last update on 2023-05-31 / Affiliate links / Images from Amazon Product Advertising API
Last update on 2023-05-31 / Affiliate links / Images from Amazon Product Advertising API
In case you are the one who stacks up on homemade patties, please promise me you'll check out this super useful (and space saving) Burger Master. It is so easy to store patties in it, and so easy to bring to camping or cookouts, too!
Sale
Burger Master Innovative 8 in 1 Burger Press and Freezer Container
Makes ordinary burger presses obsolete. Press and stuff 8 quarter pound burger patties at a time (each container holds...
Easily pop out a couple frozen burger patties directly onto the barbecue. The Burger Master keeps them separate and they...
Individually seals each burger patty to prevent freezer burn.
Last update on 2023-05-31 / Affiliate links / Images from Amazon Product Advertising API
The Perfectly Cooked Hamburger + Best Pairs From Our Kitchen
What's a recipe post without a recommendation or two from our very own kitchen, right? Serve your burgers with a whole side of delicious nachos! This pairing will instantly brighten up any weekend, or even a Friday night.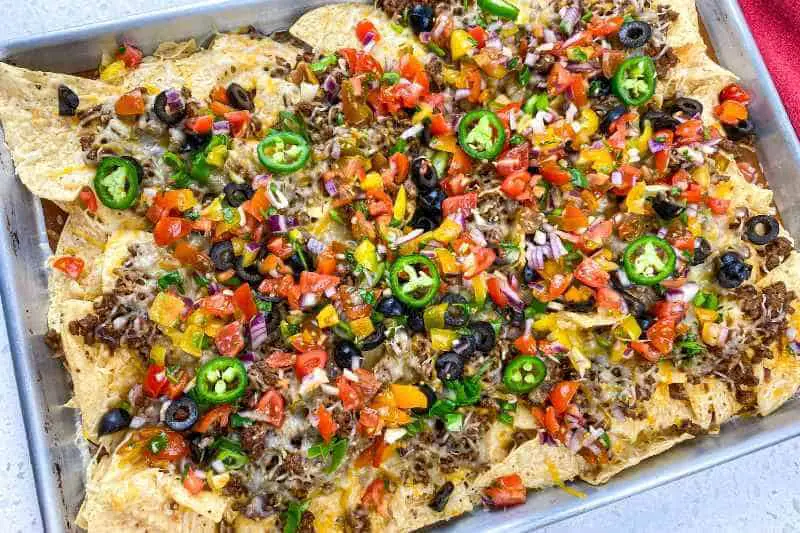 You can also serve your burgers with Garlic and Rosemary Tri-color Potatoes, only cut the potatoes lengthwise for that "fast food" feel. For your very own tropical burger, add a pineapple slice, bacon strips, and cheese sauce – everyone will ask for a second serving!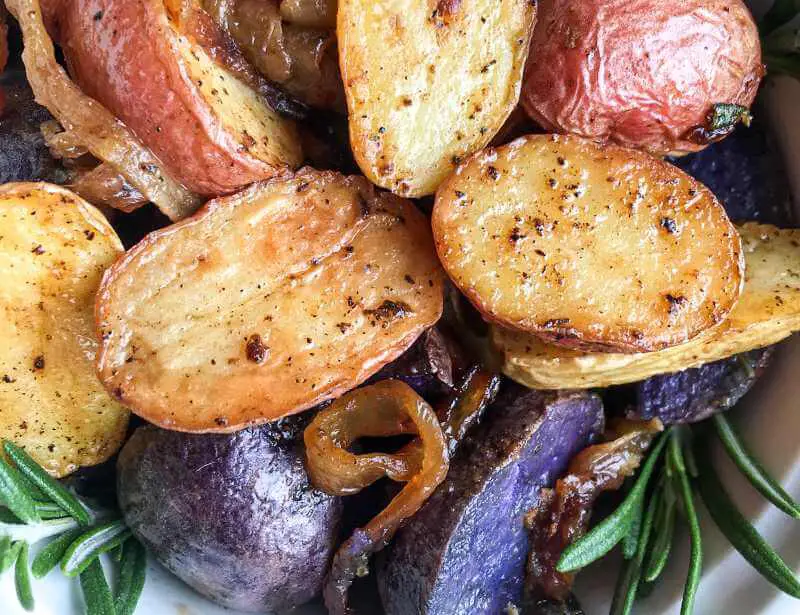 Frequently Asked Questions
How Do You Cook Frozen Burgers In An Air Fryer?
Remember to pre-heat the air fryer for 2 minutes at 180 C or 350 F. It is important to cook the burger patties in batches, and not stuff them all into your air fryer. Place 1-2 burger patties in the air fryer basket, and cook for 7 minutes at 180 C or 350 F, or as recommended on the package.
How Long Do You Cook A Frozen Hamburger Patty?
The average cooking time of a frozen hamburger patty is 7 to 8 minutes at 180 C or 350 F.
Can You Cook Frozen Meat In An Air Fryer?
Definitely! The wonder of an air fryer is that hot air goes around your food, so it is evenly distributed as your food cooks. Imagine a different situation on a regular pan: if you forget to flip the burger patty at the right time, you will end up with a frozen side and a very burnt side – which will never be the case with an air fryer.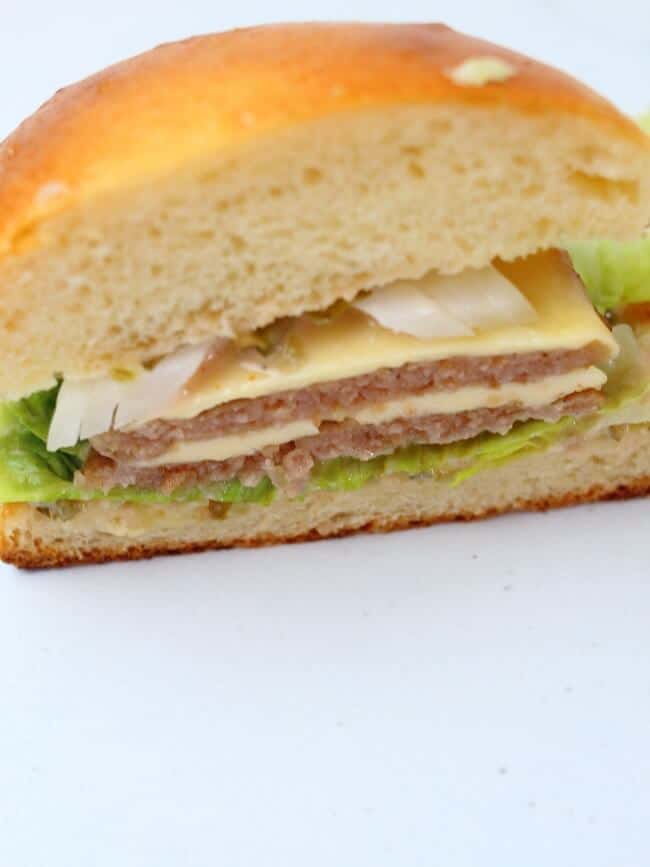 Do You Need To Flip Burgers In The Air Fryer?
No, there is no more need to flip burgers in an air fryer. The air fryer basket is well-positioned to let air circulate around the food as it cooks, such as burger patties. This alone ensures that heat is evenly and well-distributed, so you do not need to flip your burgers like you usually do on a pan or grill.
Conclusion
Frozen or fresh, a burger patty is still a precious burger patty! I still try to be particular though, with what I feed my family, so I stick to organic food, or just about anything with no additives or hard to pronounce ingredients. One thing I always keep in mind whenever I cook is "how can I make this even more special?".
How about you, will you be trying to create your own signature burgers using patties from the freezer section? You'll be surprised with what you can create. Will you try my suggestion of adding pineapples, bacon, and more cheese?
Please share your thoughts in the comments section below, I would love to hear from you! Ciao!