Anyone here who is a fan of K-Drama? I know I am!
From the classic Boys Over Flowers, to the present Crash Landing on You, I am totally hooked.
Aside from the engaging storyline, their cute characters, and the instant tour of Korea's most beautiful spots, I love K-Drama because of the food cameos. Which K-Drama series doesn't feature at least a bowl of Korean style fried chicken, or a scene where the characters are enjoying samgyupsal and soju together? (I think I just made my mouth water with my own post introduction.)
Flavored chicken wings, such as the ones served in Korea, have been a thing for quite some time now. I must admit that I am a fan of the dish! These crunchy chicken wings can also be served with a variety of sauces or rubs, plus a side of dips that perfectly complement the chicken. More on this later!
I have been cooking chicken wings in our air fryer lately, and finishing off the chicken with a sauce that reminds me of one of my hole-in-the-wall dining experiences during my trip to Seoul. I tried creating my own sauce, so I hope you enjoy my recipe. In case you have stocks of frozen boneless wings, you can definitely still try this recipe out, and cook them in your reliable air fryer.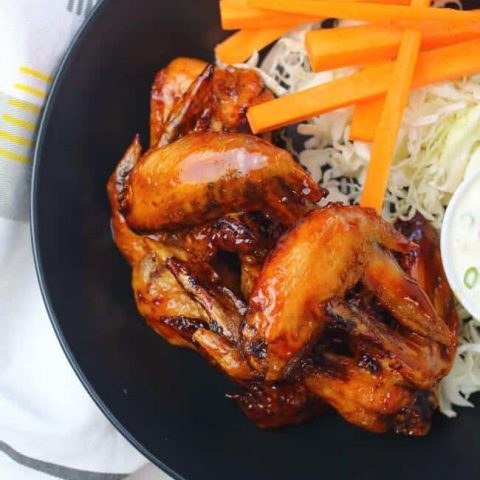 Frozen Chicken Wings In Air Fryer
This  recipe will give you yummy ideas on the perfect rubs, sauces, and dips to complement your chicken wings!
Ingredients
1 lb frozen chicken wings
1 cup tomato ketchup
1 tbsp brown sugar
2 tbs honey
¼ tsp chili-tamarind sauce
2 tbsp Worcestershire sauce
1 tbsp dark soy sauce
½ tsp salt
1 tbsp canola oil
Instructions
1. Ingredients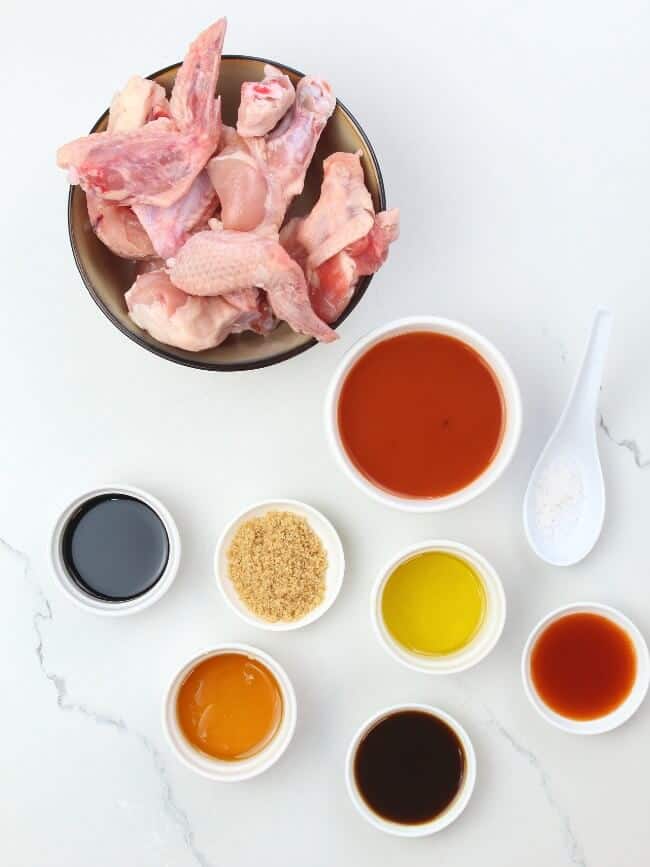 2. In a small saucepan, combine all the ingredients except for the chicken wings.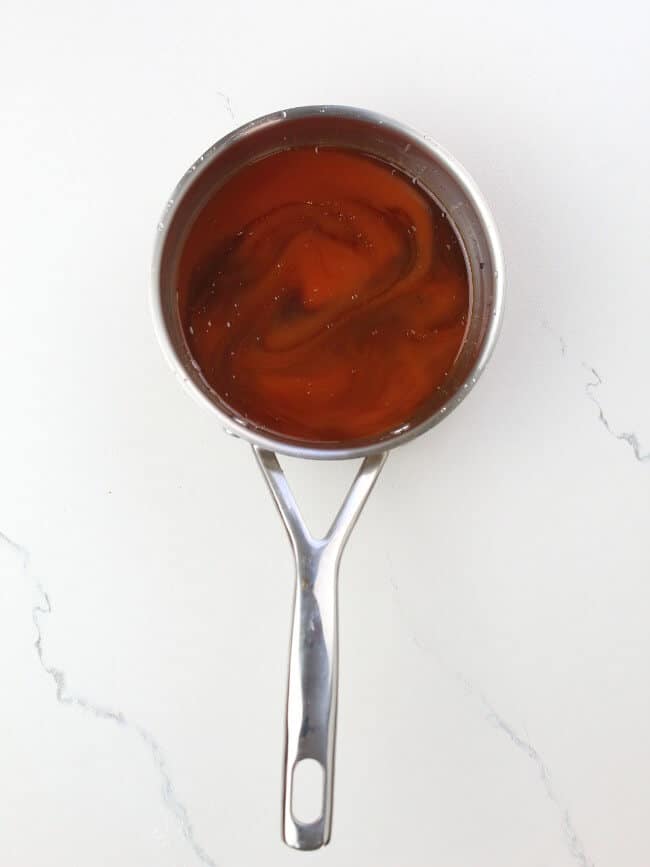 3. Let it simmer for 2 minutes over low fire and set aside.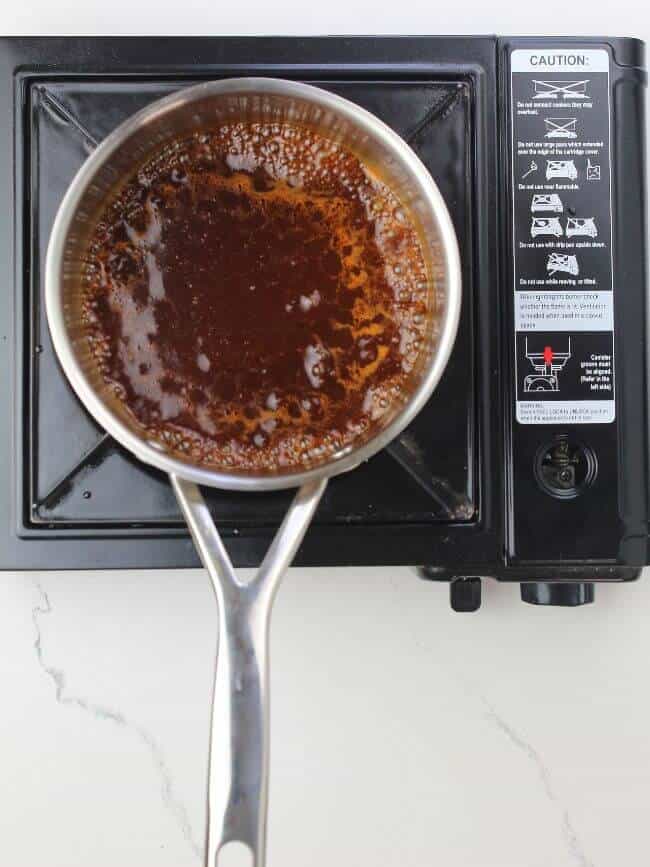 4. Prepare the air fryer and turn it on for 5 minutes at 200 C.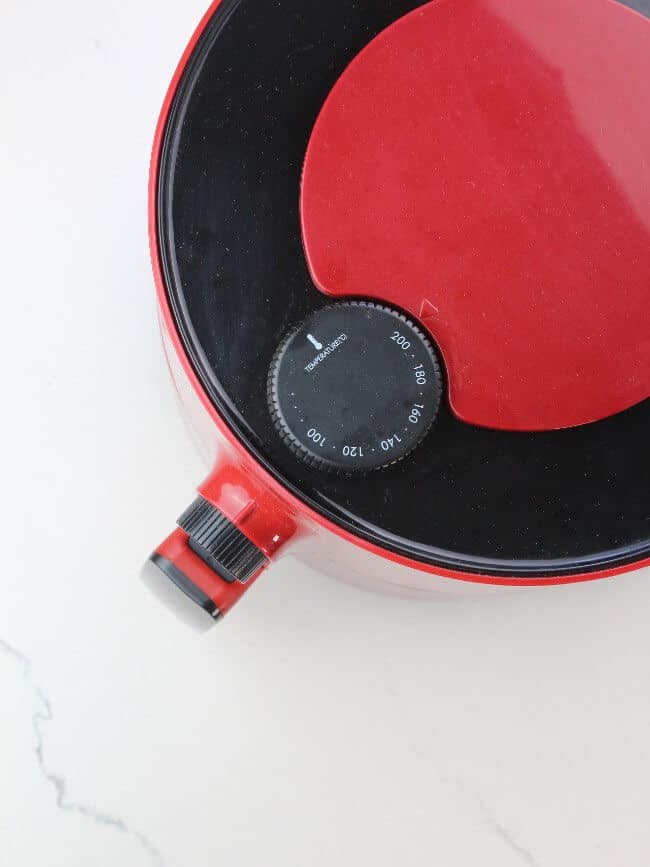 5. Place the frozen chicken wings in the air fryer and cook for 5 minutes at 200 C.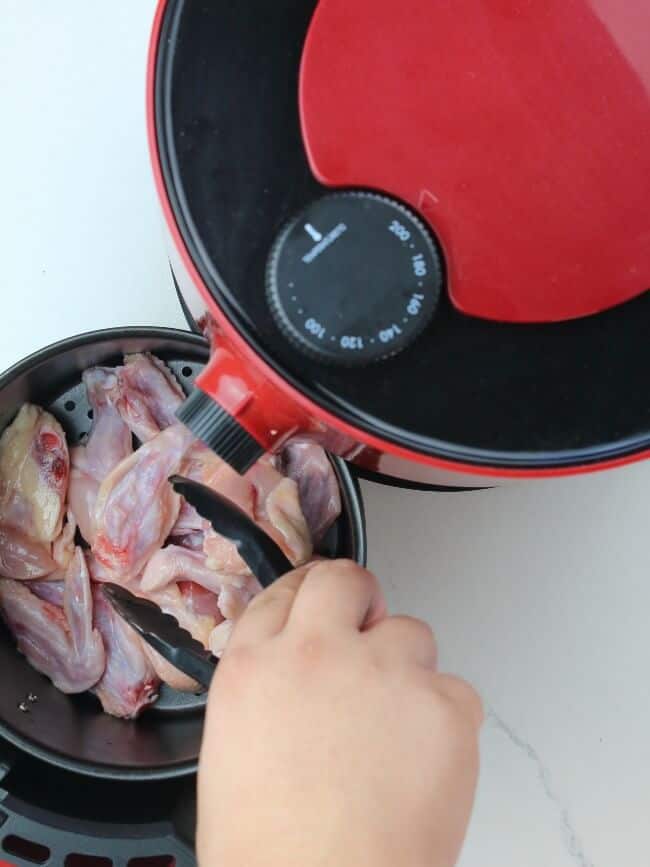 6. Remove the air fryer outer basket and drain out the liquid. 
7. Assemble the air fryer basket again.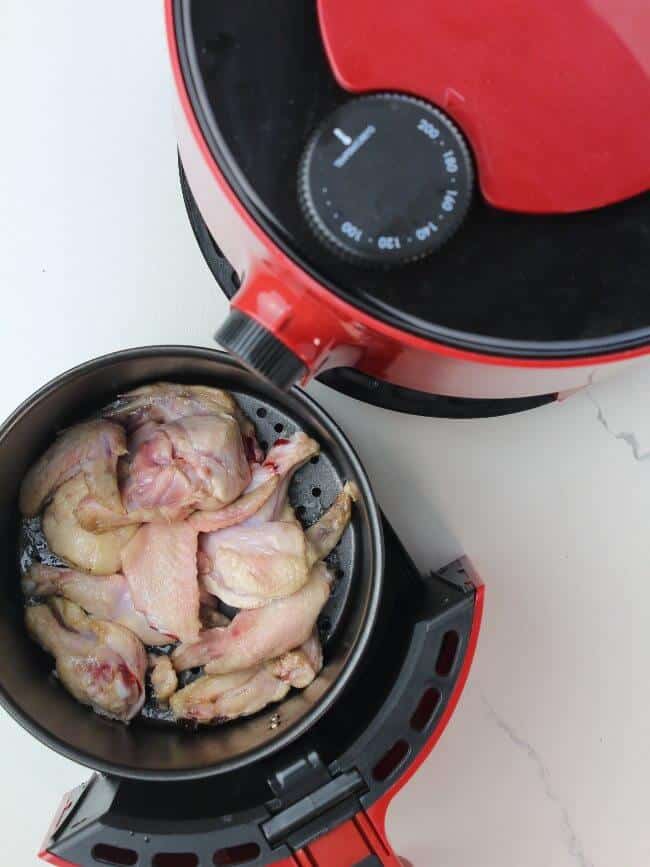 8. Season the chicken with salt and pepper.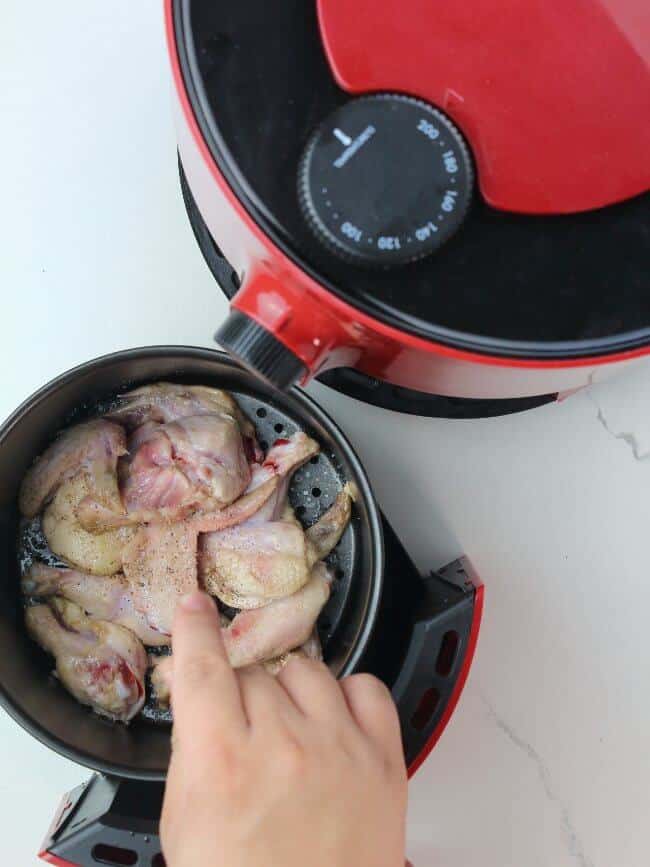 9. Continue cooking for 16 minutes at 200 C, turning halfway through.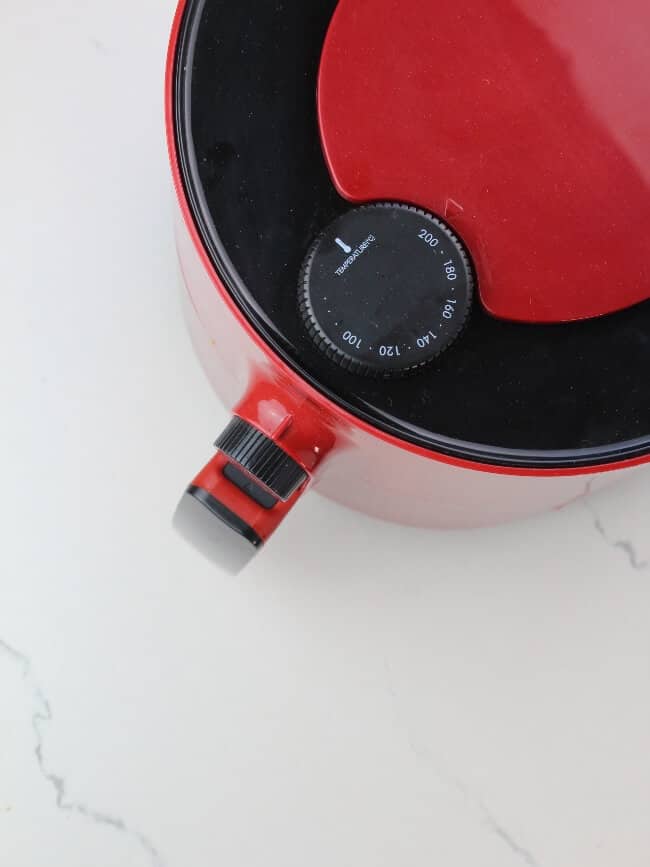 10. Dip the chicken wings with the prepared homemade barbecue sauce, coating all sides.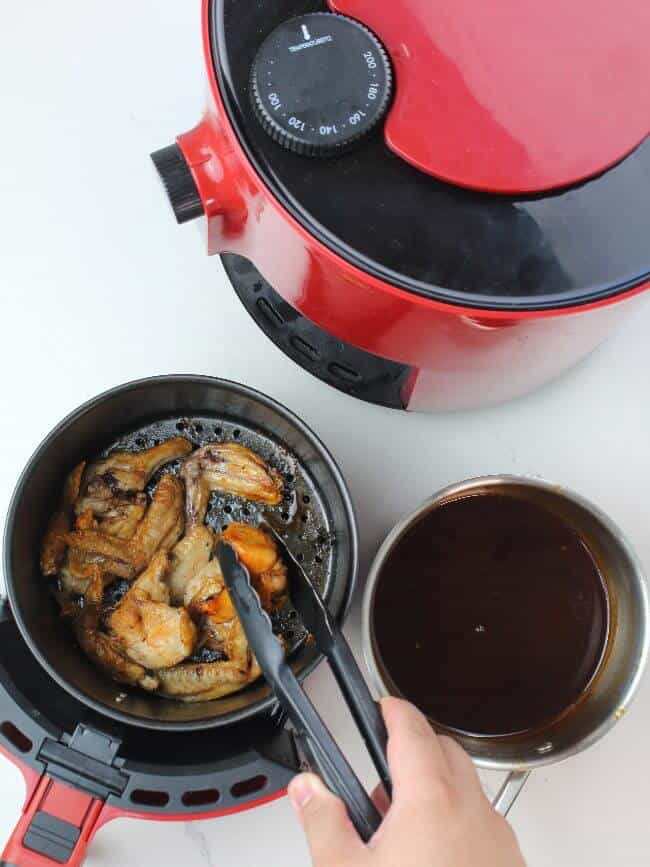 11. Cook the chicken wings for another 6 minutes.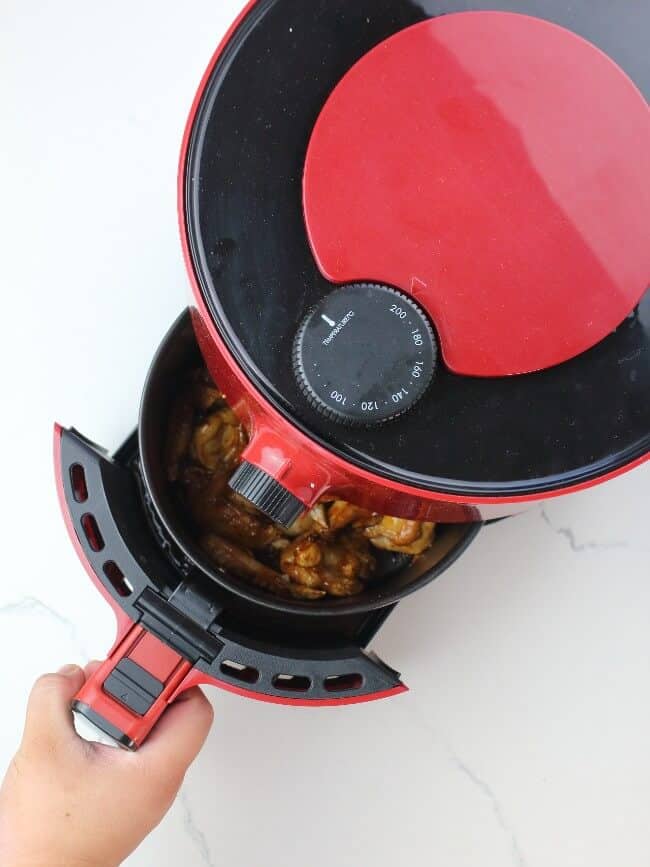 12. Serve immediately with your favorite ranch dip and choice of vegetables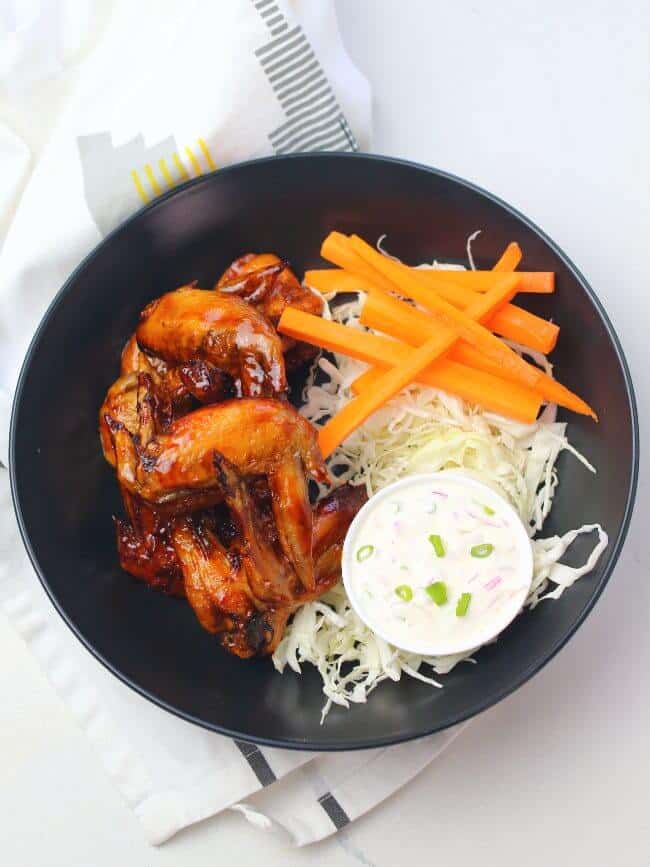 Nutrition Information:
Yield:

4
Serving Size:

1
Amount Per Serving:
Calories:

603
Total Fat:

32g
Saturated Fat:

10g
Trans Fat:

0g
Unsaturated Fat:

19g
Cholesterol:

94mg
Sodium:

1739mg
Carbohydrates:

62g
Fiber:

3g
Sugar:

39g
Protein:

21g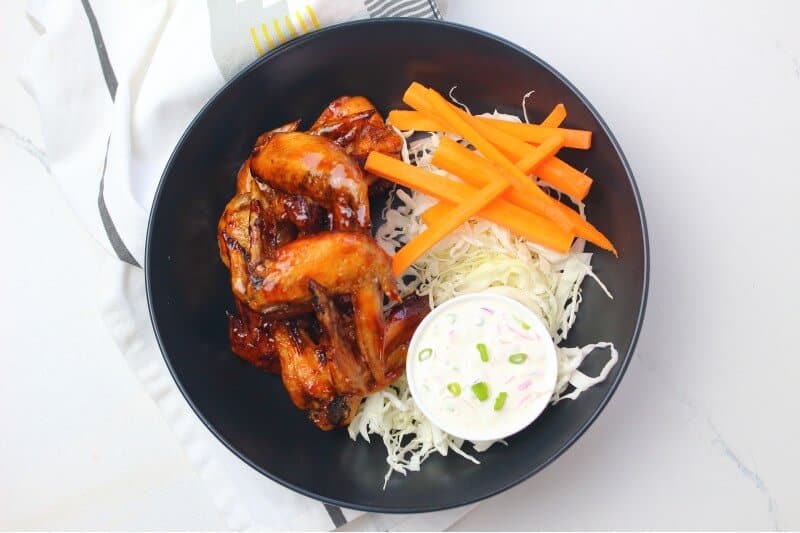 Tips To Have Perfect Chicken Wings All The Time
The first 5 minutes would be defrosting the wings, and it is crucial to throw the liquid  that drained into the outer basket. This will help in getting the  wings crispy without any  steam during the cooking process. 
You can also sprinkle a teaspoon of baking soda to make the chicken more crispy.
For the homemade barbecue sauce, you may add chili flakes if you want to intensify the heat.
To thoroughly coat the wings with the barbecue sauce, you may shake the basket of the air fryer.
Substituting honey with a cola beverage would elevate the flavor and create a sticky texture  with the chicken. 
Is Air Frying Frozen Chicken Healthy? 
By using your air fryer instead of the traditional deep frying pan, you are essentially eliminating all of the oil that you usually use when frying chicken wings. Air-fried chicken wings are definitely a healthier alternative.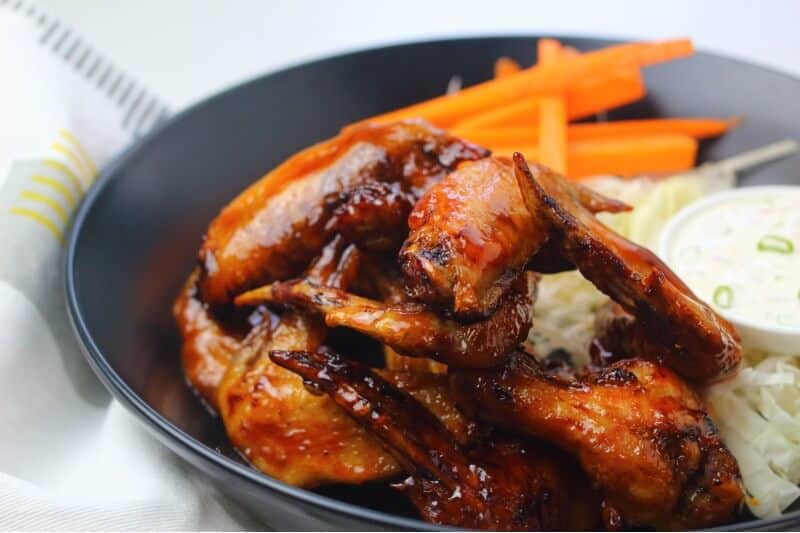 Will This Recipe Work With Boneless Wings? 
This will work perfectly with boneless wings as I mentioned earlier in this post. You would miss scraping off the meat from the drumstick, though! ☺
Interesting Chicken Wing Ideas
I am very excited to write this part out, because like I said, I am extremely enjoying all the possible flavor combinations that you can do on your air-fried chicken wings. Here are some ideas:
You can also turn your chicken wings into a batch of delectable garlic chicken parmesan! Melt a cup of butter. Stir in half a cup of parmesan, 2 tablespoons of garlic powder, and a tablespoon of dried parsley. Mix well. Toss your air fried chicken wings in this sauce, you'll love it!
How about going a bit Japanese and tossing your chicken wings in teriyaki glaze? Don't forget to season with a bunch of sesame seeds before serving!
Last update on 2023-03-27 / Affiliate links / Images from Amazon Product Advertising API
In my epiphany of flavored wings, I think salted egg wings really part the clouds for me. I could hear Ode to Joy each time I sink my teeth into the flavorful piece of chicken. How to create the best salted egg wings? Melt a cup of butter. Toss your air fried wings in the melted butter. In another bowl, combine salted egg powder, dried chili leaves, and chopped bird's eye chili. Toss your butter-coated wings in this bowl. Make sure all wings are covered enough. Enjoy, and you're welcome. 
Tools You Can Use for Your Air-Fried Chicken Wings
No products found.
To efficiently and safely turn your chicken wings in the cooking process, use a good pair of tongs. When you are ready to coat your chicken wings, I suggest using a good bowl to mix the wings and the sauces or rubs in.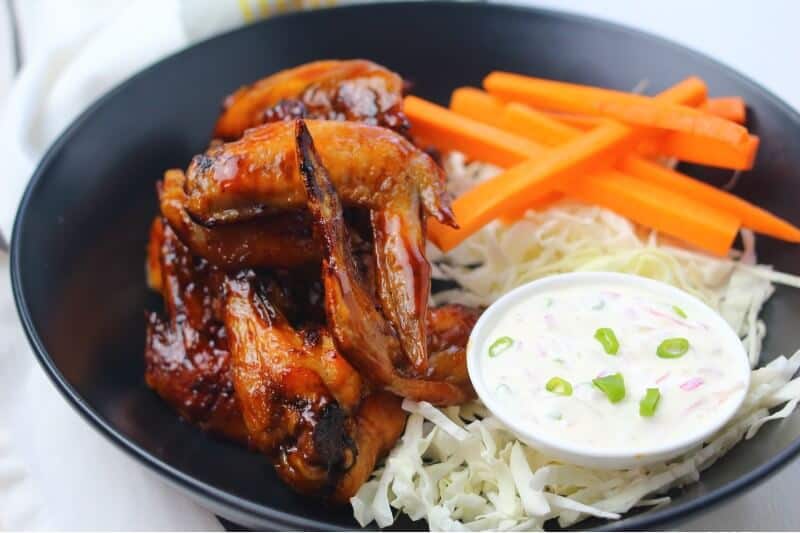 What Goes Well With Those Wings? Well…
Since "rice is life" in our household, I recommend serving these delicious wings with steamed rice. You can also try our mushroom rice pilaf, to place your rice game up a notch. If rice dishes are too rich for you, you can also try a side of garlic and rosemary potatoes.
Or, if you're up for movie night, why not go for a full snack menu, serving it with air fryer mozzarella sticks, classic French fries, and air fryer frozen shrimp? All these movie night treats also go really well with the dips I suggested earlier.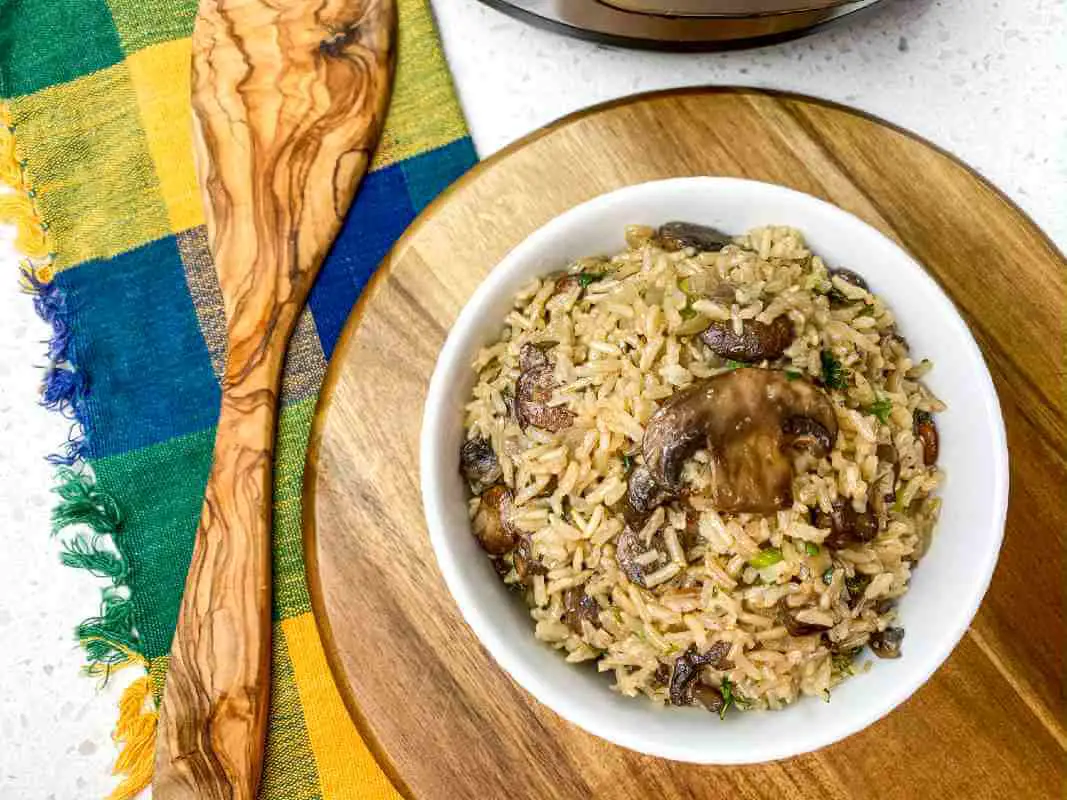 Frequently Asked Questions
How Long Do You Cook Frozen Wings In The Air Fryer?
The average cooking time is 18 to 22 minutes in an air fryer, with turning the chicken every 5 minutes or so, to ensure an even cook.
Can You Cook Frozen Wings In Air Fryer?
Usually, you can just toss any frozen item in an air fryer, such as frozen egg rolls in air fryer or chicken nuggets. In the case of wings, however, it is best to thaw them in the refrigerator before cooking them in an air fryer.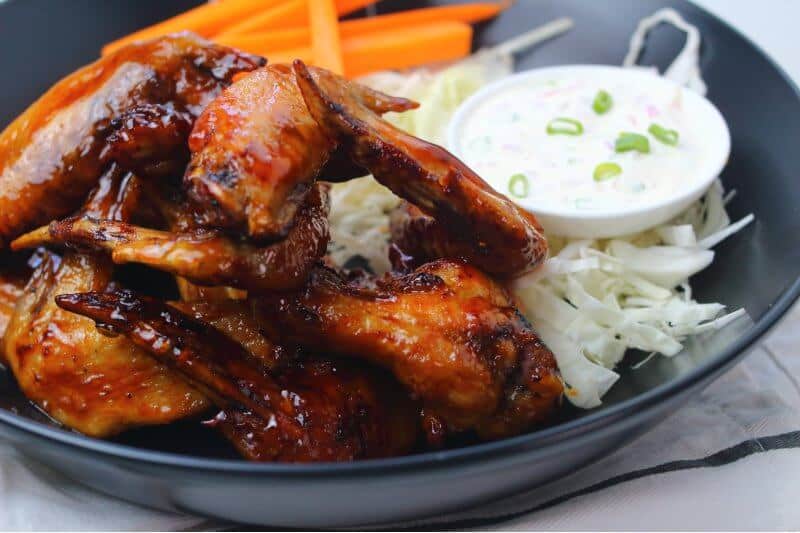 Do NOT thaw meat at room temperature, always do it inside the refrigerator, at the lower shelves. Thawing frozen meat at room temperature encourages bacterial growth.
Should I Defrost Wings Before Air Frying?
You definitely should, otherwise, the melted ice would interfere with the crispiness of the chicken. Melted ice will turn into steam, which we don't want our chicken to cook in, if we are aiming for a moist but crispy chicken.
What Temperature Do You Cook Frozen Chicken In An Air Fryer?
Frozen chicken (thawed, before cooking) cooks really well at 200 C in an air fryer.
Conclusion
While I continue to drool over the food served on screen in the K-Dramas that I watch, at least I know that I have the chicken wings part covered already. Are you a fan of K-Dramas, too? Which ones would you recommend that I watch next?
Will you also try my flavored chicken recipe? Preparing it is so easy, and you and your family will definitely enjoy the variety of flavors that it comes with. If you have any stories or suggestions around chicken wings, just drop a comment below. Looking forward to hearing from all of you, ciao!
Related Readings: Check out our comprehensive guide, where we review air fryers that are dependable in cooking appetizing air fryer recipes and more!