There's literally nothing better than home-cooked family meals. Just like this Instant Pot Mushroom Rice recipe. It is one of our comfort foods favorites, especially on cold days. It is filling and delicious for the whole family to enjoy! The little ones are not big fans of mushrooms before, but they especially love how rich this rice dish is.
This Instant Pot Mushroom Rice Pilaf recipe is gluten-free and can be made in only 30 minutes. It is also easily customizable and can be easily made into a fully vegan dish. All you have to do is replace the beef broth with vegetable broth then skip the butter. You can also make it even healthier by adding your favorite veggies, like broccoli, peas, celery, or bell peppers.
What Goes In A Mushroom Rice Pilaf?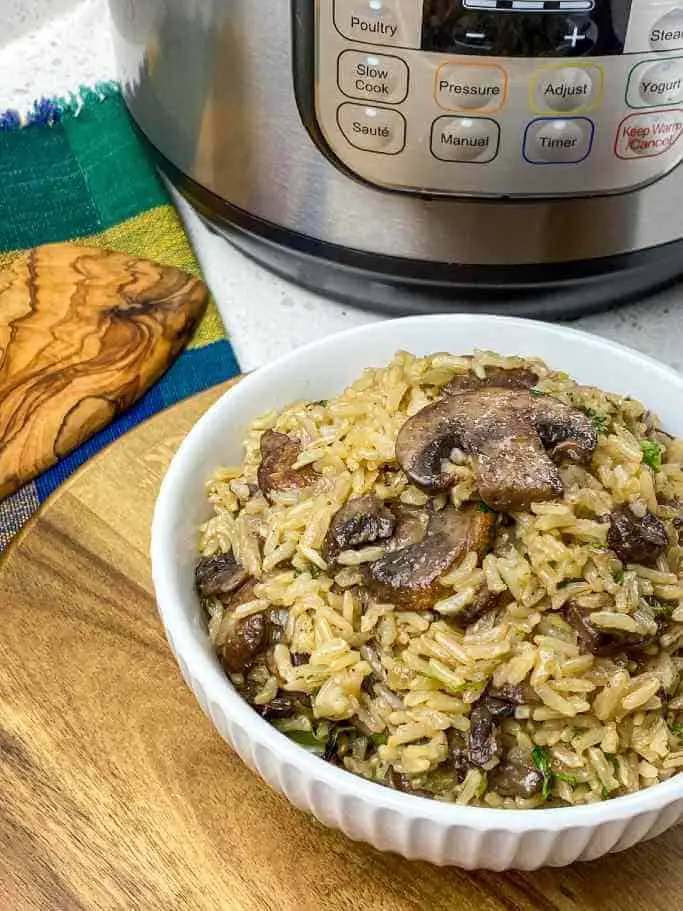 Mushrooms
Portobello mushrooms are always my first choice because it stays firm. I love how it is flavorful but not overpowering. You can also use white button mushrooms, cremini mushroom, or shiitake mushroom.
Rice 
Since this is a pilaf, go with long-grain rice. It can be Basmati rice or Thai Jasmine rice. They are dry, firm, and fluffy when cooked, perfect for pilaf. 
Cooking Fat
You can use extra virgin olive oil or vegetable oil. The butter adds creaminess to the dish but if you're vegan, then you can simply skip it or use vegan butter if you have any.
Onion And Garlic
I use yellow onion as with most of my dishes. It's milder and has a certain hint of sweetness to it. As for the garlic, you can go crazy and use a whole head if you love it as I do! It smells heavenly and adds a lot of flavors too.
Wine
I usually use Marsala wine because of its sweetness. You can also use Madeira wine or Oloroso.
Spices And Seasonings
I like keeping it simple on the spices and seasonings so I stick with salt and pepper, to taste. Then I add fresh parsley for an extra layer of flavor. Other herbs that you can use are thyme, scallions, or cilantro. 
Stock
You can make your own vegetable or chicken stock at home if you prefer. You can also use store-bought broth instead. 
What Can You Serve With Mushroom Rice Pilaf?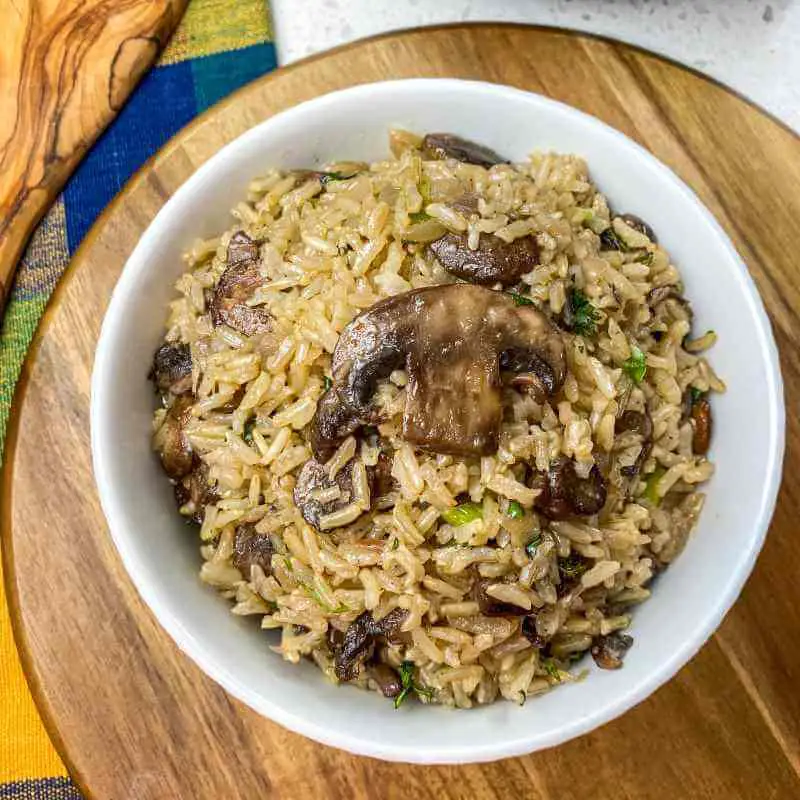 This dish can go on its own or pair with meat, veggies, or seafood. Here are some main dish pairings that are best served with it: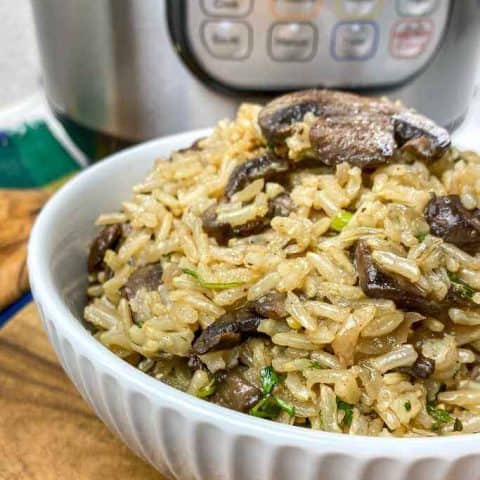 Instant Pot Ultimate Mushroom Rice Pilaf
Cook Time:
40 minutes
35 seconds
Additional Time:
10 minutes
Total Time:
1 hour
5 minutes
35 seconds
A hearty dish filled with warmth (and a lot of mushrooms!). A tasty dish guaranteed to be your family's newest favorite dish!
Ingredients
3 tablespoons unsalted butter
1 tablespoon extra-virgin olive oil
1 teaspoon garlic powder
2 yellow onions, diced
¼ teaspoon Sea salt
¼ teaspoon black pepper
8 ounces Portobello mushrooms, sliced
1 tablespoon fresh thyme
¼ cup Marsala wine
1 cup long-grain brown rice, rinsed and drained
1 cup chicken broth (you can also use vegetable broth)
2 tablespoons green onion, finely chopped
2 tablespoons fresh parsley, finely chopped
Instructions
Set Instant Pot to sauté and heat olive oil and half the butter.



Add the onions and stir until translucent.



Then add the mushrooms and garlic powder. Cook for 5 minutes until the mushrooms have browned. Stir occasionally. 



Pour in the Marsala wine and fresh thyme.



Let it cook for about 4 to 5 minutes until the aroma has weakened and the wine has been reduced. Transfer the mushroom mixture to a separate plate.



Put the remaining butter in the pot, then half the broth. Scrape off the fond at the bottom of the pot from the sautéed mushroom. 



Add the long-grain brown rice, season with salt and pepper to taste.



Sauté for 30 seconds then pour in the rest of the broth. 



Close the lid then set the Instant Pot to "Sealing". Then put it on Pressure Cook for 22 minutes on High.



When it starts beeping, let the seal release naturally for about 10 minutes. Then manually release the rest of the pressure. Adjust the valve from Sealing to Venting.



Carefully unlock the lid and fluff the rice with a fork or spatula.



Add in the mushroom mixture, green onion, and parsley. Stir well until combined.



Leave to rest for about 5 to 10 minutes then serve. Bon Appetit!  


Nutrition Information:
Yield:

4
Serving Size:

1
Amount Per Serving:
Calories:

214
Total Fat:

13g
Saturated Fat:

6g
Trans Fat:

0g
Unsaturated Fat:

6g
Cholesterol:

24mg
Sodium:

466mg
Carbohydrates:

21g
Fiber:

3g
Sugar:

4g
Protein:

4g
Impress your family and friends with this quick and easy dish! Let me know what kind of personal twists you added to your Instant Pot Mushroom Rice Pilaf by leaving them in the comments below. Much love, ciao! ♥