Are you looking for new recipes to make using fish fillet? This Tangy Cajun Snapper with Fresh Mango-Avocado Salsa will give new life to your bountiful catch. Treat your palate to a party of textures and spices that you can whip up in less than 30 minutes!

My husband likes to fish on weekends when the weather is good. More often than not, he comes home with a bucket of freshly caught fish. So naturally, I have to think of ideas on how to make use of these fresh snappers!

I thought, why not pair it with Fresh Mango-Avocado Salsa that I usually serve with either grilled chicken or tacos? We gave it a try, and it was like love at first taste! The subtle sweetness of the salsa contrasts with the spiciness of the Cajun snapper. All I can say is that they are meant to be.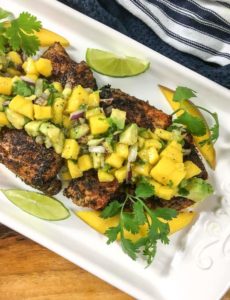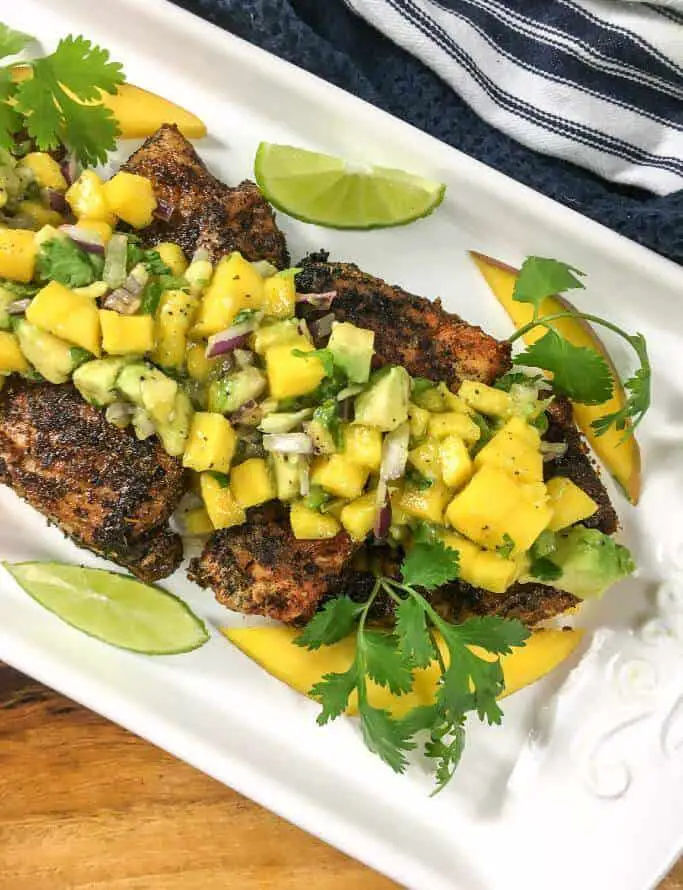 This is one of those recipes that makes your heart happy. Literally and figuratively. One bite of this refreshing combination is sure to give a smile on your face. Red snapper and avocados are rich in Omega-3 fatty acids that are known to reduce the risk of heart diseases. Hypertension and high cholesterol.

Additionally, mangoes are packed with fiber and vitamin C that can help lower your cholesterol levels. It also has beta-carotene, Vitamin A and Vitamin E. Mangoes are great for regulating insulin levels, improves metabolism, and boost the immune system.

Are you ready to start cooking? Let's go!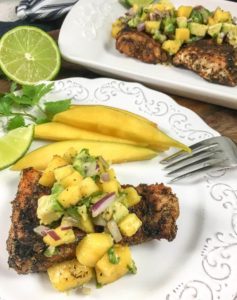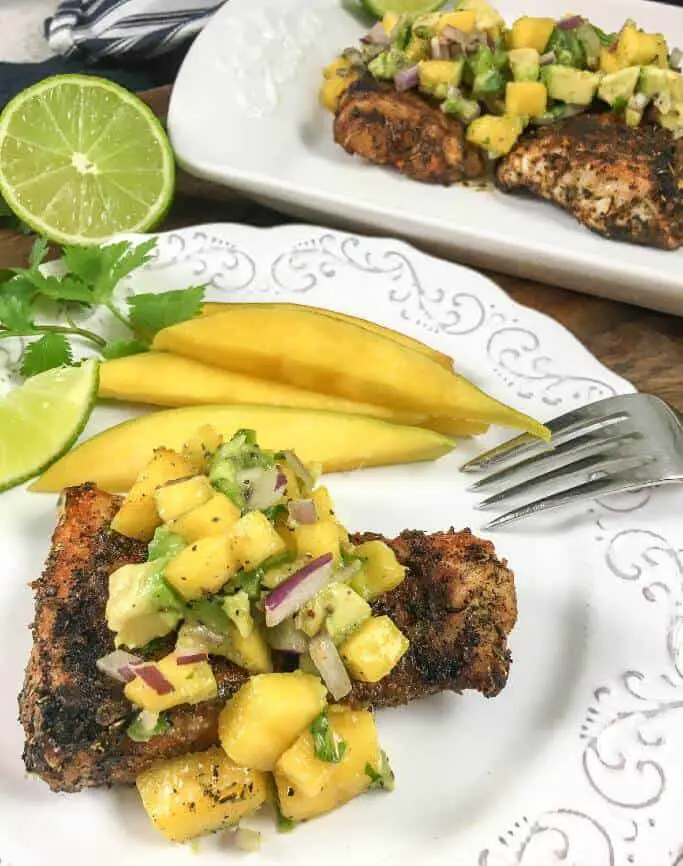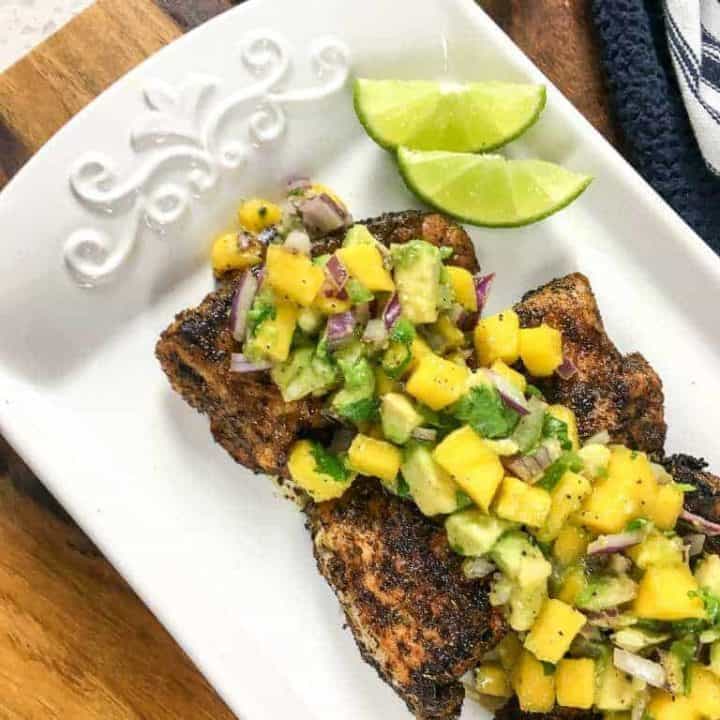 Tangy Cajun Snapper with Salsa
Red snapper fillets are rubbed in spices and pan-fried to perfection. Glazed on top with a crisp and refreshing Mango-Avocado Salsa.
Ingredients
For the Spicy Cajun Snapper:
1 tablespoon paprika
1 tablespoon garlic powder
1 tablespoon onion powder
¾ tablespoon thyme, dried
¾ tablespoon oregano, dried
1½ tablespoon of sea salt
¾ tablespoon of black pepper, ground
4 5-oz. red or yellowtail snapper fillets
½ - 1 tablespoon cayenne pepper*
For the Mango-Avocado Salsa:
1 mango large, diced
1 avocado large, diced
½ red onion small, diced
½ jalapeño pepper medium, diced
2 cloves of garlic, minced
3 tablespoon of fresh cilantro, finely chopped
3 tablespoon lime juice, juice
2 tablespoon extra-virgin olive oil, divided
Instructions
Prep the spice rub.
Get a bowl and combine garlic powder, onion powder, paprika, dried thyme, dried oregano, sea salt, ground black pepper, and cayenne pepper. Whisk continuously until evenly combined then set aside. 

Make the salsa.
Mix the mango, avocado, jalapeño, garlic, fresh cilantro, and onion in a bowl. Pour in the freshly squeezed lime juice. Then add salt and pepper to taste. Stir it well until it's fully incorporated.

Coat the snappers.
Take the snapper fillets, and dip it in the Cajun spice mix. Rub both sides of the fillet with the seasoning. Make sure there are no uncoated spots and that the rub has clung to the fish.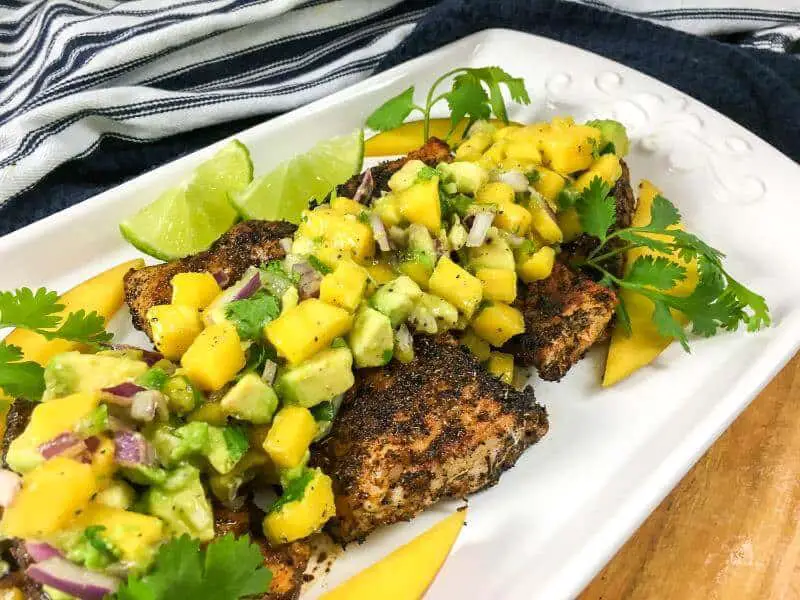 Pan-frying the fillet.
Take a large skillet and place it over medium heat. Pour about 1 tablespoon of olive oil. Once the oil is hot, carefully put the prepped fillets into the skillet one by one.
Fry it for 3 to 4 minutes on each side. When it's done, you'll notice a golden-brown crust on both sides of the fish. You should also be able to easily flake it with a fork.

Indulge yourself.
Carefully take the fillets out of the pan and into a cooling rack. Then transfer to a plate and garnish with your fresh mango-avocado salsa. Bon Appetit!
Notes
*You can adjust the amount of cayenne pepper to your preferred heat level.
Cooking time may vary depending on the size and thickness of the fillet.
Do not overcrowd the skillet when frying as it may cause longer cooking time or uneven finish on the fish.
Nutrition Information:
Yield:

4
Serving Size:

1
Amount Per Serving:
Calories:

491
Total Fat:

23g
Saturated Fat:

4g
Trans Fat:

0g
Unsaturated Fat:

17g
Cholesterol:

98mg
Sodium:

2469mg
Carbohydrates:

26g
Fiber:

7g
Sugar:

13g
Protein:

47g
I hope you enjoy making this recipe as I did! The hubby and I love pairing this Spicy Cajun Snapper with Mango-Avocado Salsa with white wine. Let me know what you think of this recipe! I'll wait to hear from you all. Much love, ciao! ♥