If you're looking for a refreshing and appetizing way to eat healthily, you're on the right page. This Garden-Fresh Greek Steak Salad recipe is the perfect combination of flavorful and wholesome. You know, for when you feel like having a salad, but you want to make it extra?

Well, what can be more extra than putting steak on your salad? Disclaimer: I have nothing against regular Greek salads. They're the next best thing I love about Greece next to their remarkable Mythology.

The star of this Greek Steak Salad is a hefty slice of strip steak, marinated and roasted to perfection. It is then cut into thinner strips and topped into freshly chopped salad. Give it a drizzle of balsamic vinaigrette and Feta cheese on top and you're done.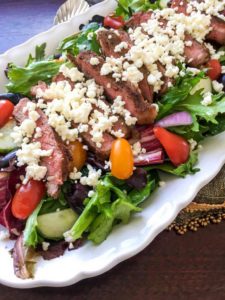 This salad is also not just about looking and tasting good, it's good for your heart too! First, because eating good food makes you happy. But also, because steak is rich in Omega-3 that is beneficial to a healthy heart. It's also an excellent source of protein.

The Greek salad itself is a cocktail of fresh fruits and vegetables such as greens, tomatoes, cucumbers, and avocados to name a few. These make the salad packed with antioxidants and Vitamins A, K, and C. And to highlight it all, Feta cheese is loaded with protein, calcium, vitamin B12, and zinc among other vitamins and nutrients.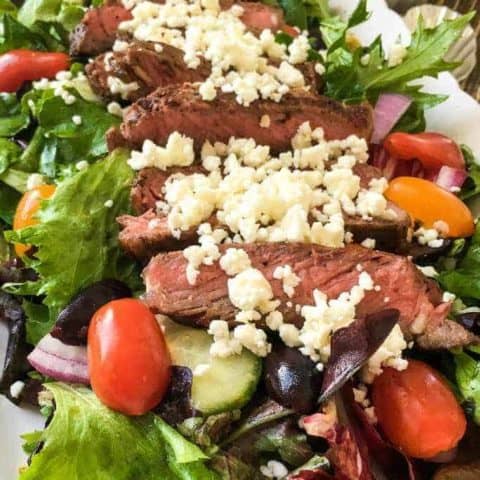 Garden Fresh Greek Steak Salad
Additional Time:
30 minutes
Garden Fresh Greek Steak Salad – juicy and savory roasted strip steak spread on top of crisp and fresh vegetables.  A complete balanced meal that comes together in just 30 minutes!
Ingredients
For the dressing:
¼ cup balsamic vinegar
½ cup extra-virgin olive oil
1 tablespoon fresh lemon juice
1 tablespoon Dijon mustard
2 tablespoon Italian seasoning
Sea salt and black pepper, to taste
For the salad:
1 lb. Strip steak, approximately 1½" thick
1 tablespoon extra-virgin olive oil
1 large avocado, chopped
1 tablespoon fresh lemon juice
4 cups mixed salad greens (kale, lettuce, spinach, etc.)
1 English cucumber, chopped
1 cup grape or cherry tomatoes, cut in half
½ medium red onion, thinly sliced
½ cup Kalamata olives, sliced
½ c. Feta cheese, crumbled
Instructions
Prepare the salad dressing.
Mix the balsamic vinegar, Dijon mustard, olive oil, lemon juice, and Italian seasoning together in a medium-sized bowl. If needed, add a pinch of salt and black pepper. Then whisk until fully incorporated. 
Marinate the steak.
Place the steak inside a resealable freezer storage bag. Take the balsamic vinaigrette dressing and pour half of the mixture into the steak. Keep the other half of the dressing to serve with the salad later. Move the steak around inside the bag to make sure it is completely soaked in the marinade. 

Leave it for about 30 minutes to 2 hours at room temperature. If you want to marinate the steak longer, place it in the refrigerator overnight but not more than 24 hours.


Searing the steak.
Preheat the oven to 400° F with the top oven rack in the middle. Before you proceed, make sure to turn your exhaust fan in its highest possible setting. Now pour a tablespoon of olive oil into a large oven-safe skillet over high heat. Take the steak out of the marinade put it into the hot skillet. Sear the steak for 2 minutes on each side until you get a golden-brown crust all over. 

Then put the skillet in the preheated oven and let it roast for about 8 minutes to get a medium-rare steak. You can cook it depending on how you prefer it to be done. Once you get your desired doneness, remove the skillet from the oven. Transfer the steak on a plate and let it rest for 5 to 10 minutes.

Assembling the salad.
Start preparing your salad by tossing the chopped avocado in lemon juice. This will keep the vibrant green complexion of the fresh avocado. In a large serving platter or salad bowl, arrange your mixed salad greens. Then top with cucumber, tomatoes, red onion, olives, and avocado. Season with more salt and pepper, if needed.

After letting the steak rest, you can now slice it into thin strips. Line it on top of the Greek salad and sprinkle with bits of Feta cheese. Serve the remaining balsamic vinaigrette dressing on the side or drizzle it on the salad. 


Notes
Cooking time may vary depending on the thickness of the beef, starting temperature of the beef, level of doneness as desired and your oven setting capabilities.
Let the meat rest at room temperature for at least 30 minutes before cooking.
Use a candy thermometer to check for doneness. You want the steak to be 5 to 10°F below the required temp (e.g., 135°F for medium-rare) when removed from the oven. This is because the meat continues to cook while it's resting.
Nutrition Information:
Yield:

4
Serving Size:

1
Amount Per Serving:
Calories:

801
Total Fat:

66g
Saturated Fat:

17g
Trans Fat:

1g
Unsaturated Fat:

45g
Cholesterol:

109mg
Sodium:

531mg
Carbohydrates:

22g
Fiber:

6g
Sugar:

12g
Protein:

35g
What do you think of this recipe? Try it out this weekend and treat your taste buds to a symphony of flavors! Let us know in the comments below if you enjoyed making your own Garden-Fresh Greek Steak Salad! We enjoy reading your feedback. Much love, ciao! ♥