The first thing I loved about the Low Carb diet is how easy it is to create a Low Carb version of your favorite food. Like this Low Carb Mini Pizza – all the goodness of a pizza without having to count the carbs. I never imagined losing weight can be this yummy!

The secret? Almond flour. It is the ultimate gift of the Low Carb gods to its humble followers. Do you want to make a cookie? What about freshly baked bread? Or pancakes? The answer is always almond flour. You can make a low carb version of these dishes just by replacing regular flour with almond flour.

If you're having trouble finding almond flour, you can also use coconut flour or sunflower seed meal as an alternative. As for the toppings, go crazy! You can put as much cheese and meat you want. However, for the sauce, I prefer making my own at home.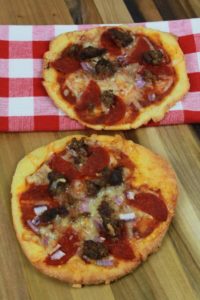 In this recipe, I used almond flour and cheese for the pizza dough which both have low carbohydrate content. For the homemade pizza sauce, I used tomato sauce and a bunch of dry seasonings, stevia powder, and apple cider vinegar. This way I'm sure that it has no added sugar and very low sodium content.

And last but not the least, the toppings! It's definitely the best part for me. I pepperoni, breakfast sausages, onion, and A LOT of mozzarella cheese. Of course, you can customize this as you prefer. You can use prosciutto, bacon, roasted chicken, or even steak if you're feeling extra. 😉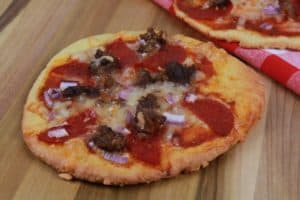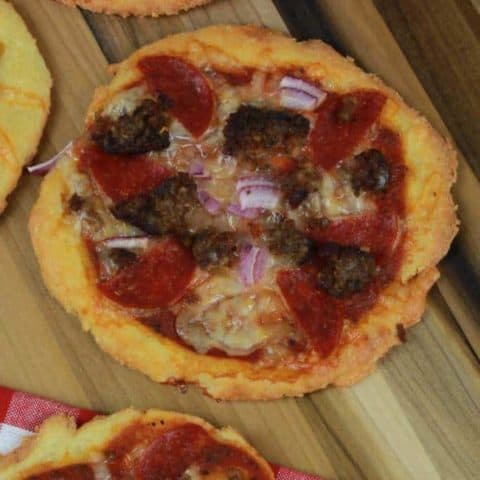 Low Carb Mini Pizzas from Scratch
We made this all-time favorite dish much more enjoyable for sharing, more so ideal for health-conscious too. 
Ingredients
For the dough:
2 cups shredded mozzarella cheese
1-ounce cream cheese softened
3/4 cups almond flour
2 teaspoon baking powder
2 tablespoon 1:1 stevia powder
1 large egg
For the pizza sauce:
8 ounce can of tomato sauce
1 teaspoon cornstarch
1/2 teaspoon oregano
1/4 teaspoon thyme
1/2 teaspoon onion powder
1/4 teaspoon garlic powder
1/4 teaspoon black pepper
1/8 teaspoon cayenne pepper
1/8 teaspoon salt
1 teaspoon 1:1 stevia powder
1/4 teaspoon apple cider vinegar
For the toppings:
1 tablespoon minced onion
12 slices of pepperoni
1/2 cup grated mozzarella cheese
1/2 cup cooked breakfast sausage, in crumbles
Instructions
Make the dough. 
Put the mozzarella in a microwaveable bowl. Then put the bowl in the microwave for 1 minute on high to melt the cheese.



In a separate microwave-safe bowl, heat the cream cheese for 30 seconds until it softens. Mix it with the melted mozzarella and stir until they are evenly combined. Set aside the cheese mixture for later.



In a bowl, combine, baking powder, almond flour, and stevia and mix well. 



Add the melted cheeses to the almond flour mixture and add the egg. Now pour the melted cheese in the dry ingredients. Then crack the egg and add it to the mixture.



Get a spatula and fold the mixture until you form a dough. Continue with the process until the dough is fully incorporated. You can also use your hands and manually knead and pull the dough for better texture. Just make sure to put vegetable shortening on your hands to keep the dough from sticking on you.



Once the dough is completely combined, divide into 4 equal portions. Cut the dough in half then cut the half pieces again in the middle. Cut a parchment paper into two 6 x 6-inch squares. Put one-quarter of the dough on one of the squares. Place another square sheet on top of it. Use a rolling pin and roll the dough until you get it to about 3/8 inch thick.
Repeat this step until you rolled all 4 quarters of the dough. You can shape it however you like as long as it fits your baking sheet.



After you get your ideal dough shape and thickness, transfer them into your parchment-lined baking sheet. 

Make the pizza sauce. 
Pour the tomato sauce, apple cider vinegar, and dry spices in a medium-sized mixing bowl.



Stir the sauce mixture well until thoroughly combined. 



Assemble the pizza. 
Use a ladle or spoon to scoop the sauce on to the dough. Spread it evenly all over by making circular motions with the back of your spoon. Do this until all dough pieces are covered with the sauce. Distribute the toppings among the mini pizzas. You can add as much or as little toppings as you prefer. 

Bake it! 
One final step before indulging in your guilt-free pizza, bake it. Place the baking sheets in the oven at 350° F for 25 to 30 minutes.



Once the cheese has melted and their crusts have developed a beautiful golden-brown color, take the mini slices of heaven out of the oven. 



Let it rest for a minute or two on a cooling tray before serving. You can serve the mini pizzas as they are or cut them into quarters.



Notes
Baking time may vary depending on the size and thickness of the dough and the oven setting.
Some topping or cheese variation may also need a few more minutes to cook.
Add jalapeños for an extra spice kick!
You can also top the pizzas with fresh herbs, as you prefer.
Nutrition Information:
Yield:

4
Serving Size:

1
Amount Per Serving:
Calories:

482
Total Fat:

36g
Saturated Fat:

13g
Trans Fat:

0g
Unsaturated Fat:

21g
Cholesterol:

123mg
Sodium:

1345mg
Carbohydrates:

23g
Fiber:

4g
Sugar:

5g
Protein:

27g
Isn't it amazing to be able to eat your favorite dishes while losing weight at the same time? I would very much love to see how you customized your own Low Carb Mini Pizza! So please leave us a comment below. Much love, ciao! ♥