If you want a drink that will satisfy your taste buds and your Instagram feed at the same time, your search is over. You have probably seen Dalgona Coffee all over social media, but have you tried Malted Mocha Dalgona Coffee? If you haven't, keep reading to learn how to make one at home.

The name Dalgona Coffee got its name from the South Korean honeycomb candy called Dalgona. This is because coffee has the same color and toffee taste as the popular candy. The coffee gained its popularity on a video making application and has taken the world by storm since then.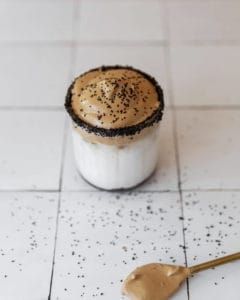 I'm sure you will love this chocolatey twist even if you're not big on coffee. The creaminess of the milk and the sweetness of the chocolate evenly balance out the bitterness of the coffee. You can make it in under 10 minutes and all the ingredients are ones you probably already have at home.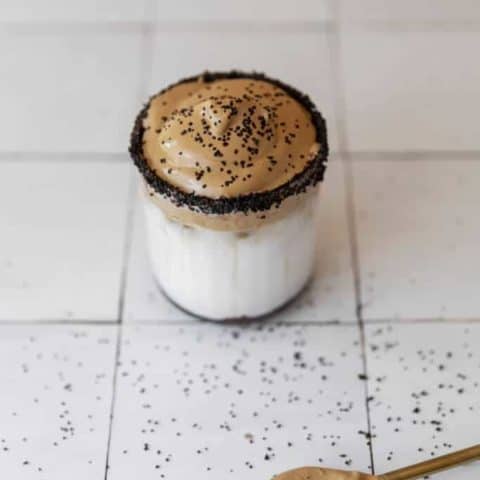 Malted Mocha Dalgona Coffee
A lighter, chocolatier variation of the popular South Korean drink, Dalgona coffee. The Malted Mocha Dalgona Coffee is sure to brighten up your mornings even more!
Ingredients
2 tablespoons instant coffee
2 tablespoons water
2 tablespoons sugar
3 tablespoons of chocolate syrup, or a good drizzle on the bottom of the glass jar
½ cup of ice, optional
¾-1 cup of milk, depending on glass size
2 tablespoons of malt powder
Equipment:
Instructions
To make the coffee foam
In a small mixing bowl or glass, pour in the instant coffee, water, and sugar. Note that you have to use hot water for the coffee and sugar to melt properly.



Using a hand mixer, blend the mixture until you get a thick and fluffy consistency.



If you don't have an electric mixer, you can use a regular kitchen whisk. 

If you're going with this method, make sure you have a lot of patience and your arm is ready. It took me about 499 whips and about 10 to 15 minutes to get it foamy. Trust me, I tried it so you don't have to.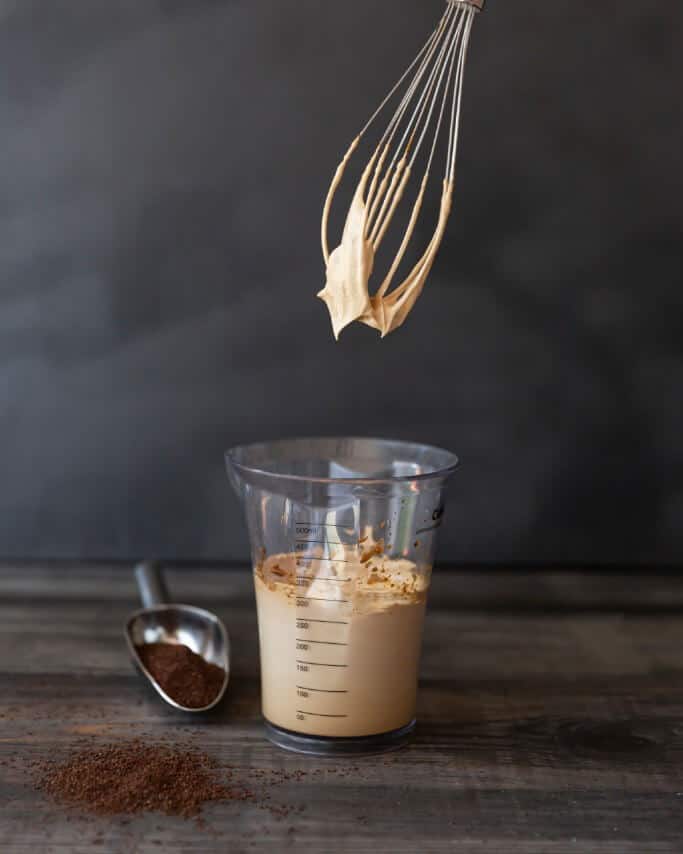 To make the Malted Mocha base 
On a saucer, squeeze a little chocolate syrup. Dip the rim of the glass or mason jar in the chocolate syrup and roll the rim in instant coffee. Roll in malt if you don't want too much coffee. Then set it aside.
Now you want to fill the bottom of the glass with 3 tablespoons of the chocolate syrup. You can add more as you prefer. 



Then put about half a cup of ice on top of the chocolate syrup. You want the ice to fill about ¾ of the glass or at least 2 inches below the rim. This will help the coffee foam to keep its structure.



Pour your choice of milk on top of the ice. Remember to still leave 2 inches from the rim to hold the froth later. 



Scoop 2 tablespoons of malt powder and pour it on top of the milk. Do not stir it into the milk yet.



Assemble your Malted Mocha Dalgona Coffee 
Transfer the coffee foam on top of the Malted Mocha base that you created. If the fluff lost its volume, just whisk it again for a few seconds before scooping it on top of the base.



You can sprinkle it with coffee or malt powder on top.



Take a few (or a lot) of shots for your Instagram, then stir your Malted Mocha Dalgona Coffee and enjoy it!



Notes
You can use a regular whisk to make the coffee foam however it might take you a lot longer. I tried it once and it took me somewhere between 10 to 15 minutes to get it to fluff. And oh boy did my arm hurt after! It was worth it though, but I'll still recommend using a hand mixer or an immersion blender if you have one.
You need to use instant coffee and not regular ground coffee. If you want to make it a non-dairy drink, you can use almond milk or coconut milk. As for the chocolate, you can use melted cocoa instead. 
Nutrition Information:
Yield:

1
Serving Size:

1
Amount Per Serving:
Calories:

481
Total Fat:

4g
Saturated Fat:

2g
Trans Fat:

0g
Unsaturated Fat:

1g
Cholesterol:

15mg
Sodium:

154mg
Carbohydrates:

101g
Fiber:

1g
Sugar:

83g
Protein:

10g
Yes, I know it seems like a lot of effort for a cup of coffee. But it's worth it, I promise! You can also make extra whipped coffee and save it for later. Now, I want to see your creations! So please leave me a comment below when you try this recipe out! Much love, ciao! ♥