**Disclosure: We recommend the best products we think would help our audience and all opinions expressed here are our own. This post contains affiliate links that at no additional cost to you, and we may earn a small commission. Read our
full privacy policy
here.
Want to know the secret on how I get my kids excited for breakfast even on school days? This Cream Cheese and Berries Pancake is the key! It has fresh blueberries and strawberries that are naturally sweet. Then the pancake itself is fluffy and creamy, thanks to the cream cheese in the batter. The best part is, it's Keto-friendly too!
I know that between the busy work week and early school mornings it's tempting to go for an instant pancake mix (no judgment here – I do it too). But there's a different level of satisfaction to making these pancakes from scratch! Don't worry, they only take 10 minutes to prepare and about 15 to 20 minutes to cook. A healthy and mouthwatering breakfast in 30 minutes or less? Count me in.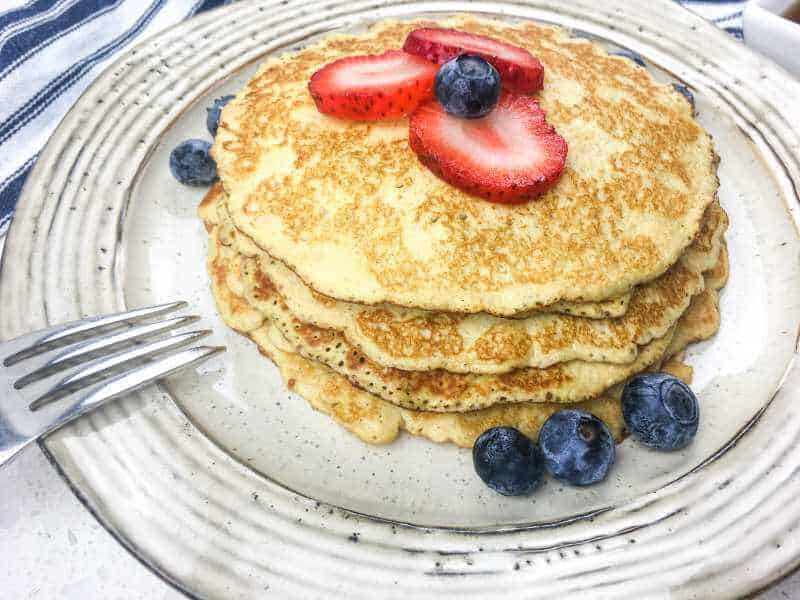 My little helper even wakes up early to help me make this whenever I tell him what's for breakfast the night before! They find it enjoyable as much as I do, and I know you and your kiddos will too. Though I must warn you, expect a few missing berries here and there. If anybody asked, the dog did it. 
The recipe is simple and straightforward. If you're already on a Keto diet, you probably have these ingredients in your fridge or pantry ready. The powdered monk fruit is completely optional, but it adds a nice flavor and color to the pancake.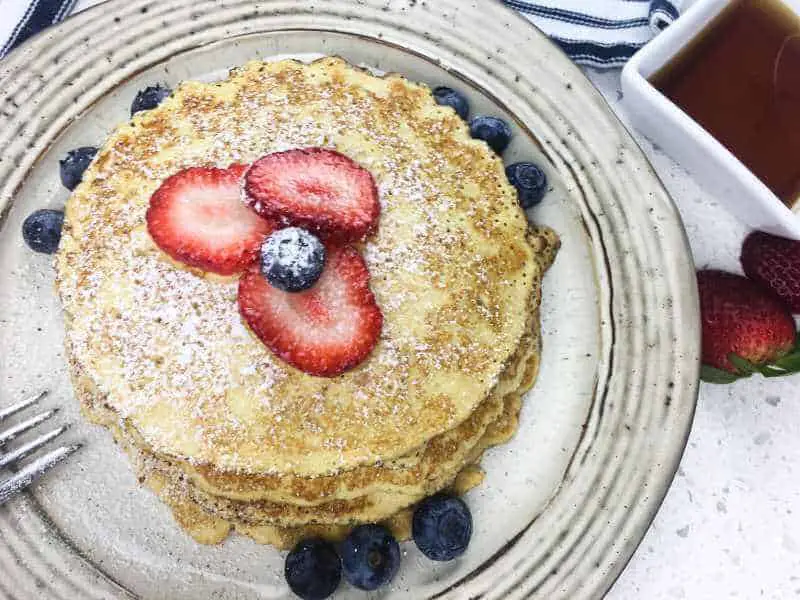 Unlike regular pancakes, this Keto-friendly pancake uses eggs instead of flour. We'll also be using extra virgin olive oil instead of butter to lessen the carb intake. Sugar-free maple syrup can be a little tricky to find, but they are worth it! They do have way fewer carbs than regular maple syrup. However, it is still best to consume this moderately.
If you are lactose intolerant or are on a dairy-free diet, simply replace cream cheese with a non-dairy alternative. Nowadays you can find soy or a nut-based substitute for cream cheese at your nearest grocery store. Note that this is a flourless batter. However, if you want to make it into a full-on pancake, you can use almond flour or coconut flour in place of all-purpose flour in a regular pancake mixture.
Lastly, fruits. This is where you can have fun, fruits will serve as your natural sweeteners on this pancake recipe. My whole family loves berries, so it's usually fresh strawberries and blueberries for us. However, you can replace it with bananas, caramelized apples, or try out my homemade Blueberry Maple Compote recipe!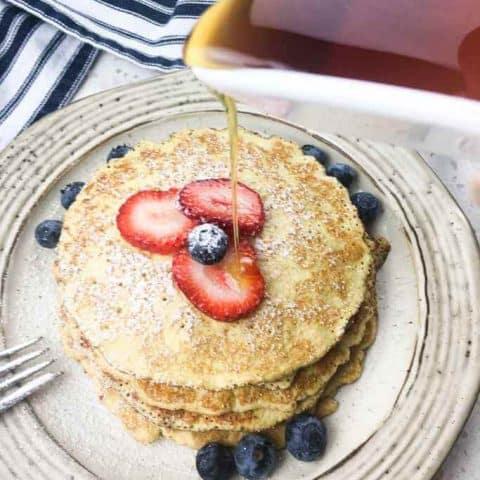 Keto Cream Cheese and Berries Pancake
Quick and easy pancakes from scratch? This Keto Cream Cheese and Berries Pancake is the perfect recipe you're looking for.
Ingredients
Pancake:
6 large eggs
8 ounces cream cheese, room temperature and cut into smaller pieces
1 teaspoon real vanilla extract
½ teaspoon ground cinnamon
3 tablespoon extra-virgin olive oil
Toppings:
1 cup fresh strawberries, sliced
1 cup fresh blueberries
Sugar-free maple syrup
2 tablespoons powdered monk fruit
Instructions
Using your high-powered blender (like our trusty Vitamix 5200), combine eggs, cream cheese, vanilla, and cinnamon. Let it blend until the mixture is smooth and fully incorporated.

Pour ½ tablespoon olive oil on a cast iron griddle that's on medium heat. Use a rubber spatula and spread it all over the surface of the griddle. This prevents your pancake batter from sticking to it and causing burnt spots.

This is a thinner batter than your regular pancake so it's best to make about 3 smaller pancakes so they're easier to flip. Put about an inch or two between each cake so they don't merge. Leave to cook until the cakes have set, and their edges turn brown. This process takes about 3 to 4 minutes.



Using the rubber spatula, gently flip each pancake and cook the other side for approximately 2 minutes or until they turn golden brown too. Transfer the fluffy finished product into your serving platter. Repeat these steps until all the batter is done.

Distribute the pancakes into however many servings you are making. Decorate with the fresh blueberries and strawberry slices.



Use a fine mesh and sprinkle it with monk fruit powder then drizzle sugar-free maple syrup. Serve while still warm and enjoy!




Recommended Products
As an Amazon Associate and member of other affiliate programs, I earn from qualifying purchases.
Nutrition Information:
Yield:

4
Serving Size:

1
Amount Per Serving:
Calories:

445
Total Fat:

37g
Saturated Fat:

15g
Trans Fat:

0g
Unsaturated Fat:

19g
Cholesterol:

336mg
Sodium:

317mg
Carbohydrates:

15g
Fiber:

2g
Sugar:

9g
Protein:

14g
I truly wish this recipe helps brighten up your mornings! These Cream Cheese and Berries Pancakes are irresistible. I can guarantee you will not regret trying it out. This might just be your new breakfast staple. Let me know what you think about this Keto pancake recipe in the comments below. Much love, ciao! ♥