This exquisite Dutch Oven Chicken Rice is not just visually appealing, it tastes as good as it looks! I did a little experiment and decided to add a Thai inspired spicy peanut sauce into my chicken rice party. And surprisingly, it's a hit even with my kids!  
They love peanut butter, but I wasn't sure that they'll like the little heat that I added. But they did, and they even ask for extra sauce. I tried bringing this once at a family potluck and it is grandma-approved too! I don't know about you but that's a big win for me. Needless to say, this is now in the family recipe book.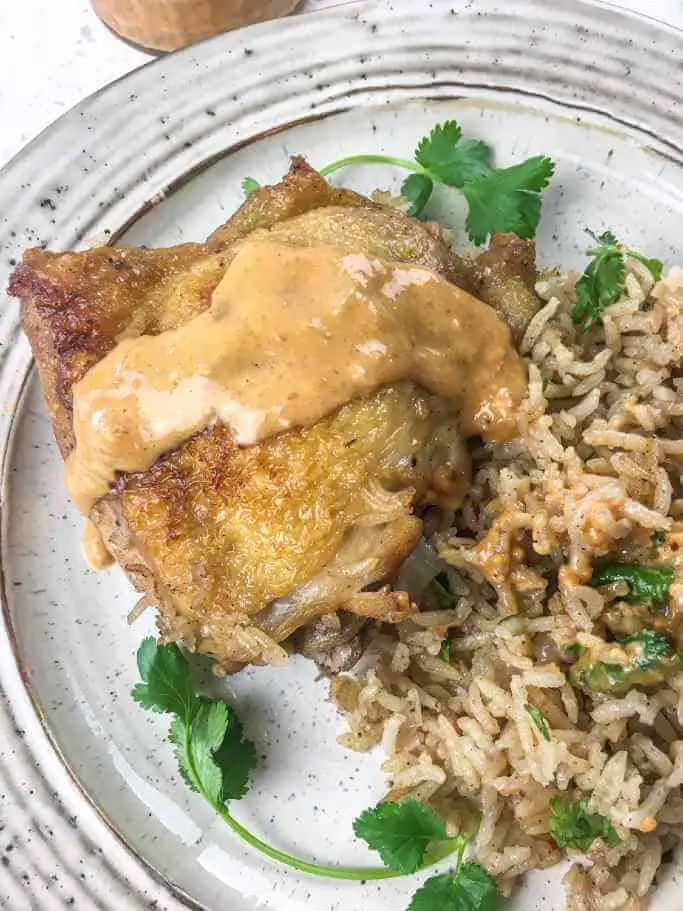 What Are The Main Ingredients In My Dutch Oven Chicken Rice?
Peanut Butter
Peanut butter is rich in protein, magnesium, and fiber. It is also low in carbohydrates, making it a favorite for those on a low-carb diet.  I always use sugar-free peanut butter to keep the sugar content low on my dishes. If you have a nut allergy, you can replace this with sunflower seed butter.
Sriracha
Sriracha helps keep your body warm and encourages healthy blood flow throughout your body. It also boosts your metabolism. Add a dash of it for a punch of heat. You can also replace this with red pepper flakes or chopped chilies instead.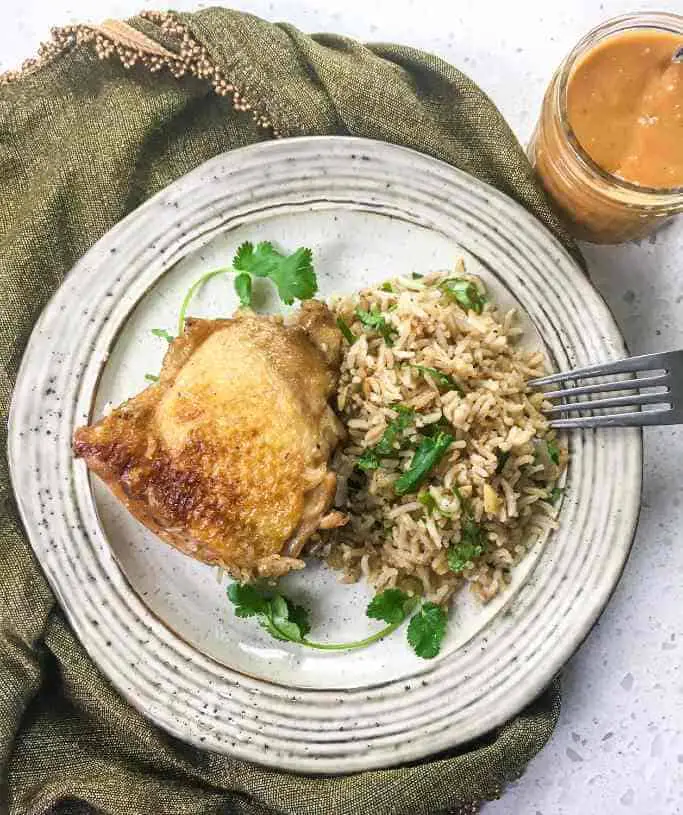 Chicken
I stick with chicken thighs because they are an excellent source of protein. It also has more flavor with it, although it does have a higher fat content than chicken breasts.
Basmati Rice
I always use Basmati Rice with most of my rice meals because not only is it low in fat, it is gluten-free too! Which is a huge factor especially when I'm serving this to friends or family that may have gluten sensitivity.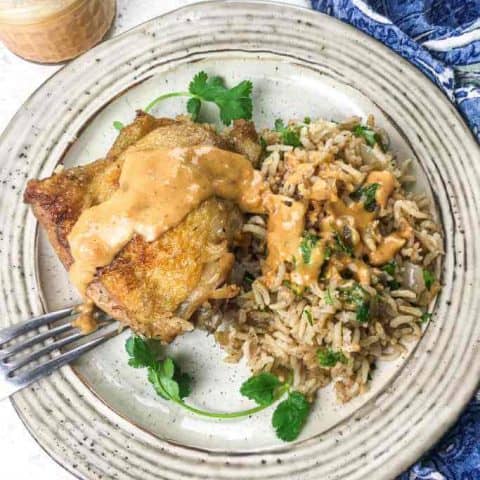 Dutch Oven Chicken Rice with Peanut-Sriracha Sauce
Total Time:
1 hour
5 minutes
The perfect balance between fluffy Basmati rice, juicy chicken, and spicy peanut butter sauce brings a party to your taste buds!
Ingredients
Peanut-Sriracha Sauce:
½ cup sugar-free peanut butter
1 tablespoon Sriracha sauce
1½ tablespoon rice vinegar
1 tablespoon local honey
2 teaspoon coconut aminos
1 tablespoon fresh ginger, grated
3 tablespoons warm water
Chicken Rice:
3 tablespoon extra-virgin olive oil
1½ pounds, chicken thighs
½ teaspoon of sea salt
½ teaspoon freshly ground black pepper
3 cloves garlic, finely minced
2 tablespoons fresh ginger, finely minced
½ yellow onion, chopped
1 cup Basmati rice, rinsed and drained
1¼ cup chicken broth
½ tablespoon five-spice powder
1 tablespoon coconut aminos
1/3 cup fresh cilantro, chopped
Instructions
In a medium-sized bowl, combine peanut butter, Sriracha sauce, rice vinegar, local honey, coconut aminos, and fresh ginger. Stir until fully incorporated. If the mixture is too thick, add warm water little by little until you get your preferred consistency. Set aside for later.

Place a cast-iron Dutch oven (ideally 6-quart) oven on medium heat and pour 2 tablespoons of extra-virgin olive oil. Once the oil is hot, add the chicken thighs one by one. Cook the skin side first. Sprinkle with salt and black pepper, as needed. 

Let it cook for about 7 to 8 minutes or until the chicken is golden brown and doesn't stick to the pan anymore. Flip the chicken to cook the other side of the thighs. Let cook for approximately 4 to 5 minutes then transfer to a platter. 

Pour 1 tablespoon of olive oil into the Dutch oven. Then add garlic, ginger, and onions. Add a dash of salt and black pepper then stir well. Sauté for 4 to 5 minutes or until the onions start to caramelize. Stir occasionally.

Then stir in the Basmati rice for 1 to 2 minutes or until it's lightly toasted. Gradually pour the chicken broth, coconut aminos, and five-spice into the mix. Stir until well combined. Then add the cooked chicken thighs back to the mix.



Put heat on medium-high and bring the mixture to a boil then reduce the heat back to low. Put the lid on and leave to cook for about 25 minutes. Then check if the rice is already tender, cook for a few more minutes, if needed. Then take it off the heat and rest for 10 to 15 minutes.

Take the lid off and transfer the thighs individually into serving dishes. Add cilantro to the rice and fluff it with a fork or spatula. Plate with the chicken and drizzle the thighs with the peanut-sriracha sauce. Enjoy!



Nutrition Information:
Yield:

4
Serving Size:

1
Amount Per Serving:
Calories:

696
Total Fat:

38g
Saturated Fat:

9g
Trans Fat:

0g
Unsaturated Fat:

28g
Cholesterol:

219mg
Sodium:

1107mg
Carbohydrates:

49g
Fiber:

1g
Sugar:

33g
Protein:

44g
Ready to take out your Dutch oven and start cooking? I love how customizable this dish is, so feel free to share with me how you personalized your Dutch Oven Chicken Rice in the comments below! Much love, ciao! ♥