Missing tacos but it's not cheat day yet? This Black Bean Taco Wrap is completely wholesome, no meat – just vegetables. This is a dish that definitely checks all the boxes for me. It's nutritious, appetizing, and it can be put together in only 20 minutes. No need to wait for Taco Tuesday!
I like how this dish seems so simple, yet it has different layers of flavors and textures in it. It's a truly refreshing dish, made from mostly fresh fruits and vegetables with some sprinkle of herbs and spices. The Black Bean Taco Wraps goes perfectly with the fresh guacamole and spicy mango salsa that I serve it with. Together they have the perfect balance of creamy and tangy.
It is vegan, low-carb, keto-friendly, dairy-free, and gluten-free too. This is a completely different take on tacos, while still being loyal to all the Mexican flavors it comes with. It is meatless too and instead of using taco shells or tortilla wraps, we're using lettuce. This keeps the calories and carbs to a minimum, so you can indulge without all the guilt.
So, What Makes A Vegan Black Bean And Guacamole Garden Taco Wrap?
Black Beans
The main star of this amazing dish are black beans. They contain various vitamins and minerals like calcium, magnesium, iron, and zinc. All of which are essential in improving bone health. It is also low in sodium while high in potassium, which makes it best for reducing the risk of high blood pressure. 
Guacamole
I mean, what's a good taco without guac? Fret not, as long as you consume it in moderation, guacamole's high-fat content will not make you gain a lot of weight. It can be a great weight loss ingredient since it has high fiber and potassium content. They help you stay full longer, curb your cravings, and prevent bloating.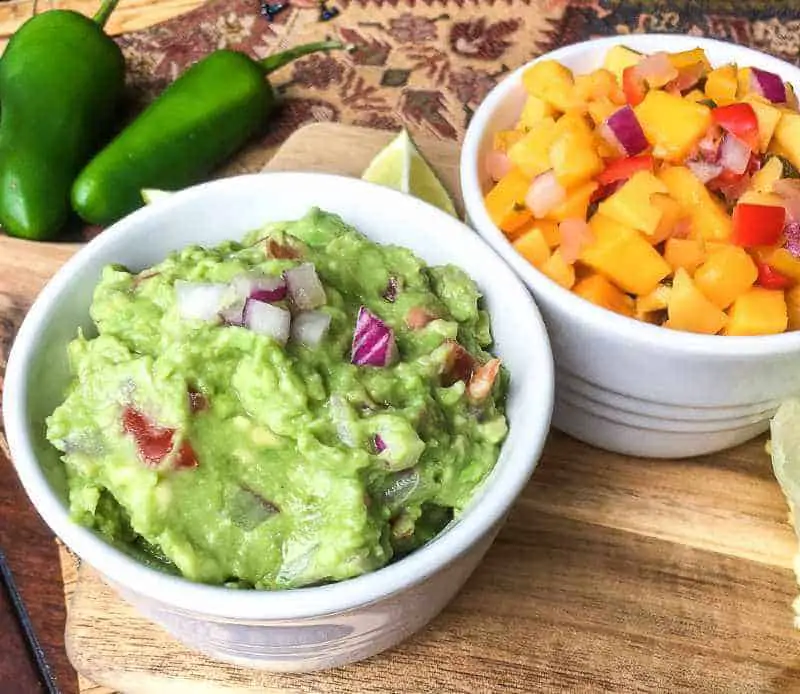 Spicy Mango Salsa
One of the best tummy-friendly fruits, are mangoes. They are low in calories, rich in antioxidants, and a great source of fiber too. Mangoes help you feel fuller, boost your digestive health, and aids in burning unwanted fat from your body and aid in alkalizing the body and thus it is also a common ingredient in Alkaline Smoothies. 
Lettuce
Lettuce is a staple diet food and for good reason. It is low-fat, low-calorie, and low sodium. But it is high in almost every other vitamins and minerals that you need for a healthy body. It is rich in fiber and vitamin C, both of which are beneficial for weight loss.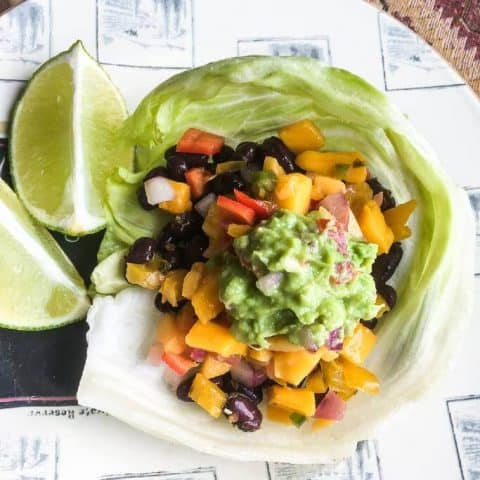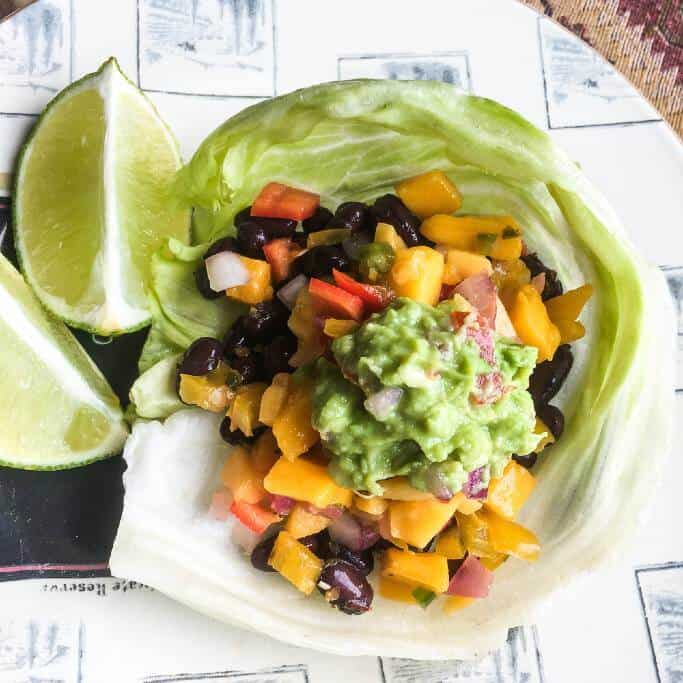 Vegan Black Bean and Guacamole Garden Taco Wraps
These Vegan Black Bean and Guacamole Garden Taco Wraps will spice up your Meatless Mondays. Taco-flavored black beans wrapped in fresh lettuce and served with guacamole and spicy mango salsa.
Ingredients
2 tablespoons extra-virgin olive oil
2 tablespoons water
1 teaspoon ground cumin
¼ teaspoon dried Mexican oregano
1 teaspoon smoked paprika
¼ teaspoon cayenne pepper
½ teaspoon chili powder
1 15-ounce can black beans, drained and rinsed
½ medium red bell pepper, finely diced (optional)
¼ teaspoon of sea salt
¼ teaspoon black pepper
Guacamole:
2 large avocados, pitted and mashed
3 tablespoons fresh lime juice
2 tablespoons fresh cilantro, minced
1 1/2 small tomato, seeded and diced
½ medium jalapeño, finely diced
¼ teaspoon of sea salt
¼ teaspoon black pepper
Serving Suggestion:
Homemade spicy mango salsa
Any kind of lettuce to serve as wraps (I recommend Iceberg or Romaine)
Instructions
Place a skillet over medium heat and pour the olive oil in. Once the oil is hot, add the beans, cumin, oregano, paprika, cayenne pepper, and chili powder. Sprinkle with salt and pepper, as needed. Stir well to marry the ingredients.

Let it cook for about 4 to 5 minutes or until the beans are cooked through and the spices are fragrant. Remember to stir frequently. Then take the pan off the heat and set aside to cool.



While waiting for the beans to cook, prep the guacamole. In a non-reactive dish, combine mashed avocado, lime juice, cilantro, tomato, and jalapeño. Add salt and pepper, as needed. Stir until well combined.

Transfer the black beans into a serving bowl then stir in the red bell pepper. Readjust seasoning, if needed. Serve the still warm beans with fresh lettuce leaves to wrap. Don't forget the guacamole and spicy mango salsa on the side.


Nutrition Information:
Yield:

4
Serving Size:

1
Amount Per Serving:
Calories:

449
Total Fat:

24g
Saturated Fat:

4g
Trans Fat:

0g
Unsaturated Fat:

19g
Cholesterol:

0mg
Sodium:

731mg
Carbohydrates:

51g
Fiber:

18g
Sugar:

5g
Protein:

14g
Do I get an invite to Meatless Monday Taco Party now? Please do leave my invitation in the comments below, I promise I'll RSVP right away! I would love for you to try this Vegan Black Bean Taco Wrap. Much love, ciao! ♥