Want to try something different for dinner? This Keto Spicy Turkey Stuffed Mushrooms is a tasty and healthy treat for the whole family. If you love the classic stuffed bell peppers, you'll surely enjoy this recipe too! You get the umami Portobello mushroom, juicy turkey sausage, and tart, creamy goat cheese. 
Spicy Turkey Stuffed Mushrooms can be a crowd-pleasing appetizer or a blockbuster main dish. It all depends on the size of the mushrooms you will be using. It is made from ingredients that are high in protein and fiber, helping satiate your hunger and boosting your metabolism. It is keto-friendly, low carb, gluten-free, and paleo too. 
What Goes Into A Spicy Turkey Stuffed Mushrooms?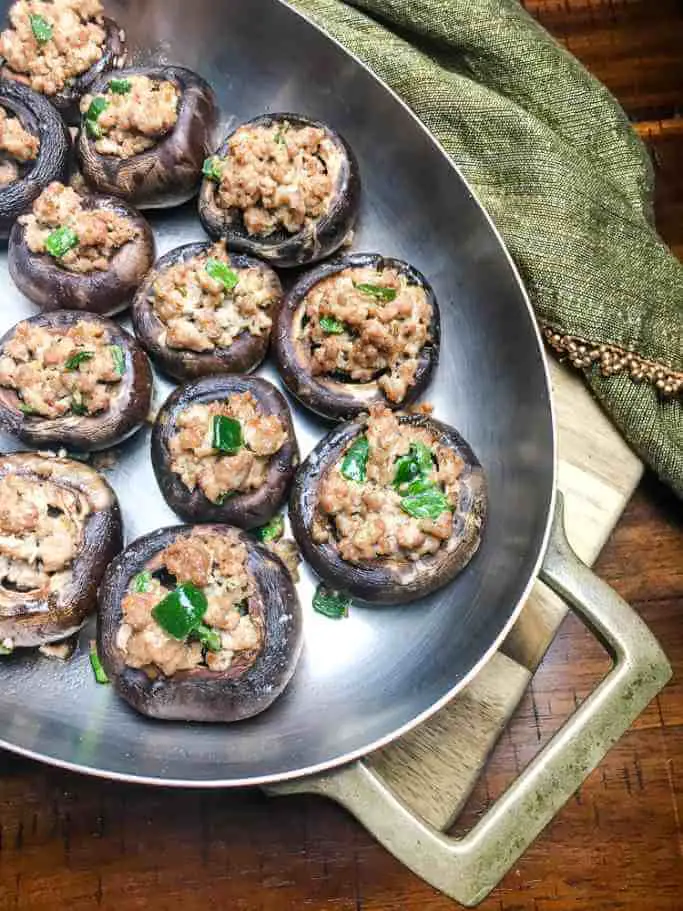 Portobello Mushrooms
The highlight of this dish is the meaty and umami Portobello Mushrooms. These mushrooms are widely used in countless weight loss recipes for many reasons. It is fat-free and low calorie, while rich in vitamin B2 that converts carbs into energy fuel. It is also inexpensive, versatile, and has great flavor.
Turkey Sausage
Turkey sausage is a great source of protein while having significantly low calorie, low cholesterol, and less saturated fat than other meats. It has a mild taste so you can easily add it to any dish, and it will absorb its flavor well. This is one of my favorite keto-friendly meat to use. You can make your own or get store-bought plain turkey sausage.
Poblano Pepper
Giving a hint of heat to our stuffed mushrooms are poblano peppers. These peppers are remarkably milder than jalapeño and habanero peppers. They are rich in Vitamin A and C, and other minerals and antioxidants. This makes them efficient in boosting immunity and fighting inflammation. It also contains capsaicin that aids in gastrointestinal issues.
Goat Cheese
Goat cheese is one of the healthier cheeses you can add to your diet. It is full of essential nutrients like calcium, copper, and medium-chain fatty acids. These make it beneficial to improve bone health. Moreover, the medium-chain fatty acids and vitamin D in goat cheese aids in weight loss.
How Do You Prepare Portobello Mushrooms?
Start by removing the stems of the mushroom. Hold the cap with your less dominant hand while gently tugging and twisting the stem off it with the other.
Carefully scoop out the gills from inside the cap of the mushroom with the edge of a small spoon. Do not push the spoon too hard to avoid damaging the mushroom.
Lastly, do not wash the mushroom underwater as it absorbs it like a sponge. You'll end up with a watery cap. To clean it, simply wipe the dirt off with a damp paper towel.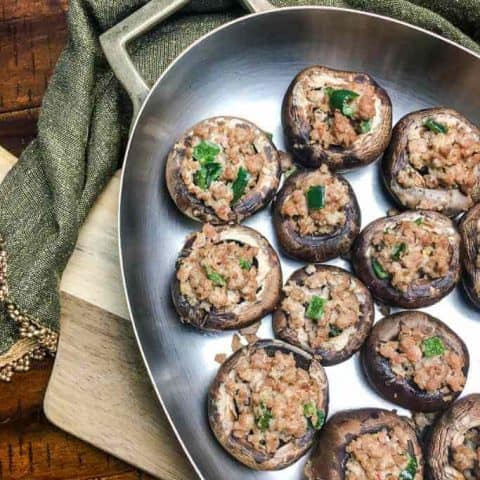 Keto Spicy Turkey Stuffed Mushrooms
This savory Spicy Turkey Stuffed Mushrooms is perfect for any occasion! It's harmonious flavor and texture is something you would want to munch on again and again!
Ingredients
3 tablespoons extra-virgin olive oil
1 large / 2 small Poblano pepper, seeded and diced
1-pound turkey sausage
4-ounce goat cheese, room temperature and diced
16-ounce Portobello mushrooms, hollowed and cleaned
¼ teaspoon of sea salt
¼ teaspoon ground black pepper
Instructions
Start by preheating the oven to 350° F. Then pour 1 tablespoon of extra-virgin olive oil in a large roasting pan. Use a spatula or basting brush to make sure the whole surface is greased.

Place a large skillet over medium heat and pour the remaining olive oil. Once the oil heats up, toss in the Poblano peppers. Stir occasionally for about 3 to 4 minutes until the peppers are cooked through.

Add the turkey sausage to the peppers. Break up the sausage into smaller pieces so they cook more evenly. Let it cook for about 6 to 8 minutes until they turn light brown.

Sprinkle the diced goat cheese to the sausage and pepper mix. Then put a lid on the skillet for approximately 1 to 2 minutes. Take the lid off and stir until the cheese has melted into the sausage bits. Take the skillet off the heat and set aside.

Scoop the turkey mixture into each of the mushroom caps. Then drizzle each mushroom with olive oil and salt and pepper. 

Transfer the pan into the pre-heated oven and set it to roast. Leave for about 10 to 12 minutes or until the mushroom's edges have started to brown. Take the sheet out the oven and serve! Bon Appetit!
Nutrition Information:
Yield:

4
Serving Size:

1
Amount Per Serving:
Calories:

426
Total Fat:

29g
Saturated Fat:

8g
Trans Fat:

0g
Unsaturated Fat:

17g
Cholesterol:

117mg
Sodium:

1030mg
Carbohydrates:

7g
Fiber:

3g
Sugar:

3g
Protein:

36g
This Keto Spicy Turkey Stuffed Mushrooms will give you the best of both worlds, it's ultimately flavorful and healthy. Give it a try and let me know what you think in the comments below! Much love, ciao! ♥