As we age, our metabolism gets slower. This is why it's important to frequently consume detox smoothies like these alkaline smoothie recipes that I'm about to share with you today. Alkaline smoothies help bring back the pH balance in our bodies. If you're planning to make alkaline smoothies in a big batch for the whole family, check out our complete buying guide about the best budget blender for smoothies. 
When your pH level is not balanced, this is where we encounter internal health issues. The most common ones can be acid reflux, heartburn, and a weak immunity system. If not taken care of, this may eventually lead to obesity, kidney and bladder infections, cardiovascular illness, and diabetes. This doesn't mean to completely avoid acidic food, but rather to keep it in moderation. 
The body's pH tends to go bonkers when we consume too much acidic food like those that contain dairy, gluten, grains, or starch. These are some of the foods that are known to be acidic:
Shellfish
Corn
Caffeine
Beef
Turkey
Sweetened beverages
Refined sugar
Dairy products
Processed foods
Spicy foods
When your body is giving you signals that you might be acidic, it's best to consume alkaline promoting foods. Some examples of these are:
 Leafy greens
Root vegetables
Seaweed
Nuts
Lime or Lemon
Cauliflower and Broccoli
Watermelon
Mango
Kiwi
If I'm Acidic, Should I Use Milk Or Water For My Smoothies?
You can use milk as long as it's non-dairy. Meaning you can use plant-based milk like almond milk, oat milk, coconut milk, or soya milk. You can also use coconut water or non-caffeine herbal teas. To learn more, read our blog are smoothies better with milk or water?
Why Should I Go On An Alkaline Diet?
An alkaline diet makes your body less acidic and leans towards being alkaline. When you go on this diet, you avoid caffeine, fatty, and processed foods and remarkable decrease your sugar intake. The alkaline diet encourages you to eat more fruits and vegetables which have their own fair share of amazing health benefits.
Most alkaline foods are low in calories therefore helping you lose weight. It also significantly improves your kidney and heart health. These healthy smoothies help prevent diabetes, arthritis, and some types of cancer. Fruits and veggies give you various vitamins and minerals that boost your immunity and reduces the risk of several illnesses over time.
How Do I Know If I'm Acidic?
Some of the most common symptoms would be nausea, frequent hiccups, bloating, dysphagia, and heartburn. If you're low in alkaline it can also make you feel more tired than usual and cause your immune system to weaken.
Green Mango Smoothie
This great combination puts low acid foods together to help keep your pH balanced.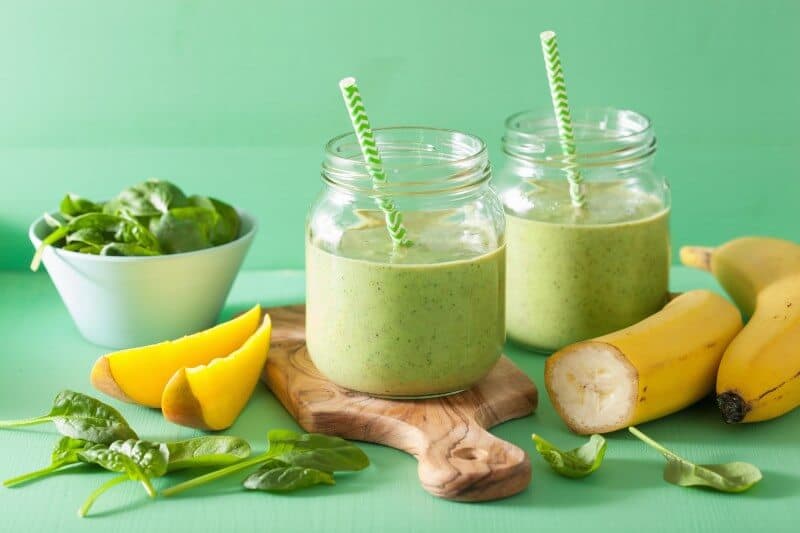 Ingredients:
1 cup of water
1 lemon, juiced
1/2 cup kale, destemmed
1/2 cup of spinach
1 banana, frozen and sliced
1/2 cup ripe mango, frozen and chopped
2 small knobs of ginger, grated
½ cup ice
Instructions:
Process water, lemon juice, kale, and spinach to create a smoothie base.
Add frozen banana, ripe mango, and grated ginger and keep blending.
Gradually pour in ice as preferred.
Continue blending until fully incorporated.
Pour into smoothie cups and enjoy!
Energizing Cucumber Kiwi Smoothie
Alkaline promoting foods like coconut milk, kiwi, apple, and almonds go together in this invigorating drink!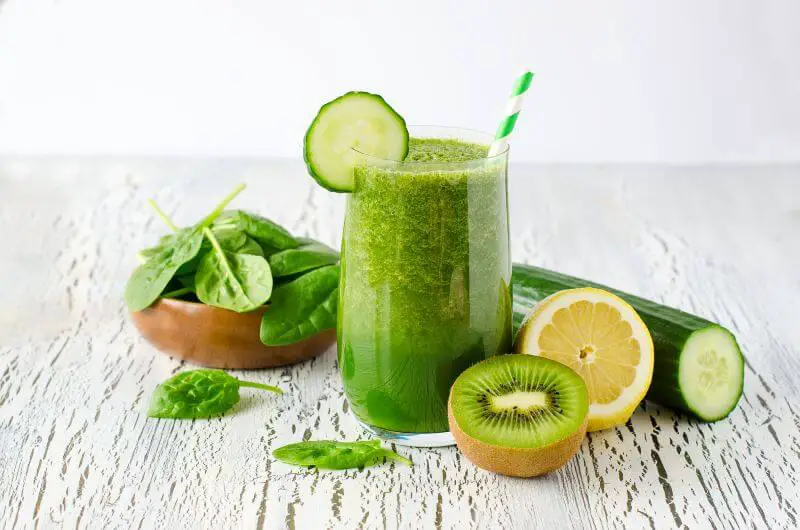 Ingredients:
½ cup of coconut milk
1 cup spinach
½ medium-sized cucumber, sliced
1 kiwi, chopped
1 apple, peeled and chopped
1 banana, frozen and sliced
¼ cup almonds
½ cup ice
Instructions:
Blend coconut milk and spinach for 15 seconds or until combined.
Add cucumber, kiwi, apple, and banana.
Toss in almonds and ice as needed.
Process until the mixture is completely combined.
Transfer to serving glasses and consume immediately.
Berry Minty Alkaline Smoothie
The tastiest way of bringing your pH balance back to neutral is this berry minty smoothie!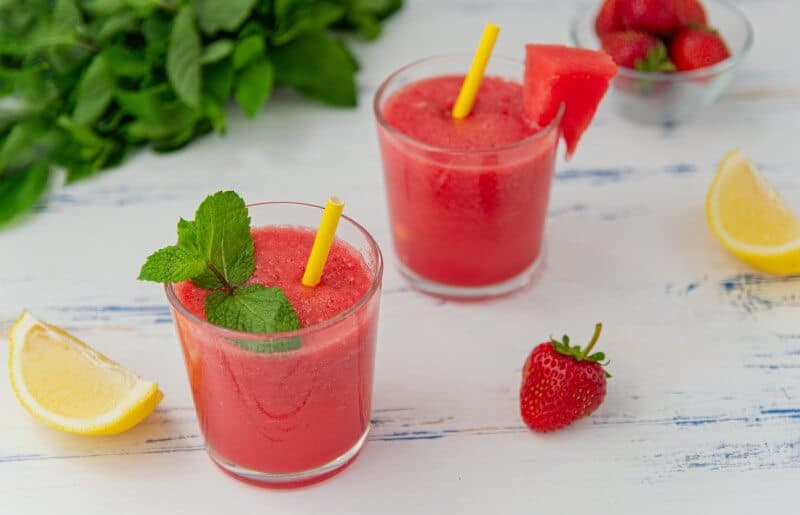 Ingredients:
1 cup almond milk
1 cup spinach 
1 cup watermelon, frozen and cubed
5 strawberries, frozen and destemmed
1 banana, frozen and sliced
1 sprig of mint leaves
1 teaspoon chia seeds
½ cup ice
Instructions:
Create a smoothie base by blending almond milk and spinach.
Gradually toss in frozen watermelon, strawberries, and banana slices.
Process until you get a smooth consistency.
Add mint leaves and chia seeds.
Add ice as needed.
Blend for another 30 seconds or until the mixture is smooth and creamy.
Pour into serving glasses and enjoy!
These alkaline smoothie recipes are sure to help you get to bring your pH back to balance. Feel free to make your own customizations in the recipes. If you are looking for other detox recipes, our post on liver detox smoothie can be an addition to your healthy lifestyle. If you come with something tasty, which I'm sure you will, let me know in the comments so I can give it a try too! Much love, ciao! ♥