As a mom, finding ways to make our kids eat vegetables and making quick and nutritious meals are our top superpowers. This is why the Sheet Pan Asparagus is perfect for us. 
All you need are 3 ingredients and less than 20 minutes to make it. Also, did I mention this is one of those "one-pan" dishes? Yes, it is! You prepare and cook it in one single sheet pan. So, less cleanup time too. I don't know about you, but to me, that means extra time for my online window shopping.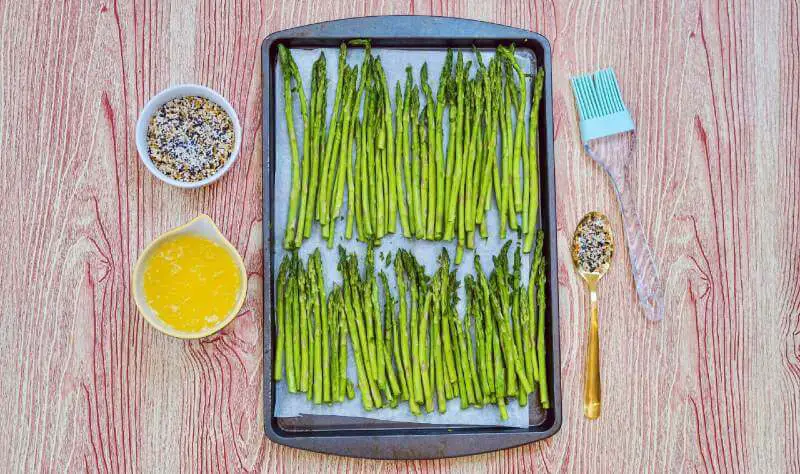 Asparagus is admittedly not a kid's top choice when it comes to veggies, even some adults aren't really into it. But my little one loved this asparagus side dish with Everything Bagel Seasoning! 
To be completely honest, I wasn't much into asparagus before this either. I would cook it at home every now and then if I'm out of side dish ideas. Or if it comes as a side when our family goes out to eat. But it's not the first thing that comes to mind when I'm thinking of side dishes to include in my weekly meal plan for the fam. All that changed with this single recipe. It's a game-changer. 
Trust and believe it surprised me and the hubby when he finished all three sticks that I put on the side of his grilled chicken! I would try to put it on broccoli next time to see if the Everything bagel seasoning magic works with it too. 😉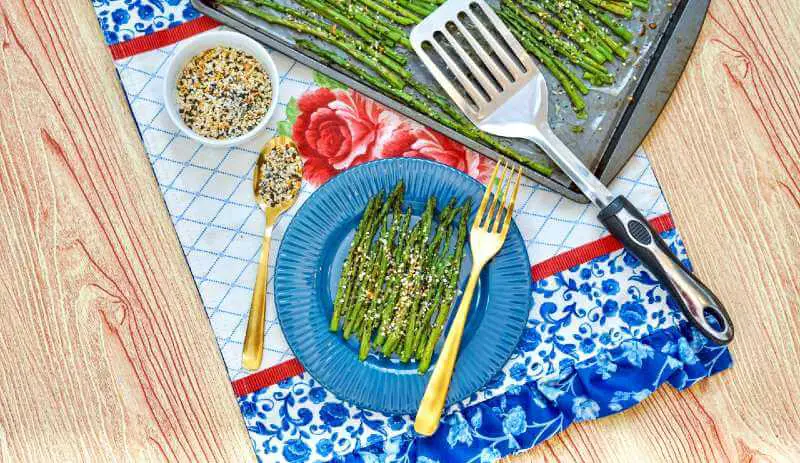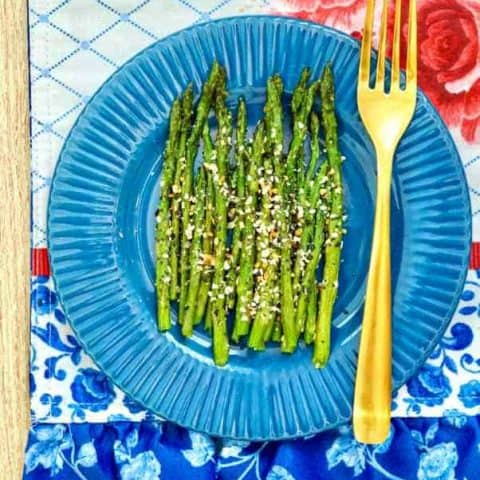 Quick and Easy: Sheet Pan Asparagus
A hearty appetizer that perfectly match any mains you will serve and guaranteed easy to make.
Ingredients
½ Cup Melted Butter
1 lb Asparagus
2 Tbsp Everything Bagel Seasoning
Instructions
Preheat your oven to 220° C or 425° F.
Then, line your baking sheet with parchment paper.
Now place the asparagus on the baking sheet. Make sure they're not on top of each other for them to cook evenly.



Drizzle evenly with melted butter. It's best to use a basting brush if you have one. This is to make sure that each stalk is covered in butter. 



Sprinkle Everything bagel seasoning on top of the asparagus stalks. You can add more if you want to and just make it rain! 😉



Put the tray in the preheated oven and let it bake for 15 minutes. 
Take it out of the oven and sprinkle with additional seasoning, as preferred.



Let cool for a little and enjoy! This is best served on the side with grilled chicken or salmon.


Nutrition Information:
Yield:

4
Serving Size:

1
Amount Per Serving:
Calories:

247
Total Fat:

23g
Saturated Fat:

15g
Trans Fat:

1g
Unsaturated Fat:

7g
Cholesterol:

61mg
Sodium:

323mg
Carbohydrates:

8g
Fiber:

2g
Sugar:

2g
Protein:

4g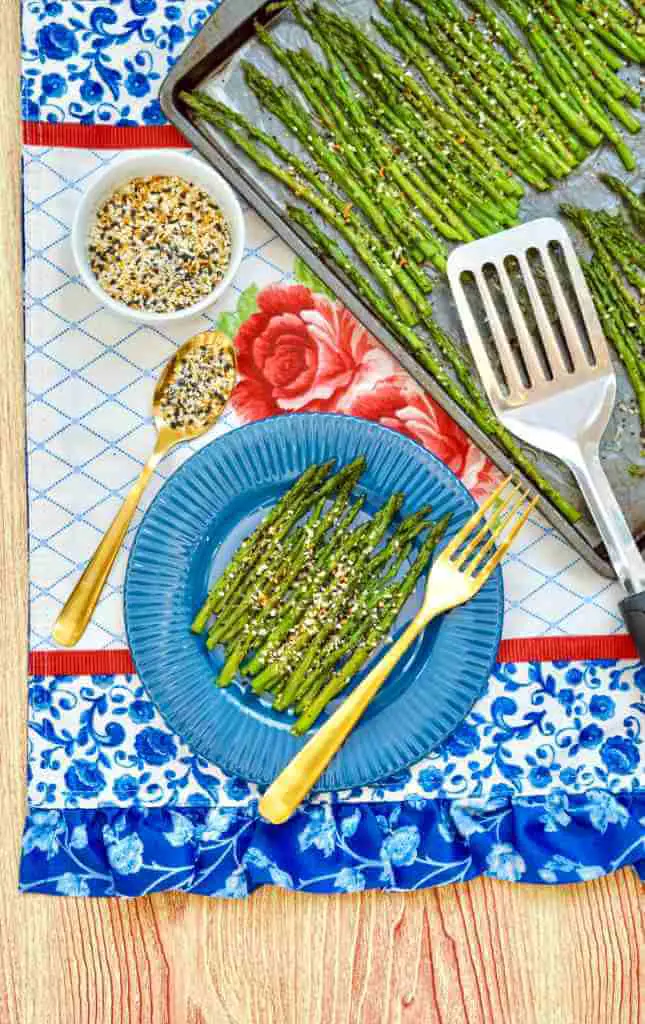 After trying out this recipe this has been one of my go-to side dishes when I don't have much time. It's healthy, easy, and kid-approved – which is my formula for a successful meal. It may look easy but if you have a kid at home, you'll know that it's extremely rare that "healthy" and "kid approved" go together. Lol.
So, I hope you try out this simple side dish recipe. If you do, leave us a comment and let us know what you think! Much love, ciao! ♥