If pork chops and I were to end up in a relationship, it would be a choppy one (pun intended). I am sharing a wonderful recipe here, but let me tell you that before, pork chops used to repel me like citronella does to mosquitoes. Nope, we didn't jive that much.
Just like water and oil don't mix. I rarely included pork chops on my grocery list. Back in the day, I only picked those cuts mostly because there was nothing else available.
In cooking, I almost always end up with really dry or tough to chew pork chops. All of those got changed one random Sunday, when I mustered up enough courage to do yet another pork chop dish.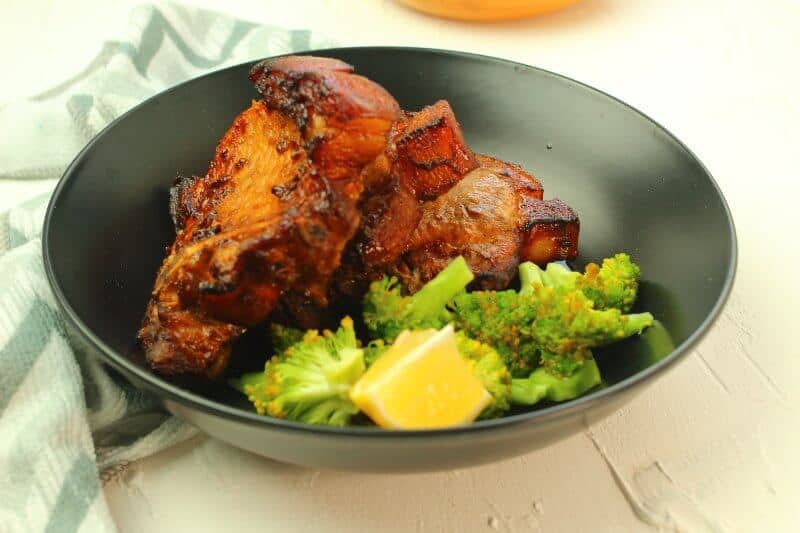 I was just new to air frying, and I really wanted to try out cooking as many meat types as possible, to see how well my equipment would fare. Turns out, air fryer pork chops are one of the best things!
I was quite hesitant with air frying pork chops, since one single cooking error would result in either extremely dry, or undercooked chops. I am glad I've figured out a recipe that delivers tender, moist, and juicy chops. Check out my simple recipe below!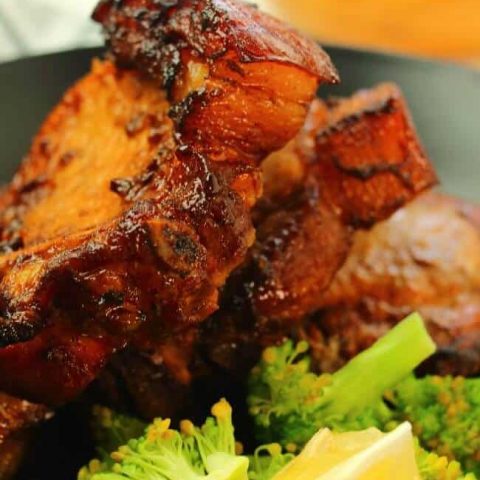 Air Fryer Pork Chops
I've figured out a recipe that delivers tender, moist, and juicy chops.
Ingredients
1 lb pork chops, 3cm thick
1⁄4 tsp cumin
3 cloves garlic, minced
2 tbsp dark soy
1⁄2 tsp cayenne pepper
1 tbsp Worcestershire sauce
1 tbsp lemon juice
1 tsp tomato ketchup
1 tbsp vegetable oil
1⁄2 tsp honey
3/4 tsp salt
1⁄2 tsp ground black pepper
Instructions
In a small bowl, combine all the ingredients except for the pork chops and set them aside.



Place the pork on a cutting board and make cuts on the rind where the skin and fat are located.



Place the pork chops in a non-reacting bowl or tray.



Pour the prepared sauce and let it marinate for 10 minutes.



The air fryer must be preheated for 5 minutes at 180 C or 350 F.



Place 1-2 pork chops in the basket.



Turn the knob and cook the marinated pork chops for 20 minutes, turning every 5 minutes.



Serve immediately with a choice of starch and vegetables.


Nutrition Information:
Yield:

4
Serving Size:

1
Amount Per Serving:
Calories:

280
Total Fat:

16g
Saturated Fat:

4g
Trans Fat:

0g
Unsaturated Fat:

9g
Cholesterol:

95mg
Sodium:

554mg
Carbohydrates:

3g
Fiber:

0g
Sugar:

2g
Protein:

29g
If there is one important thing to remember after cooking pork chops, is that you should give the time to rest. A pork chop is similar to steak, and must be allowed to rest prior to being cut. While being subjected to cooking temperatures, the liquids inside the meat flow to the center.
So, if you cut into your chop too soon, all that tasty liquid will just spill over your cutting board. Patience is a virtue!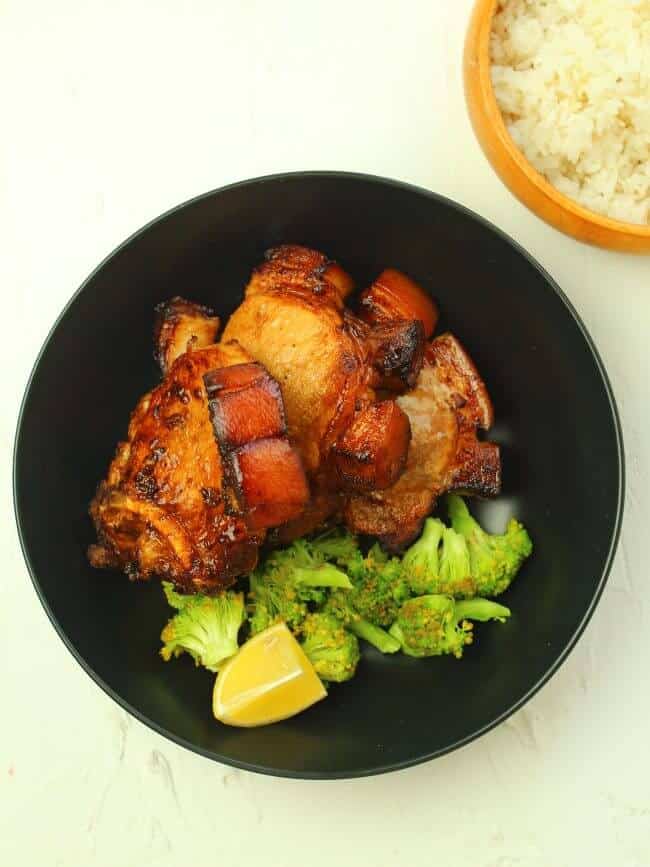 Tips To Make Sure You Have A Guaranteed Juicy Air Fryer Pork Chops
We all hate that curled pork chop with an even browning. That's a real kitchen mess out there. But, one thing you must do to prevent those curling moments of the pork chop is to score the fat and the rind in half-inch increments using a sharp knife.
As the fat renders on a high heated pan, the meat fibers allow it to relax and stay flat — creating even cooking and browning of the pork chop. You may also cut the pork chops into thick strips. In this way, the cooking time would be 5 minutes less than the cooking time in the recipe.
This recipe is tested using a 3L air fryer — which can hold 1-2 pork chop portions. If you have a bigger air fryer you can put them all at once but make sure that it has enough space left for the hot air to circulate the chops. If you have a thinner cut of pork chop, you can reduce the cooking time to 15 minutes but make sure to check the doneness of the pork chop.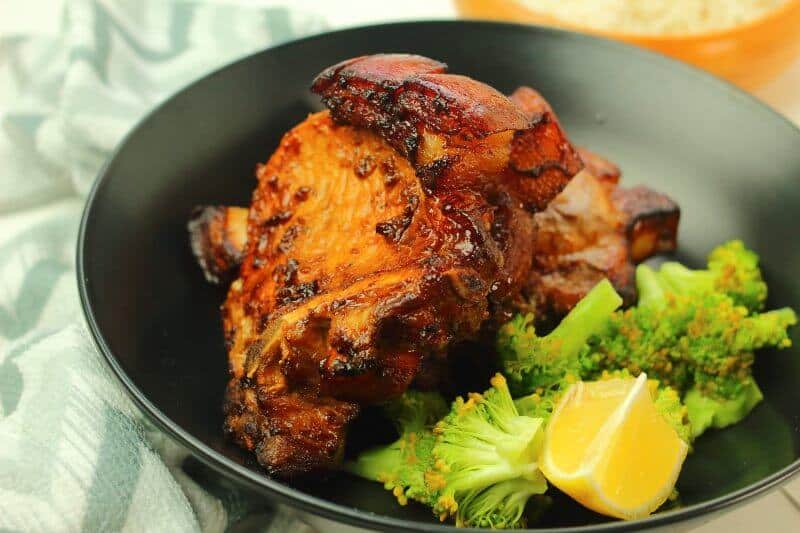 You may check the doneness of the pork chop by inserting an instant-read digital thermometer into the thickest part of the meat without hitting the bone. The pork chop should have an internal temperature of 145F.
If you place the pork chops inside the refrigerator, make sure to let them rest for 5 minutes at room temperature before placing them in the air fryer. This will make sure that the meat will cook at the desired temperature and time.
What Is The Perfect Pork Chop To Air Fry?
I would personally recommend bone in cuts. Bone-in chops are usually more expensive, but the bone helps maintain the pork chop's moisture and flavor. Choosing bone-in pork chops that are 1 to 1 1/2-inches thick yields the best results.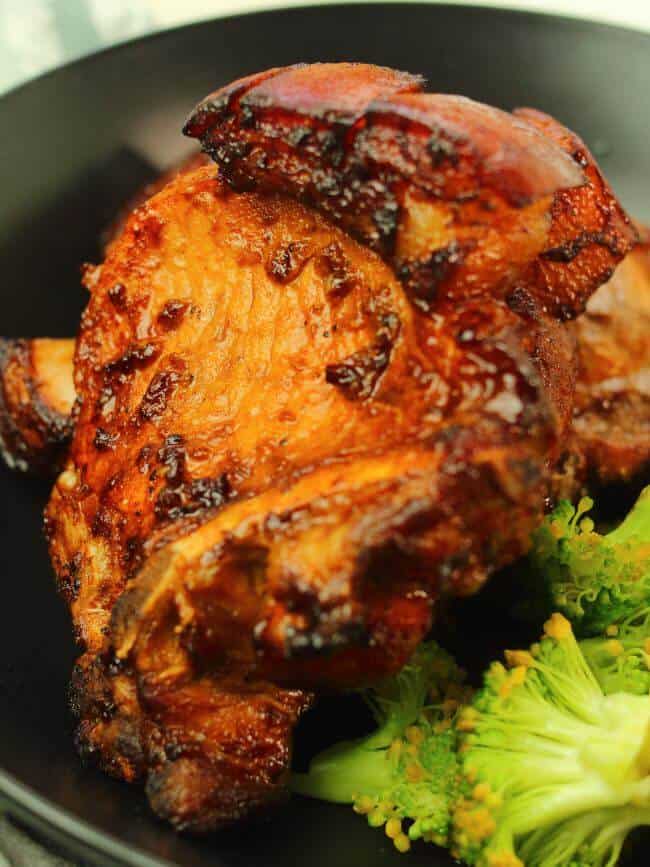 If the chops are not of the proper thickness, it is possible to overcook (or undercook) them. You may of course opt to use the boneless variety, but if it is a very thin slice of chop, you really need to lessen the amount of time when cooking boneless pork chops using an air fryer.
Are Air Fryer Pork Chops "Paleo"?
To those who are unfamiliar, the idea of the "Paleo" diet is to eat only what's available to people in the Paleolithic epoch, or the Stone Age. The role of humans at this time was as "hunter-gatherers", getting all the food they could forage from the environment.
The Paleo diet makes your metabolism more efficient, helps you control your hunger, and helps you lose weight. This diet prescribes the consumption of high-protein foods including meats, fish, and eggs. Worcestershire sauce is an ingredient in this recipe, so for a Paleo diet, I would recommend substituting it with balsamic vinegar, or equal parts soy sauce and ketchup.
Last update on 2023-03-26 / Affiliate links / Images from Amazon Product Advertising API
You can also add molasses to both vinegar and soy sauce mix for an extra flavor, and caramelization on the meat.
Kitchen Tools You Could Use
No products found.
I'd recommend that the bowl you use is non-reactive to acids, so no harmful elements are mixed into your food. When cooking your pork chops, it would be great to have a sturdy pair of tongs to help you flip the chops over. Finally, to check for doneness, you can use a thermometer to ensure the meat is cooked to perfection!
Sale
YIHONG 6 Pcs Plastic Mixing Bowls Set, Colorful Serving Bowls for Kitchen, Ideal for Baking, Prepping, Cooking and Serving Food, Nesting Bowls for Space Saving Storage, Rainbow
Make Your Cooking Much Easier — A colorful plastic mixing bowls set that are a basic necessity in every kitchen,6 different...
Multi-use to Meet You Needs — These mixing bowls are perfect for everyday use on your home table, our bowls make great...
Nesting for Saving Space — Easily nest in each other, so you can save space on the countertop, keep them in a spot in the...
Last update on 2023-03-26 / Affiliate links / Images from Amazon Product Advertising API
Pairing Is Caring
Air fryer pork chops – easy to prepare as they are – can be the main event of any family meal. Of course, I would not pass up the opportunity to share some of our recipes that I think would go well with these juicy, tender, air fryer pork chops.
Try serving them with some refreshing salad, such as this Orange Pomegranate salad, or this Roasted Broccoli Salad. Why not serve with carbs and salad in one, and check out our best pasta salad recipes?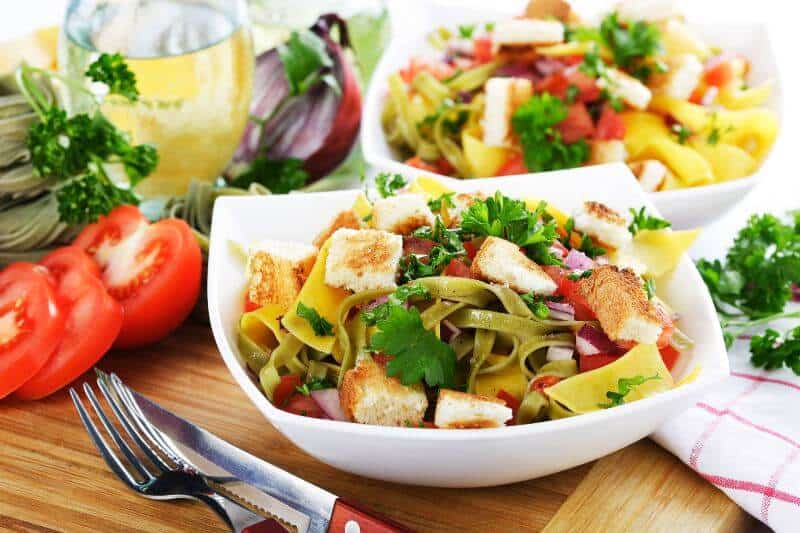 Frequently Asked Questions
How Long Does It Take To Cook A Pork Chop In An Air Fryer?
The average cooking time of a 3-4cm pork chop would be 18 to 20 minutes. The pork chops need to be flipped every 5 minutes to ensure even cooking.
How Do You Cook Pork Chops Without Drying Them Out?
Always follow the prescribed cooking time, and don't forget to turn your chops over every 5 minutes. When serving, like I mentioned before, let it rest for a few minutes for the moisture to channel back to the whole slice.
During cooking, the juices usually collect at the center. Be willing to wait a bit for juicier chops!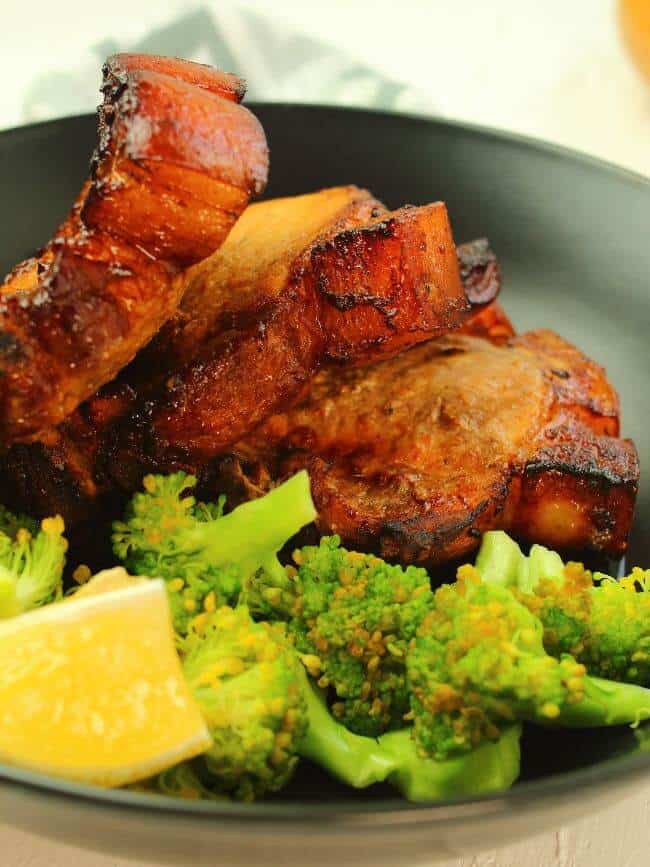 How Do You Cook Pork In An Air Fryer?
Cooking pork in an air fryer is not rocket science, but you have to keep in mind that preheating your fryer definitely helps in achieving that perfect cook. Be attentive of the recommended cooking times, as well.
Speaking of cooking pork in an air fryer, you might want to check our delectable crispy pork belly air fryer recipe too!
How Many Pork Chops Can You Cook In An Air Fryer?
It depends on the size of your air fryer basket, but one thing's for sure: do NOT place your pork chops on top of one another in your air fryer! Per batch, you have to make sure that you have only a single layer of chops to ensure even cooking all throughout.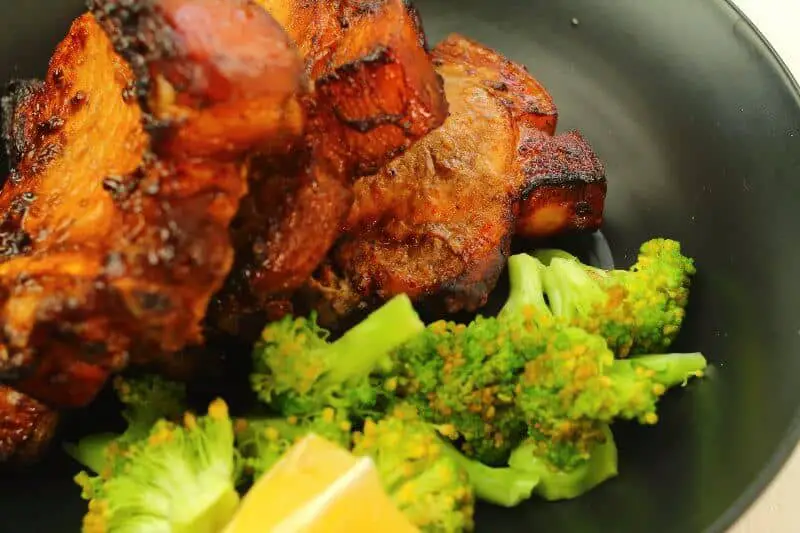 Conclusion
Were you once like me, scared of cooking pork chops? While they may appear a feat at first, once you learn the ropes of cooking pork chops through an air fryer, you'll find yourself preparing this dish more often than you should! It is easy to make, very tasty, and can be paired with any grain or salad that you could think of!
Will you try this recipe? Do you have additional tips on how to make your pork chops perfectly moist and tender?
I'd love to hear your thoughts, please type them in the comments section below. Until the next kitchen adventure, ciao!
Related Readings: If you are new to air frying and are hesitant to invest in a new air fryer, you can check out our best air fryer review post to select the best budget air fryer options for your family's needs.