In need of the best pasta salad recipes for a potluck? I'm feeling extra generous today, so I'll let you in on my little secret. Whenever I'm invited anywhere, may it be an office party or a weekend brunch, where I need to bring food – best believe I'll bring my favorite Italian pasta salad.
I mean, why not? It's easy to make, it's tasty, and it doesn't look like you made it last minute because you completely forgot that you said yes to this event. Kidding aside, this is one of the most used recipes in my lazy meals list.
The Titleholder: Italian Pasta Salad
They say you can't have everything in life, I say I can have everything in an Italian Pasta Salad. There are multiple textures, layers upon layers of flavor, every bite is different from the other. You can make it differently every time, my go-to is rotini pasta, salami, a lot of mozzarella balls and a bunch of fresh herbs and spices. It's easy, tasty, and healthy. chef's kiss
Ingredients for Pasta Salad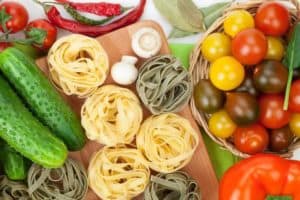 1. Pasta
For cold salads, I use either fusilli or rotini. Mostly because I find them to hold the dressing very well. You can use tricolor fusilli or rotini to make your salad even more colorful.
2. Meat
My go-to meat is salami. They're easy to find and the smokey flavor blends well with the rest of the ingredients. You can use regular salami or spicy salami to add a little kick.
3. Fruits & Veggies
These are pretty much standard: onion, bell peppers, olives, and cherry or grape tomatoes. You can never go wrong with these. You can play around and use different colors of bell peppers but red works the best. And make sure that the olives are pitted.
4. Parsley
You can go with regular fresh parsley or go fancy and get Italian parsley. It is the flat-leaved sibling of parsley and has a more full-bodied flavor with it.

5. Chesse
Always go with mini mozzarella balls. These little balls of sunshine aren't just cute but they're bursting with flavor. Cut them in half and toss them in the rainbow bowl of happiness you just made.
6. Noodles for Pasta Salad
Fresh pasta is amazing but for cold salads, always use dried pasta. In general, you can use any short, dried pasta. But if you want to make your pasta salad stand out, go with the ones that have a lot of nooks and crannies. This is where the dressing, herbs, and cheese can cling to. The best examples of these are fusilli, rotini, penne, and farfalle pasta.
7. Italian Pasta Salad Dressing
What's a good pasta salad without a good homemade Italian vinaigrette? It heightens up the flavor of each ingredient then marries them together with a fresh and zesty kick. I like to keep mine simple so as not to overpower the beautiful medley of flavors that are already in the pasta salad itself.
I only use 7 ingredients: olive oil, honey, red wine vinegar, Italian seasoning, and a lot of garlic and a pinch of salt and pepper to taste. I would whip them up and drizzle over the salad. Most times I make a little extra and store them in a bottle for future use.
Tips to Make the Perfect Italian Pasta Salad
Pasta should be al dente. It's the spotlight of your dish so you want to make sure it's cooked right and not mushy. It should be al dente, with a little bite still left to it. Remember to give the pasta an ice bath after you drain it out. This will stop the pasta from cooking after it's out of the stove.
Veggies should be cut in a uniform size. Okay, this is not completely possible with the olives being small and the onions being cut into strips. But for the rest: tomatoes, peppers, cucumbers, mozzarella – whatever else you're adding in it, should be cut the same size. It's not only more aesthetically pleasing; it will be easier to eat, and you get a little bit of everything in one bite.
Marinate the onions in the vinaigrette. Adding red onions directly into the salad is a no-no. Its taste can be too strong that it overpowers everything else. Adding it to the vinaigrette beforehand will make it taste more subtle. It will also add to the flavor of your dressing.
Let the pasta salad chill. It's kind of like wine, you know, it tastes better as it age. But do not let it age for too long. For best results, make the pasta at least 30 minutes ahead and let it chill in the fridge until it's time to serve. You can make it ahead and refrigerate it for up to 5 days.
The Runner-up's for My Favorite Pasta Salad Recipes

Yes, Italian Pasta Salad is and will always be my first love. But other pasta salads are also absolutely worth a try.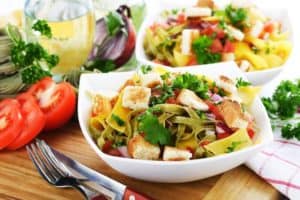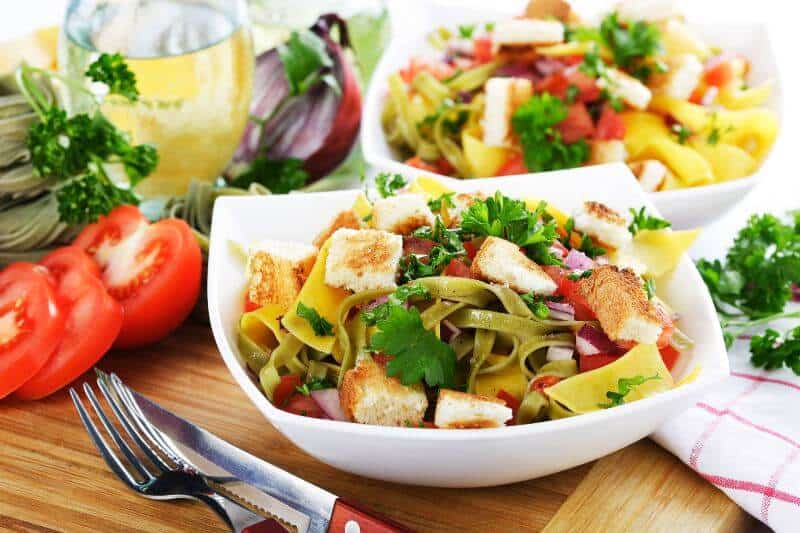 Easy Greek Pasta Salad
Not far behind Italian Pasta Salad is Greek Pasta Salad. They're almost the same fresh and colorful bowls of goodness. Except for a few things: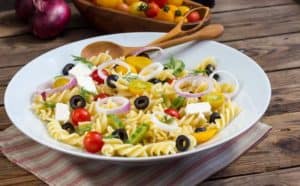 Greek Pasta Salad always has cucumbers whereas in Italian Pasta Salad it's an optional ingredient. You use crumbs of feta cheese instead of mozzarella cheese balls. And of course, it will be drizzled in Greek Dressing instead of Italian dressing.
Reuben Pasta Salad
Is simply put, everybody's well-loved Reuben Sandwich but with pasta rather than a bun. It has everything I love about its sandwich sibling. Corned beef, sauerkraut, swiss cheese, pickles.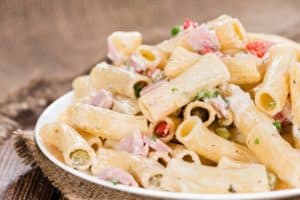 It's just as easy to make too, start with cooking short dried pasta to al dente. Shock it and add all the ingredients together. Toss in with thousand island dressing, let it chill in the fridge for about 30 minutes and you're done!
Bow Tie Pasta Salad
Is probably one of – if not the most adorable looking pasta salads out there. Look at these little bows and little trees vibing together in a zesty Italian dressing!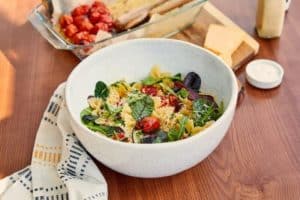 Don't be fooled though because this is also one of the healthiest out there. It has tomatoes, bell peppers, salami, parmesan, and broccoli. Mix them all with the bowtie pasta and Italian dressing then refrigerate for 30 minutes before serving.
Mediterranean Pasta Salad
Can't decide between Greek and Italian Pasta Salad? Mediterranean Pasta Salad is the answer. It's the best of both worlds.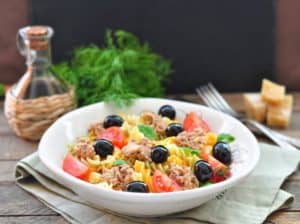 It consists of any short pasta, cherry tomatoes, cucumbers, olives, feta cheese, onions, and Greek dressing. You can go extra and mix in parsley, artichokes or chickpeas too!
Pasta Salad With Pepperoni
This is another way of making Italian Pasta Salad but using pepperoni instead of salami. I also like to sprinkle it with freshly grated parmesan cheese on top of the mozzarella balls. You can cut the pepperoni in halves or quarters so you can get it in every bite.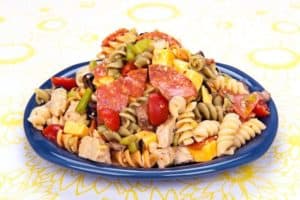 What Kind Of Side Dish Goes With A Spaghetti Salad Recipe?

These salads are packed with various vitamins and nutrients so they're a meal on their own. But if you want to pair it with another dish, the possibilities are endless. You can serve it with hamburgers or sandwiches. It also goes well with grilled chicken or hotdogs. Or make some deviled eggs and corn on the cob. It can even be as simple as cheese and crackers.
These salads are so good I make them no matter what season it is. Which one are you excited to try out and which ones are your favorites? Don't forget to leave us a comment below, I love reading your own Tiny Kitchen stories!