In terms of culinary milestones, it still amazes me at how far I've come in terms of cooking pork, especially pork chops and pork tenderloin. Not too long ago, my experience with preparing pork was not that amusing, as I usually end up with dry, tough, or undercooked meat, without a hint of moisture anywhere.
You can imagine my anxiety when I first tried air-frying a piece of pork tenderloin. Would it really work without all that oil I used to prepare it with?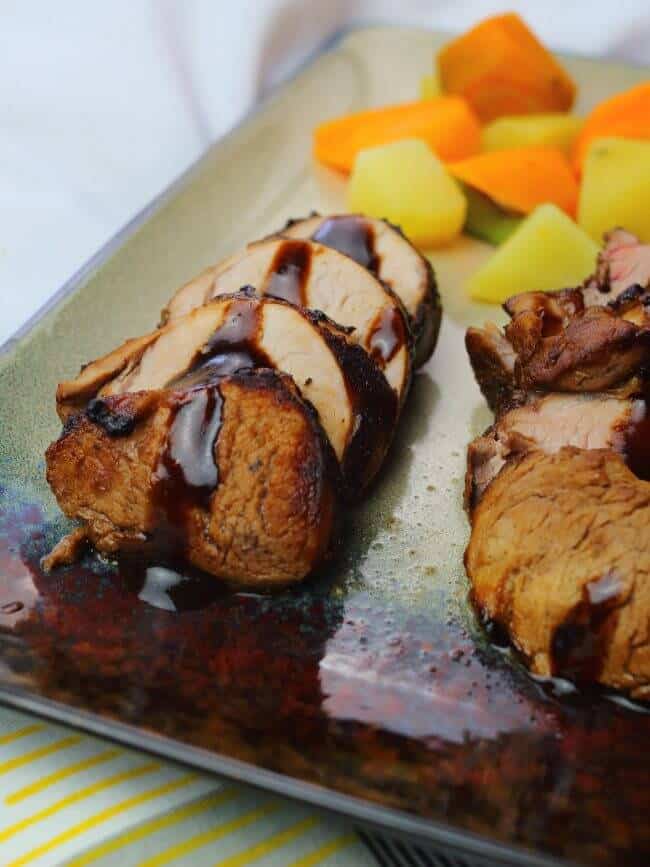 But, after only a couple of tries (oh yes!), I was able to perfect my recipe for cooking pork loin in my air fryer! I am also sharing a couple of tips to make your cooking (and eating) experience even better!
Can't get enough of pork? Then try our easy Air Fryer Pork Chops recipe too!
I hope you find this recipe helpful, especially if it's your first time cooking pork tenderloin in your air fryer. Have fun with this recipe! ☺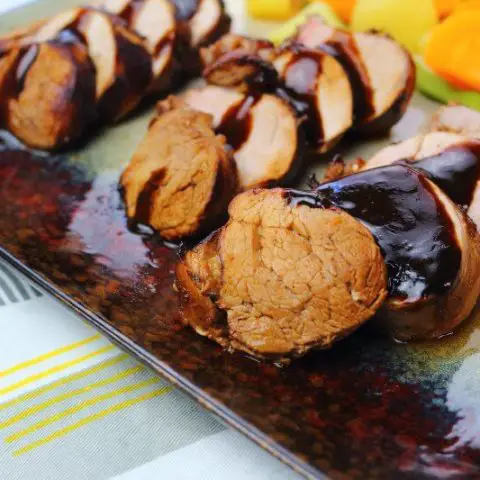 Air Fryer Pork Tenderloin
Total Time:
2 hours
23 minutes
My simple recipe for a juicy, moist pork tenderloin, all while using a dependable air fryer!
Ingredients
3/4 cup of soy sauce
2 tbsp of balsamic vinegar
2 tbsp of Worcestershire sauce
2 tbsp of olive oil
1 tbsp lemon juice
4 cloves garlic, minced
1 tbsp of honey
1 tbsp of brown sugar
1 tsp smoked paprika
1/4 tsp cayenne pepper
1/4 tsp fresh ground black pepper
1/2 teaspoon salt
1 tsp mustard powder
2 lb pork tenderloin
Instructions
Combine all the ingredients in a small bowl except for the pork tenderloin and set it aside for  later use. 



Using a sharp knife, cut the tenderloin into six to seven equal portions.  



Place the pork tenderloin in a non-reacting bowl or tray. 



Pour the marinade over the meat and cover with a cling film. 



Let it chill and marinate for 2 hours.  

Remove the marinated pork in the chiller and let it sit at room temperature for 5 minutes. 

Set the air fryer at 400 F or 200 C, and preheat for 5 minutes. 



Place the pork tenderloin in the air fryer, round-side up.  



With the same temperature at 200 C, cook the pork tenderloin for 23 minutes, turning every 7  minutes. 



Remove the tenderloin and let it rest for 3 minutes before carving and serving.


Nutrition Information:
Yield:

4
Serving Size:

1
Amount Per Serving:
Calories:

469
Total Fat:

16g
Saturated Fat:

4g
Trans Fat:

0g
Unsaturated Fat:

11g
Cholesterol:

166mg
Sodium:

3108mg
Carbohydrates:

14g
Fiber:

1g
Sugar:

9g
Protein:

63g
Some Recipe Notes
If you are cooking tenderloin for the first time, or have previously ended up with a result other than what you wanted for your pork cut, you might find these tips below helpful:
Marinating the pork tenderloin is also a great idea. The marinade helps tenderize the meat strands keeping it moist and tender as it cooks in the air fryer.
If you are working with a larger air fryer, you may not cut the pork tenderloin, but cutting it in portions helps create a slightly crispy outer layer that adds a texture to the dish.
You can use a food-grade resealable bag where you can place the pork tenderloin and the marinade.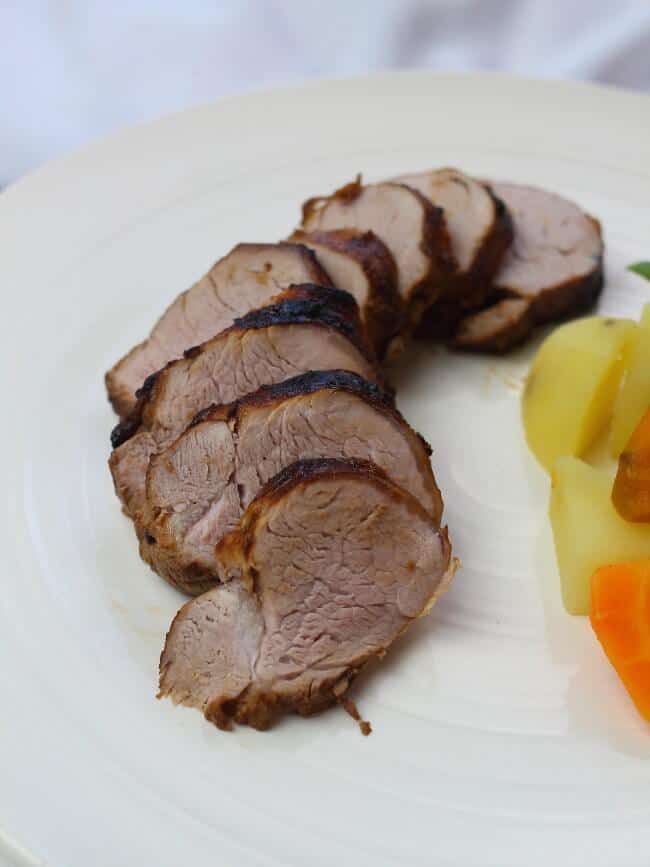 If you are unsure if the pork tenderloin is already cooked or not, you may use an instant-read digital thermometer. The thickest part, or in this case, the middle part of the tenderloin, should read around 145-149 degrees Fahrenheit.
It is essential to rest the meat for a couple of minutes before slicing it into thick rounds. As the meat is resting, the juices in the middle section will slowly redistribute back into the meat fibers, creating a moist and juicy slice of tenderloin.
As for the marinade, you can turn it into a delicious sauce by simmering it down for a couple of minutes and adding some stock to give it a body.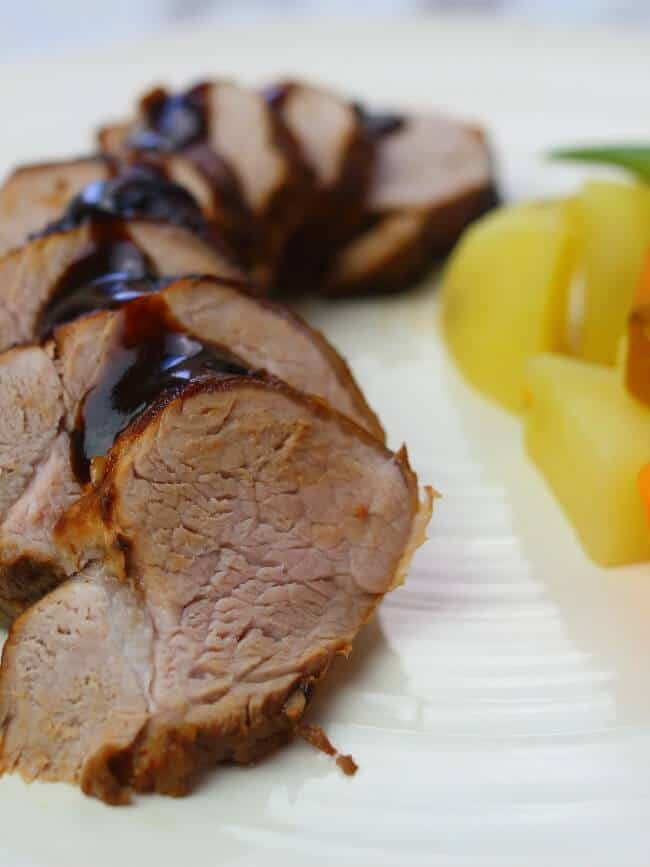 What Is The Difference Between Pork Tenderloin And Pork Loin?
Pork tenderloin is also referred to as pork tender, or pork fillet. It is the stretch of muscle that is found parallel to the backbone, and is a boneless cut of pork. A single piece of tenderloin weighs about a pound, and is generally sold as an entire piece.
It is like the chicken's breast part – very lean, with a delicate flavor. It is fairly easier and faster to cook than most pork parts, and, if cooked correctly, can be the most tender meat cut (thus the prefix "tender", I suppose). The tough skin of the tenderloin should be trimmed off as you prepare the cut for cooking.
This pork cut absorbs marinades really, really well, and cooks really fast be it through searing, grilling, stir-frying, or roasting. It has a tendency to be easily overcooked, so be very careful in your cooking times when using pork tenderloin in your dishes.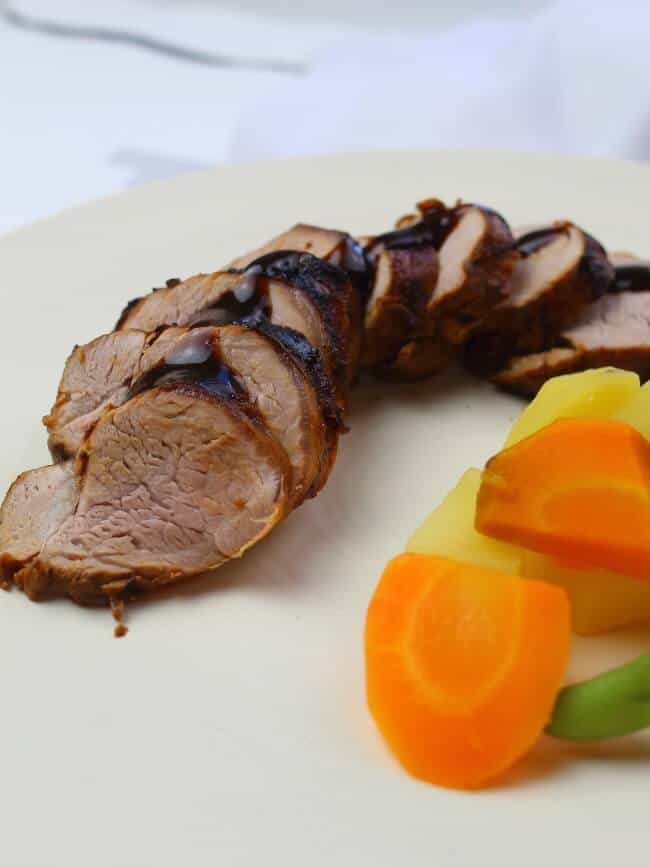 Pork loin is commonly known as the "center cut", and is carved out from the pig's back. It is prepared and sold either bone-in, or boneless. You might often see pork loin with meat trimmed off of its ribs – or as they call it, "Frenched".
These are also referred to as "racks", and when formed into a circle as we see on holiday tables, called "crown". Pork loin is definitely larger than your tenderloin, and could weigh anywhere between 2 to 5 pounds.
Unlike the tenderloin, pork loin has fat on top of the cut, but can also be very tender when correctly prepared. The best preparations for pork loin are grilled and oven-roasted.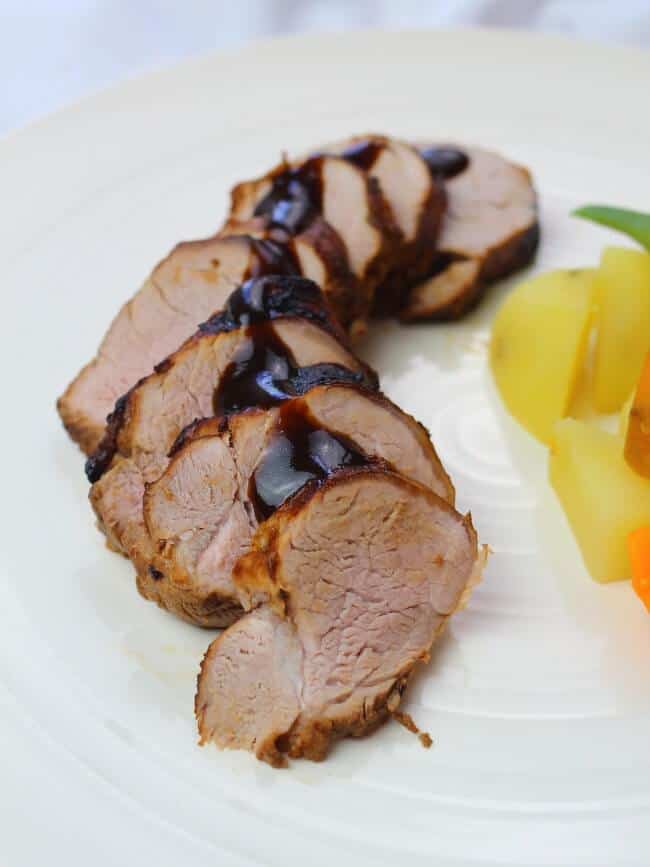 Why Is It Important For The Cooked Pork Tenderloin To Rest?
As with the most expensive steak cuts, pork tenderloin, right after cooking, should be left to rest for a while. This is because when meat is subjected to high cooking temperatures, the juices gather at the center portion of the meat.
After cooking, letting the tenderloin rest will allow these juices and moisture to be retained and distributed all throughout. It is very tempting to immediately slice into a savory roll of tenderloin, but believe me, it's worth the wait!
Your Tools To Success!
No products found.
With the right tools, you can make your cooking experience more fun and more efficient. When turning your tenderloin, use good, sturdy tongs with a good grip, so you can move the meat around the air fryer basket with ease.
Sale
HOTEC Premium Stainless Steel Locking Kitchen Tongs with Silicon Tips, Set of 2-9" and 12"
TOP QUALITY: Hotec kitchen tongs are constructed with high quality stainless steel, sturdy, heat resistance, anti-rust,...
EASY TO STORE: These kitchen tongs have locking mechanism, pull the ring for lock and push for unlock, super easy operation....
ENGINEERING FOR SAFETY: Updated new design pattern for the handle, better protects your hands from cutting by the edge when...
Last update on 2023-03-25 / Affiliate links / Images from Amazon Product Advertising API
When checking the doneness of your tenderloin, I would recommend a high quality thermometer. Sometimes, we can just leave the eyeballing to the experts, and with a good temperature check of your meat, you can never go wrong!
Sale
Last update on 2023-03-25 / Affiliate links / Images from Amazon Product Advertising API
The Best Side Dishes For Your Pork Tenderloin
This pork tenderloin recipe that I just shared is so perfect to pair with virtually anything: grains, a side of carbs, or a refreshing salad. Try this flavorful and fragrant Orange and Pomegranate salad, or this crunchy Roasted Broccoli with Bacon Salad.
If you would like a side of salad and carbs, please check out our entire post on the Best Pasta Salad recipes. You may also lift the Sweet Plum Sauce recipe from our Pecan Crusted Porkchops and serve alongside your pork tenderloin for that instant festive feel!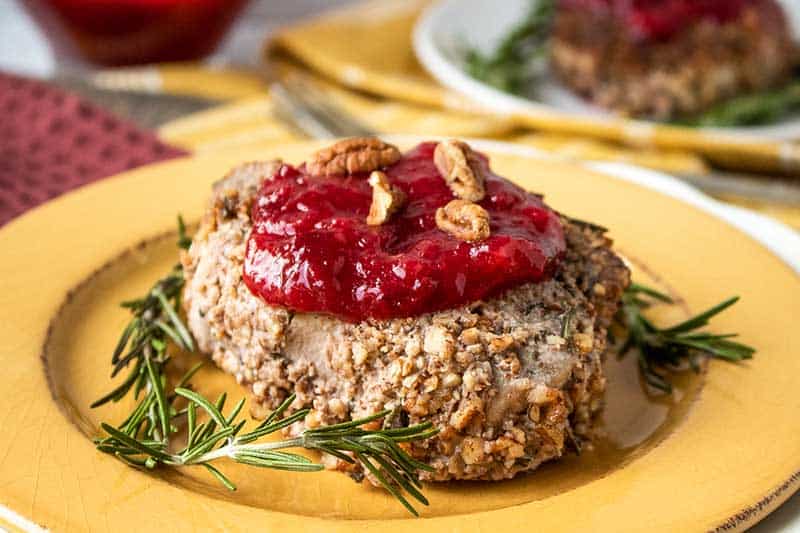 Frequently Asked Questions
Can You Cook Pork Tenderloin In The Air Fryer?
Pork tenderloin can be cooked to perfection inside your air fryer. As a bonus, you are essentially eliminating all the oil that you used to cook pork tenderloin with. Just follow the simple recipe I provided and you will end up with a moist and juicy pork tenderloin dish.
How Long Does Pork Take In The Air Fryer?
It depends entirely on the cut of the pork that you will be using in your recipe, and your preference of doneness. The best cooking time (on the average) for pork tenderloin, for example, is between 22 to 24 minutes when done in an air fryer.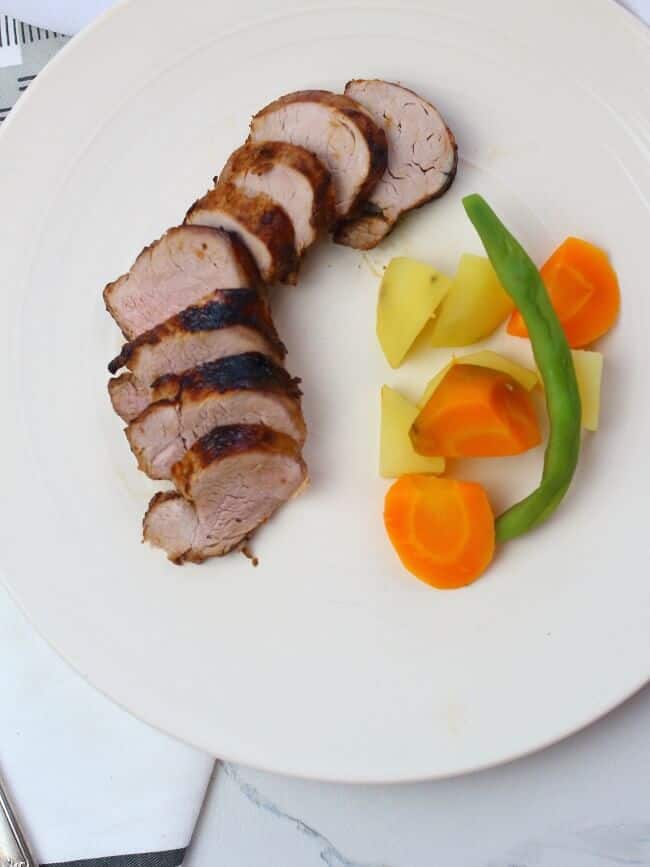 What Temperature Should Pork Tenderloin Be Cooked At?
Pork Tenderloin is best cooked at 200 C in your air fryer.
How Long Does It Take To Cook Pork Tenderloin At 350?
It would take longer to cook your pork tenderloin at this temperature, around 27 to 30 minutes. Although, to ensure a more even cook, and the right crisp, I would suggest turning up the temperature a bit to 400 F in an air fryer.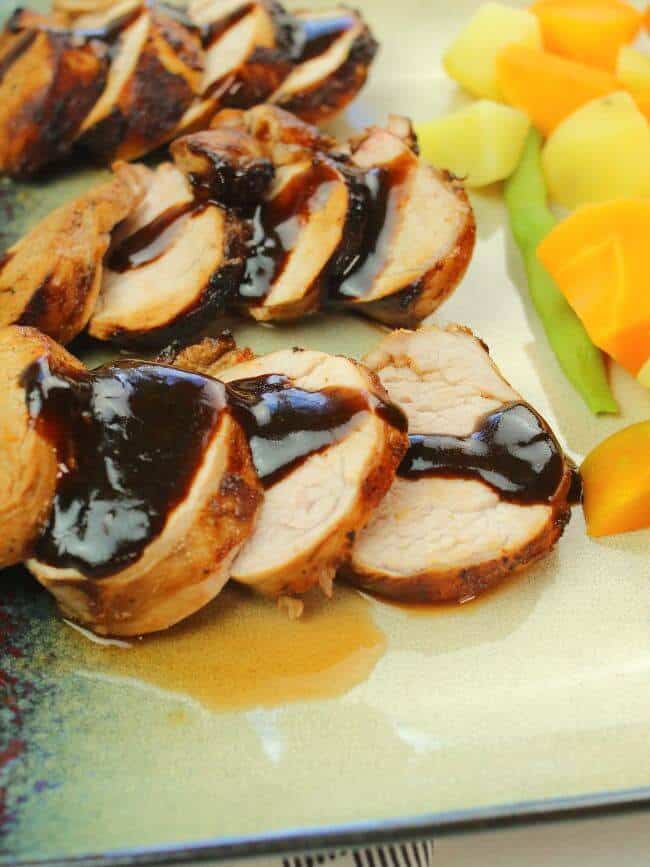 Conclusion
Are you giving this recipe a go? Any tips in preparing pork tenderloin?
I would love to hear from you, so please, drop a comment in the space below! ☺ Wishing you a grand time in your kitchen, as always. Until the next recipe we'll share, ciao!
Related Readings: Want to know who makes the best air fryer available in the market? Don't forget to visit our blog on the best air fryers for our reviews and recommendations.