You're raring to go on that camping trip. You've packed your bags and picked out the perfect camping site. A day out immersed in nature will beat the stress and blues away, you're certain.
And sure, you brought snacks and other ready to eat to food but still, nothing beats the comfort of a freshly cooked and hot meal at the end of the day. Unfortunately, you can't just use the same cookware you have at home. The best camping cookware are special in that they must be lightweight and compact for ease of use, but complete enough to make feasting in the great outdoors possible, comfortable and even more enjoyable.
We have scoured and reviewed all the available products out there to save you the trouble of scouting for the best possible camping cookware for your next camping bonding, whatever your specific needs are. Read on for our top ten!
Who Makes the Best Camping Cookware?
In our quest for the best camping cookware sets, these 3 manufacturers keep coming up.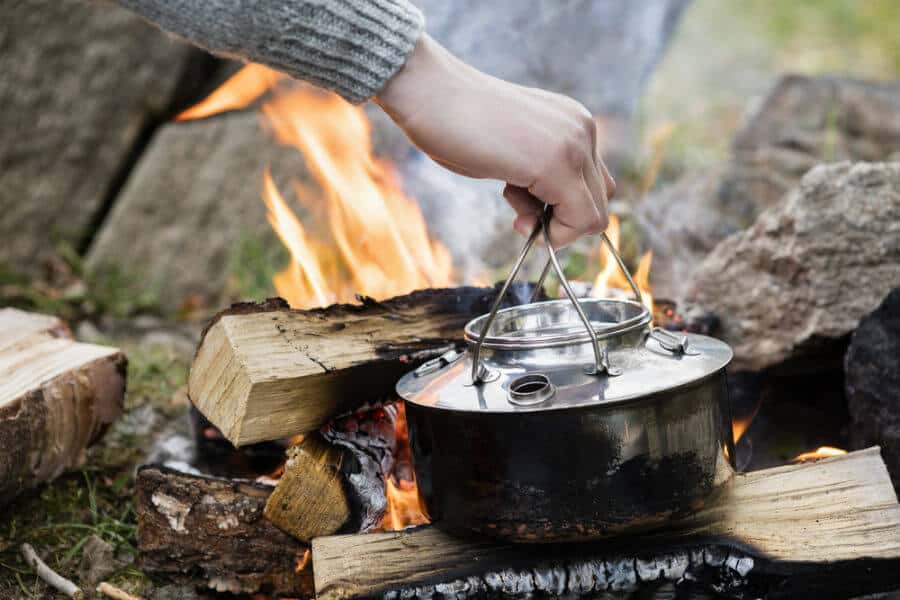 You can be guaranteed that if your cookware set comes from any of these 3, you definitely are getting the best of the best.
1. Stanley – Established in 1913, this brand's name has been equated with trust and durability. Stanley products can last a lifetime and their myriad of products extend not just to camping, but is also a staple in outdoor job sites.
2. GSI Outdoors – Established in 1985 by the Scott siblings in San Diego, the brand is known for its line-up of technical, innovative, and fun products for the outdoor lifestyle.
3. MSR – The acronym standing for Mountain Safety Research, this company is involved with everything you will need exploring the great outdoors. The company is trusted not just for camping cookware, but also for tents, water treatment, stoves and even snowshoes.
Stanley Adventure Base Camp – Best Camping Cookware for Feeling the Comfort of Home
This set is perfect for family camping trips since it comes with dinnerware sets that are good for 4, and large pot & pan for easy big batch cooking.
Moms will be thrilled to cook with these pot and pan with their multi-layered bottom for even and faster heating. The set also covers all you need for food preparation as it comes with a strainer and chopping board. The Stanley Adventure Base Camp would also make you feel as if you never left your kitchen with the silicon trivet to avoid damage to your camping table, and a drying rack for ease of cleaning up after. Hygiene and table manners need not be compromised as well because of the serving spoon in the kit.
Durable because it is made of stainless steel and is scratch-proof, this is a good investment for years of family bonding. The material is also strong enough to be used on an open campfire for that authentic camping experience. BPA free plastic parts will also keep moms worry-free, especially for young children.
Features:
Set of 19 pieces
3.L pot
1 Frying pan
Cutting board
Pot lid doubles as strainer
Spatula
4 22 oz. bowls
4 6" plates
4 sporks
Silicone trivet
Drying rack
2.5 kg weight
Pros:
Stainless Steel
Durable
Scratch-free
Good for car camping
Plastic parts are BPA-free – safe and food-grade
Cons:
Plates are too small
Too heavy for backpacking
Bulky

Snow Peak Titanium Multi Compact Cookset – Best Camping Cookware for the Passionate & Modern Cook
Who says that a full-course complete meal is only possible in a formal kitchen? With the Snow Peak Titanium Multi Compact Cookset, you have a variety of pots and saucepans to help you wow and fill the tummies of your camping buddies or your family even if you are in the great outdoors.
This set is made of titanium so you are guaranteed that it is lightweight yet heavy duty. What's more is that it has its own storage bag for easier storage and carrying around in one grab.
The downside though is that the handles are not ergonomic. Also, don't leave your home packing just this as it doesn't have dinnerware and cooking utensils included.
Features:
34 fl. oz. pot
26 fl. oz. pot
17 fl. oz saucepan
12 fl. oz saucepan
Saucepans double as lids
Titanium material
6 x 4 inch nylon mesh storage bag
Pros:
Lightweight
Durable
Carrying bag makes it easy to carry, organize and store
Variety of pots and pans allows you to prepare complete meals
Cons:
Handles are not ergonomic/ easy to grip
No dinner wares included
No cooking utensils included

Primus Campfire Cookset – Best Camping Cookware for the Ultimate Chef
For the macho dad who loves to cook or for the Iron Chef in the camping group who insists on using traditional materials for their cookware, the Primus Campfire Cookset is the one for you.
Its stainless steel material can surely handle the wear and tear brought by cooking in an open direct flame for years of use. The variety of pots and pan in this mix can also certainly address whatever menu you have planned for that upcoming camping trip. And when you're done, the stackable design allows for ease of storage, while taking up minimal space.
The downside for this set is that it is quite heavy, not advisable for backpacking trips. Instead, it is better suited for wheelers or car camping. You also wouldn't be able to call this a complete set as it does not have dinnerware and cooking materials in the line-up. Another tip is that it might be best to bring along a pot holder as the handles of the pots are not very ergonomic.
Features:
Stainless steel material
Two pots with lids
Lids double as strainers
Frying pan
Stackable design
Pros:
Durable
Easy to store
Good variety of pots and pans
Multi-purpose lids
Cons:
Heavy
Handles are not ergonomic
No dinnerware included
No cooking utensils included
Bugaboo Camper by GSI Outdoors – Best Camping Cookware for Families
The Bugaboo Camper is perfect for family camping as it has a set of dinnerware good for 4 people, and with BPA free plates at that, to ensure that it is totally safe.
The designated cook in the family will surely love this set because of all its cooking friendly features. Pots are Teflon-coated for ease of cooking. The 2 pans also come with lids that double as strainers. The universal handle can be transferred among the pots and pan to ensure that you won't burn yourself serving the meal to the camping table. While it is good for a big group, it's not heavy at all. It is ideal for those who want to travel light. This can also be used for backpacking.
Storage is also a breeze with the Bugaboo camper as all the items in the set fit inside the largest pot, then into a carrying bag.
Features:
Teflon-coated cookware
Two pots with lids – 3 and 2 liters capacity
One 9" frying pan
Pot lids double as strainers
Universal handle
Four 14 oz. mugs with sip-through lids and insulation
Four 7.5" BPA free plastic plates
Four bowls
Aluminum utensils
All items in the set fit inside the largest pot
With carrying bag
1.4kg
Pros:
Lightweight
Compact
Teflon-coated
2 strainer lids
Easy to grab and go
Food-grade plastic plates
Cons:
Not dishwasher safe
Small cutting board

G4Free Outdoor Camping Set – Best Camping Cookware for the Thrifty Camper
If you're the type who loves nature and camping, but you don't want to blow away your hard earned money on camping gear, the G4Free Outdoor Camping Set is the one for you.
One unique feature of this set is its folding handles, which is great for already jam packed backpacks or cars.
One thing that might irk you though, is the mesh bag that is barely roomy enough to fit in the largest pot.
Features:
One large pot – 5.5 x 4.2"
One small pot – 4.7 x 4.2"
One big pan – 5.1 x 2.4"
One small pan – 4.5 x 2.4"
Nesting pots and pans
Folding silicone coated handles
Pans double as pot lids
With mesh bag
Pros:
Cons:
No cooking utensils included
No dinnerware included
Mesh bag is barely large enough

Bulin Camping Cookware Kit – Best Camping Cookware for Versatile Cooking
The Bulin Camping Cookware Kit's best feature is that it is guaranteed to work just as well, whether cooking over a gas stove or over an open fire. It also anticipates your various needs further by having a good mix of pots, pans and even a kettle in the set.
But, a minor drawback that wouldn't let you classify this as a complete camping cookware set is that it lacks utensils and drinking cups.
Features:
Set of 13 pieces
Hard-anodized aluminum cookware
Non-stick pans
Heat resistant pan handles
2 pots with lids
1 frying pan
1 kettle
4 BPA-free bowls
1 rice ladle
1 cleaning sponge
Stackable
With carry bag
Comes in 5 colors
3.31 pounds
Pros:
Lightweight
Easy to clean
Can be used for cooking via gas tank or firewood
Cons:
No utensils included
No mugs/ cups included

Winterial Camping Cookware and Pot Set – Best Set for Car Camping and Beginners
This set is perfect for beginners because it is complete enough for all that you need for a solo backpacking adventure or a car camping, but inexpensive enough should you decide that camping is not really for you or it's something you wouldn't do very often. It is also one of the most lightweight sets you can find.
The set comes with a kettle, so that means you can prepare your hot drink at the same time as your meal using the pot and pan. No multi-tasking of cookware, and no waiting around.
Lastly, the carry bag makes packing up and lugging around your cookware extra convenient and organized.
Features:
11-piece set
Kettle
Non-stick pot
Frying pan
Ladle
Bowl
Spoon
Sponge
Carry bag
680 g weight
Pros:
Budget-friendly
Lightweight
Comes with kettle
Cons:
Pot lids are short
Bowls are small

Sea to Summit X Series – Best Camping Cookware for Couples or Buddies
This basic and lightweight set is perfect for couples or buddies who won't really do heavy or complicated cooking, as it only comes with a single but nonetheless quite big pot and dinnerware for 2. The Sea to Summit X set's advantage is keeping your food warm, while preventing you from getting accidental burns.
The set's disadvantage though, is that you cannot really call it a complete cookware set as it is lacking in other basic inclusions such as utensils and ladles. You would have to pack these other essentials separately.
The Sea to Summit X set could also be used as an add-on to your already existing cookware set if you would have a very large group and would just need an extra pot and bowls
Features:
Materials – Anodized aluminum and food grade heat resistant silicone walls
Two mugs
Two bowls
One large 2.8L pot
Pros:
Keeps food warm
Helps prevent burning yourself
Lightweight
Cons:
Very basic/ not a complete set – you would still need to pack a separate set of utensils, ladle, etc.

Trangia 27-3 Ultralight Stove Kit – Best Camping Cookware When Campfires Are not an Option
Sometimes, you have found the perfect camping site, and everything is set. But, there's one drawback, you can't make a campfire.
Fear not, you can still have hot and satisfying meals at your campsite with the help of the Trangia 27-3 Ultralight Stove Kit. And it's lightweight, too. You'd be surprised that at less than 2 pounds, you already have your stove and three pans in there.
But while this set is all that amazing, don't forget to bring in your dinnerware and other cooking utensils as they are not included in the pack. You may also want to carry an additional larger pot as the pans in this set have rather small capacities, not ideal for big groups.
Features:
1000 w output
Alcohol as fuel source
One stove burner
Two 1-liter hard-anodized aluminum saucepans
One 7.24" non-stick frying pan
Windscreens
1.6 pounds
Pros:
Makes cooking possible even if campfires are not feasible
Lightweight
Good variety of pans in the set
Cons:
No cooking utensils included
No dinner wares included
Pans have small capacity

MSR Alpine 2 Stainless Steel Pot Cook Set – Best Camping Cookware for the Spartan Camper
The MSR Alpine 2 Stainless Pot Cook set is a classic that is versatile enough for both home and outdoor use. A common review among its users is that they have grown to love it due to its durability, even heat distribution and cooking efficiency.
While this set works well with the Spartan camper with its versatile utility, note that it can be quite heavy for just a 2 pot set. Another caveat also is that pots are not non-stick.
Features:
Stainless steel material
Scratch and dent resistant
One 1.5L pot
One 2L pot
Lid doubles as fry pan
2 pots can be nested inside the other
Rounded pot corners
With nylon stuff sack
Pros:
Durable
Compact storage
Grab and go convenience
Good heat distribution and cooking efficiency
Cons:
Pots are not non-stick
Quite heavy
No cooking utensils included
No dinnerware included

CONCLUSION: Our Top Three
Now that we have lined up our top 10 camping cookware sets and categorized them according to your needs and the type of camper you are, choosing the right set for you should be a piece of cake.
When you do finally settle in to buy the perfect set for you and your family or camping group, remember that the top qualities you should always be looking for are:
Durability – the sets should be treated as assets that would last you several years of camping
Lightweight – regardless if you're a backpacker or a car or wheeler camper, it is still best to leave the heavy equipment at home, and lean towards lighter materials for ease of moving and packing.
Compact – sets whose items can be nested into one another for storage, sets whose items can do dual purposes, and those that come with grab bags are still easiest to carry around, and store in your homes in between camping trips
Complete – for worry and hassle free trips, a set that gives you all you need in one kit saves you the stress of being in the wilderness and realizing you have left home without some essentials
However, should you need a little more push in deciding, our top 3 recommendations are as follows:
Stanley Adventure Base Camp – whether you're going as a family or just a couple who wants all bases covered, this set is the most complete set you would ever need.
Trangia 27-3 Ultralight Stove Kit – the kit removes the guesswork of whether you can build a campfire or not. You surely can cook delicious meals wherever you are.
Bulin Camping Cookware Kit – promising versatility and the same level of cooking performance whether on a stove or on a campfire, the set is a good value for your money.
Happy camping!
Last update on 2019-11-20 / Affiliate links / Images from Amazon Product Advertising API