A halogen oven isn't just for roasted chicken and potato chips. It can help you create unusual meals with usual ingredients. Whether you need to make a quick breakfast, lunch, dinner, or even desserts, take advantage of your halogen oven and try out the following delicious recipes.
Here are some of my favorite recipes that I adapted from my friends and family. Enjoy! 😉
1. Antioxidant-Packed Spinach Cheese Omelet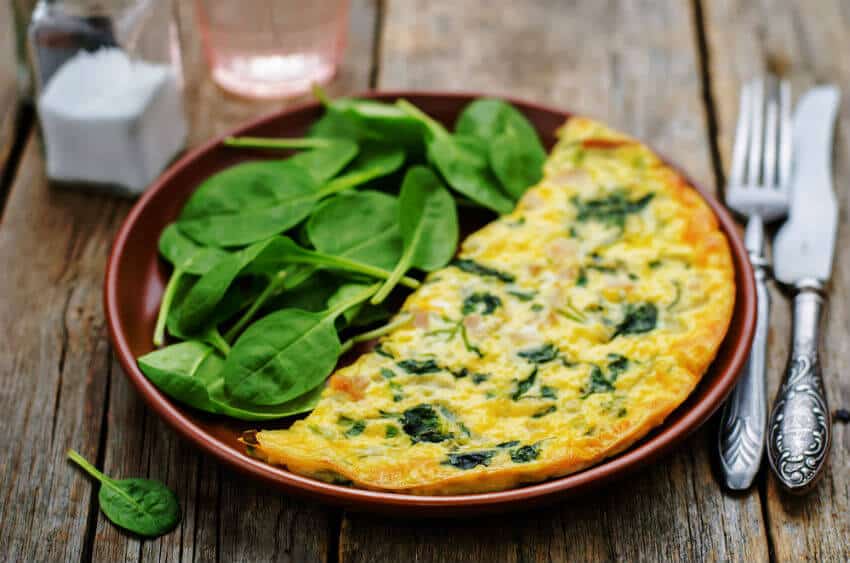 Spinach is chock-full of antioxidants while eggs provide a good dose of protein. An omelet in a halogen oven is a bit different from a regular one, but it has a truly unique taste.
Ingredients:
2 cups spinach
5 eggs, beaten
1 bell pepper, finely chopped
½ white onion, finely chopped
½ cup green onion, finely chopped
1 tablespoon parsley, finely chopped
3.5 oz. feta cheese
1 tablespoon milk
a drizzle of olive oil
Directions:
Preheat your halogen oven to 437F.
Place an ovenproof dish in the halogen oven, and add olive oil to it. Add the white onion and pepper and cook for 2 minutes, stirring. Remove the dish from the oven and set aside. 
In a medium bowl, combine together the spinach, eggs, parsley, green onion, feta cheese, milk, salt and pepper to taste, and whisk for a few seconds until well mixed. Add it to the dish, don't stir, just shake to spread the egg mixture, and return to the oven. Cook for 5 minutes, or until it's slightly golden.
2. Banana Coconut Nutty Cake
Treat yourself and your family to a freshly baked nutty cake with little to no hustle at all.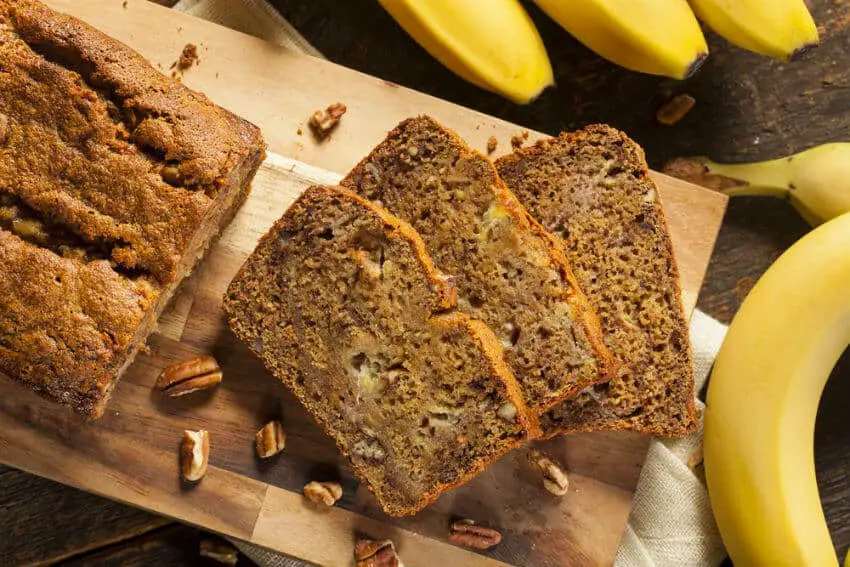 Ingredients:
2 bananas, mashed
2 cups all-purpose flour
1 cup coconut flakes
2/3 cup brown sugar
½ cup walnuts, crushed
½ cup cashews, crushed
½ cup almonds, crushed
1 orange, juiced
1 teaspoon baking soda
½ teaspoon baking powder
1 teaspoon cinnamon
½ cup carrot, grated (optional)
Directions:
Grease a loose-bottom cake pan or place a sheet of parchment paper onto it. 
In a large bowl, combine the bananas, eggs, brown sugar, nuts, orange juice, and carrot. Stir in the coconut flakes, flour, baking soda, baking powder, and cinnamon. Whisk until well-combined.
Pour the batter into the cake pan and bake at 356F for 30 to 35 minutes on the lower rack of your halogen oven.
Reduce the temperature to 320F and bake for another 30 minutes, or until it's done. 
Let your cake cool in the pan for about 10 minutes and then cut and serve.
3. Baked Jacket Potatoes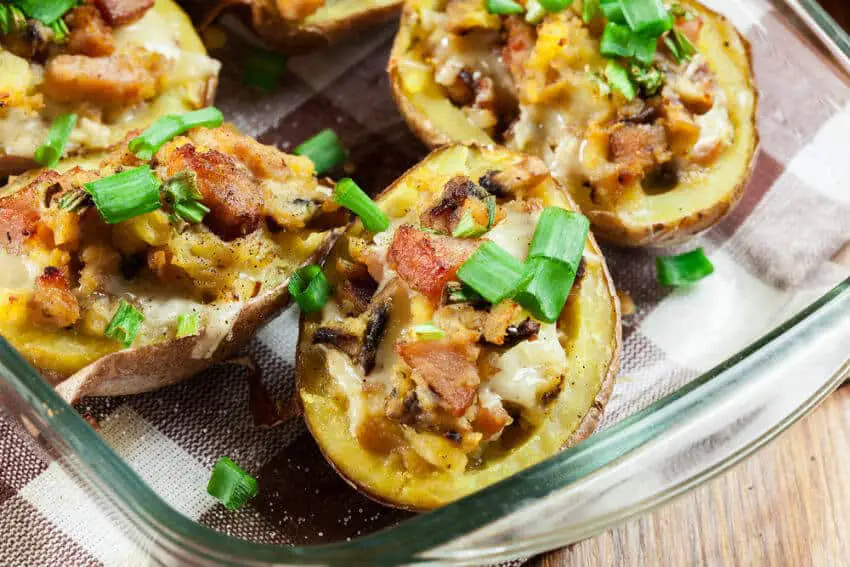 They make a super quick and easy dinner. Baking potatoes in a halogen oven requires no special cooking skills. 
Ingredients:
4 to 6 potatoes
1 tablespoon butter, melted
For filling:
cheese
sauté
fried mushrooms
tomato sauce
or anything you wish
Directions:
Wash and pierce each potato with a fork or knife. Rub each with melted butter and bake at 392F for 30 to 40 minutes, depending on the size of your potatoes. Remove from the oven, cut a slit in the top and stuff with the feeling of your choice.
4. Dried Fruit Scones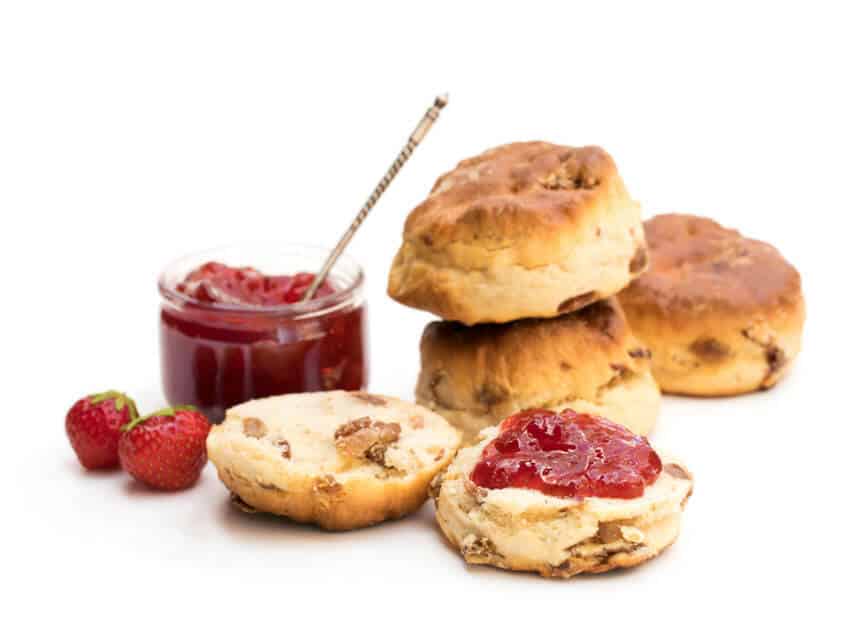 Halogen oven scones are as delicious as the regular ones. Add dried fruit like raisins or prunes and you'll get the healthier and tastier scones to enjoy with jam and a glass of warm milk.
Ingredients:
2 cups all-purpose flour
1/8 cup sugar
2 tablespoons butter, melted
½ teaspoon baking powder
1 cup dried fruit of your choice
½ cup milk
1 egg yolk, beaten 
Directions:
In a large bowl, combine the flour, baking powder, butter, and milk. Stir well and add in the dried fruit and sugar. Stir until the firm dough formed. 
Grease the baking dish and place the dough onto it. Cut it with a knife or pastry cutter to make the scones. Brush with the egg yolk and put it in a halogen oven preheated to 410F.
Bake for 10 to 15 minutes and serve with jam or cream.
5. Zucchini Mushroom Lasagna
Have a meatless dinner today and make this unusual yet yummy lasagna.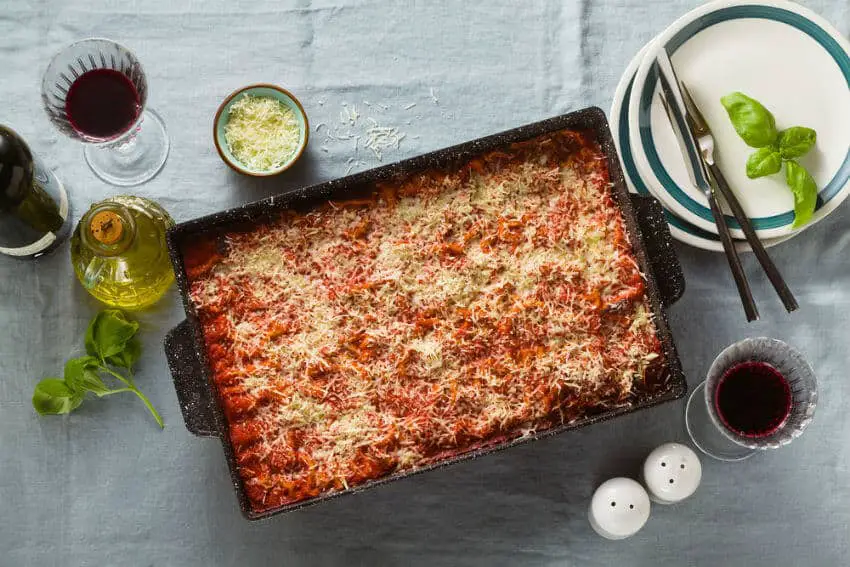 Ingredients:
2 zucchinis, finely chopped
2 cups mushrooms, finely chopped
10 uncooked lasagna noodles
2 eggs
4 cups cheese (Parmesan or Ricotta), grated
½ cup white onion, chopped
1 cup spinach, chopped
1 cup tomato sauce
3 garlic cloves, minced
¼ cup parsley, chopped
Salt and pepper to taste
Directions:
Grease the baking dish and preheat your halogen oven to 390F.
In a large bowl combine all the ingredients, except lasagna noodles and cheese. Layer the noodles, filling with the mixture and sprinkling with some cheese. Bake covered for about 20 minutes. Uncover, sprinkle with more cheese and cook for other 10 minutes, until ready.
There are many incredible meals to cook in a halogen oven. Get creative and feel free to experiment with the recipes!