Tired of suffering back pain from long periods of standing while baking, prepping, cooking, or even just doing the dishes? Then you're on the right page. Have you heard about anti fatigue kitchen mats? These are not your ordinary floor mats; these kitchen mats are ergonomically designed to support your entire body and help reduce fatigue while you are standing for hours in the kitchen.
Whether you're prepping for a big dinner with friends and family or simply in the mood to bake, these life-saver mats got your back, literally.  We've all probably experienced really wanting to make dinner or an event special by serving good food but at the same time just imagining how long you will have to stand by your kitchen counter preparing for it makes you feel tired already and think of just ordering takeout food instead.
But with cushioned kitchen mats you will be able to prepare your family's favorite dinner while actually enjoying the process of preparing it as well because you will not have back pain or sore legs afterward. 
So, at this point, you might be thinking: "Which anti-fatigue kitchen mat should I use? Are they expensive? Do they really work?" Well, there's no need to worry. These comfort mats have a wide variety and comes in different colors, shapes, and sizes so there will surely be one that's made for you depending on your needs and budget. They were also proven to reduce the level of fatigue and discomfort by at least 50% compared to standing on hard surfaces like bare tiles or hardwood floors, therefore boosting your productivity and helping you focus more on the task at hand.
Buying The Best Anti-Fatigue Kitchen Mat: What To Look For?
With the rising popularity of kitchen mats, a lot of brands are coming up with their ideas of the "best" version of it. But how do you really decide which one fit your needs among the hundreds, if not thousands of varieties out there? Here we have listed the factors you need to consider when you go shopping for your very own anti-fatigue kitchen mat:
Price
The easiest way to decide how much you need to spend on your kitchen mat is to think about how much you will use it, do you spend a lot of time cooking, like maybe 2-3 times a day, 4-5 times a week? Are you in a small baking business that requires a lot of time standing in front of your kitchen counter? Do you love preparing food for family dinners or get together? If your answer is YES to any one of these questions, then it's best to invest in a high quality kitchen mat that may cost a little more than the regular ones meant for average use.
Size
How big is your kitchen and how much of it do you spend a lot of time standing on? These kitchen mats comes in different shapes and sizes, commercial and industrial users choose a square mat or a runner mat most of the time as it covers more space and can support several people at once, while for home kitchen use, it is best to get a standard 2' by 3' kitchen mat which is just enough coverage on a regular counter or a bigger 6' by 8' for those with longer counter space.
Warranty
It is best to get a kitchen mat that has at least 5 to 10 years of warranty to ensure your investment is secured and that you get the most of what you paid for. It also shows how much the manufacturers trust their product to last. Additionally, there are also a lot of manufacturers who started using polyurethane foam for their kitchen mats that offers lifetime warranty.
Thickness
Probably one of the most important factor of choosing your anti-fatigue mat is its thickness. A mat that is too high can be a tripping hazard, while a mat that is too thin may not do you any good either. If your kitchen is tiled or hardwood floored, choose a mat that is at least ¾" to 1" thick to maximize its anti-fatigue assets. 
Pressure
These anti-fatigue floor mats have different foam firmness designed for each body type. You need to know how much pressure your mat is able to withstand. It is best to ask the weight range they are made to support. If you get a mat that has a foam that is too firm for you, it will be uncomfortable to stand on for a long period of time, therefore defeating its purpose. Meanwhile a mat that is too soft can lose its composure and make it harder to stay in place.
Material
Look for a kitchen mat that is made from high grade materials that are not easily worn out by frequent use, you also want a mat that has a textured top cover for a better grip, and most importantly, get one that has an easy to clean cover. There are a lot of mats that can be easily cleaned just by wiping the top off with soap and water. Since you will be using it on your kitchen, it will be prone to grease and stains, you don't want cleaning it to be stressful. 
Safety
You definitely want a mat that has a non-slip bottom or non-curling edges, this is to ensure it won't be a tripping hazard in your kitchen. You need it to stay in place while you are on it and make sure that it doesn't easily slip on smooth surfaces like tiles or wet floor.
Design
With the wide variety of comfort kitchen mats available in the market, you can definitely find one that meets your needs and your home's aesthetic at the same time. Some mats have a lot of color options, while others also offer different printed top surfaces if you don't want a plain colored mat. 
Bonus Tip: A quick way to test your mat's condition is by simply stepping on it, get off, and then observe its behavior. If the mat quickly returns to its original form, then it's made from high quality material. However, if it fails to go back to original shape then it may be easily worn out.
Best Anti-Fatigue Kitchen Mats: Our Top Recommendations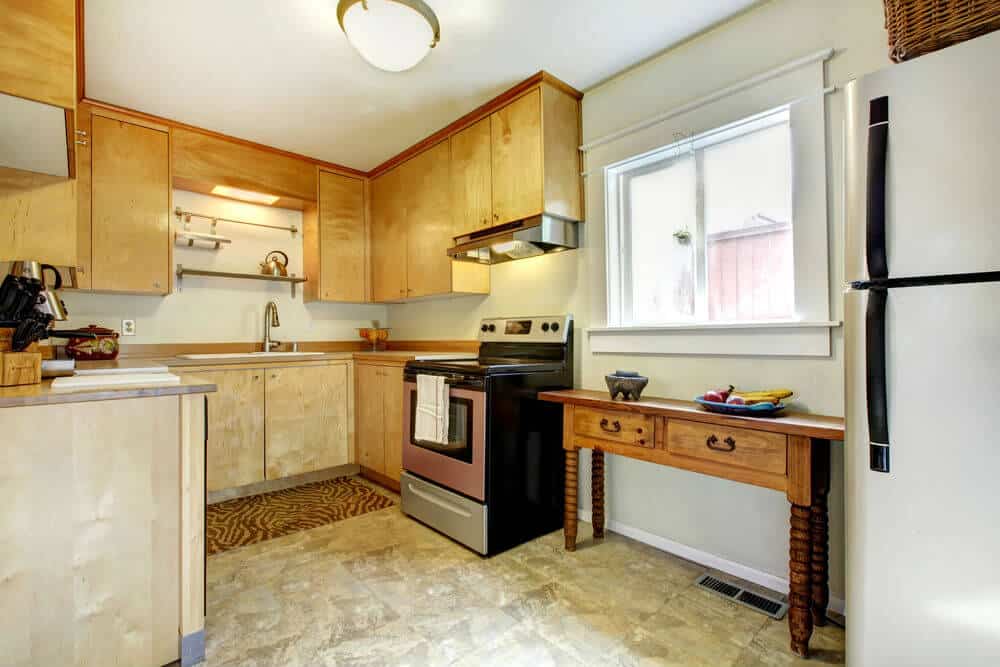 AmazonBasics Premium Anti-Fatigue Standing Comfort Mat: Most budget-friendly
This is for you if you are on a budget and don't want to spend time scrubbing off dirt or grime on your kitchen mat.
Last update on 2023-03-23 / Affiliate links / Images from Amazon Product Advertising API
This waterproof kitchen mat is Stain- and abrasion-resistant which makes it very easy to clean, so no need to worry about that stubborn tomato sauce or sticky chocolate fudge dripping on your mat and staining it forever. The mat's cushiony foam layer follows the contours of your feet for a better grip and added stability. It also has a textured surface for additional grip and support to keep you from tripping over the material while its non-slip base and non-curling edges ensures the mat to stay in place while you work.
The AmazonBasics Comfort Mat measures 36 inches by 20 inches, weighs only 3.3 pounds and comes in Black or Dark Brown color. 
Pros
Easy to clean
Non-curling edges
Cushioned foam layer
Budget- friendly
Cons
Durability declines over time
Slightly moves around on smooth floorings
Limited color options
Sky Solutions Sky Mat: Best Value
This eco-friendly kitchen mat is best for those who are looking for comfort and style without breaking the bank. The Sky Solutions Sky Mat got the right formula to ensure both support and comfort of whoever is standing on it and is made with Skysoft's patented Sky Core Foam ensuring a durable and comfortable center, making it good for users with lower back pain or joint problems.
Last update on 2023-03-23 / Affiliate links / Images from Amazon Product Advertising API
It is available in three size options: 20 inches by 32 inches with a ¾" thickness, 20 inches by 39 inches with a ¾" thickness, and 24 inches by 70 inches with a ¾" thickness, and seven different colors to ensure to compliment your kitchen's design. These mats are also safe for your little ones who want to help in the kitchen, because it has a non-slip bottom and a beveled edge to prevent tripping. 
And the best part? The design of this comfort mat is ergonomic and should endure long periods of pressure. Skysoft is highly confident about this product and even offers a LIFETIME REPLACEMENT PROMISE if your mat doesn't stand the test of time. That is how durable this anti-fatigue mat is, surely a bang for the buck.
Pros
Made with Eco-Friendly materials
Easy to clean
Color and sizing options
Durability
Cons
Might smell on first few uses
Slightly slides around on smooth floorings
Some received the product creased or folded
Kangaroo Original Standing Mat Kitchen Rug: Most versatile
Made from a brand that is known for its good reputation in the health and fitness industry, Kangaroo has integrated a ¾" ergonomically engineered, high grade foam on their mats for guaranteed comfort and durability. The Kangaroo Original Standing Mat has fourteen, I repeat, FOURTEEN stunning colors and patterns to choose from!
Last update on 2023-03-23 / Affiliate links / Images from Amazon Product Advertising API
Not to mention the mat has a beautifully textured top for increased traction and a specifically designed advanced beveled edges. The top of the mat is not just shock absorbent, it's also made from waterproof material, making it easier to clean and safer from hard to remove stains. The mat is also non-toxic, latex and phthalate free and is Prop 65 compliant, which makes it safer for your home.
What's more is that this rug comes in seven different shapes and sizes; it has your regular rectangle rug in 24 inches by 17 inches, 32 inches by 20 inches, 39 inches by 20 inches, 48 inches by 20 inches and 70 inches by 24 inches, a half circle rug measuring 32 inches by 20 inches and a corner rug measuring 46 inches x 30 inches x 30 inches, so you can definitely fit it no matter how big or small your kitchen is.
Pros
Made from high grade foam
Non-toxic and Prop 65 compliant
Advanced beveled edges
Wide color and design options
Cons
Can slide and move around on carpeted or wooden floors
Powders like flour, soil, sugar and the like may get caught on the textured surface
Some complains of chemical smell
Royal Anti-Fatigue Comfort Mat: Best Multi-Surface Compatibility
This multi surface standing mat prides on being compatible with any type of flooring: tile, wood, marble, laminate or carpet. It's balanced cushioning offers just enough softness for comfort but is firm enough to withstand long term use and heavy foot traffic.
Last update on 2023-03-23 / Affiliate links / Images from Amazon Product Advertising API
It is specifically designed to reduce stress and pressure on your legs and lower back as much as 40%, and maintain good posture while standing for long hours. The mats are also durable and environment friendly, made from commercial-grade, phthalate-free materials and are waterproof, puncture and tear resistant. The contoured beveled edge and no-curl design ensures that the mat stays in place and reduce the risk of stumbling on it in the kitchen.
The mat has a cooling effect feature on soles, and also comes in three sleek colors: Jet Black, Mocha Brown and Burgundy. It is offered in 4 different sizes: 20 inches by 32 inches, 20 inches by 39 inches, 24 inches by 36 inches, and 24 inches by 72 inches. All mats are made of ¾" thick high-grade foam weighing approximately 3.75 pounds.
Pros
Eco-friendly materials
Beveled and no-curl edges
Puncture and tear resistant
Works on different surfaces
Cons
Surface may peel off after some time
Hard to keep in place
Color may slightly vary from actual product
Oasis Anti Fatigue Kitchen Mat: Easiest To Clean
The Oasis Kitchen Mat is designed to be stable and supportive with its perfectly firm cushion, guaranteed to lessen the pressure on your feet, legs and lower back by at least 32%.
Last update on 2023-03-23 / Affiliate links / Images from Amazon Product Advertising API
The leather grained surface ensures easy cleaning with nowhere for the dirt to cling on, while its ultra-grip and low angle beveled edge means you don't have to worry about tripping in your kitchen mat again.  This mat is made with highly durable materials that the manufacturer offers a money back guarantee if it doesn't stand the test of time.
This ¾" thick kitchen rug comes in six striking colors and three different sizes: 20 inches by 32 inches, 20 inches by 39 inches and 24 inches by 70 inches. The mat is at 3.05 pounds so it's easy to move from one part of the kitchen to the other but not so light that it slides all over the place.
Pros
Seamless, beveled edges
Balanced cushion firmness
Easy to clean surface
Money-back guarantee
Cons
Coating may crack and peel off 
Slightly slick when mat is wet
Gorilla Grip Anti Fatigue Kitchen Comfort Mat: Most Durable
This kitchen mat definitely lives up to its name: Gorilla Grip. This ergonomically engineered mat guarantees maximum comfort and extreme durability with its premium high quality foam that does not compress over time and provide just the right firmness.
Last update on 2023-03-23 / Affiliate links / Images from Amazon Product Advertising API
The mat is also carefully made with strong, durable materials to withstand heavy use and high traffic areas. Its surface is made with water resistant material making it easy to clean, just wipe off with wet cloth and it will be like new.
The Gorilla Grip comfort mat is definitely versatile, and is made sure to match your kitchen's layout and aesthetic. It has 10 captivating colors and patterns, and seven size options all with ¾" thick high grade foam: 24 inches by 17 inches, 32 inches by 20 inches, 39 inches by 20 inches, 48 inches by 20 inches, 60 inches by 20 inches, 70 inches by 24 inches and 32 inches by 20 inches half circle mat.
Pros
Guaranteed durability
Non-slip base
Multiple color and size options
Made from high quality materials
Cons
Doesn't stay in place on carpet or laminated floors
Slippery when put on wet surface
May come off with  little chemical smell when brand new
ComfiLife Anti Fatigue Floor Mat: Best Foam Firmness
This premium anti-fatigue mat was made with durable, high quality materials; the ¾" thick foam and high density core ensures superior comfort when standing for long periods of time and provide outstanding support for your ankles, leg and lower back encouraging better productivity.
Last update on 2023-03-23 / Affiliate links / Images from Amazon Product Advertising API
The surface is made with waterproof, anti-microbial and stain resistant material for no-frills cleaning, and has a non-slip bottom with no-curl edges to ensure safety in the kitchen. ComfiLife also offers Lifetime Money Back or Replacement guarantee if you are not 100% satisfied with their product.
The mat is only available in Black and two different sizes: 20 inches by 32 inches and 20 inches by 39 inches and weighs 4.25 pounds, an ideal weight to ensure the mat stays in place.
Pros
Anti-microbial and stain resistant surface
Non-slip bottom
No-curl beveled edges
High density core
Cons
Limited size and color options
Mat may be too soft
Strong odor when brand new
Oversized Chef Series 24″x36″ Anti-fatigue Kitchen Mats: Best Design
Who says anti-fatigue mats can't be artsy? The Oversized Chef Series focuses on style as much as it does on comfort, offering a wide array of options available: it has 24 rustic, café-themed designs and not only acts a décor in your kitchen, it actually works wonders as an anti-fatigue cushioned mat as well. It has high density cushioning, guaranteed to alleviate stress from your tired ankles and knees.
Last update on 2023-03-23 / Affiliate links / Images from Amazon Product Advertising API
The mat is offered in a slightly bigger size than regular kitchen mats: 24 inches by 36 inches, so it provides a wider coverage on your kitchen. No need to worry about messing up its pretty surface because it is designed to be easy to clean with just a damp cloth and mild detergent then let it air dry. The decorative anti-fatigue mat weighs only 2.95 pounds but the bottom is coated with non-skid latex making sure it stays in place and doesn't become a tripping hazard.
Pros
24 designs to choose from
Oversized mat covers bigger surface area
Colors are lively and vibrant 
Cons
May form small tears and bubbles on the surface after some months
Edges of the mat may curl up
Foam may be too firm
Amcomfy Kitchen Anti Fatigue Mat: Most Elegant
Vintage lovers, unite! These elegantly designed mats are 100% handmade and made from premium non-toxic materials.  This mat is made with durable materials that is cannot be easily damaged by sharp, pointed objects, even high heels! It has been scientifically proven to help stimulate blood flow, decreasing fatigue that you get from standing up for hours. 
Last update on 2023-03-23 / Affiliate links / Images from Amazon Product Advertising API
It has memory foam also doesn't compress over time and has a quick bounce back reaction. The top surface is also waterproof and stain resistant so it's easy to clean. Furthermore, it boasts no-curl tapered edges and a non-skid, slip resistant bottom to effectively keep the mat in place, even on wet floors.
This 2.15 pound decorative foam kitchen mat comes in 16 different old world inspired design choices, and 5 different sizes: 20 inches by 32 inches, 20 inches by 39 inches, 24 inches by 70 inches, 20 inches by 48 inches and an 18 inches by 30 inches semi-half circle option.
Pros
16 elegant designs
High-heel friendly
Durable memory foam
Stays in place on wet floorings
Cons
Colors may fade a bit 
Colors may be mismatched 
Doesn't absorb water very well
NewLife by GelPro Anti-Fatigue Kitchen Floor Mat: Best Overall
The NewLife Floor Mat is highly recommended for those who will be using it on areas that have heavy foot traffic because it is made from extremely durable materials. The mat is constructed with comfort and durability in mind.
Last update on 2023-03-23 / Affiliate links / Images from Amazon Product Advertising API
Gelpro used thick ergo-foam core on all their mats, ensuring excellent support and significantly reducing stress on your ankle and knee joints while standing on this mat for hours on end. It has an abrasion, stain and puncture resistant top surface, no-curl beveled edges, and a non-skid base for maximum safety even on slick surfaces or kitchen with spills.
 These comfort mats come in a large variety of choices, it has 31 muted colors and fun patterns to compliment your kitchen design and comes in 4 size options as well: 20 inches by 32 inches, 20 inches by 48 inches, 20 inches by 72 inches and a 30 inches by 108 inches anti-fatigue runner mat for those with a much longer counter space, all of which have ¾" thick high grade ergo-foam.
Pros
Durable core foam
Stain and puncture resistant surface
Extensive design options
Non-skid base
Cons
Edges start to curl after months of use
Material on the base may stick on hardwood floors leaving residue
Doesn't stay in place on smooth floors
Imprint CumulusPRO Commercial Standing Desk Anti-Fatigue Mat: Best Quality
This top-rated anti fatigue mat is designed specifically for chefs or home cooks that stand for hours on end, this commercial grade Anti-Fatigue mat is made with environment friendly and phthalate free materials and is tested and certified by the National Floor Safety Institute & an American Chiropractic Association (ACA) Partner guaranteeing the durability and safety of the product.
Last update on 2023-03-23 / Affiliate links / Images from Amazon Product Advertising API
The mat has a Cushion-Core™ Technology for maximum comfort and long term support. The anti-microbial surface is also abrasion and puncture resistant. To reduce slip hazards, the mat is equipped with advanced beveled no-curl edges and NFSI Certified non-slip bottom that is compatible to work effectively on different types of floor surfaces.
There are four color options for this mat and is ideally sized at 24 inches by 36 inches, except for the Black option which also has a 24 inches by 60 inches version. This mat is a little on the heavier side, weighing 6.5 pounds but that only makes it efficiently stay in place.
Pros
Extreme durability
NFSI and ACA certified
Anti-microbial surface for easy cleaning
Abrasion and puncture resistant
Cons
May feel too firm on barefoot
May have strong chemical smell at first
May adhere to wood floors
iPrimio Anti-Fatigue Comfort Mat: Best Thickness
The iPrimio Anti-fatigue 1" thick comfort mat is made with exclusive Air Cell technology making it the softest yet the thickest, effectively providing stable support and significantly reduce muscle fatigue allowing you to stand for long periods of time comfortably. Its edges are contoured, beveled and guaranteed no-curl, reducing tripping accidents in the kitchen or wherever you decide to use it, and features a non-slip bottom helping you shift weight with ease.
Last update on 2023-03-23 / Affiliate links / Images from Amazon Product Advertising API
All the mats are made with high quality, environmental friendly, non-toxic and phthalate free materials. iPrimio backed this awesome mat with a full refund or free replacement if the mat doesn't keep up with your standards, which definitely says a lot about how much they trust the quality of their products.
This 4.05 pound mat is only available in Black but has two different size options: 30 inches by 18 inches and 36 inches by 24 inches but is 1" thick so it's noticeably thicker than other regular mats. It has a modern looking design that is sure to fit in any kitchen or office setting.
Pros
Uses air cell technology
High density 1" thick foam
Beveled, no-curl edges
Cons
No color selection
Textured surface may wear out after months of use
May be too soft or bouncy
Slips on wet surfaces
Benefits of Anti Fatigue Kitchen Mats
How does cushioned mats work and what's in it for me? Other than the comfort and safety it provides for your kitchen, these mats have actual health benefits on your body as well: 
Ensures reduced fatigue on the body
These mats are designed to provide maximum comfort and support for the whole body. Using this cushioned mat helps reduce soreness on your legs, ankles and back while standing for long periods of time in the kitchen.
Improves blood circulation 
Since they are well designed to support your body weight, it helps stimulate better blood flow on your body, alleviating muscle cramps, numbness and tingling on your legs and feet which you normally experience when standing up for hours. 
Helps maintain good posture
This is one of the long term health benefit of using an anti-fatigue kitchen mat. It helps reduce the stress you put on your joints and stops overworking your muscles. Comfort mats are also proven to reduce spinal compression by 40%, thus improving your posture and avoiding any illnesses caused by poor posture in the long run.
Reduces risk of fall-related injury
According to chefs, falling or tripping is among the most common cause of accident in the kitchen. Imagine slipping while holding a pot full of hot soup, or tripping over with a freshly decorated cake on hand. Luckily, almost all anti-fatigue mats have non-slip bottoms making it safer to have around. 
How do I maintain my Anti-Fatigue Mat?
It's easy to take these mats for granted since after you bought it, just put it in place and voila! You now have a more comfortable cooking experience. After a while, you get used to their existence and don't notice they are there. But your mat needs love too, here's some advice how to make sure they stay in tip-top shape:
Among the common damages of kitchen mats, is the top layer being tattered. Be careful about dropping sharp or pointed objects on it. Knives, kitchen shears, or even forks, can damage the mat's surface and ruin its appearance or in some cases, even puncture the foam itself. 
Almost all these comfort mats are easy to clean, meaning there's no need to machine wash or heavily scrub them. It is best to broom or wipe the mat's cover on a daily basis to get rid of dirt or dust gathered from the previous day specially if it's on the spot in the kitchen where there's heavy foot traffic.
This type of cushioned floor mat doesn't require cleaning with chemicals like bleach, or high pH detergent. Just wash with mild soap or detergent with warm water regularly depending on how much you use it then allow the mat to completely dry before using it again.
Our Top 3 Anti-Fatigue Kitchen Mats
Still confused which mat to get? Let's reduce your choices to
1. Sky Solutions Sky Mat – It has the best of both worlds, it's affordable yet still provides exceptional comfort and is made from high quality, durable materials. Additionally, the Sky Core foam really helps a lot to even out your weight when standing on the mat, it's not too firm nor too soft, just the right firmness to maximize the mat's anti-fatigue properties. It's an inexpensive solution to chronic back pain and muscle strain that we all experience in the kitchen. This is the best mat for those who are just starting to use a kitchen mat and wants to know if it works for you.
2. Kangaroo Original Standing Mat Kitchen Rug – This is probably the most versatile out of the 12 mats on our list, it has fourteen color and design choices, plus a wide variety of sizes, even having a half circle and a corner rug which you can rarely find in other brands. It also has an extra padded feature, and advanced no-curl edges, making it more comfortable and safer to use, may it be in your kitchen, study area or office. This is a fan-favorite mat because of it wide size and design choices, making it well-suited to kitchens of different aesthetics and layouts.
3. Imprint CumulusPRO Commercial Standing Desk Anti-Fatigue Mat – This mat is a little on the pricier side but it is compensated by the commercial grade materials used to make it. Knowing that it is certified by the National Floor Safety Institute & an American Chiropractic Association (ACA) Partner just means it has been properly tested and has been guaranteed safe and effective. This mat is the best option for those who needs an anti-fatigue mat for heavy foot traffic areas or heavy duty usage, since this is designed to be used in places like restaurant kitchens or bar counters. Customer reviews frequently mention how comfortable it is to use this mat, both for home and office use. 
In conclusion, cushioned kitchen mats are definitely worth investing on. Consider it a gift to yourself, with its short and long term benefits in mind. I myself enjoy cooking and baking but the soreness and back pain it causes afterwards unnerves me that I sometimes despise doing it. Having one of these mats in the kitchen makes these hobbies as fun and relaxing as they should be.
Since there are different price ranges, materials, designs, sizes and features of these comfort mats, take the time to research and analyze your needs and options before deciding on the standing mat you'll buy. It's better if you have colleagues or friends who already have one so you can test them first before getting one, especially if you will be buying online, you can't really test them until you actually receive the package. 
Remember that each mat has their own characteristics, just like you do. It is best to get one that accurately suits your needs, and not just because it's cheaper or prettier because they will not be as effective in supporting your body as it should and will eventually feel just like a regular mat. This is not a luxury, but a necessity for those who spend a lot of time standing up in the kitchen or in their workplace. Do yourself a favor and get an anti-fatigue kitchen mat, your body will thank you later.