I shared with you in my previous post that my family is a huge fan of films. 
Okay, technically, my husband and I are the cineastes, but our kids love their big screen shows, too! We choose a theme every weekend to narrow down our ideas on what to watch, and for the current one we have decided on "protagonists with sidekicks". 
The term "sidekick" dates back to the late 19th and early 20th centuries' vernacular. The "kick" was a pair of trousers' front pockets, which was thought to be the safest from theft or pickpocketing.
We still see a lot of pants with this pocket nowadays, in fact I own such a pair with a "secret pocket" as I refer to it. That said, a "side kick" was the closest associate or most trusted buddy of a person, by analogy.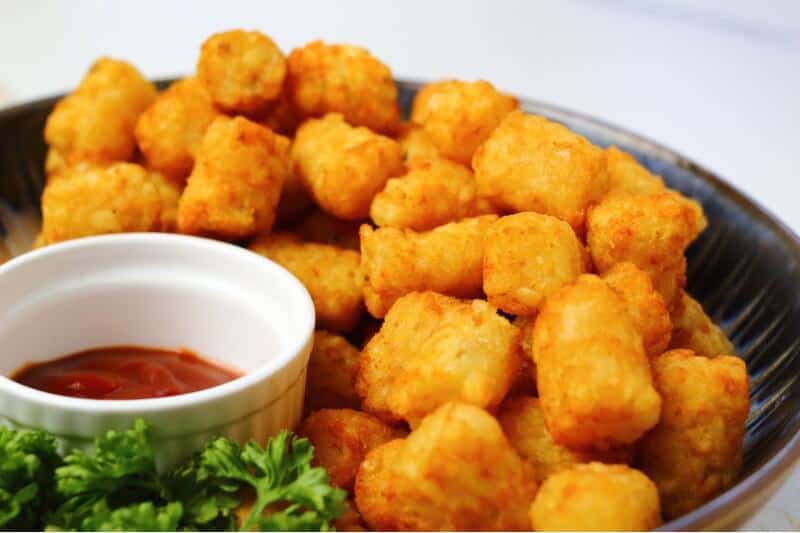 Of course, you and I are both thinking "Batman and Robin". And watch it, we did! 
There is a smorgasbord of movies on Netflix and it was a gold mine. We just searched for the keyword "sidekick" and ended up watching about 4 movies, including The Karate Kid and Dora.
As expected, movie marathons are not complete without snacks. We have been air frying most of our snacks such as our favorite shrimp popcorn, and lately we are so hooked on air frying tater tots. 
Speaking of "sidekick", these tater tots really make a good side for so many meals. Eaten on its own with the perfect dipping sauce is another way to do it. It takes so little time to prepare and air fry a serving of frozen tater tots, which I will happily share here today.
On the other hand, I am writing a mental note to ask my husband to do a quick HIIT after our movie marathons. Those snacks aren't going anywhere!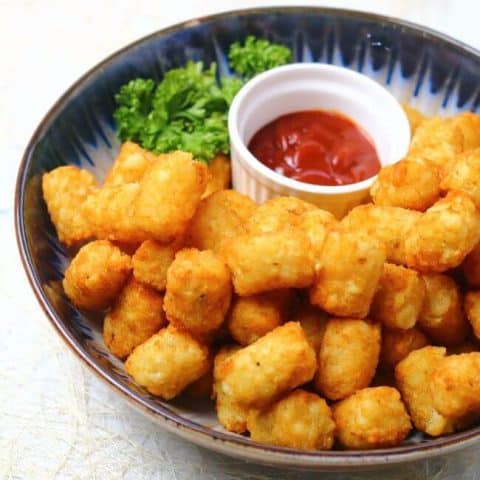 Air Fryer Tater Tots
Your go-to side kick to any movie night. 
Ingredients
½ bag tater tots, frozen or defrosted
1 tbsp. vegetable oil
Instructions
1. Ingredients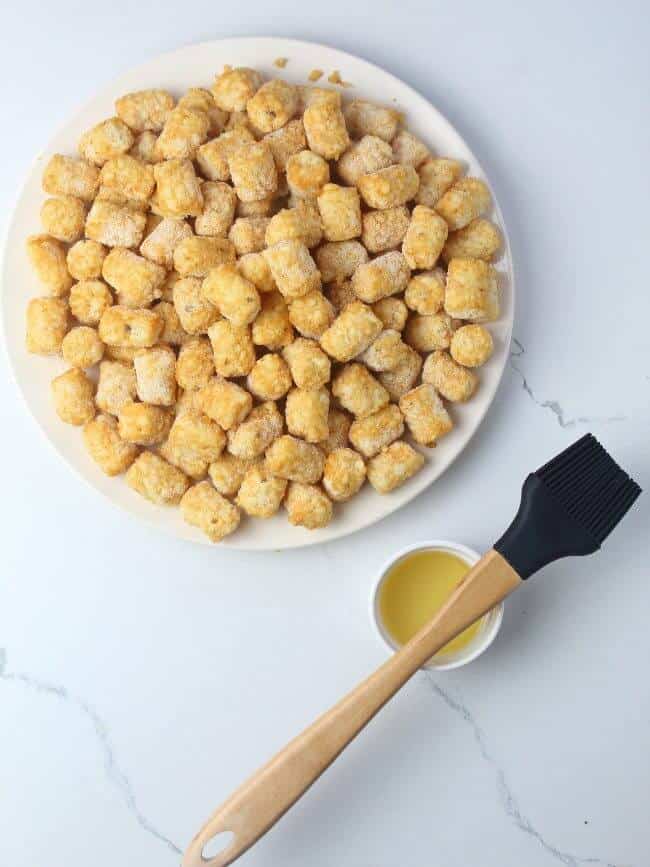 2. Heat the air fryer for a couple of minutes at 375 degrees Fahrenheit.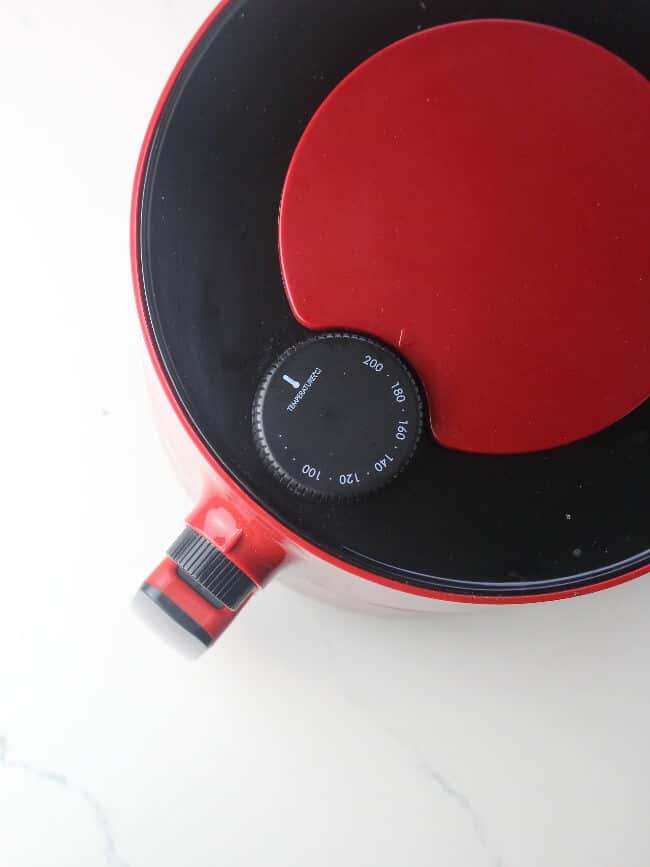 3. Brush the basket with vegetable oil to prevent the tater tots from sticking at the bottom.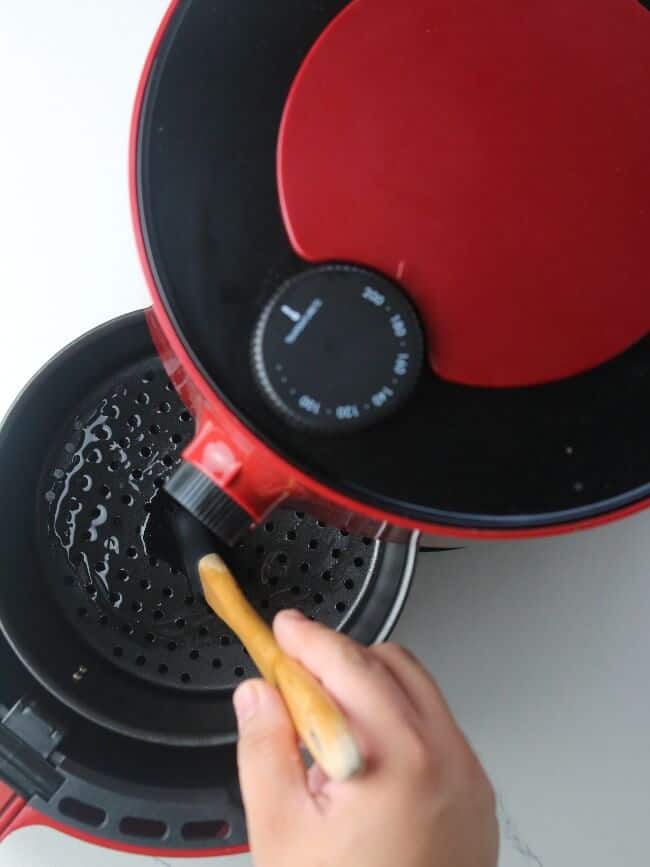 4. Toss the tater tots into the basket.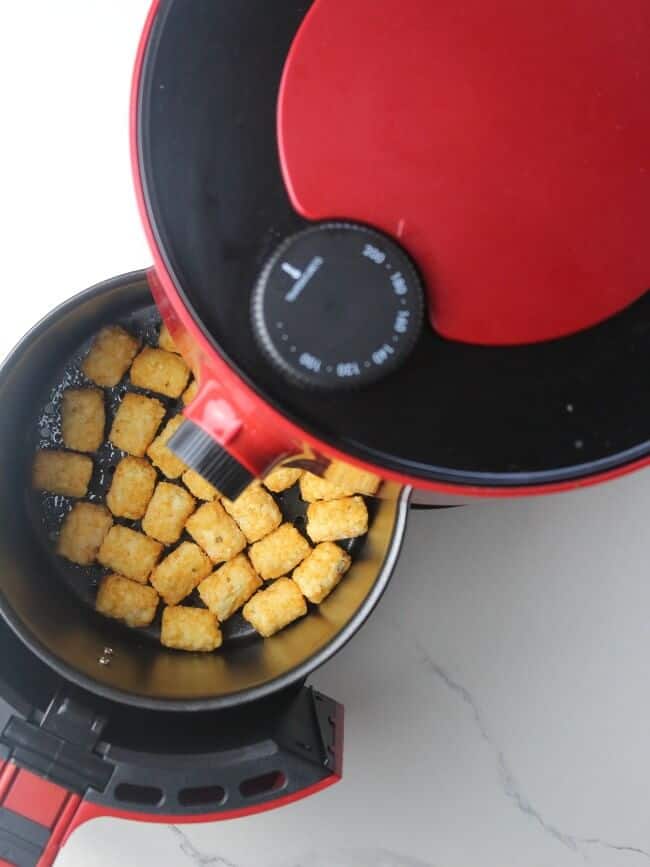 5. Cook for 10 minutes at 375 degrees Fahrenheit.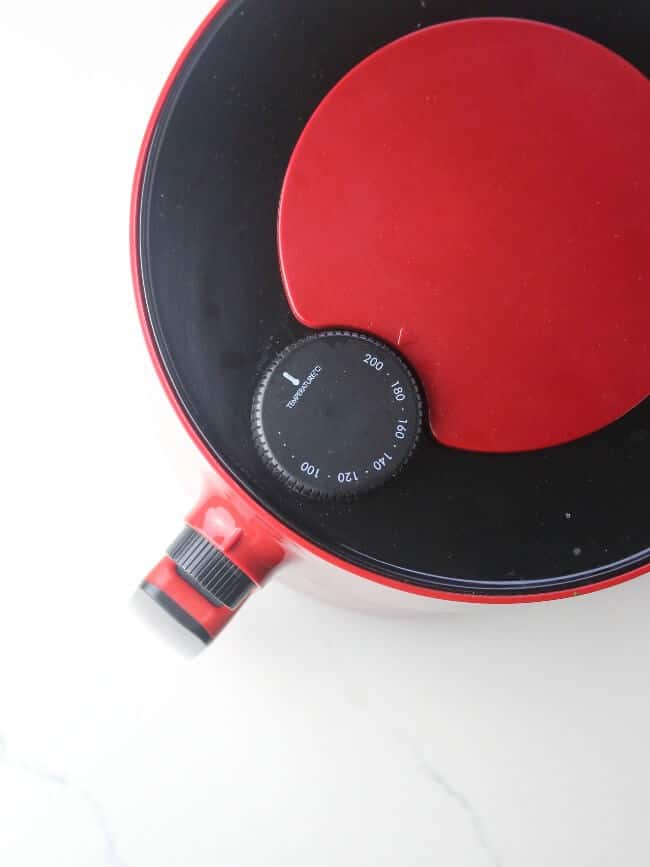 6. Continue for 4 to 5 minutes until well-crisp.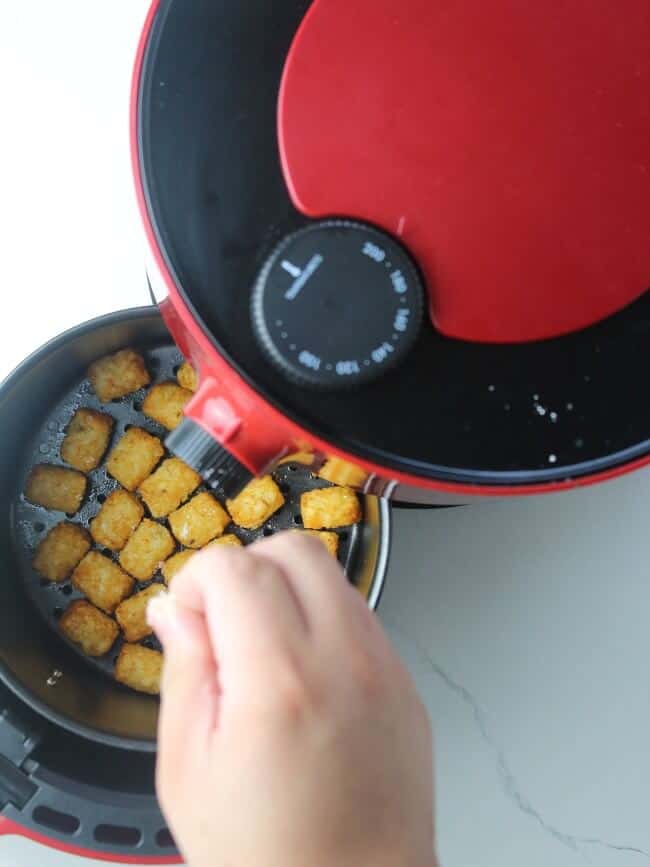 7. Serve immediately.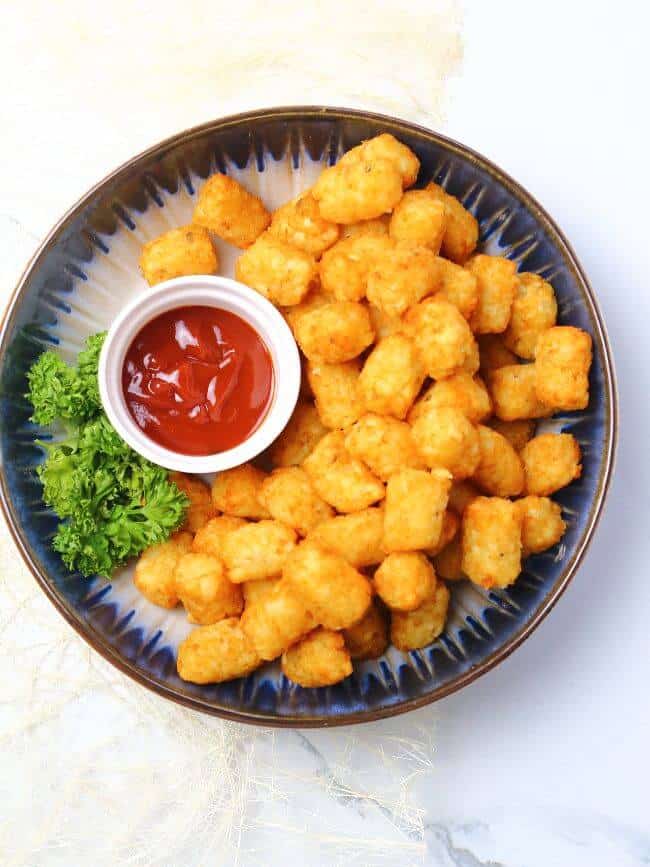 Nutrition Information:
Yield:

4
Serving Size:

1
Amount Per Serving:
Calories:

32
Total Fat:

4g
Saturated Fat:

0g
Trans Fat:

0g
Unsaturated Fat:

3g
Cholesterol:

0mg
Sodium:

5mg
Carbohydrates:

0g
Fiber:

0g
Sugar:

0g
Protein:

0g
Get That Perfect Crisp To Your Tater Tots With The Following Tips:
You can air-fry the tater tots even if it is frozen solid. 
You can optionally spray the tater tots with cooking spray instead of drizzling the oil onto them. It creates an even coating of oil, thus creating more crispy outer edges. 
You can air-fry the tater tots for 180 degrees Celsius; however, the cooking time would be much  longer, around 8 minutes until it gets nice and crisp. 
Placing the tater tots on a single layer in the air fryer basket will prevent uneven cooking.
If you have a small air fryer, it is advisable to air-fry the tater tots in batches.
Drizzling a good amount of olive oil into the tater tots before cooking would be an excellent idea to give your tater tots an aroma. Herb-infused oils would be a perfect idea too.
Tater tots are best paired with tomato ketchup but you may want to experiment with dips like ranch, garlic aioli, and cheese sauce.  
There is no need to shake the tater tots halfway through as long as they are not overcrowded, then it would be fine and crisp. 
Do Tater Tots Taste Better If Air Fried?
Air fried tater tots taste way better than the deep-fried ones. I know we don't miss tots that are soaked in oil that can sometimes rob them of their original taste.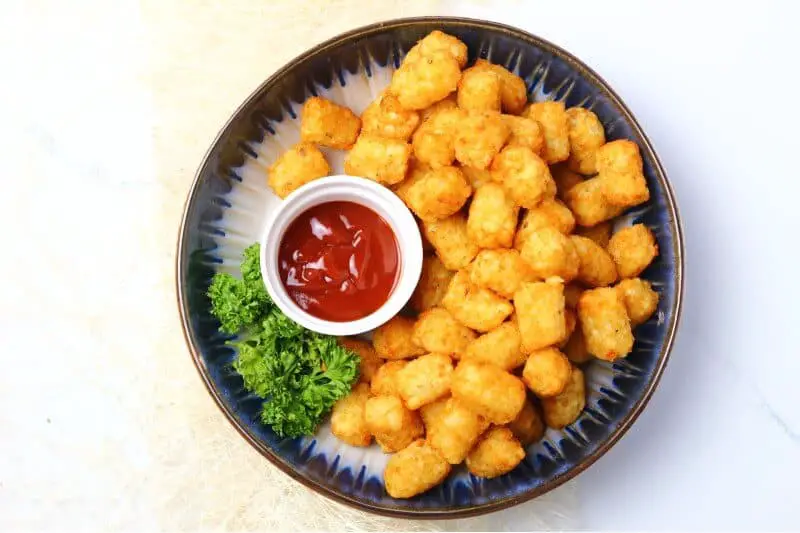 This air-fried, healthier version of tater tots, is also prepared within a fraction of the time. It is as good as oven-baked ones, but of course, who has the time to fire up an oven for a serving of tots?
Last update on 2023-06-04 / Affiliate links / Images from Amazon Product Advertising API
What Else Can I Serve Tater Tots With?
On its own, smother your tater tots with cheese sauce, sour cream, chopped chives, and a dash of cayenne for those fiesta potatoes. You might want to check out these recipes for ideas on what to serve with your tater tots. Try this delicious white bean dip, to which you can add more cayenne for that extra kick. I also recommend lifting off the spicy mustard dip from my bacon-wrapped water chestnuts recipe. It can also be served with this delicious London broil, try it!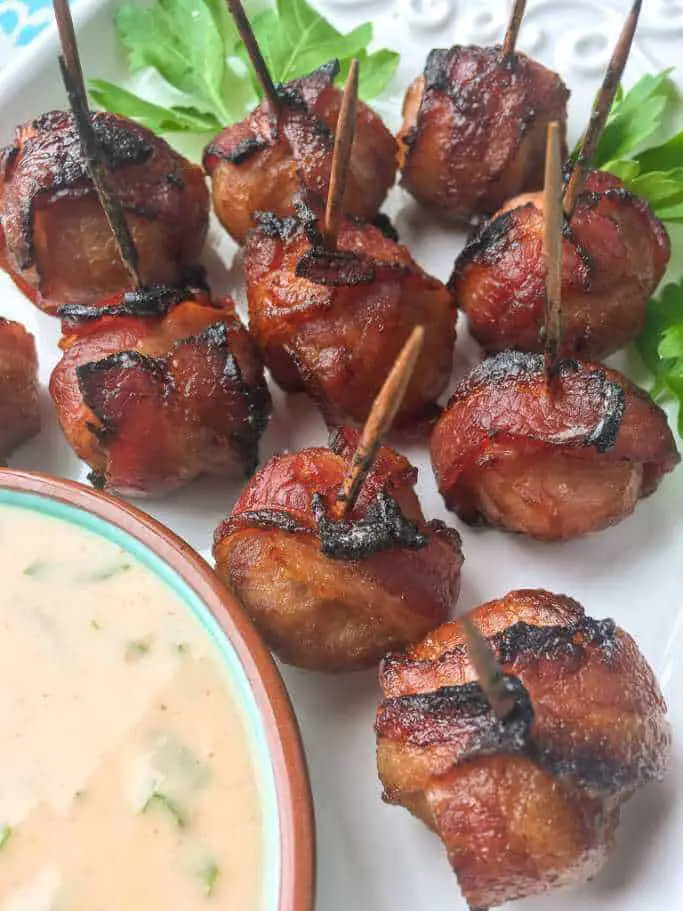 What Are Useful Kitchen Tools When Cooking Air Fryer Tots?
Don't forget your dependable air frying machine of course!
What are the best air fryers in the market right now? Find out more in a separate review we have made so you can pick the best one for your kitchen.
No products found.
While the recipe is quite basic, I would recommend using a good pair of tongs to pick the hot tater tots up from the air fryer basket. 
Sale
Last update on 2023-06-04 / Affiliate links / Images from Amazon Product Advertising API
Frequently Asked Questions
How Long Do You Cook Tater Tots In An Air Fryer?
The average cooking time of tater tots is around 8 to 10 minutes. Some folks prefer their tater tots to be a little more brown or even crispier, which would mean letting your tots stay in the fryer for another minute or two.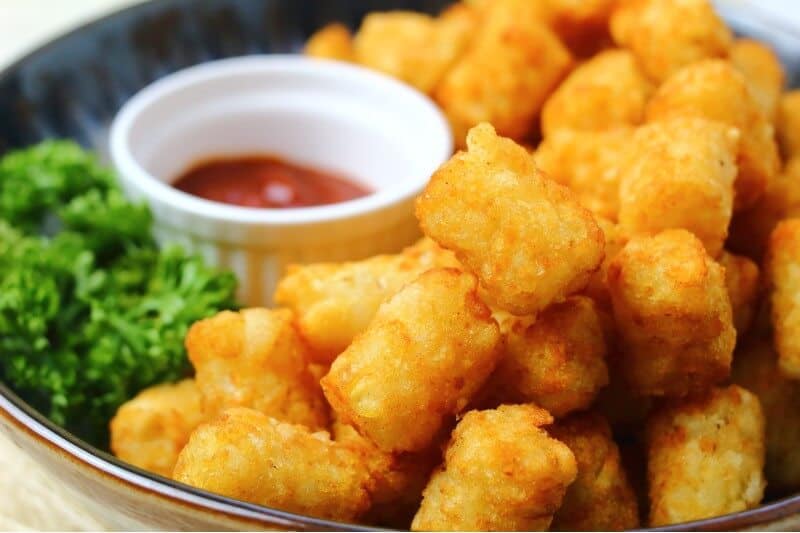 How Do You Cook Frozen Tater Tots In An Air Fryer?
Even if the tater tots are frozen solid, you can still air-fry them. I would recommend frozen tots, really! They come out crispier. Don't drizzle the oil directly onto the tater tots; instead, spritz them with cooking spray.
It coats each tater tot evenly, resulting in crispier outside edges. To prevent uneven cooking, spread the tater tots out on a single layer in the air fryer basket.
This will also allow hot air to cook the tots evenly. Don't hesitate to cook in batches in case you need to prepare a lot of tater tots and your air fryer can accommodate a smaller volume. 
How Do You Fix Tater Tots In An Air Fryer?
As mentioned, I would recommend cooking them in a single layer, with spaces between the tots to avoid sticking. This also ensures an even cooking of your tater tots. You can use a pair of tongs to move or arrange your tater tots within the basket.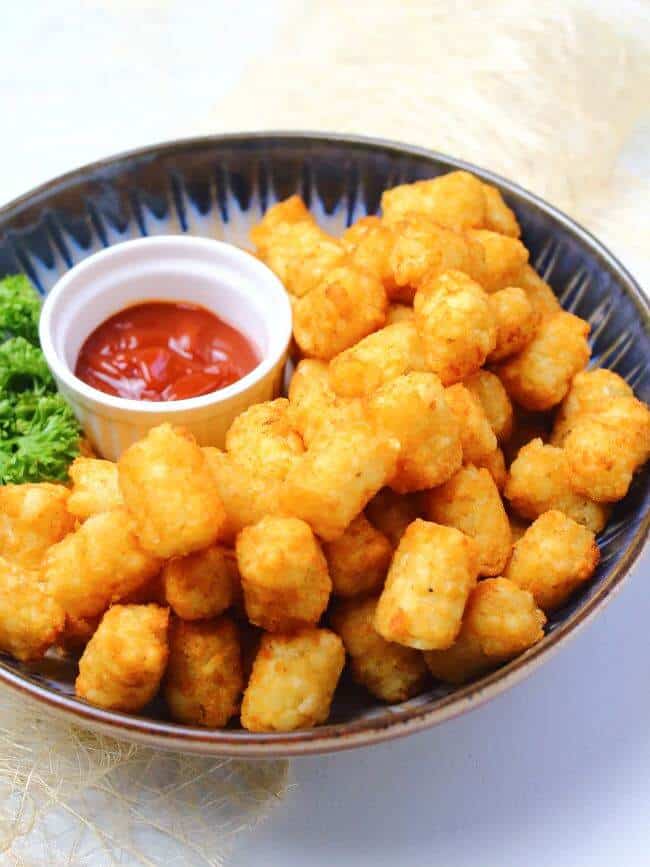 Why Is My Food Not Crispy In The Air Fryer?
This is a common question we come across regarding air fryers. I know, because I've struggled with it during my first attempts with an air fryer myself!
Here are a few tips on how you can ensure that your food comes out crispy:
Cooking too many meals or too many snacks at one time can turn into an overload for your air fryer. Smaller servings are equally air-fried, because this ensures the hot air can cover all items in the basket at a time. 
An excellent technique to ensure crispness is to place a single layer of snacks in the bottom of your air fryer basket.
To obtain the best results with any air fryer, it is recommended that you utilize oven-ready food. Air fryer-made, which are usually oven-ready treats turn golden brown and crispy.
Make sure you pre-heat, and set the right temperature. Baked goodies are usually cooked at 200°C (400°F), while for some snacks, they just need to be cooked at 200°C (400°F). 
Deep frying time is definitely shorter. For the majority of snacks such as tater tots, the cooking time in an air fryer is around 8 to 10 minutes. If they are still not crispy enough, add a few more extra minutes. 
While cooking, you may also shake the basket halfway during cooking. If you're preparing a bigger amount of food, shake the basket 2-3 times.
If you're preparing breading coated snacks yourself, oil should be added to the bread crumbs while making them.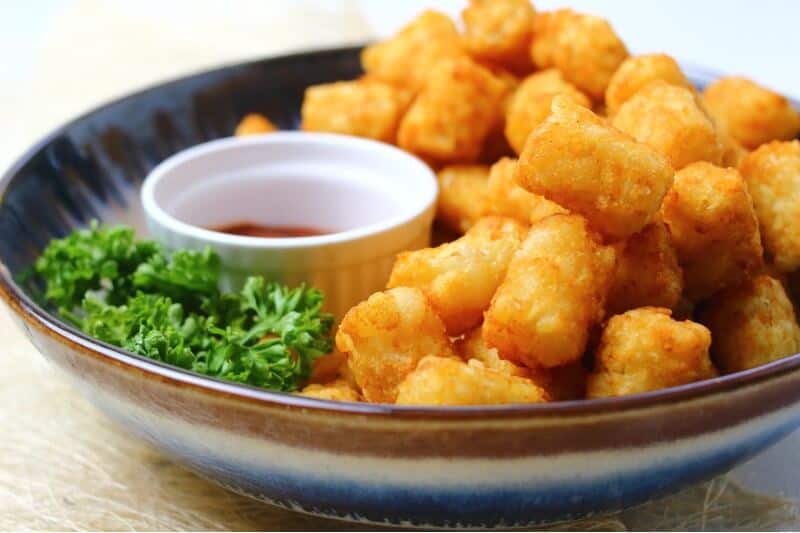 Conclusion
Tater tots are more than just your usual side served with ketchup. You can serve them as a side dish to succulent steaks, or enjoyed on their own, with amazing dips or dressings.
It can be the protagonist of your dinner table, but it can also be the best sidekick to serve dishes with. I guess that's what you get when you add in that secret ingredient of love! Even the simplest of snacks become so meaningful when you're sharing them with the best people. ☺