When you have guests coming over, either for a holiday meal or a simple family gathering, it is crucial to have an appetizer ready. This White Bean Dip will save you hours in the kitchen and will give you more time to prepare your other amazing dishes plus time to hang out with your family and friends.

I always make these for my in-laws or when my parents are coming over for a visit. They absolutely enjoy this! I'm guessing it's mostly because it's considerably healthier than regular nachos and dip. The dip is made up of white beans that are rich in fiber, protein, and traces of various nutrients like magnesium. Then I pair it with my homemade pita bread, which has way fewer carbs than corn or tortilla chips.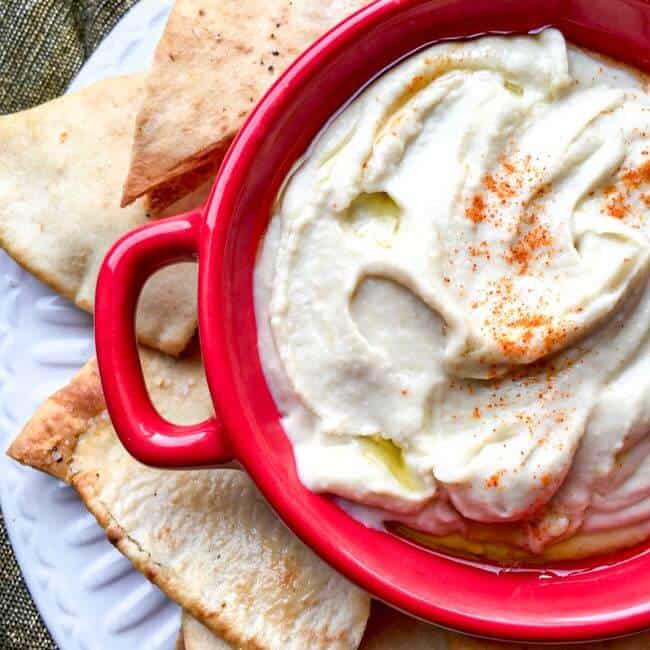 I remember this one time; my mom came over with my mom-in-law and some of their friends. They were in town to visit a friend that recently had surgery and decide to come over. My mom called me on their way here and when I tell you I panicked! We only have leftover pita from our last night's gyro dinner. I just got home from the gym too and luckily, I know just the right appetizer to hold them off while I whip up a quick lunch for all of us.

Our pantry always has a stock of beans and various soup ingredients because as you already know, my family enjoys soups especially since it's colder now. So, I went ahead and prepped the pita slices, seasoned them, and popped them in the oven. While they bake I gathered my dip ingredients, tossed them in the food processor, and in under 5 minutes, it's done.

A couple of minutes later, the seasoned pita chips are done too. Then I heard my mom's car pull up the driveway just as I finished plating them. Talk about buzzer beater! I welcomed them and sat them in the living room and served the White Bean Dip with Seasoned Pita Chips. I let them rest and chitchat then ran back to the kitchen to finish with my main dish.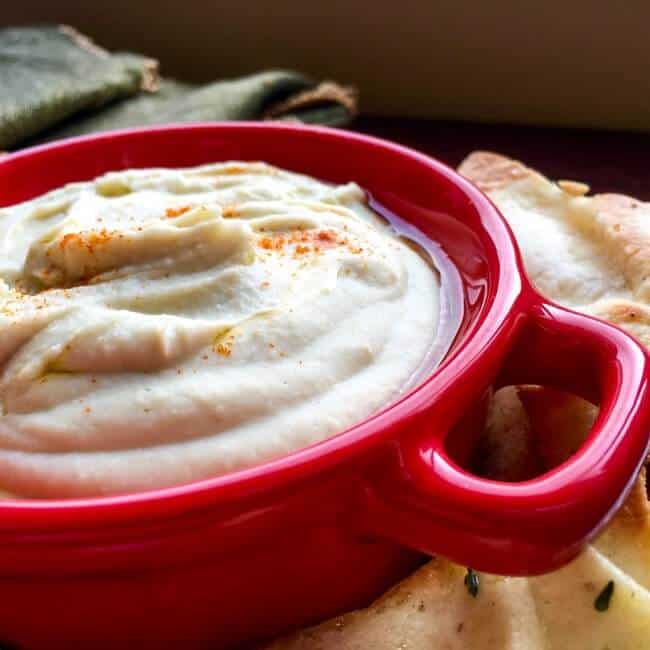 My mom-in-law was impressed with how quickly I was able to set everything up on just short notice. What can I say, that's how we roll here in our tiny kitchen, am I right Divas? It was a successful mini lunch with them, and it was a huge relief that I was able to pull it off. Quick and easy recipes saved the day again! PS: They requested for me to serve this White Bean Dip with Seasoned Pita Chips appetizer for our upcoming family reunion!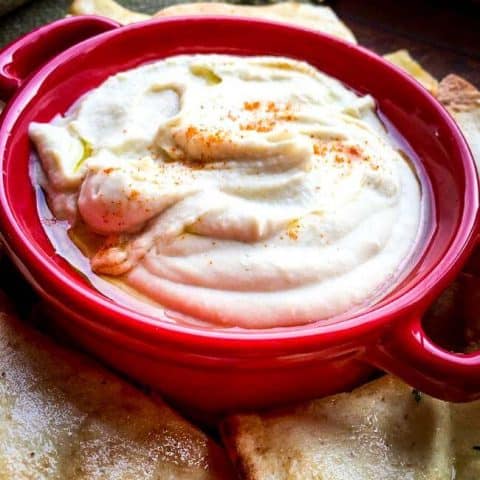 Simply Delicious White Bean Dip
This light and creamy appetizer consist of perfectly baked seasoned pita chips dipped in a white bean dip made up of cannellini beans, garlic, lemon, and herbs!
Ingredients
For Seasoned Chips:
6 large pitas
3 tablespoons olive oil
½ teaspoon kosher salt
½ teaspoon black pepper
Ingredients for White Bean Dip:
2 cups cannellini beans, rinsed then drained
1/8 cup lemon juice
1/3 cup regular olive oil
3 cloves garlic, peeled
2 fresh sage leaves, chopped
½ teaspoon of sea salt
½ teaspoon of black pepper
1 tablespoon high quality olive oil
1/8 teaspoon cayenne pepper
Instructions
Preheat your oven to reach 375° F then line a cookie sheet with parchment paper or silicone baking mat.
Cut the pita bread into 8 pizza-like slices. Then brush both sides of the wedges lightly with extra virgin olive oil. Transfer them to the baking sheet and sprinkle with pepper and salt. Pop the pan into the preheated oven.
Leave the pita slices to bake for up to 6 minutes. Flip the wedges to the other side and pop back in the oven for 6 minutes more. At the end of the baking time, they should be golden brown in color. Take the pan out of the oven.



While waiting for the wedges to finish baking, it's time to make the dip. Take out your high-powered blender or food processor. Combine the white beans, lemon juice, garlic cloves, olive oil, and sage leaves into it. Let the mixture process until you get a thick and smooth consistency.
Transfer the white bean dip into your preferred serving bowl. Sprinkle with a dash of salt and black pepper, as needed. Before you serve it, dust it with cayenne pepper then drizzle with the high quality olive oil. Plate it with the pita chips and serve!


Nutrition Information:
Yield:

4
Serving Size:

1
Amount Per Serving:
Calories:

655
Total Fat:

33g
Saturated Fat:

5g
Trans Fat:

0g
Unsaturated Fat:

27g
Cholesterol:

0mg
Sodium:

1019mg
Carbohydrates:

74g
Fiber:

8g
Sugar:

2g
Protein:

17g
On this note, add this White Bean Dip recipe to your quick and easy food arsenal for future reference! LOL. Do you have any last-minute prep moments like this? How did you handle it and what dishes did you make? I would love to hear your stories too!