Today we're making another one of our family's holiday staples, Orange – Cranberry Scones! This is inspired by our all-time favorite café. I had this the first time in one of their branches here, paired with one of their signature Christmas drinks, and instantly fell in love with it. Best believe I made a whole batch for the family right that weekend!

I also found they make amazing homemade gifts too! I sent a box of freshly baked scones to my sister and she said they were still good when she got home later that afternoon. I mean, whatever's left of it. Unfortunately, she was only able to eat half a scone as her kids received it and have been munching on them all day. Apparently, the kids thought their mom had it delivered from the café. I made it up to her by making another batch for her when she came over for our "mom's day off" activities. 😉
Can You Make The Orange – Cranberry Scones In Advance?
What makes it even better is that these scones can be made up to one week ahead! They are super easy to store and reheat. Transfer them to a container and loosely cover it. You can keep them at room temperature for at least 2 to 3 days. Or place it in the fridge for up to a week. To reheat the scones, place them in a microwaveable dish and warm it for about 20 to 30 seconds.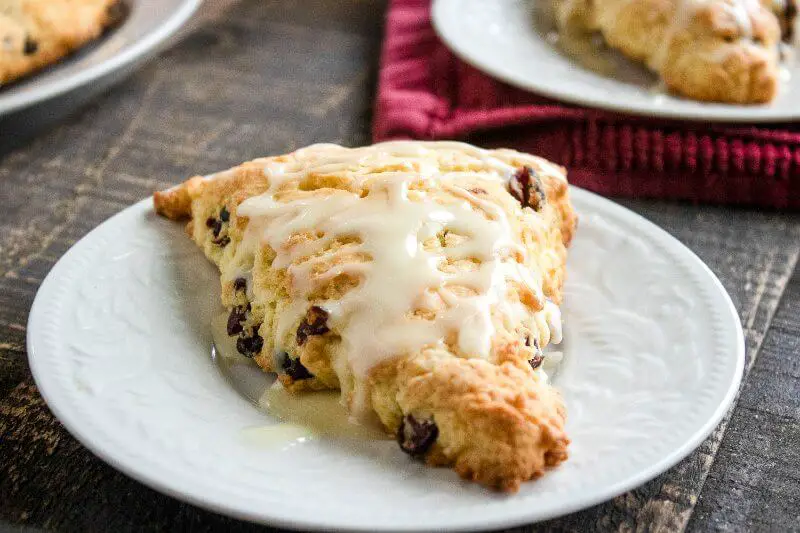 What if I want to make a big batch? That's no problem since these scones can last in the freezer for up to 3 months. Yes, you read that right! They can be frozen for up to 3 months and still taste as amazing as when they came out of the oven. Let the scones to be completely cool then transfer them into resealable freezer bags and freeze.

When you feel a craving for it, simply take out a few scones or so and pop them in the microwave until they are warmed through. You can make enough supply of these scones that you will never have to eat store-bought scones again!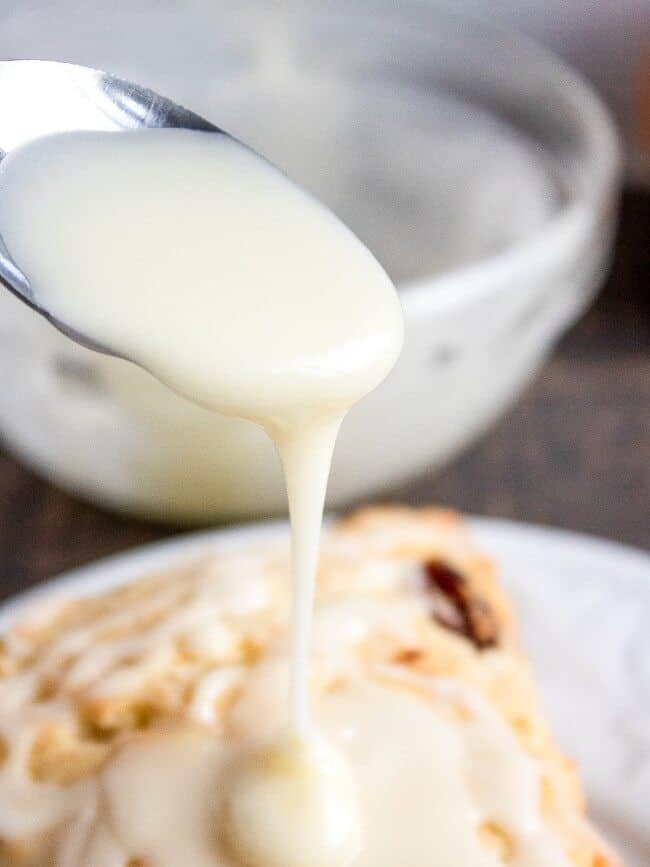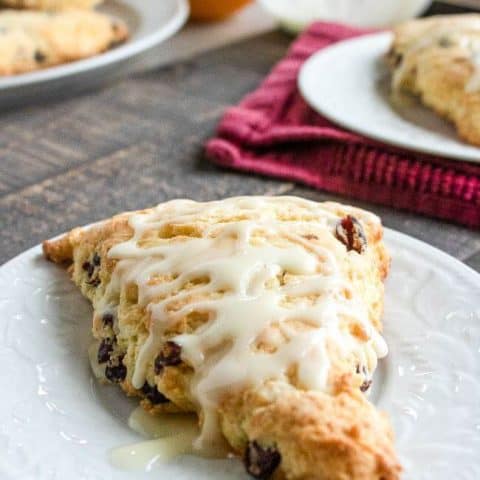 Café Style Orange - Cranberry Scones with Orange Glaze
Welcome your guests with moist and flavorful Orange - Cranberry Scones fresh from the oven! It has a great balance of tangy orange zest and sweet craisins plus a drizzle of orange glaze!
Ingredients
For the Scones:
2 cups all-purpose flour (+ ¼ cup to dust the work area)
3 teaspoons of baking powder
½ cup sugar (granulated)
¼ teaspoon salt
½ cup unsalted butter
1 large egg
¼ cup sour cream
½ cup of heavy cream
¼ teaspoon orange extract
1 teaspoon orange zest
1 cup craisins
1 teaspoon of vanilla extract
For the Glaze:
2/3 cup of powdered sugar (sifted)
2 tablespoons of orange juice
Instructions
Preheat your oven to reach 400°F and prepare a large baking sheet with silicone baking mat or parchment paper then set it aside.
Get a 32ml mixing bowl and combine the baking powder, flour, salt, and sugar. Use a fork and cut up the unsalted butter into tiny pieces before adding it to the flour mixture.
In a medium-sized bowl, add the egg, sour cream, heavy cream, orange extract, orange zest, vanilla extract, and craisins. Whisk until evenly combined.
Gently fold the cream mixture into the flour mixture. Then stir the craisins into the mixture until just combined.
Dust your work surface with the flour and place the scone mixture on it. Gently knead the dough to form a ball and press it down to make a 6" x 10" rectangle. Equally cut the dough in half, then divide both halves into 3 even rectangles. Now diagonally slice the rectangles to make a triangle.
Place the scones into the lined baking sheet. Leave at least 2" between each piece to keep them from sticking together. Let it chill in the fridge 30 minutes before you pop them into the preheated oven.
Put the scones into the preheated oven for approximately 18 to 22 minutes. Once the scones show a golden-brown color, take them out of the oven. Allow to rest for about 5 to 10 minutes.
While waiting for the scones to cool down, make the sweet orange glaze. Stir the powdered sugar into the orange juice until it is fully incorporated.



Transfer the scones into the serving plates while still warm and drizzle the sweet orange glaze.


Nutrition Information:
Yield:

12
Serving Size:

1
Amount Per Serving:
Calories:

293
Total Fat:

13g
Saturated Fat:

8g
Trans Fat:

0g
Unsaturated Fat:

4g
Cholesterol:

50mg
Sodium:

178mg
Carbohydrates:

43g
Fiber:

1g
Sugar:

25g
Protein:

3g
I like serving these Orange – Cranberry Scones with either Eggnog or Hot Chocolate to really feel the holidays. Nothing beats freshly baked homemade scones; they make you feel warm and cozy. What will you serve with these delectable Orange – Cranberry Scones? Let's exchange ideas in the comments down below!