It's the season to be tipsy! Er, I mean, jolly. Sorry, I think I'm a little tiddly from imagining how much Peppermint Martinis are coming my way in the next few weeks. If you're looking to spoil you and your loved ones with a luscious cocktail this coming holiday season, this is definitely it. This Peppermint Martini will make your holiday celebrations sweeter and minty-er!

I am OBSESSED with this holiday cocktail. A concoction made with only 3 ingredients: white crème de cacao, vanilla vodka, and Peppermint schnapps. This must be what cocktails in heaven tastes like. This is something that will surely make everybody merrier! I know I am. If you have guests who don't exactly like the taste of alcohol, they will enjoy this cocktail as it doesn't have that strong bitter or burning taste that alcohol has.

This cocktail recipe was born when my sister and I are enjoying our favorite seasonal drink at Starbucks, the White Chocolate Peppermint Mocha. She's hosting a party for her fellow parents at her child's daycare that weekend and we're brainstorming for new recipes. I remembered seeing vanilla vodka from the store the day prior and I told her I think it would be perfect when mixed with white chocolate and peppermint.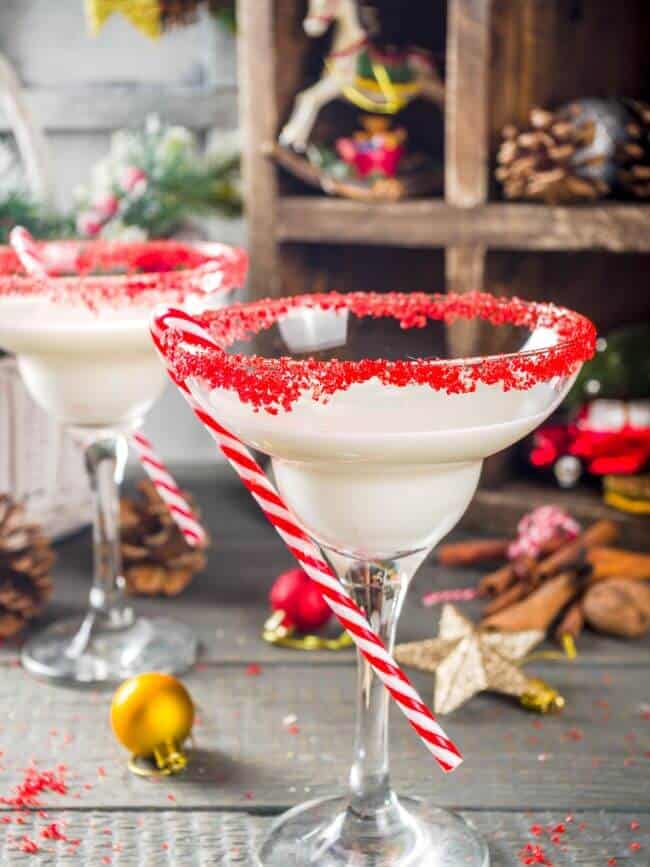 We decided to try it out at home later that afternoon, and OH MY JOLLY it is indeed perfect! It's not overwhelmingly sweet, you can taste the hint of vodka and the minty peppermint schnapps. And no, it doesn't taste like toothpaste at all! My sister thought it needed more color and thus the peppermint-crusted rim made it more festive and inviting. My husband joked that maybe we can leave this under the Christmas Tree for Santa on Christmas Eve! LOL.
What I Serve With Peppermint Martinis:
Café Style Orange – Cranberry Scones – This holiday treat makes a perfect companion to this Peppermint Martini. It's sweet and tangy flavors go well with the minty and creamy cocktail. These orange-cranberry scones can be made ahead which saves you a lot of time in the kitchen and more time to have fun with your guests.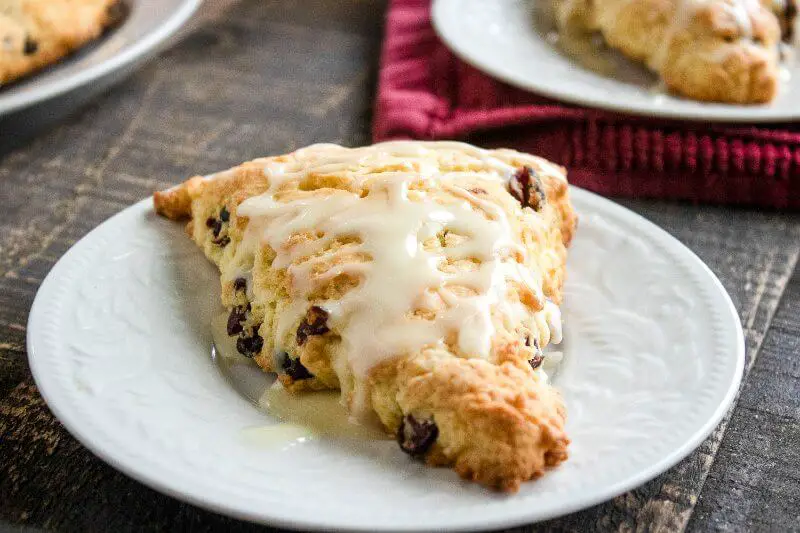 The scones come with an orange glaze that brings them to a whole new level. They are so easy to make that they only take 15 minutes to prepare and about 22 minutes in the oven. The crust is crunchy while the inside is moist and flavorful with craisins in it. They are also perfect homemade gifts!

Strawberry Caprese Skewers – If you're in a crunch for time, these Strawberry Caprese Skewers will save your holiday preparation! Create a unique, festive appetizer in just 25 minutes! Made with strawberries, mozzarella balls, and fresh basil leaves. This is inspired by the classic Caprese salad but ON A STICK!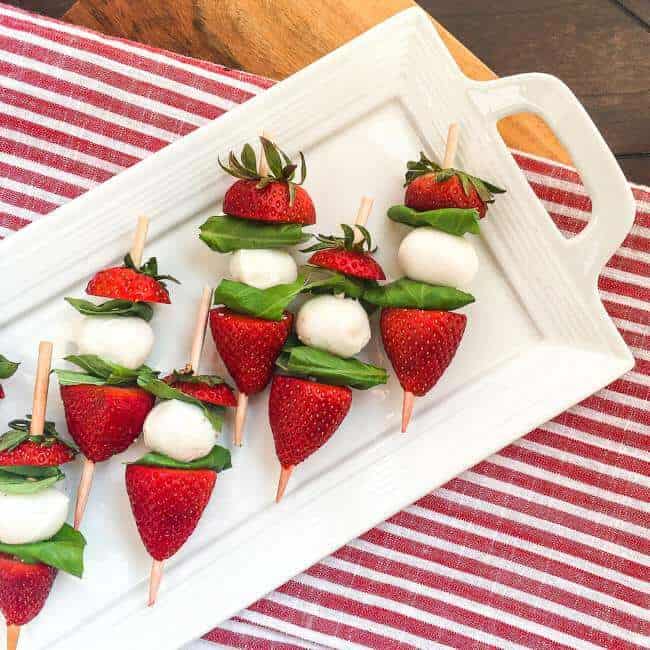 This makes a perfect snack to go with the Peppermint Martinis as you can easily munch on these while hanging out with your guests. Not to mention they are completely Instagram worthy with it's festive, vibrant colors!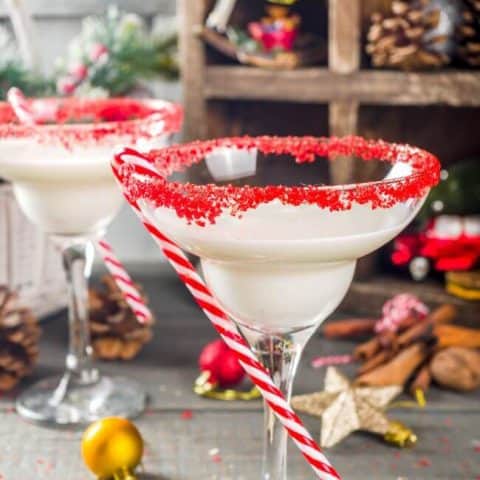 White Chocolate & Peppermint Martinis
A cocktail made with the heavenly combination of vanilla vodka, white crème de cacao, and Peppermint schnapps. It's sweet and minty with a subtle taste of liquor!
Ingredients
For the Cocktail:
1 oz. white crème de cacao, chilled
1 oz. Peppermint schnapps, chilled
2 oz. vanilla vodka, chilled
For the Rim:
3 tablespoons hot water
3 tablespoons granulated white sugar
3 oz. crushed peppermint candy
For serving:
Instructions
Put the peppermint candy inside a thick, resealable plastic bag. Place a towel over it then pound the bag with a rolling pin or a heavy meat mallet. Continue until the candies have been crushed into tiny pieces. Pour the crushed peppermint into a shallow plate and set it aside.
Prepare a simple syrup by combining equal parts sugar and hot water. Whisk until the sugar has completely dissolved. Pour the syrup into a separate shallow plate.
Dip the rim of your martini glass first into the plate with simple syrup then into the plate with crushed peppermint. Lightly twist the glass until the rim is coated in peppermint. 
Prepare an ice-filled cocktail shaker and pour in the vanilla vodka, peppermint schnapps, and crème de cacao. Shake for about 20 to 30 seconds until they are fully incorporated. Pour into the peppermint crusted martini glass. Serve with the tiny candy cane and enjoy while still chilled!
Nutrition Information:
Yield:

1
Serving Size:

1
Amount Per Serving:
Calories:

835
Total Fat:

0g
Saturated Fat:

0g
Trans Fat:

0g
Unsaturated Fat:

0g
Cholesterol:

0mg
Sodium:

41mg
Carbohydrates:

155g
Fiber:

0g
Sugar:

120g
Protein:

0g
Are you ready to get boozy this holiday season? A fun and unique cocktail like Peppermint Martini will surely make your parties more memorable and enjoyable for everybody! What better way to make a holiday cocktail than with chocolate and peppermint, right? Let me know how you loved this choco-minty drink in the comments below!