Have a chocolate-y holiday with this luxurious Milk Chocolate Peppermint Bark! The holidays are fast approaching which means it's time for peppermint everything! What better way to start up this festive season than with some homemade peppermint bark? It's the perfect holiday treat for kids and kids at heart.

Sure, you can get them at various candy shops, but nothing beats a homemade treat made with love. You can also easily satisfy a crowd with only a fraction of the price! You only need 4 ingredients to make this, no baking is needed and it's incredibly straightforward to make. The only challenging part is trying not to hide in the pantry with a whole tray of this and stuff my face with these delectable treats.

I remember how when we were kids, my mom will always make several batches of peppermint bark. We would then give it away as handmade gifts to me and my sister's friends. We also make some extra packs along with my grandma's freshly baked sugar cookies to give to the homeless kids we find on the way. And now we're passing on this tradition with our own kids. It's a simple reminder to always share your blessings, no matter how small and that holidays are for everybody. ♥
Hacks To Make Milk Chocolate Peppermint Bark:
This recipe's main ingredient is chocolate so make it count. Use only high-quality chocolate like Ghirardelli, Lindt, or Guittard. I personally prefer Guittard especially for making treats like this. It gives the dessert such a rich and premium flavor that you won't be interested in store-bought peppermint bark again.
The secret to its extra minty flavor is the peppermint extract. If you're having trouble finding it, you can use peppermint oil instead.
Use white chocolate that contains cocoa butter. Some white chocolate brands use palm oil or coconut oil, this will cause the bark to separate from the dark chocolate.
Make sure to pour the second layer of chocolate before the first layer sets completely otherwise the layers will separate.
Fold in the crushed peppermint candy and do not overmix. You don't want the candies to melt into the chocolate as we want to have bits and pieces of it to give the bark a good crunch.
If you don't like white chocolate or dark chocolate, you can just choose one and make bark out of it. Or you can make 2 individual barks to give your guests an option.
You can make the bark ahead as it stays in shape at room temperature when the weather is cold. You can also store it in the fridge for up to 3 weeks.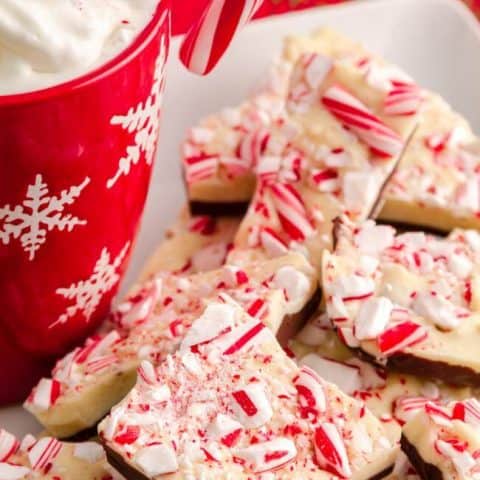 Milk Chocolate Peppermint Bark
Yield:
2 POUNDS OF PEPPERMINT BARK
Total Time:
2 hours
30 minutes
Enjoy your very own version of the classic holiday dessert: Milk Chocolate Peppermint Bark. Made with high-quality milk and dark chocolates plus a whirl of peppermint candy.
Ingredients
16 oz. high-quality dark chocolate, chopped
16 oz. high-quality white chocolate, chopped
½ teaspoon peppermint extract
1 cup peppermint candy, crushed
Instructions
The easiest way to crush the peppermint candy is to place it in a thick resealable bag then cover the bag with a clean towel. Pound the candy with a rolling pin or meat mallet until it gets to your desired texture. You can also use a food processor for this step.
Prepare a baking pan by lining it with a silicone baking mat or parchment paper.
Now to make the chocolate layers. Begin by melting the dark chocolate pieces using a double broiler. Stir it continuously until it becomes smooth. Then pour it to the center of the lined baking pan and evenly spread out with an offset spatula.
Place the pan in the fridge for about 10 to 15 minutes to allow it to slightly set.
Clean the double broiler well to get rid of any dark chocolate residue before melting the white chocolate in it. Once it becomes smooth, stir in the peppermint extract and fold in the crushed peppermint candies. 
Take the dark chocolate out of the fridge and spread the melted white chocolate over the first layer. Use the offset spatula to evenly layer the white chocolate.
Garnish with any remaining crushed peppermint then let it set in the fridge for about 2 hours. Once it has completely set, break the bark into smaller pieces and serve.


Nutrition Information:
Yield:

2 Pounds of Peppermint Bark
Serving Size:

1
Amount Per Serving:
Calories:

2911
Total Fat:

144g
Saturated Fat:

86g
Trans Fat:

0g
Unsaturated Fat:

47g
Cholesterol:

66mg
Sodium:

302mg
Carbohydrates:

384g
Fiber:

16g
Sugar:

314g
Protein:

24g
It's impossible not to love Milk Chocolate Peppermint Bark. It's been our family's holiday candy ever since I can remember. What is your favorite childhood holiday memory? Is there any holiday tradition that you are passing on to your kids? Let's exchange stories in the comments below! 😊