I know you've probably had Caprese skewers, but have you tried Strawberry Caprese Skewers? Yes, this unconventional appetizer is guaranteed to surprise and please your guests now that holidays are fast approaching! How many can say they ate a Caprese salad – on a STICK? With STRAWBERRIES instead of cherry tomatoes?

Strawberries are more commonly associated with dessert. Like strawberry ice cream, strawberry mousse, or strawberry shortcake. Moreover, I've honestly never had cheese and strawberry together before trying out this recipe. After I did, I found out I'm missing out, big time. This is the best thing ever! It seems like a weird combination but once you take a bite of the sweet strawberries, a little creamy mozzarella ball, and fresh basil – it's enchanting!

Let me tell you, this appetizer is not just aesthetically pleasing, it's a great conversation starter too. I served this for the hubby's birthday a couple of weeks ago and it was an instant hit! The kids saw strawberries and finished a whole plate in one sitting. So yes, it's kid-approved too. I had to remind them that it's supposed to be an appetizer and not a snack!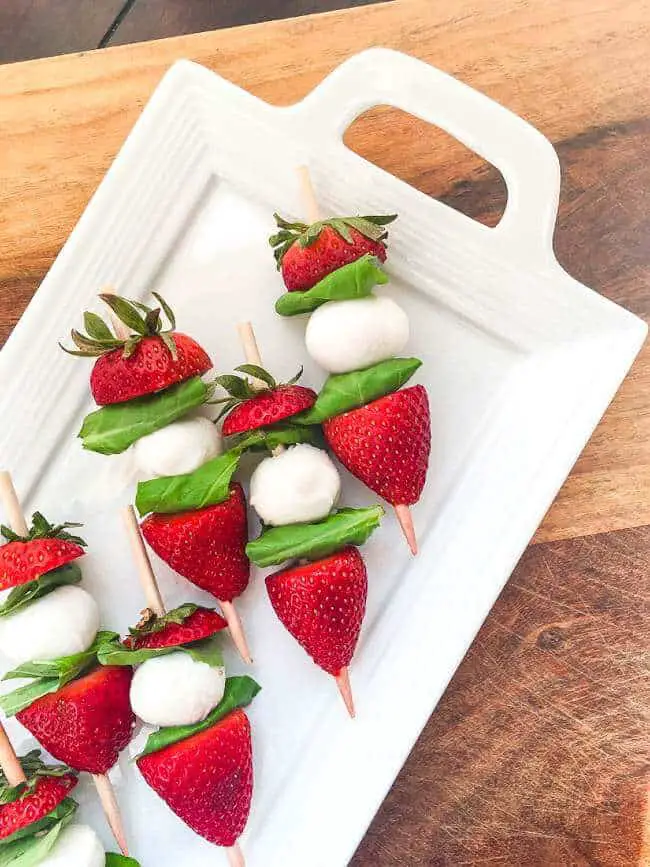 Then one of hubby's colleague's wife came over to me and asked how long it took me to prepare all that. She was surprised when I told her it only took less than 30 minutes! She thought it takes longer what with prepping the strawberries and assembling the skewers. Luckily, I had little helpers in the kitchen. They enjoyed wearing their little gloves and helping me skewer the strawberries and little cheese balls. Although I might have lost a strawberry skewer or two.. or maybe three. LOL.
Tips & Tricks On Making Strawberry Caprese Skewers:

I use perfectly ripe and fresh berries for this recipe. You want berries that have a bright red tint all over and are firm – not tough or mushy. A good strawberry also has leaves that are still green and looks fresh. Since we're using the whole berry, check for signs of molds or bruises.
Mozzarella balls or Ciliegine is the best cheese to use when making these strawberry Caprese skewers. It cuts the time that you will use to cut up whole blocks of cheese. It also has the perfect saltiness and creaminess that pairs well with strawberries. You can find them in the cheese section of any grocery near you.
Use bamboo skewers that are about 6" long. If you feel a little fancy, you can choose the ones with handles in them. Also, if you have extra time, you can cut up the sharp points after assembling the skewers. I do this especially if I know there will be a bunch of kids.
When making your own balsamic glaze, allow it to completely cool down before you drizzle it over the skewers. Adding the glaze while it's still hot can melt the mozzarella cheese balls and mess up your presentation.
Lastly, do not overcrowd the skewers. Leave a little space in between each ingredient and do not press them too close to each other. This helps them stay fresh, especially the basil leaves.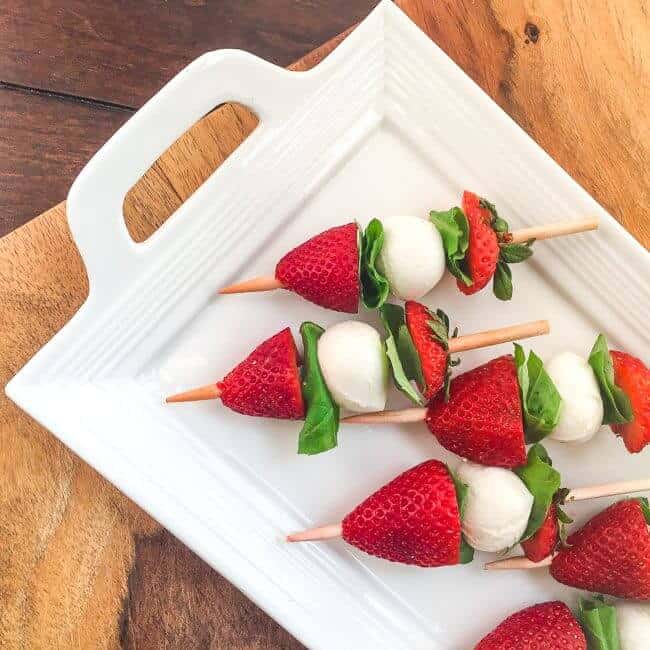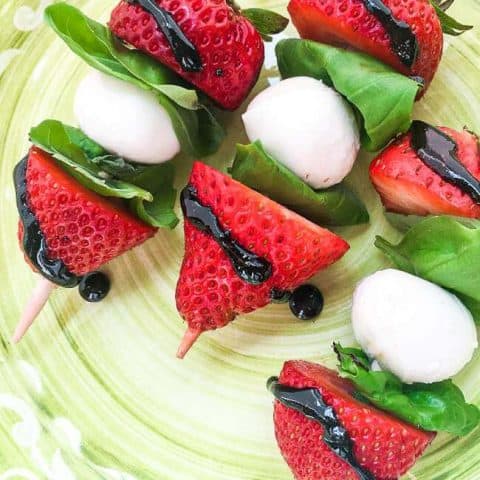 Strawberry Caprese Skewers with Balsamic Vinegar Glaze
This Strawberry Caprese skewer is a sweet, refreshing twist on the classic Caprese Salad Skewers that are frequently made with tomatoes. The strawberries are a great alternative and add natural sweetness to the appetizer.
Ingredients
16 fresh strawberries, washed and cut horizontally in the middle
32 fresh basil leaves, washed and dried with a paper towel
16 Ciliegine or baby Mozzarella balls
1 cup balsamic vinegar
Optional:
2 tablespoons extra-virgin olive oil
Instructions
Pierce the top half of a strawberry using the pointed end of the skewer. Line it with the hull faced towards the non-sharp end of the skewer. Take a basil leaf and fold it in the middle, the outer part of the leaf facing out, then add the folded leaf to the strawberry. Next, add a baby mozzarella next to the folded leaf. Add another folded leaf next to it and cap it off with the other half of the strawberry. 
Keep doing step #1 until you run out of skewers. Arrange the strawberry skewers on a nice serving plate and set aside.
Now to make the balsamic glaze, pour the vinegar into a small saucepan placed over medium-high heat. Stir continuously for about 5 to 10 minutes or until the balsamic vinegar has been reduced.  
Take the reduced balsamic vinegar off the heat and let it rest to cool down. Drizzle the glaze over the prepared skewers. You can also add a drizzle of olive oil. 


Nutrition Information:
Yield:

4
Serving Size:

1
Amount Per Serving:
Calories:

161
Total Fat:

9g
Saturated Fat:

2g
Trans Fat:

0g
Unsaturated Fat:

6g
Cholesterol:

6mg
Sodium:

60mg
Carbohydrates:

17g
Fiber:

2g
Sugar:

13g
Protein:

2g
These Strawberry Caprese Skewers are a delightful addition to your holiday entertaining menu! They have vibrant, festive colors and a rich flavor profile. There's barely any cooking involved too! Let me know when you will make this recipe and how it turned out in the comments below. 😉