Year after year we seem to find more uses for pomegranates. This year, my winner is this Fizzy Pomegranate Cocktail. So, you already know what the main refreshment will be at our house in these coming holidays! Who knew pomegranate juice will blend well with vodka and sparkling water? I didn't, I discovered it in a happy accident.

Here goes, a couple of months ago the hubby and I are having our usual weekend date night. You know, the basics – movies, nachos, and cocktails. Halfway down the movie, we ran out of cocktails and I stood up to make another batch. We were happily chatting about the movie and we're both sharing our guesses on how it will end. I then poured what I thought was cranberry juice into the shaker and proceed with finishing the cocktail.

I took a sip to make sure it tastes right and that's when I realized I did something. I can't say wrong because it tastes so right! I had the hubby taste it and we both stood there for a good 15 seconds in amazement. I walked back to the fridge and found out my wonderful husband placed the cranberry juice next to the pomegranate juice. Thanks to that, we discovered our new favorite cocktail.

A week later, we served our joint accidental invention to our friends who came over to hang out and they loved it too! I even added pomegranate arils for more flavor. They all agreed it was a surprising combination, but it works! We laughed together at its funny backstory too, so I guess this can be another conversation starter at the dining table. 😉

PS: If you want a more kiddie-friendly refresher, you should try my Cranberry Cinnamon Mocktail Spritzer. This also works if you have adult guests that are not into alcohol. This spiced mocktail will sure be a crowd-pleaser at your next holiday party!
What I Serve With Fizzy Pomegranate Cocktail:

Sheet Pan Nachos Overload You know those nacho towers where the bottom chips have run out of toppings and are soggy? This Sheet Pan Nachos Overload is my solution to that. Instead of piling it in a tall tower, I spread it out into a baking pan. This way all the chips get toppings and they don't get soggy! You can put as much ground beef, jalapeño, Pico de Gallo as you want, and it won't come tumbling over.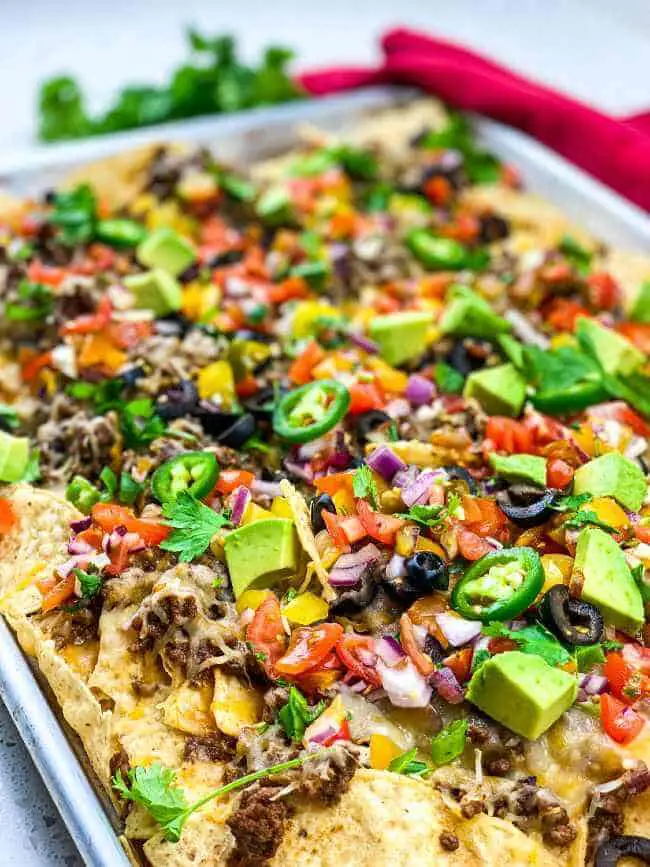 This has become a holiday staple for us when it comes to appetizers or snacks. It's really easy to make too. You start by making the Pico de Gallo, then cook the ground beef. I shared my DIY taco seasoning recipe here too! Now all you have to do is assemble your nacho sheet pan and pop it in the oven! After about 10 minutes you can now feast on these amazing nachos and chase it with the pomegranate cocktail!
Cranberry & Pecan Crusted Goat Cheese Log Another all-time holiday favorite appetizer is this Cranberry & Pecan Crusted Goat Cheese Log. I serve it with pretzels, crostini, or crackers to cut up and scoop the crusted goat cheese. It's perfect for any occasion and we literally go through several plates of this whenever we have guests over.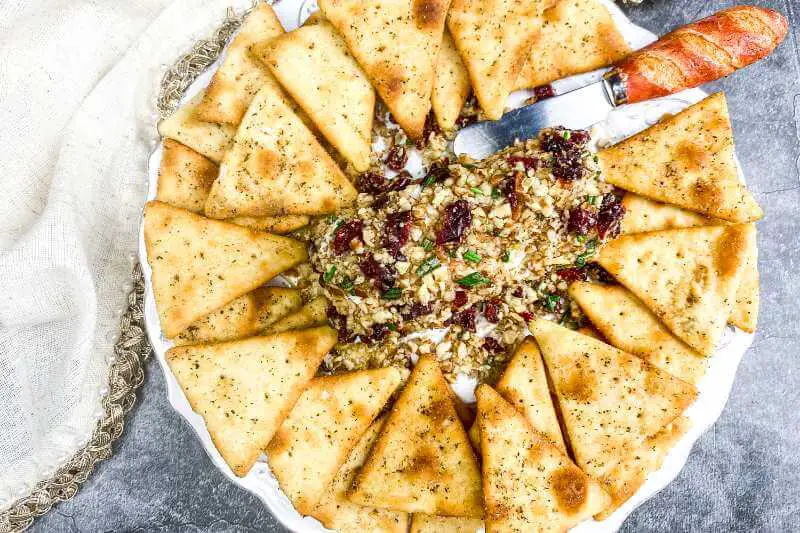 Other than it looks good on the dining table with how fancy and festive it looks; it also tastes really good. This is the reason why we always have goat cheese in stock. It takes 15 minutes to make and 5 ingredients, I mean what's not to love? All you have to do is roll the honey-coated goat cheese into the cranberry-pecan mixture and you're done! There's no cooking involved so it's perfect for last-minute arrangements.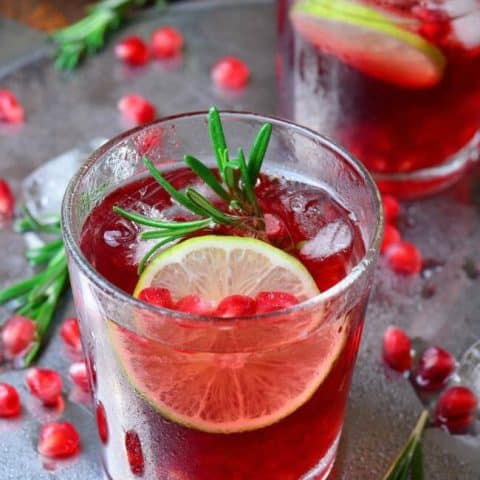 Fizzy Pomegranate Cocktail
This is the only cocktail recipe you'll want to serve this holiday season! Its lively red color makes it perfect to vibe with the festive mood. The pomegranate juice goes well with the vodka and sparkling water, you'll end up sipping another glass!
Ingredients
6 oz. 100% Pomegranate juice, chilled
4 oz. citrus-flavored vodka, chilled
3 tablespoons fresh lime juice
4 oz. sparkling water, chilled
Optional:
pomegranate arils
lime wedges
Instructions
Get your trusty cocktail shaker and fill it up with ice cubes. Pour in the pomegranate juice, lime juice, and vodka. Shake it well to fully incorporate the ingredients.
Pour the mixed drink into individual wine glasses, just a little over halfway full. Now pour the sparkling water and serve immediately!


Nutrition Information:
Yield:

2
Serving Size:

1
Amount Per Serving:
Calories:

313
Total Fat:

2g
Saturated Fat:

0g
Trans Fat:

0g
Unsaturated Fat:

0g
Cholesterol:

0mg
Sodium:

15mg
Carbohydrates:

44g
Fiber:

7g
Sugar:

32g
Protein:

3g
Are you ready to get wasted this holiday season? LOL. This Fizzy Pomegranate Cocktail is so good that you'll don't even notice how many glasses you've had. Next thing you know, you're tipsy and crying over Ghost even if you already watched it 200 times in this lifetime. #TrueStory