Warm-up this cold Holiday season with this Spiced Cinnamon and Cumin-Infused Cranberry Spritzer. It's a fun holiday drink that everybody will surely love. When planning for your holiday festivities, you can't forget about the drink. I mean, sure there's nothing wrong about your regular store-bought orange juice and lemonade. But why not surprise your guests with this enchanting drink?
I remember Thanksgiving dinners from my childhood with this drink filling the punch bowl. My cousins and I would pour some in a wine glass and pretend it's liquor. We'll then proceed to talk about school like how adults are talking (complaining) about their jobs. LOL. This is my mom's original "recipe", I just added a more "adults-only" option. If you know what I mean. 😉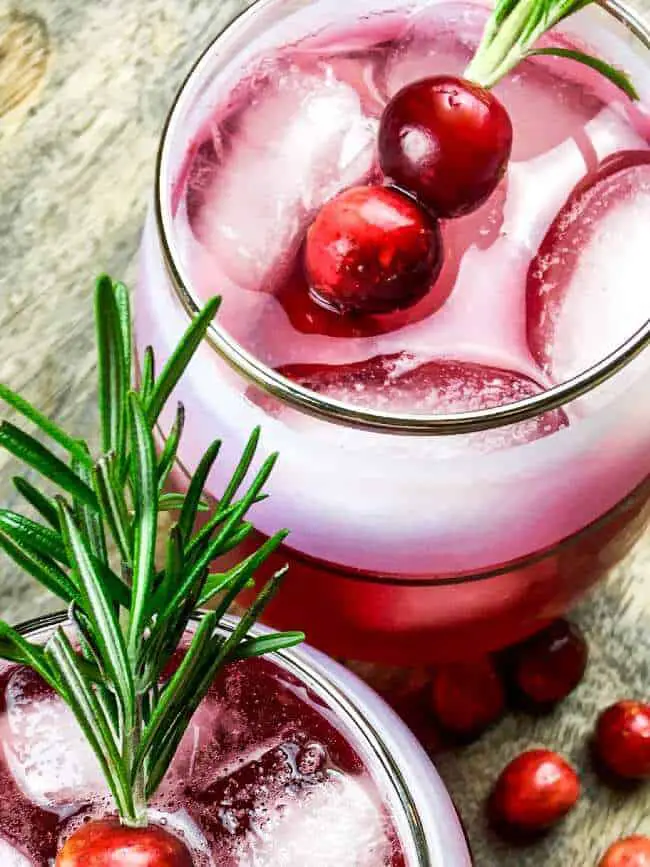 Can you imagine having a mocktail and a cocktail drink that only takes 15 minutes to make? This means you can mix everything up, prep it and let it chill in the fridge while you mind the rest of the holiday spread. This drink is perfect for everybody, whether you prefer a little boozy drink or not. I like making both options, just making sure the boozy one is out of the kid's reach. We don't need 5 drunk toddlers!
How I Make Cinnamon And Cumin-Infused Cranberry Spritzer:
We start with the base, in a small saucepan, combine cranberries, cumin seeds, cinnamon sticks, honey, and water. Put it over medium heat and let it cook for about 8 to 10 minutes while stirring. Once it becomes fragrant and the honey has melted, take the pan off the stove.
Now we need to transfer it to a large non-reactive bowl. Gradually pour in the orange wedges and cranberry juice then stir it well. At this point, I like to split the concoction in half. I pour vodka in one and keep the other non-alcoholic. I then place the covered bowls in the fridge to let it chill for a couple hours or overnight. 
After chilling, take the bowls out of the fridge. Take the orange wedges out and squeeze in a strainer placed over the bowl then discard the solids. Stir well before pouring over ice in serving glasses. You want the glasses to be 1/3 full of the cranberry mix then pour sparkling water to fill it up. Stir well to fully incorporate the mixture and add more honey, if needed. Top with rosemary-cranberry skewers or cinnamon sticks.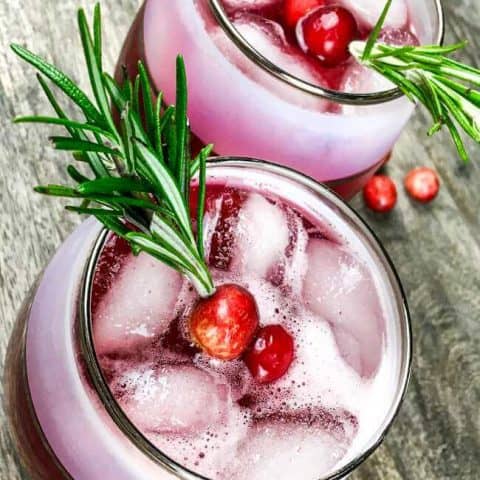 Cinnamon And Cumin-Infused Cranberry Spritzer
Wouldn't it be fun to sip on this festive concoction this holiday season? This Cranberry Spritzer is made even better by 2 unexpected ingredients: cinnamon and cumin seeds.
Ingredients
1 cup frozen cranberries
2 tablespoon cumin seeds, whole
4 sticks of cinnamon
¼ cup honey
½ cup of water
2 medium oranges, cut into wedges
3 cups unsweetened cranberry juice
Optional:
½ cup vodka
3 cups water, sparkling
Garnish (Optional):
Cinnamon sticks
6 rosemary sprigs, lower stem used to skewer fresh cranberries
Instructions
Start by preparing the base of the drink. Get a small saucepan and combine the frozen cranberries, whole cumin seeds, cinnamon sticks, honey, and water. Place the said saucepan on medium heat and leave it to cook for approximately 8 to 10 minutes. When you smell the strong fragrant aroma of the spices and the honey has melted, it's time to take it off the heat.
Transfer the spiced honey-cranberry mixture to a big glass bowl. Gradually stir in the oranges and cranberry juice. If you want to create an alcoholic and non-alcoholic version, equally divide the mixture into two and add vodka to one half of the concoction. Place the bowl/s in the fridge for at least a couple of hours or overnight.
After the drink has been chilled through, take it out of the fridge. Squeeze the orange wedges into a fine strainer over the juice bowl and separate the solids. Stir well and discard the orange pulps afterward.
Once ready to serve, pour the juice over ice in your desired serving glasses. Fill up to 1/3 of the glass then top it off with the sparkling wine. Stir well and add more honey, if needed. Top with the rosemary-cranberry skewers or cinnamon sticks.


Nutrition Information:
Yield:

6
Serving Size:

1
Amount Per Serving:
Calories:

200
Total Fat:

1g
Saturated Fat:

0g
Trans Fat:

0g
Unsaturated Fat:

1g
Cholesterol:

0mg
Sodium:

14mg
Carbohydrates:

40g
Fiber:

4g
Sugar:

33g
Protein:

2g
This fancy refresher is guaranteed to be the talk of the crown until your next party! It's one of a kind and ultimately delicious. Not to mention it would definitely look good on your IG feed too. It has a lively, festive color and a delightful taste (and maybe a little booze). What holiday will you be making this fizzy drink for? Let me know in the comments below. ♥