It's officially my favorite time of the year, parties and family gatherings left and right, great food, and an even greater time with loved ones! It's also the time of the year when I get to share my favorite recipes, like this Crostini with Brie and Orange-Cranberry Relish. I think we can all agree that nothing screams festive than cranberries. These bright red babies of deliciousness can be used for literally anything!

Can you imagine biting on a freshly toasted crostini topped with creamy brie cheese plus sweet and sticky cranberry relish? Heavenly. Oh, and before I forget, our cranberry relish has a not-so-secret ingredient: orange. This adds a slightly tangy layer of flavor to the relish to balance its sweetness. While the brie cheese serves as a cushion of flavors from the crostini and the relish.

I first encountered this delectable appetizer during an art exhibition that one of my closest friends got invited to. They served these Crostini with Brie and Orange-Cranberry Relish hors d'oeuvres and it was love at first bite. I wanted to pick up more, but you know your girl must be all prim and proper as it is a formal event. So, I just promised myself to look it up and try to replicate it at home. 😉
What I Serve With Crostini With Brie And Orange-Cranberry Relish:
Whole Roasted Lemon-Pepper Chicken – This mouthwatering whole roasted chicken is just as easy to make! It takes 15 minutes to prepare then pop it in the oven for 1.5 hours. This gives you enough time to set the table and mingle with your guests.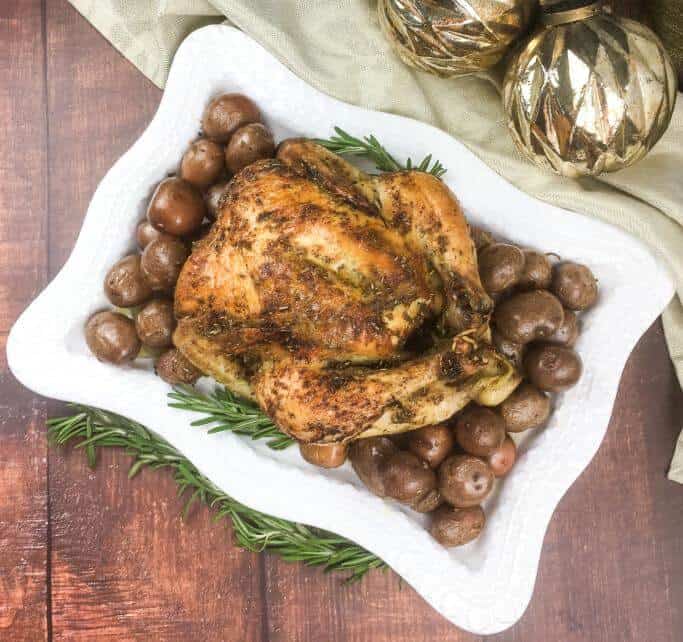 This is perfect for when you're serving a big party as you can easily roast 2 or 3 whole chickens at a time. What I like most about this is that it's a fail-proof recipe, follow the basic steps on how to "truss" the chicken so that it cooks evenly and stays juicy. It is also budget-friendly, all you need is a whole chicken, some lemons, and a handful of herbs and spices.

Cheesy Portobello Mushroom-Stuffed Beef Tenderloin – Another amazing pairing with this appetizer is the Cheesy Portobello Mushroom-Stuffed Beef Tenderloin. It's an elegant dish that looks and tastes like it came from a Michelin-star restaurant! It's surprisingly very easy to make too.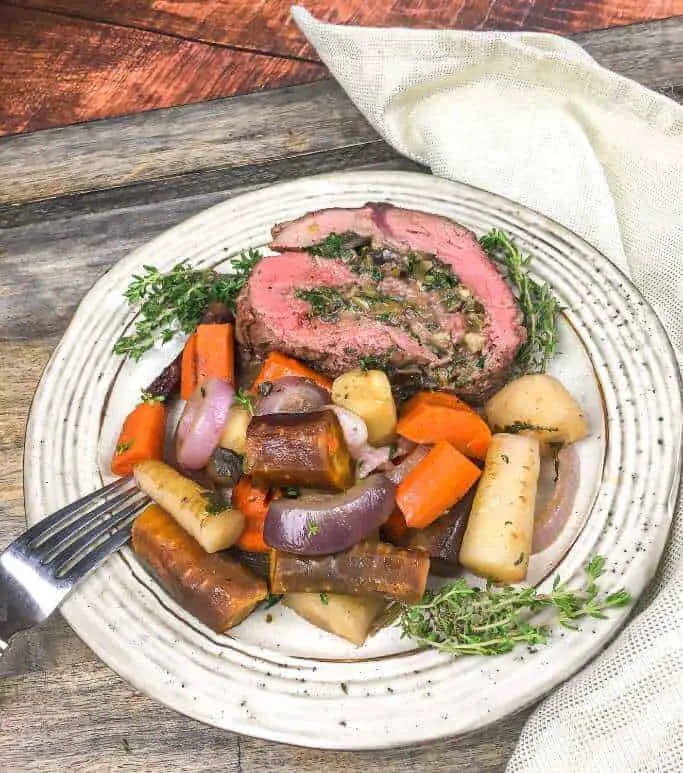 I know the name makes it sound fancy and complicated but in reality, you only need 20 minutes to prepare this top-notch dish. I've made it multiple times in various family events, and it gets cleaned up pretty quickly every time! The cheesy portobello stuffing on its own tastes amazing, I started using it for other recipes too. And the oh so juicy tenderloin, it's just perfect for any occasion.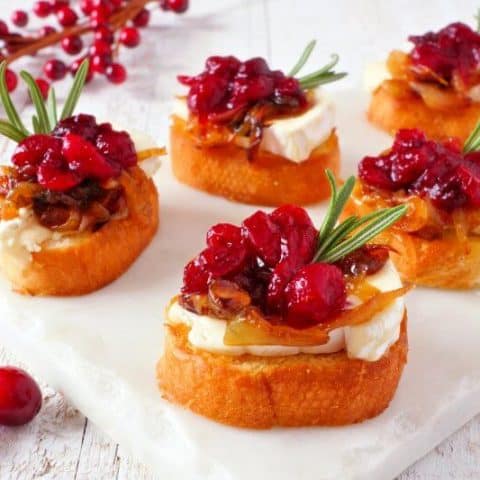 Crostini with Brie and Orange-Cranberry Relish
Yield:
approximately 30 appetizers
This simple appetizer may look like your regular jam and toast but do not be deceive.! This Crostini with Brie and Orange-Cranberry Relish is packed with multiple layers of flavors and textures with every bite!
Ingredients
1 long, thin baguette, cut into 1/3" slices
3 tablespoons unsalted butter, melted
8 oz. Brie cheese, rind trimmed and sliced thinly
Cranberry relish Ingredients:
12 oz. bag fresh cranberries
3/4 cup fresh orange juice
1½ tablespoons orange zest
2 teaspoons fresh ginger, finely minced
2 tablespoons real maple syrup
1/2 cup white sugar
1 teaspoon ground cinnamon
Instructions
Preheat the oven to 350° F then line a large cookie sheet with a silicone baking mat or parchment paper. Place the sliced baguette on the pan in a single layer without overcrowding. Then lightly brush each slice with the melted unsalted butter.
Pop the baguette slices into the preheated oven and bake for about 7 to 9 minutes or until they turn a nice golden-brown color. Take the pan out of the oven and top each crostini with the brie slices.
While waiting for the bread to toast, make the Orange-Cranberry Relish. In a large saucepan over medium heat, combine fresh cranberries, orange juice, orange zest, fresh ginger, maple syrup, cinnamon, and white sugar. Stir continuously until the berries start to pop and become tender. This takes approximately 10 to 12 minutes.
Take the pan off the heat and let it rest for about 10 minutes. Scoop the warm orange-cranberry relish over the prepared crostini and cheese slices. Serve while still warm!


Nutrition Information:
Yield:

30
Serving Size:

1
Amount Per Serving:
Calories:

90
Total Fat:

4g
Saturated Fat:

2g
Trans Fat:

0g
Unsaturated Fat:

1g
Cholesterol:

11mg
Sodium:

113mg
Carbohydrates:

12g
Fiber:

1g
Sugar:

6g
Protein:

3g
Holidays can be quite overwhelming, that's why I'm thankful for recipes like these. They are easy, convenient, and inexpensive without sacrificing the quality of food I serve to our guests. What will you serve with these crunchy Crostini with Brie and Orange-Cranberry Relish? Comment down below what other holiday recipes you want to see on our page! 😉